Opinion | A fiscal reckoning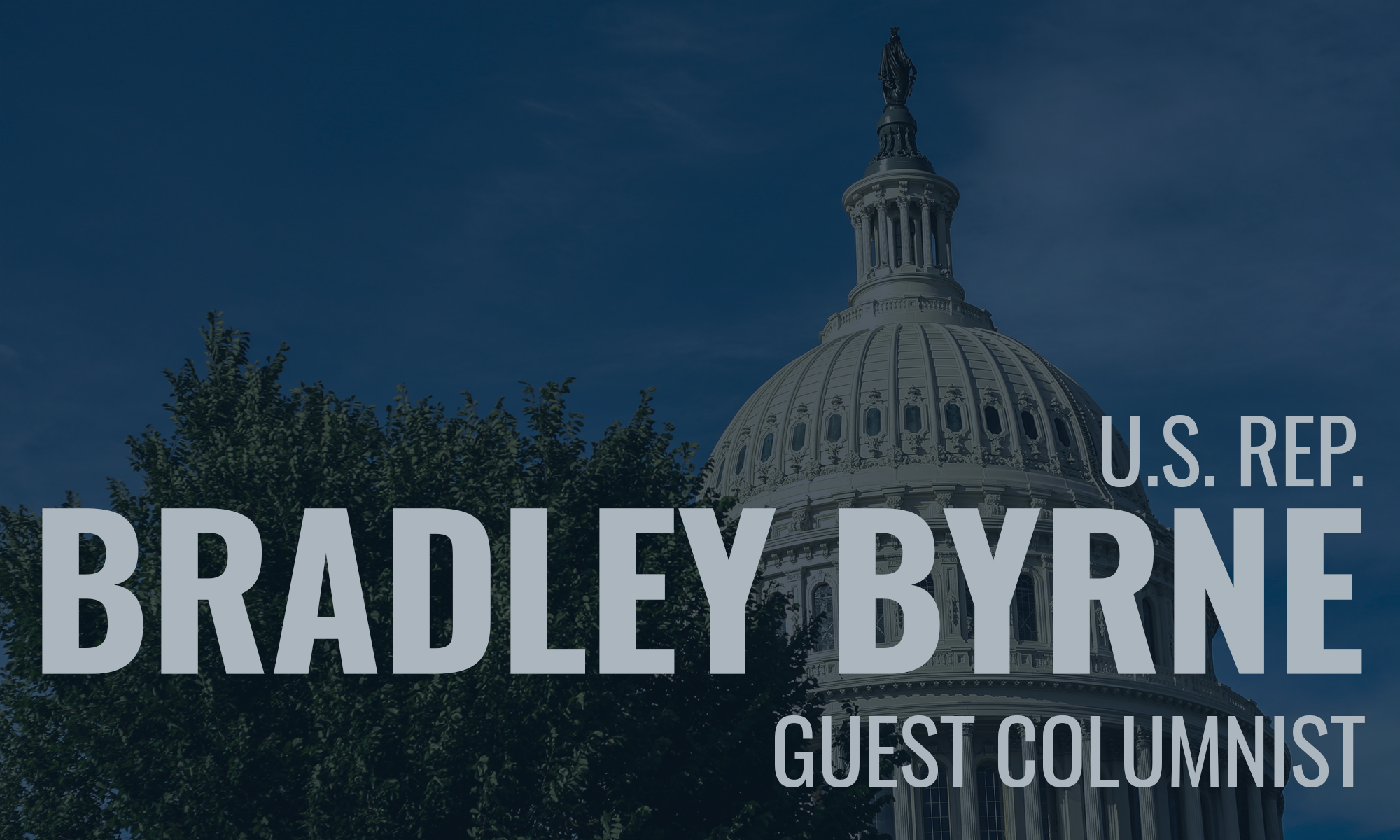 When the House returns to business next Monday, we will take up the I wrote about last week.  Then we will take up appropriations bills for next fiscal year, which begins October 1, and likely another Coronavirus bill.
 This spring I voted for both of the CARES Acts, which together spent $3 trillion.  That was on top of this year's projected total federal spending of $4.8 trillion, which was already going to add $1 trillion to our national debt.  With the CARES Act spending, however, the total deficit for this fiscal year will be $3.7 trillion.  The deficit for the month of June alone was $864 billion.
Following the work of the Democrat-controlled House Appropriations Committee last week, I became very concerned about the bills they will pass out of their committee this week and that the House will vote on later this month.  They are exceeding the spending cap deal reached by their leadership, Senate leadership, and President Trump last year.  Just as bad, they are loading up their spending bills with controversial policy riders they know Republicans won't vote for.  Unless they make a big change, I'm going to vote against the House version of appropriations for next year.  I hope the Senate brings some sanity to the process.
I also have big concerns over another Coronavirus bill.  We've spent so much money already, money we don't have and are borrowing.  And I don't agree with the Modern Monetary Theory which says deficits don't matter.  I won't bore you with the very solid arguments against it by eminent economists because common sense is all you need to understand individuals and nations can't borrow unlimited amounts of money over the long term.  That's even true for the richest nation the world has ever known.
Investors buy U.S. government debt in the form of treasury bills (which are government securities due to be paid in a year), treasury notes and bonds (which mature over a longer time frame), and Treasury Inflation Protected Securities (bonds indexed to inflation).  They don't do that out of patriotism or the good of their hearts.  This isn't World Wars I or II where bonds are purchased in a great national effort.  No, the investors who buy our debt do it for their own self-interested reasons, and they expect to be paid back in full and on time.  If they believe that they may not get paid back because the U.S. won't be able to make the ever-growing payments, they will stop buying our debt.
And that's when reality kicks in.  It recently happened to Greece and Italy, both of which experienced severe economic turmoil and downturns.  It could happen here too because even the U.S. is not immune from the laws of economics.  It would be catastrophic for us, but it would be catastrophic for the world as well.  If the U.S. falls economically, who gains the most?  The answer is China, which already has concrete plans to replace us as the most powerful country in the world.  We owe them $1 trillion and counting.
So, we need to start thinking longer term which hasn't been a U.S. strong point for some time.  Yes, we must deal with COVID-19 both as a health crisis and a danger to our economy.  But, it's time to be more focused and avoid the panicky temptation to just shovel out money.  The money we have already approved hasn't even been all spent.
What should be our priorities in the next Coronavirus bill?  First, it's the cost of developing and making readily available a vaccine, just as the U.S. did with the polio vaccine during my childhood.  Second, it's the care for those who contract COVID-19, which includes effective therapeutics, and protecting the caregivers themselves.  Third, it's making sure we have the tests and PPE we need.  These three all deal directly with the disease because our society and economy cannot return to "normal" until we address the disease more effectively.  All of us have an individual duty in this regard, to avoid large gatherings and those most at risk of the disease, to social distance and wear face masks inside buildings.
But, when we turn to the economy, I have great concerns.  I know the PPP loans/grants worked to save millions of U.S. jobs and bring many of those laid off back to work.  So, maybe we start there.  But, as I drive around, I see many "help wanted" and "now hiring" signs, and I hear from many business owners that they can't get employees back to work.  So, we must ask the question, do we need to keep paying the extra $600 a week to those drawing unemployment?  Have we created a disincentive to work? Everyone has their hand out: colleges, schools, hospitals, this industry and that industry, the states, and local governments.  Where will all this money come from?
So, as we approach these two big spending projects, I am very skeptical.  I'm not saying I won't vote for either, but it looks like the FY 21 appropriations bills will just be too much for me to support.  On a new Coronavirus bill, I'm taking a wait and see position.  My mind is open but not empty.  It's time we start reckoning with our fiscal deficits – before we're painfully forced to by our creditors.
Opinion | Comprehensive sex-ed for all can improve people's health
Last July, I spoke with Sky H., a 20-year–old who identifies as non-binary and grew up in a very conservative rural town in the Black Belt region of Alabama. In school, Sky received abstinence-only education. Sky told me there was little instruction about sexual and reproductive health besides the basics of reproduction.
After years of pain, Sky was diagnosed at age 18 with endometriosis, a painful disorder that can lead to fertility complications. The condition might have been diagnosed much earlier if they had learned more about their own bodies and reproductive health in school, Sky believed.
Unfortunately, Sky's experience isn't unique. Over the past year and a half, I've spoken to more than 40 young people from 16 counties throughout Alabama who also didn't learn about their sexual and reproductive health in school. Like Sky, they missed out on critical information and described the negative impact this had on the choices they made and their health as they grew older.
Schools in Alabama are not required to teach about sexual health but if they do, the State Code mandates a focus on abstinence. The State Code also contains stigmatizing language around same-sex activity and prohibits schools from teaching about sexual health in ways that affirm lesbian, gay, bisexual and transgender (LGBT) youth. This makes it even harder for young people like Sky to get information.
But Alabama is not alone. Sixteen other states in the U.S. also do not mandate sex education in schools. And at least five others have laws stigmatizing same–sex activity.
Comprehensive sexuality education can improve health outcomes for young people. It can help them learn about their bodies and how to recognize abnormal gynecological symptoms, steps they can take to prevent and treat sexually transmitted infections (STIs) and other dangers to their health, and where they can go for reproductive health services.
Sex ed can also educate young people about the human papillomavirus (HPV) — the most common sexually transmitted infection in the U.S. — and how to lower their risk of HPV-related cancers through the HPV vaccine.
This information can improve young people's health and save lives. Yet so few young people in schools throughout Alabama — and the U.S. — receive it. Instead, like Sky and other Alabama students, many young people receive abstinence-focused education.
These programs withhold critical, science-based information young people need to make safer decisions on their sexual health. They also shame adolescents about their sexuality, often leaving young people uncertain about who they can talk to or where they can go for accurate information about sexual behavior and health.
The problem is both a lack of political will and of adequate funding. Discriminatory property taxes and an inequitable education system leave many school districts in rural and less wealthy regions of Alabama without adequate funding. This means that programs considered optional, like sex ed, often aren't offered.
Alabama, a state with high rates of sexually transmitted infections and cancers related to HPV needs to do more to address historic inequalities and state neglect that have left Black people at a higher risk of poor health outcomes. Mandating comprehensive sexuality education for all of the state's schools — and allocating state funding for these programs — would be an important step forward.
Students in underfunded and neglected school districts — many of whom are Black and living in poverty — often lose out on access to critical and lifesaving information. It keeps them from being able to make informed and safe decisions and can harm their health. This unequal access to information can create lifelong disadvantages and may contribute to racial disparities in health as young people age into adulthood.
The Black Belt region of Alabama, where Sky is from, has high rates of poverty and poor health outcomes. The Black Belt region also has high rates of sexually transmitted infections and the highest rates of HIV in the state. Yet schools in this rural and marginalized region of the state are persistently underfunded.
The COVID-19 pandemic has brought glaring attention to systemic inequalities and racial disparities in health, including in Alabama, where Black people are significantly more likely to die from the virus than white people. Within the United States, we continue to see the disproportionate toll the pandemic has taken on Black people, who are more likely to live in poverty, lack access to health insurance, and suffer from chronic health conditions that put them at a higher risk of adverse health outcomes from the virus.
The pandemic has highlighted the importance of ensuring that everyone has the information, tools, and resources they need to make informed decisions to protect their health. Schools in Alabama — and across the country — should help do that for all young people.
The pandemic is also showing us what happens when discrimination and neglect leave certain people out.