Opinion | In memory of John Lewis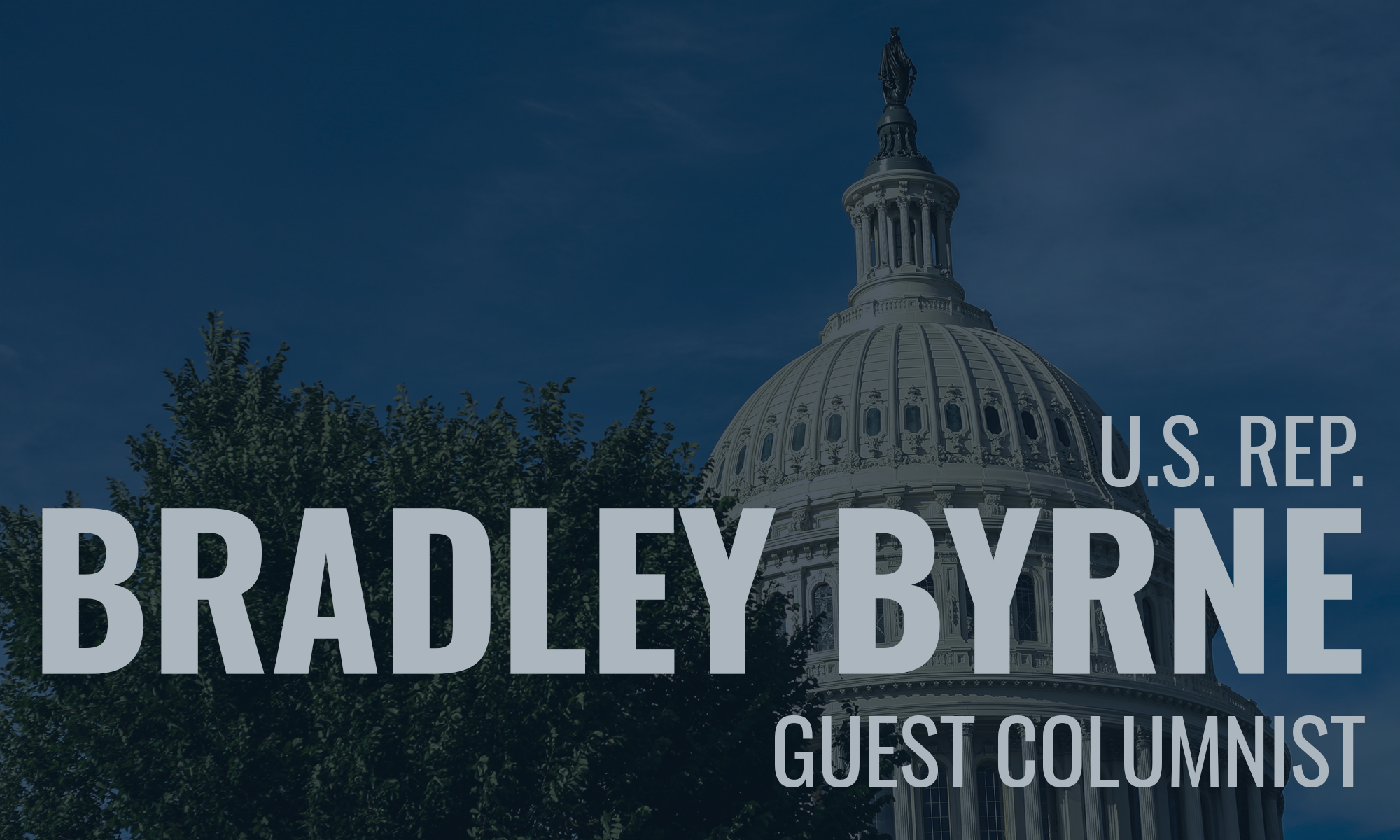 The day I was sworn into Congress, a man I had never met before but had heard a lot about and admired approached me to introduce himself and welcome me to the House.  His name was John Lewis.  He told me he was born and raised in Troy, Alabama, and though he lived and represented a district in Georgia, he still felt a strong connection to our state.  He offered to help me if he could.  He was a big help to me because he was a moral inspiration, a priceless gift in this day and time.
If you have never heard of John Lewis, look him up.  His story is amazing and should be an inspiration to us all.  The youngest member of the leadership in the Civil Rights Movement, John was physically attacked, injured, and jailed on numerous occasions, all because he had the audacity to call for equal rights and voting rights for black people.  He served in Congress for over 30 years and was known as the House's conscience.  I held him higher than that: I thought he was the nation's conscience.
I had the privilege of traveling with John on several occasions.  Every spring a group called Faith and Politics leads a civil rights pilgrimage, usually to Birmingham, Montgomery, and Selma, where John was always front and center.  I participated in several of those.  Riding on the bus to Selma with him for the 50th anniversary of the walk across the Edmund Pettus Bridge, as he pointed out key places and recounted key events along the way, was a real treat.  And then there was the amazing trip to South Africa where we saw Nelson Mandela's jail cell and met Archbishop Desmond Tutu.
 He came to Mobile several years ago at my request, met with high school students and community leaders, and left an indelible impression.  I'll never forget his generosity with his time or the humility he showed.  He was frequently on my connecting flight between Washington and Atlanta.  It was like traveling with a rock star.  But, he didn't travel with staff, he travelled alone.  And he always took the time to listen to all who approached him.
John died last week and the world will be a lesser place without him.  I used to write down his various sayings and I'd like to share a few with you because they are wise words.
"Hate is too heavy a burden to bear."
 "There is a spark of the divine in each one of us and we don't have a right to abuse it."
 He talked a lot about the "Beloved Community" and was asked once to define that.  Here's what he said: "It is where we can lay down the burden of separation and live in peace with one another.  That we can become one family living in one house, the same house."  In these days of polarization and division, isn't that great to hear?
If he sounds like a great preacher, that is because he was a great preacher far more than he was an elected official.  And he lived what he preached.  I think you call that integrity.  You also call it character.
We didn't always vote the same way.  He didn't share my conservatism and I didn't share his liberalism.  But I always listened to him and he took the time to listen to me.  That's what we're missing today across America.  We talk at one another and not with one another.  We make gross generalizations about one another and don't consider the person in front of us as unique, made in the image of God.  John got all of that right because it was deep in his soul.
John said Dr. King called him the "boy from Troy." I'll remember him as a great man, Congressional colleague, and friend. To me he will always be the moral giant from Troy, and I miss him already.
Opinion | Comprehensive sex-ed for all can improve people's health
Last July, I spoke with Sky H., a 20-year–old who identifies as non-binary and grew up in a very conservative rural town in the Black Belt region of Alabama. In school, Sky received abstinence-only education. Sky told me there was little instruction about sexual and reproductive health besides the basics of reproduction.
After years of pain, Sky was diagnosed at age 18 with endometriosis, a painful disorder that can lead to fertility complications. The condition might have been diagnosed much earlier if they had learned more about their own bodies and reproductive health in school, Sky believed.
Unfortunately, Sky's experience isn't unique. Over the past year and a half, I've spoken to more than 40 young people from 16 counties throughout Alabama who also didn't learn about their sexual and reproductive health in school. Like Sky, they missed out on critical information and described the negative impact this had on the choices they made and their health as they grew older.
Schools in Alabama are not required to teach about sexual health but if they do, the State Code mandates a focus on abstinence. The State Code also contains stigmatizing language around same-sex activity and prohibits schools from teaching about sexual health in ways that affirm lesbian, gay, bisexual and transgender (LGBT) youth. This makes it even harder for young people like Sky to get information.
But Alabama is not alone. Sixteen other states in the U.S. also do not mandate sex education in schools. And at least five others have laws stigmatizing same–sex activity.
Comprehensive sexuality education can improve health outcomes for young people. It can help them learn about their bodies and how to recognize abnormal gynecological symptoms, steps they can take to prevent and treat sexually transmitted infections (STIs) and other dangers to their health, and where they can go for reproductive health services.
Sex ed can also educate young people about the human papillomavirus (HPV) — the most common sexually transmitted infection in the U.S. — and how to lower their risk of HPV-related cancers through the HPV vaccine.
This information can improve young people's health and save lives. Yet so few young people in schools throughout Alabama — and the U.S. — receive it. Instead, like Sky and other Alabama students, many young people receive abstinence-focused education.
These programs withhold critical, science-based information young people need to make safer decisions on their sexual health. They also shame adolescents about their sexuality, often leaving young people uncertain about who they can talk to or where they can go for accurate information about sexual behavior and health.
The problem is both a lack of political will and of adequate funding. Discriminatory property taxes and an inequitable education system leave many school districts in rural and less wealthy regions of Alabama without adequate funding. This means that programs considered optional, like sex ed, often aren't offered.
Alabama, a state with high rates of sexually transmitted infections and cancers related to HPV needs to do more to address historic inequalities and state neglect that have left Black people at a higher risk of poor health outcomes. Mandating comprehensive sexuality education for all of the state's schools — and allocating state funding for these programs — would be an important step forward.
Students in underfunded and neglected school districts — many of whom are Black and living in poverty — often lose out on access to critical and lifesaving information. It keeps them from being able to make informed and safe decisions and can harm their health. This unequal access to information can create lifelong disadvantages and may contribute to racial disparities in health as young people age into adulthood.
The Black Belt region of Alabama, where Sky is from, has high rates of poverty and poor health outcomes. The Black Belt region also has high rates of sexually transmitted infections and the highest rates of HIV in the state. Yet schools in this rural and marginalized region of the state are persistently underfunded.
The COVID-19 pandemic has brought glaring attention to systemic inequalities and racial disparities in health, including in Alabama, where Black people are significantly more likely to die from the virus than white people. Within the United States, we continue to see the disproportionate toll the pandemic has taken on Black people, who are more likely to live in poverty, lack access to health insurance, and suffer from chronic health conditions that put them at a higher risk of adverse health outcomes from the virus.
The pandemic has highlighted the importance of ensuring that everyone has the information, tools, and resources they need to make informed decisions to protect their health. Schools in Alabama — and across the country — should help do that for all young people.
The pandemic is also showing us what happens when discrimination and neglect leave certain people out.