SEC to play 10-game, conference-only schedule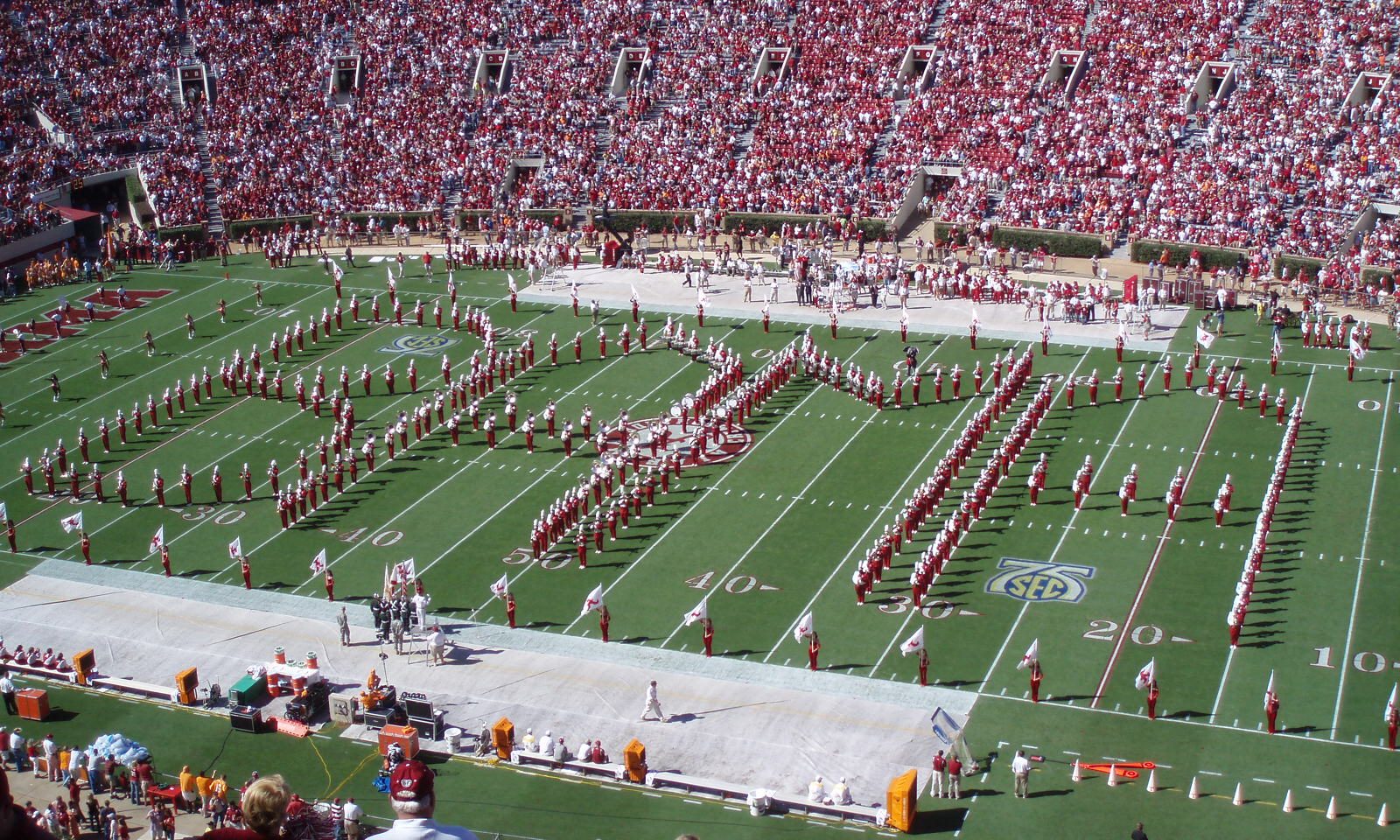 The Southeastern Conference announced that it will play only in-conference opponents in the 2020 college football season. The SEC also has pushed back the start of its season from Sept. 5 to Sept. 26 in hopes that the COVID-19 pandemic will be lessened by then. The delay allows campuses to reopen and students to be well into their academic year, before potentially bringing college football fans on campus and the potential health risks that would bring. Each team will have five home games and five away games.
The Big 10 and PAC 12 conferences had already voted to play in conference opponents only. That decision had already cost the University of Alabama it's Sept 5 season-opening opponent in the University of Southern California. The SWAC Conference, which includes Alabama State University and Alabama A&M, had voted to move their season to the spring. That move cost Auburn University it's opening day opponent in Alcorn State.
The Atlantic Coast Conference (ACC) voted on Wednesday to add Notre Dame for this year only and play a 10-game, conference-only schedule with one in-state, out-of-conference opponent. This would have preserved the University of Georgia versus Georgia Tech, Florida versus Florida State, Clemson versus South Carolina and Kentucky versus Louisville interconference rivalries. The SEC decision means that those four games have been canceled calling into question whether the ACC will play any nonconference games in 2020.
The decision to move the start of the SEC schedule back three weeks from Sept. 5 to Sept. 26 means that the SEC Championship Game which was scheduled for December 5 will be moved to Dec 19 in Atlanta. Every team will have one off week and the entire conference will be off the week of December 12. This week could potentially be used to play a make up game if for some reason a game has to be postponed due to surging COVID-19 conditions or a weather event such as a hurricane.
"This new plan for a football schedule is consistent with the educational goals of our universities to allow for the safe and orderly return to campus of their student populations and to provide a healthy learning environment during these unique circumstances presented by the COVID-19 virus," SEC commissioner Greg Sankey said. "This new schedule supports the safety measures that are being taken by each of our institutions to ensure the health of our campus communities."
The decision to postpone the start of the conference gives the league more time to make decisions on whether or not to allow tailgating on campuses during games and whether or not to allow fans in the stands, and if so how many. Those decisions will be made in consultation with those state's governors and the appropriate public health officials.
Sankey did tell ESPN college football analyst Paul Finebaum that the league had seen what happened when Major League Baseball reopened its season last week and what happened with the Florida Marlins. Already 17 Florida Marlins players have tested positive for the coronavirus. MLB is reconsidering its rules for operating during the global pandemic as a result. Games by both the Marlins and Philadelphia Phillies (the Marlins had just played a three game series with the Phillies) have had to be postponed and the Marlins will be playing its next opponent with a roster that is virtually unrecognizable from the one it opened with.
The National Basketball Association began its season last night. There all the players are being sequestered at Disneyworld resort in Orlando. An NBA team however has only 16 players, while a college football team has over 100 making playing "in a bubble" highly problematic.
The Big 12 conference had hoped that its 10 member schools could still play nonconference games, but the SEC decision means that the LSU versus Texas game and the Tennessee versus Oklahoma game in September are cancelled on top of their games against PAC 12, Big 10, ACC, and SWAC opponents making it more problematic for the Big 12 to find out of conference opponents to prepare a schedule. The Big 12 athletic directors will meet on Monday to prepare a plan on out to proceed.
Both the University of Alabama and Auburn University are in the SEC Western Division. Every SEC school plays their six in division opponents every year plus their out of division rival. For Alabama that rival is Tennessee and for Auburn that is Georgia. The eighth conference game is rotated among the other six teams in the other division. Speculation was that each team would play the next two teams in that rotation. For Auburn the next two school in the rotation for would be South Carolina and Missouri. For Alabama it would be Florida and Vanderbilt. Commissioner Sankey told ESPN that that is not necessarily how the SEC will select the schedule and that the conference athletic directors still have to meet to prepare the 2020 schedule for the 14 teams.
The Sunbelt and Conference USA are both being forced to react to the decisions made by their rival conferences. The NCAA Board of Governors will meet on August 5 to determine whether or not there will be FCS, Division II, and Division III football playoffs this year.
College football is the most popular sport in the state of Alabama, where automobile racing is the only major sport played on a major league level. The SEC games are major social events where well over one hundred thousand people descend on Tuscaloosa and Auburn for home games.
Alabama GOP chair: "We expect our elected officials to follow the law" after Dismukes arrest
"Will Dismukes matter: We expect our elected officials, regardless of Party, to follow the laws of our state and nation," Alabama GOP chair Terry Lathan said on Twitter.
Alabama Republican Party Chair Terry Lathan said Thursday that Alabamians expect their leaders to follow the law. Her comments came in response to news that an arrest warrant had been issued for State Rep. Will Dismukes, R-Prattville, on the charge of felony theft.
"Will Dismukes matter: We expect our elected officials, regardless of Party, to follow the laws of our state and nation," Lathan said on Twitter. "No one is immune to these standards. It is very disappointing to hear of these allegations. This is now a legal matter and it must run its course."
Will Dismukes matter:
We expect our elected officials, regardless of Party, to follow the laws of our state and nation. No one is immune to these standards. It is very disappointing to hear of these allegations.This is now a legal matter and it must run its course. #alpolitics

— Terry Lathan (@ChairmanLathan) August 6, 2020
Speaker of the House Mac McCutcheon, R-Monrovia, said Friday in a statement that Dismukes will get his day in court.
"As a former law enforcement officer, I have faith in the criminal justice process and trust that he will receive a full and fair hearing," McCutcheon said. "Both Democrats and Republicans have been accused of similar crimes in the past, and we cannot tolerate such behavior whether the lawmaker involved has a D or an R beside their name."
Dismukes has been charged by his former employer, a custom flooring company, of felony theft charges. Dismukes left that employer and started his own custom flooring company.
Dismukes, who is serving in his first term and is one of the youngest members of the Alabama Legislature, has been heavily criticized for his participation in a birthday party for Confederate Lt. General Nathan Bedford Forrest in Selma. Forrest was also the first grand wizard of the Ku Klux Klan.
The party in Selma occurred the same week that Congressman John Lewis's funeral events were happening in Selma. Dismukes resigned his position at Valley Baptist Church when the Southern Baptists threatened to disassociate the Prattville Church if they retained Dismukes. He has defiantly refused to step down from the Legislature, but if convicted of a felony, he would be automatically removed from office.
Both Democrats and Republicans have called for Dismukes to resign from the Alabama House of Representatives over his being the chaplain of the Prattville Sons of Confederate Veterans and his Facebook post lauding Forrest. The investigation into the theft predates the controversies surrounding Dismukes's glorification of the Confederacy and Forrest.
Republican State Sen. Clyde Chambliss, who also represents Prattville, has called on Dismukes to resign.
"Since first being elected in 1996, I've had a policy of not publicly criticizing other elected officials, but at this time I am making an exception since Rep. Dismukes is MY state representative. He does not represent my views or the views of the vast majority of people of District 88," Chambliss said. "The post is bad enough, the timing is even worse, but the real problem is that an elected official in 2020 would attend a celebration of the life of someone that led a group that terrorized and killed other human beings. He has had 24 hours to understand why people are so upset, but his interview on WSFA a few moments ago confirms that he is lacking in understanding and judgment — he should resign immediately."
Alabama Democratic Party Chairman State Rep. Chris England, D-Tuscaloosa, has repeatedly called for Dismukes to resign from the Alabama House of Representatives.
The Alabama Democratic Party recently said in a statement, "Will Dismukes is morally unfit for office. Republicans and Democrats statewide seem to agree. Unfortunately, despite the mounting calls for his immediate resignation, Will intends to stay in office and seek re-election without penalty from the Republican Party."
"While Alabama Republicans hope this will be a distant memory when Dismukes runs for re-election in 2022, we are not going to let him off the hook," the ADP wrote. "The Alabama Democratic Party is going to leverage every tool we have to send Will packing when he comes up for re-election in two years."
"In our darkest hours in life there is still light in Christ!" Dismukes wrote on social media Wednesday. "As the storm continues to blow with heavy force, there is yet a peace that this too shall pass. I guess sometimes we find out if we have built our house on sand or the solid rock of Christ. Psalm 23."
When Speaker of the House Mike Hubbard, R-Auburn, was indicted on 21 charges of felony ethics violations, he did not resign and actually remained speaker until a jury of his peers in Lee County convicted him on 12 counts.