Congressional candidate Barry Moore shares meme supporting Kenosha shooter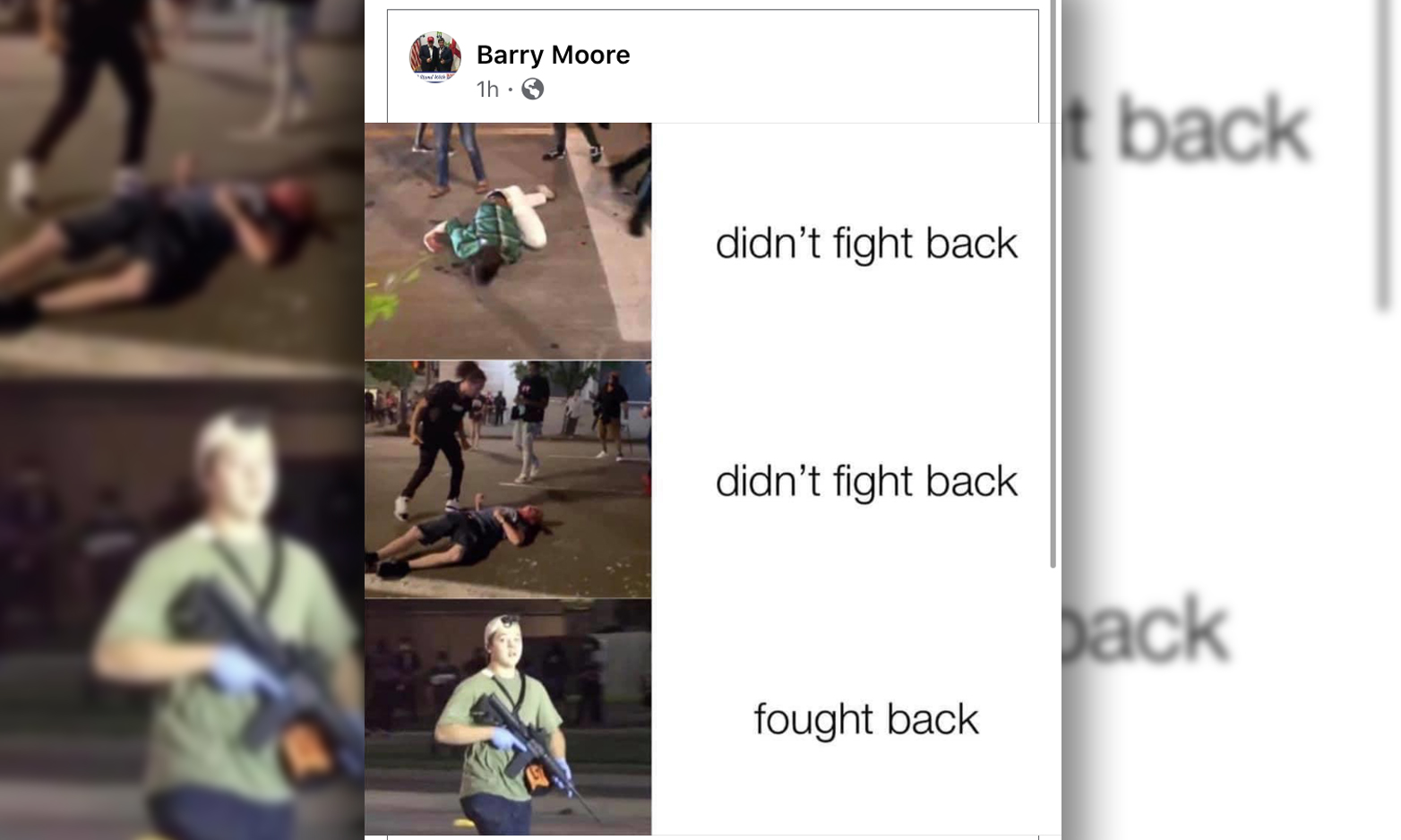 Barry Moore, the Republican candidate expected to win election to Alabama's 2nd Congressional District, shared a post on his Facebook page on Saturday supporting the 17-year-old gunman charged with two counts of homicide after a shooting in Kenosha, Wisconsin.
The post, which has since been deleted, shows an image of an armed Kyle Rittenhouse next to the words "fought back" underneath two other images of men lying unconscious next to the words "didn't fight back."
Moore said that he took the post down because it may have been too graphic for people.
Moore said that he believes Rittenhouse was justified in firing his weapon because he was being attacked.
"I think at that point he had a right to exercise and fire his weapon in self-defense," he said. "I believe if he had not have, he would have been killed."
According to a timeline of events that The New York Times created from various pieces of video footage, Rittenhouse first fired his gun at a man who was pursuing him. Many have speculated that the man, Joseph Rosenbaum, fired at Rittenhouse, but the video appears to show the muzzle flash of a gun fired into the air some distance behind Rosenbaum.
Rittenhouse shot Rosenbaum in the head, killing him. Rittenhouse was then pursued by protesters who some witnesses said were trying to disarm Rittenhouse, who they knew had just shot someone. Moore said that Rittenhouse had no way of knowing what was about to happen to him.
"An untrained professional who's terrified does not know where that line in the sand is. A police officer would probably tase them, mace them, they could do whatever but, man, it's bad business when you've got two citizens armed with guns pointed at each other," he said.
Moore said that he believes that the Second Amendment grants a person the right to defend themselves as Rittenhouse did, but did not condemn him for crossing state lines with a weapon that was illegally in his possession or any of the other charges the teen faces.
"It scares me for our country," Moore said. "It makes me think that we need law enforcement doing their jobs so that citizens don't feel that they have to, especially 17-year-old boys."
Moore's Democratic challenger in the 2nd Congressional District, Phyllis Harvey-Hall, condemned Moore's post, calling it divisive. *Updated at 7:52 p.m. to add comments from Phyllis Harvey-Hall.
"Mr. Moore's decision to share a post defending Kyle Rittenhouse's actions was wrong," Harvey-Hall said in a statement. "One would think a lawmaker would know better than to defend extrajudicial killing. As our nation grapples with ending systemic inequality, we need leaders committed to fairness and compassion, not ones who stoke division. This is not Christian conduct and the people of Alabama deserve better."
The Alabama Democratic Party also criticized Moore's post. *Updated at 8:50 p.m. to add comments from the Alabama Democratic Party.
"Like Will Dismukes and Mike Hubbard, Rep. Barry Moore is an embarrassment to the state of Alabama and the Republican Party," said Wade Perry, the executive director of the Alabama Democratic Party. "His post was offensive and indefensible and clearly demonstrates he is unfit to hold public office."
Moore said he asked his staff to compile statistics about people killed, injured and raped by protesters and property damage done that he planned to share instead.
He said he believed that the meme showed two people who had been killed in riots who hadn't fought back, but neither incident resulted in any deaths.
The first image shows a man who confronted protesters with a sword in Dallas in May lying in the street. The image is taken from a video that went viral. In it, the man confronts protesters and chases one with the sword before being swarmed by protesters and knocked unconscious.
Twitter user C.A. Shoultz claimed to be that person in a series of posts published soon after. He suffered minor injuries and blamed himself for "bravery to the point of stupidity," according to the Fort Worth Star-Telegram. 
The second image depicted Adam Haner, a man who was beaten unconscious in Portland earlier this month. Haner was involved in several confrontations with protesters before he crashed his truck and things escalated, resulting in a man kicking him in the head from behind. Haner was hospitalized with serious injuries, and a 25-year-old man turned himself in to face a felony assault charge.
Sen. Doug Jones won't support SCOTUS nominee before Nov. 3 election
"Certainly, power grabs are not uncommon in our political system, but few are accompanied by such blatant hypocrisy as we are witnessing now," Jones said.
Sen. Doug Jones, D-Alabama, on Friday said he would not support any nominee to the U.S. Supreme Court before the outcome of the Nov. 3 election is determined. 
Speaking during a livestreamed briefing, Jones said that while Republicans appear to have enough votes to replace the late Justice Ruth Bader Ginsburg, he will not be a party to denying the people a voice in the process in the election of the next president "in just under 44 days." 
President Donald Trump said Saturday that he plans to nominate Amy Coney Barrett to replace Ginsburg, who on Friday became the first woman, and first Jewish person, to lie in state at the U.S. Capitol. 
Several Republicans who voiced opposition to President Barack Obama's nomination of Judge Merrick Garland to the Supreme Court more than 10 months before the 2016 election have reversed course, and now say they support Trump nominating a selection with election day just a little more than a month away. 
"Certainly, power grabs are not uncommon in our political system, but few are accompanied by such blatant hypocrisy as we are witnessing now," Jones said. "In fact, I believe that the level and intensity of hypocrisy being displayed by Senator McConnell and the president, with regard to the rush to confirm Justice Ginsburg's successor, is unmatched in the history of our constitutional government." 
Jones said what McConnell and other Republicans should be focusing on instead is getting another round of much-needed COVID-19 aid to small businesses and people impacted by the pandemic. 
"Rather than pushing this confirmation to the top of the Senate calendar, the majority leader should turn his focus instead to protecting the lives and livelihoods of the American people. We should pass a new bipartisan COVID-19 stimulus package to give Americans and businesses the relief that they desperately need, and that economists say if required to shore up the economy now," Jones said. 
Jones expressed concern as well for what medical experts are warning could be a new spike in COVID-19 nationwide. 
"There could be an even greater urgency, if our health care professionals' warnings come to pass," Jones said. "And that is as temperature drops and people go indoors that this virus spikes, and we see another surge." 
Asked why his opponent, Tommy Tuberville, won't debate Jones, he said, "It's pretty simple. He doesn't know what he's talking about."  
"He has no clue. He is Coach Clueless," Jones said. 
Jones noted that when asked recently on his thoughts on extending the John R. Lewis Voting Rights Act of 2020, Tuberville stumbled through an answer that indicated he wasn't sure what the Voting Rights Act was.
"He had no earthly idea," Jones said. 
Jones said Tuberville isn't going to debate him because Tuberville doesn't want to talk about issues.
"He doesn't want to talk about a plan. His plan is simply this: Whatever Donald Trump says, I'm good," Jones said, "and if Donald Trump says or does something that is not good, it's crickets coming from Coach Tuberville." 
Jones noted that after multiple news outlets, including Fox News, confirmed reporting that Trump had said disparaging things about veterans who died in combat, Tuberville has not spoken out against Trump's comments. 
Jennifer Griffin, senior national security correspondent for Fox News, reported that she has spoken to senior U.S. officials who backed up reporting by The Atlantic, and said Trump said of the Vietnam War "anyone who went was a sucker." 
"He has not said a thing about what was confirmed by Fox News about the president's comment," Jones said of Tuberville. "That's just disgraceful."