Alabama athletes, coaches march to protest racial injustice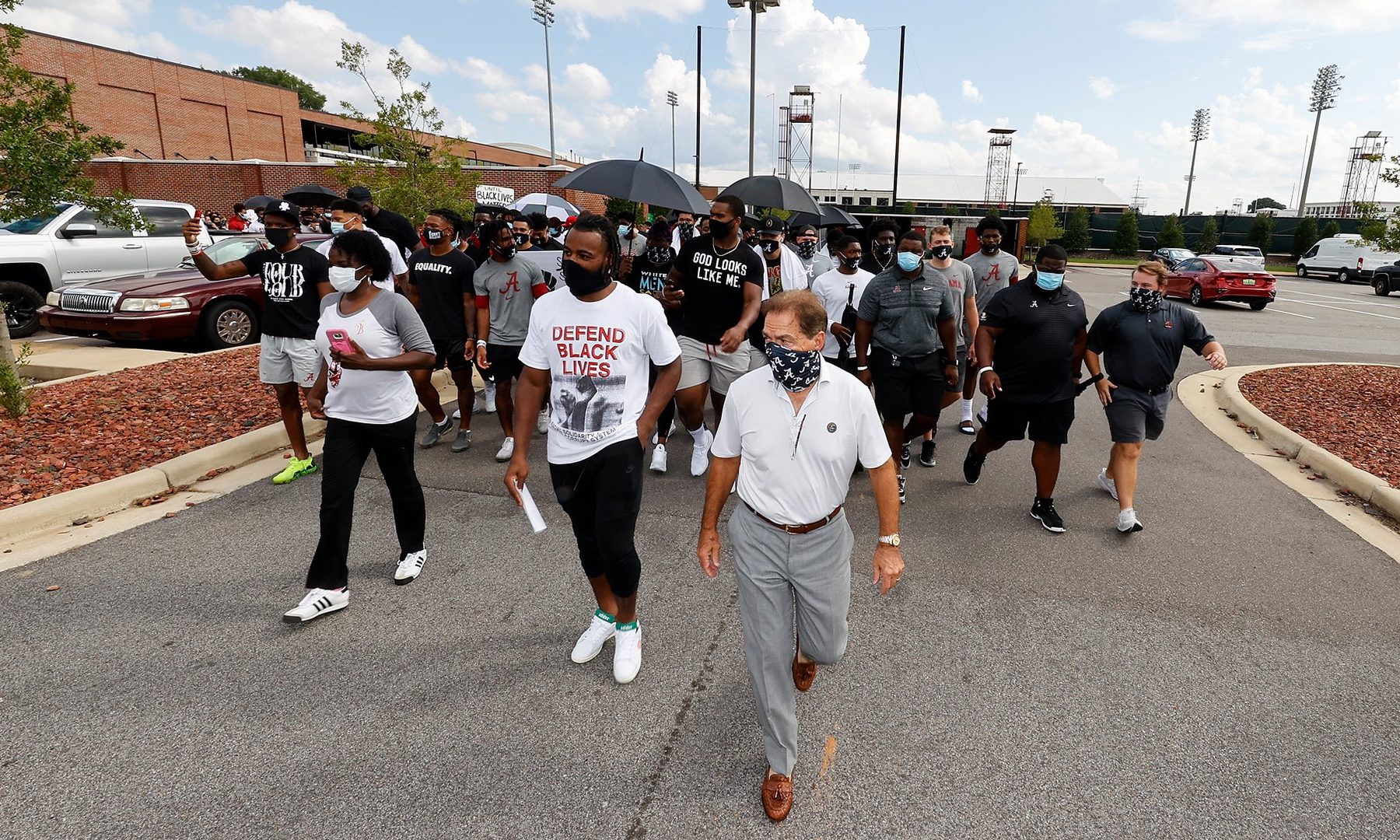 In solidarity, hundreds of University of Alabama athletes, coaches and staff, led by coach Nick Saban, marched across campus on Monday in protest of racial injustice. 
The group marched from Mal M. Moore Athletic Building to the schoolhouse door at the Foster Auditorium, where on June 11, 1963, Gov, George Wallace stood to prevent two black students from entering. 
After the group arrived at the schoolhouse door Saban spoke first, and thanked school administrators for allowing the march and "the opportunity for our players to express their views on how we can effect positive change on social issues in our country." 
"Today, I'm like a proud parent," Saban said. "I'm proud of our team. I'm proud of our messengers over here and I'm very proud of the message." 
Senior running back Najee Harris, who spoke after Saban wearing a "Defend Black Lives" shirt, said racial injustice isn't a problem that will go away with inaction. 
"Being here today is a huge step, but I ask you, what's next? For certain, we can't let this momentum die," Harris said. 
Linebacker Jarez Parks spoke at the event and said that each time he comes back home he thanks God because he knows each time he leaves his home could be his last. 
Parks said his life has been in constant fear "knowing that no matter how educated, how intelligent, how skilled I am, that my skin can be a perception-changer." 
"We don't want revenge. We just want fairness and equality, which is something we can all achieve by togetherness," Parks said. 
Chris Owens, center for Alabama, said while he's only 22, he's seen enough to grow tired of the struggles Black people must endure. 
"As Black people, there are cultural norms that we have to learn to stay safe in society: keep your hands on the steering wheel; always keep a receipt in case you purchased anything," Owens said. "Why can't we be equal? All we want is to end systemic inequalities and have equal opportunity." 
Baldwin, Escambia and Mobile residents impacted by Sally urged to apply for federal aid
FEMA has approved $11.1 million in housing grants to individuals and families through Sept. 28, according to the governor's office.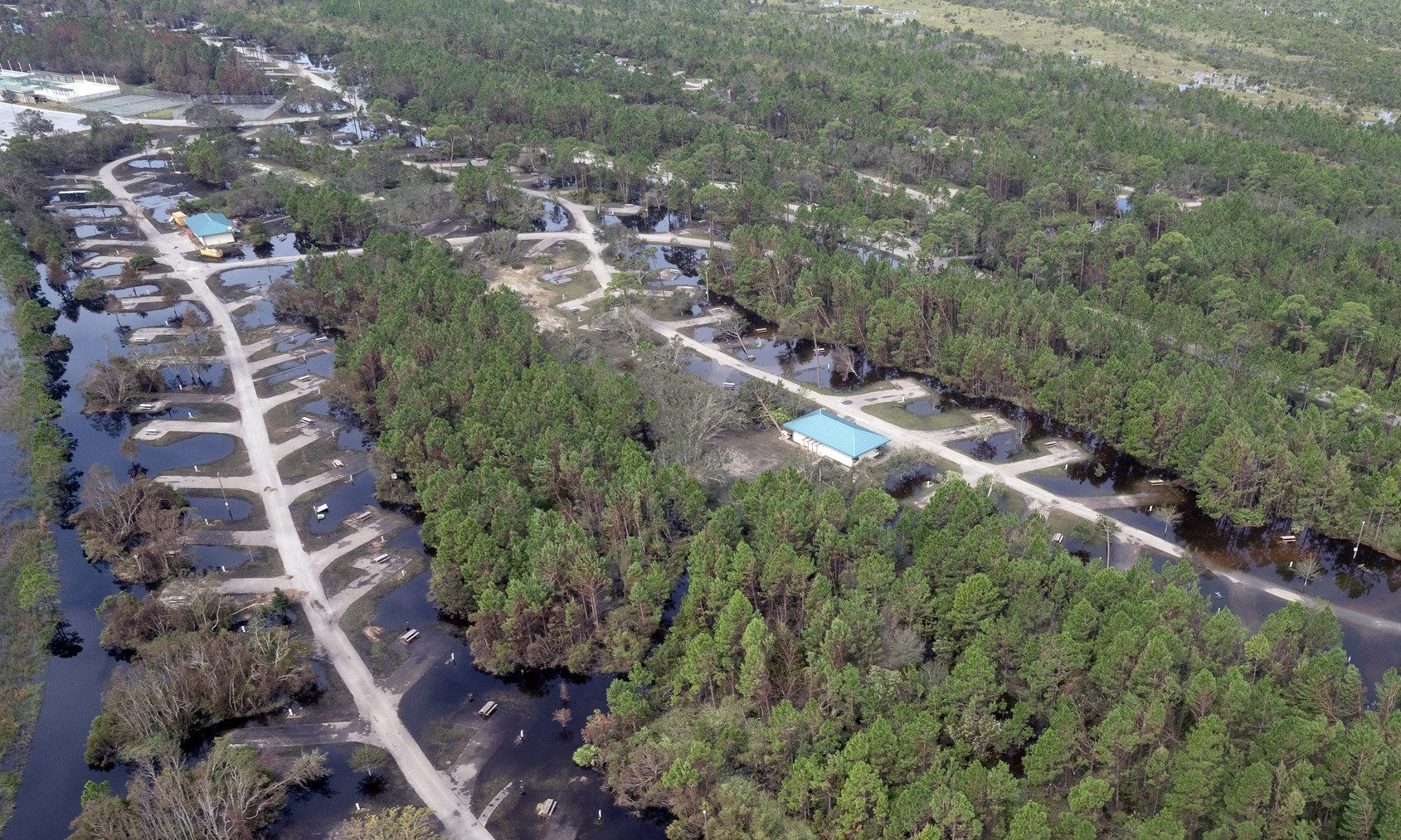 Gov. Kay Ivey on Monday announced more than $11 million in federal disaster aid has been approved for those impacted by Hurricane Sally in Baldwin, Escambia and Mobile counties.  
FEMA has approved $11.1 million in housing grants to individuals and families through Sept. 28, according to Ivey's office. 
"Hurricane Sally took a punch to our coastal areas, but thanks in part to the millions of dollars in federal assistance, the people of Alabama are moving along the road to recovery," Ivey said. "I remain grateful to President Trump, Administrator Gaynor and their teams for prioritizing the people of Alabama reeling from Hurricane Sally. We will get through this together; we have done it before, and we will do it again."
Federal grants to repair homes or for renting temporary housing made up $8.9 million of the FEMA funding. Grants for childcare, moving and storage, medical and dental comprised the remaining $2.1 million. 
The U.S. Small Business Administration has approved an additional $570,900 in disaster home repair loans for those impacted by Sally.
Ivey's office encourages homeowners and renters in Baldwin, Mobile and Escambia counties to apply to FEMA for federal disaster assistance as soon as possible. Residents of these three Alabama counties may also be eligible to receive assistance for uninsured and underinsured damage and losses resulting from the hurricane.
Residents in those three counties impacted by Hurricane Sally may register for FEMA disaster assistance online by visiting disasterassistance.gov or by calling 800-621-3362. Persons who are deaf, hard of hearing or have a speech disability and use a TTY may call 800-462-7585. Multi-lingual operators are available. The toll-free lines are open daily from 6 a.m. to midnight CST.
Those with a homeowner's insurance policy are encouraged to file an insurance claim before applying for federal assistance. 
Information that may be useful to have when you register include:
Address of the damaged primary dwelling where the damage occurred

Current mailing address

Current telephone number

Insurance information and description of disaster-caused damage and loss

Total household annual income

Names and birth dates of family members who live in the household

Name and Social Security number of co-applicant (if applicable)

Routing and account number for checking or savings account so FEMA may directly transfer disaster assistance funds
 For more information on Hurricane Say visit FEMA's website here.