ALGOP hits Jones for vote against "slimmed-down" COVID-19 relief bill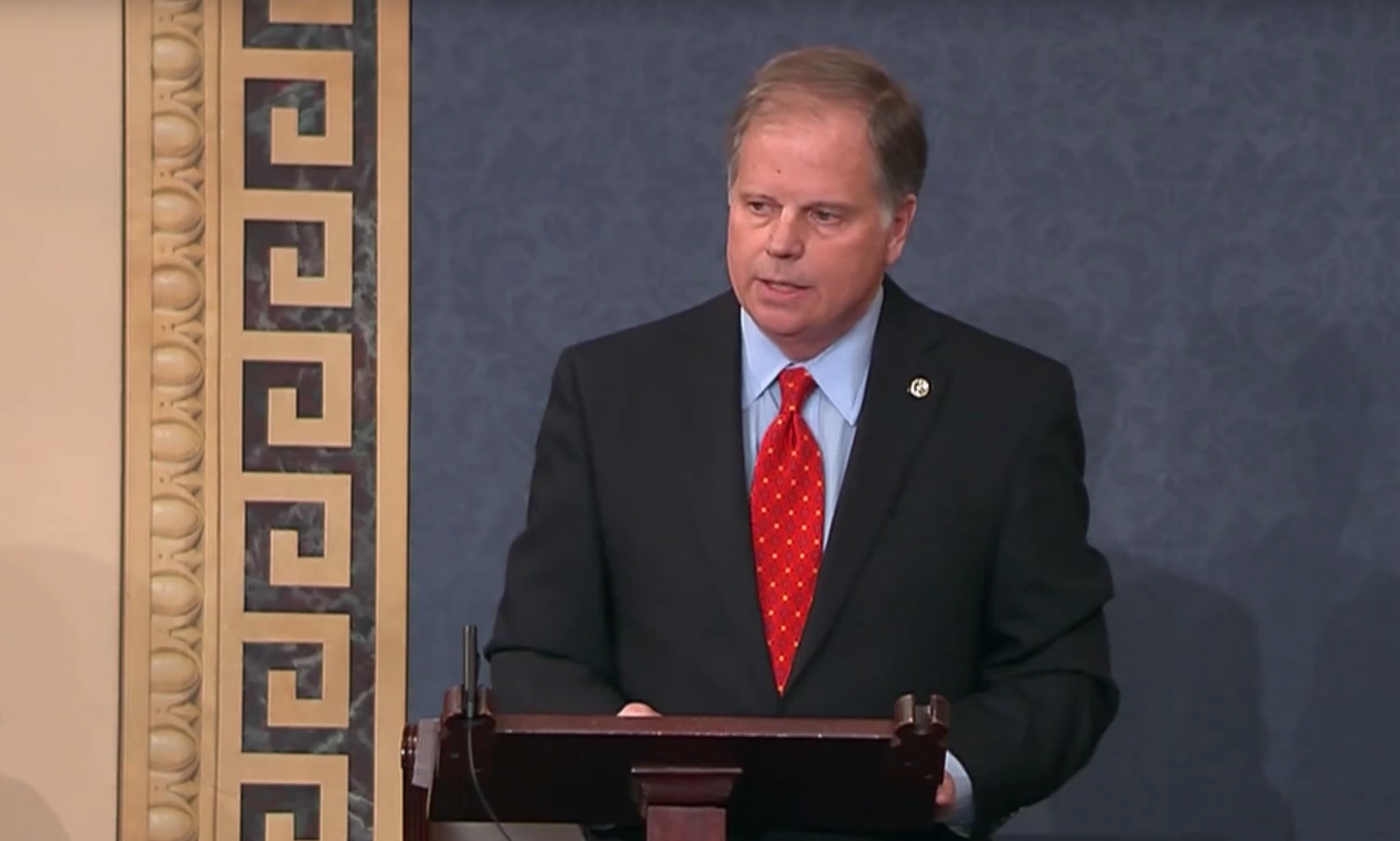 Senate Democrats held up a $300 billion Republican coronavirus stimulus package, and Alabama Sen. Doug Jones was among the Democrats who voted against the GOP's slimmed down coronavirus relief bill. Republicans were quick to slam Jones for the vote against another round of coronavirus aid.
Alabama Republican Party Chair Terry Lathan condemned Jones's vote against the aid, saying he is failing Alabama.
"Once again, Senator Jones has shown just how tone-deaf he is to the needs of Alabamians," Lathan said. "This COVID Relief legislation would have provided much needed support for our school systems that are trying to open safely for our students. It would have also provided the resources needed to continue to develop and distribute a vaccine as well as improve testing. While President Trump is leading on his 'Warp Speed' vaccine solutions, Doug Jones is failing Alabama — again."
Former State Rep. Perry Hooper Jr. — a member of the Trump Victory National Finance Committee, a Trump Team Leader and a member of the Alabama Republican Executive Committee — also criticized Jones for his vote against the bill.
"Doug Jones has proved once again that he cares more about trying to do political damage to our president and pleasing his liberal out-of-state donors than he does Alabama, the state that he was elected to serve," Hooper said. "This vote is a stark reminder of how badly Alabama needs to elect Tommy Tuberville and send Doug Jones packing."
Paige Lindgren, the deputy press secretary of the National Republican Senatorial Committee, also hit Jones for the vote.
"Anti-Trump Democrat Doug Jones voted no today on the latest COVID relief bill," Lindgren said. "The Senate bill would provide targeted relief to states to reopen schools safely, develop and distribute a vaccine and improve testing and contract tracing efforts. Democrat leadership vowed to vote against the bill before it was even released, favoring their $3.5 trillion liberal wish list over any of the Republican-led efforts — and Jones joined them."
"On Tuesday, Senator Jones claimed not to know what was in the bill," Lathan said. "On Wednesday, he said he had 'mixed emotions' about it. Now, on Thursday, he said it was 'inadequate'. He's all over the place. Instead of supporting Alabamians, he lined up behind his liberal buddies Kamala Harris and Bernie Sanders to support the $3.5 trillion 'wish list' passed by House Democrats back in May — a list to bail out bankrupt cities that have nothing to do with the pandemic. He wants Alabama to bail out incompetently run liberal cities with our taxes. That's a hard pass!"
"He voted in lock step with Chuck Schumer and his liberal comrades against a targeted Republican bill that would have provided badly needed aid to everyday Alabama families," Hooper said.
"Once again, we are seeing anti-Trump Democrat Doug Jones side with his Democrat party bosses in blocking COVID relief despite touting bipartisanship on the campaign trail," said Lindgren. "This is just another example in which Jones chooses loyalty to Chuck Schumer and partisan politics over the needs of Alabama."
"It's time for Alabama to have a Senator who listens to the majority — Tommy Tuberville will be elected as our next U.S. senator this November 3rd and will follow the majority of our people's directions," Lathan said.
Democrats argued that the $300 billion GOP bill is far too small. The Democratic controlled House of Representatives passed the $4.3 billion Heroes Act. Senate Republicans opposed that bill, arguing that it would add substantially to the national debt. Because of the 60 vote rule to end a filibuster it takes a bipartisan supermajority to bring up a bill in the Senate for a vote. The slimmed down coronavirus aid bill managed just 52 votes. 8 shy of the number needed to shut down debate and bring the bill up for a vote.
Sewell votes in favor of National Apprenticeship Act
The bill would invest more than $3.5 billion to create nearly one million new apprenticeship opportunities.
Congresswoman Terri Sewell, D-Alabama, last week voted in favor of the National Apprenticeship Act, legislation to reauthorize the National Apprenticeship Act for the first time since its enactment in 1937.
The new National Apprenticeship Act will create one million new apprenticeship opportunities over the next five years. Registered apprenticeships provide workers with paid, on-the-job training, and are the nation's most successful federal workforce training program.
"As a long-time supporter of expanding registered apprenticeships, I am thrilled to support today's legislation to provide 1 million new apprenticeship opportunities over five years," Sewell said. "Our Nation is facing the worst economic downturn since the Great Depression and estimates show that more than 7 million of the pandemic's job losses will be permanent. We need bold investments like those in the National Apprenticeship Act to accelerate the economy and help get the American people back to work in stable, good-paying jobs of the future."
The bill invests more than $3.5 billion over the next five years.
The act establishes a $400 million grant program to support the expansion of apprenticeship opportunities, including pre-apprenticeships and youth apprenticeships, which will increase $100 million annually to reach $800 million by 2025.
The legislation also codifies and streamlines standards for registered apprenticeship, youth apprenticeship and pre-apprenticeship programs to make it easier for both apprentices and employers to participate in high-quality apprenticeships and codifies the Department of Labor's Office of Apprenticeship.
It directs the office to convene industry leaders, labor organizations, educators and others to expand apprenticeships into new occupations and sectors.
Supporters say the bill could yield $10.6 billion in net benefits to U.S. taxpayers in the form of increased tax revenue and decreased spending on public-assistance programs and unemployment insurance, and that nothing is more effective at breaking the cycle of poverty than a well-paying full-time job.
Sewell is about to enter her sixth term representing Alabama's 7th Congressional District.