Hurricane Sally may not make landfall until Wednesday
24 hours ago the storm was expected to come ashore at 8 a.m. Tuesday but because it has slowed, landfall is now not expected before Wednesday.
Tropical Storm Sally became Hurricane Sally on Monday, but it also slowed down. Just 24 hours ago the storm was expected to come ashore at 8 a.m. Tuesday but because of the hurricane's slow speed, landfall is now not expected before Wednesday.
"This thing is basically moving slower than I can walk," ABC 33/40 meteorologist James Spann said Tuesday morning.
The hurricane is practically stationary, and it weakened overnight from a category two to a category one hurricane. But its slow-moving nature is upping concerns that it could cause torrential rain and potentially historic flooding.
"The concern with this all along has not been the wind but the rain potential," Spann said.
Sally is expected to be a slow moving system even as it approaches land, which means it will be a major rain event, producing 10 to 20 inches of rainfall with isolated amounts of 30 inches along and just inland of the central Gulf Coast — from the western Florida Panhandle to far southeastern Mississippi.
Life-threatening flash flooding is likely through Wednesday. In addition, this rainfall will lead to widespread moderate-to-major flooding on area rivers.
Hurricane #Sally is likely to produce extreme life-threatening flash flooding through Wed along and just inland of the central Gulf Coast from the western Florida Panhandle to far southeastern Mississippi. @NWSWPC expects 10-20" of rain, isolated 30"- historic flooding possible. pic.twitter.com/RPHVT0LR4F

— National Hurricane Center (@NHC_Atlantic) September 15, 2020
Sally currently has sustained winds of 85 mph and is located about 115 miles south of Biloxi, Mississippi. The storm weakened overnight due to a decline in sea surface temperature caused in part by its near-stationary positioning that led to a phenomenon called upwelling.
Landfall is now expected to be near the Mississippi-Alabama border at category one strength with Alabama receiving the brunt of the hurricane's more damaging eastern side. The path of the storm can change as this storm's path has changed since Sunday. Hurricane-force winds, dangerous storm surge and flooding rainfall will occur over a large portion of Gulf Coast.
"It is still too early to determine where Sally's center will move onshore given the uncertainty in the timing and location of sally's northward turn near the central Gulf Coast," the National Hurricane Center said Tuesday morning. "Users should not focus on the details of the official forecast track, since NHC's average forecast error at 36 hours is around 60 miles, and dangerous storm surge, rainfall, and wind hazards will extend well away from the center."
Here are the Key Messages for #Sally on Tuesday morning. The hurricane is expected to cause many life-threatening hazards, as detailed below. The latest NHC advisory is at https://t.co/tW4KeFW0gB and your local weather forecast is https://t.co/SiZo8ohZMN pic.twitter.com/Fi558tk15O

— National Hurricane Center (@NHC_Atlantic) September 15, 2020
A Storm Surge Warning is in effect for an area stretching from the mouth of the Mississippi River to the Okaloosa-Walton County Line in Florida. A Hurricane Warning is in effect for east of the mouth of the Pearl River to Navarre, Florida.
The combination of the dangerous storm surge and the tide will cause normally dry areas near the coast to flood. The water could reach 6 to 9 feet above ground level from the mouth of the Mississippi River to Dauphin Island including Lake Borgne and Mobile Bay. The storm surge from Dauphin Island to the Alabama-Florida border is forecast at 4 to 7 feet.
Sally is forecast to turn inland early Wednesday and move across the Southeast producing rainfall of 4 to 8 inches, with isolated maximum amounts of 12 inches, across portions of southeastern Mississippi, southern and central Alabama, northern Georgia and the western Carolinas.
Significant flash and urban flooding is likely, as well as widespread minor to moderate flooding on some rivers.
There is the possibility of a tornado or two Tuesday and Wednesday morning in coastal areas of the Florida Panhandle and Alabama. The tornado threat should increase and slowly spread inland the rest of today into Wednesday.
Due to likely life-threatening surf and rip current conditions Alabama Gov. Kay Ivey has closed all of Alabama's beaches Monday at 3 p.m.
Rain will become widespread during the day Tuesday with the heavy rain mainly south of Interstate 20. A flash flood watch is in effect from I-20 south. Rain amounts across the central and southern counties of the state will range from 2 to 8 inches with the highest totals roughly around the I-85 corridor from Montgomery to Opelika.
Hurricane #Sally Forecast Changes: The axis of heaviest rainfall has shifted to the east along with the eastward adjustments in Sally's forecast track. Removed a few northern counties from the Flash Flood Watch. 🌧Flooding from tropical downpours remains the primary threat. #alwx pic.twitter.com/YUTPAQzARM

— NWS Birmingham (@NWSBirmingham) September 15, 2020
On Wednesday, winds of 15 to 30 miles per hour are likely over the southern two-thirds of the state. We do not expect widespread tree and power line damage or major power outages. A few isolated, brief tornadoes are possible south of a line from Mobile to Montgomery to Opelika with the higher probabilities across Southeast Alabama.
The rain is likely to end from west to east during the day Thursday.
Supreme Court rules that churches can meet despite COVID restrictions
Chief Justice John Roberts sided with the three "liberal" justices in opposing the ruling. New Justice Amy Coney Barret was the deciding vote siding with the four conservative justices.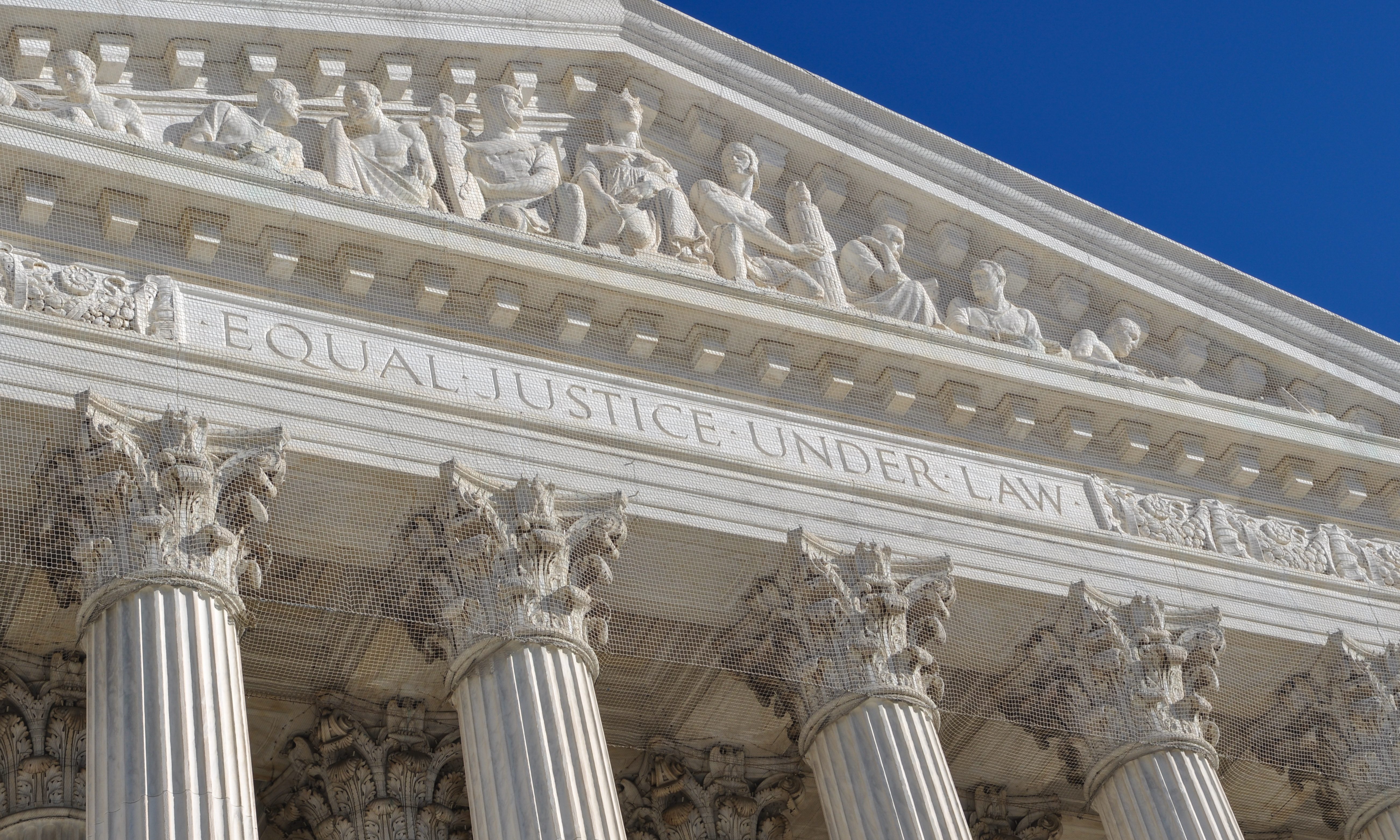 The U.S. Supreme Court ruled in a 5-to-4 decision Wednesday that the state of New York's COVID-19 restrictions violated the freedom of religion rights of New Yorkers.
The court's decision in Roman Catholic Diocese of Brooklyn v. Cuomo just pauses the enforcement of these rules against the litigants who've challenged them while the case proceeds, but it still sends a signal that the majority of the court thinks the restrictions are unconstitutional.
The lawsuits filed by the Diocese of Brooklyn and by Orthodox Jewish synagogues in New York will continue. However, the Supreme Court ruling will likely weigh heavily on the ultimate outcome of those cases.
New York Gov. Andrew Cuomo had passed COVID restrictions that limited church attendance to just 25 people in areas of the state considered to be in the "orange zone" of COVID-19 cases and to just ten people in areas of the state that were in the "red zone."
The same rules applied to churches that can seat a thousand people and those that seat just one hundred. The size of the building did not matter.
"It is time — past time — to make plain that, while the pandemic poses many grave challenges, there is no world in which the Constitution tolerates color-coded executive edicts that reopen liquor stores and bike shops but shutter churches, synagogues and mosques," Justice Neil Gorsuch wrote in a concurring opinion.
"In a red zone, while a synagogue or church may not admit more than 10 persons, businesses categorized as 'essential' may admit as many people as they wish," the court majority wrote. "And the list of 'essential' businesses includes things such as acupuncture facilities, campgrounds, garages, as well as many whose services are not limited to those that can be regarded as essential, such as all plants manufacturing chemicals and microelectronics and all transportation facilities."
"These categorizations lead to troubling results," the court added. "Not only is there no evidence that the applicants have contributed to the spread of COVID–19 but there are many other less restrictive rules that could be adopted to minimize the risk to those attending religious services. Among other things, the maximum attendance at a religious service could be tied to the size of the church or synagogue."
The ruling would tend one to believe that the state may limit occupancy of churches and synagogues, but blanket restrictions like those in the New York law that do not take into account the size of the building are clearly unconstitutional, according to the court majority.
"The Court's ruling is neither surprising nor alarming. Cuomo's rules discriminate against religious services and thereby run afoul of the Constitution," the editors of conservative National Review wrote. "And to fix the problem, Cuomo would not need to exempt houses of worship from the law everyone else follows, but merely ensure that churches aren't relegated to second-class status. One approach may be to classify churches as essential and to assign all essential activities a capacity limit that takes establishment size into account. Another would be to simply let the hard capacity limits go, since houses of worship in orange and red areas are still required to keep to a low proportion of their total capacity (a third and a quarter respectively) — and because the areas at issue in the lawsuit aren't classified as orange or red anymore anyway."
Justice Brett Kavanaugh wrote that whenever a policy creates a preferred, less regulated category — "essential" businesses, in this case — states must either include religion in that category or carry the burden of justifying churches' exclusion.
"The question I always had was why was it okay for all the large box stores to be open, salons, dispensaries, casinos and tattoo parlors, but yet houses of worship were limited to much less capacity than all these places," Rabi Yossi Mintz wrote in a statement. "I completely agree that we must have guidelines but it needs to be across the board and respect the freedom that our fathers granted us through the establishment of our great country."
"There is no question that church is essential and maybe that is more true today than any other time," Pastor Greg Laurie of the Harvest Christian Fellowship Church said in a statement. "Harvest is holding services outside because we want to keep people safe, yet give them an opportunity to worship together…. We practice social distancing and strongly encourage the wearing of masks."
"I am proud to be leading the Diocese of Brooklyn and fighting for our sacred and constitutional right to worship," said Diocese of Brooklyn Bishop Nicholas DiMarzio. "Our churches have not been the cause of any outbreaks. We have taken our legal battle this far because we should be considered essential, for what could be more essential than safely gathering in prayer in a time of pandemic."
Chief Justice John Roberts sided with the three liberal justices in opposing the ruling. New conservative Justice Amy Coney Barret, appointed by President Donald Trump after Ruth Bader Ginsburg's death in September, was the deciding vote, siding with the four other conservative justices.
In an earlier 5-to-4 decision, the court found in favor of a California public health order that prevented churches from operating early in the pandemic. Then Justice Roberts sided with the liberals, but the liberal four has become the liberal three with the death of Ginsburg. Barret replacing Ginsburg appears to have reset the court's previous position.