Governor honors Alabama Truck Driver of the Year on state Capitol steps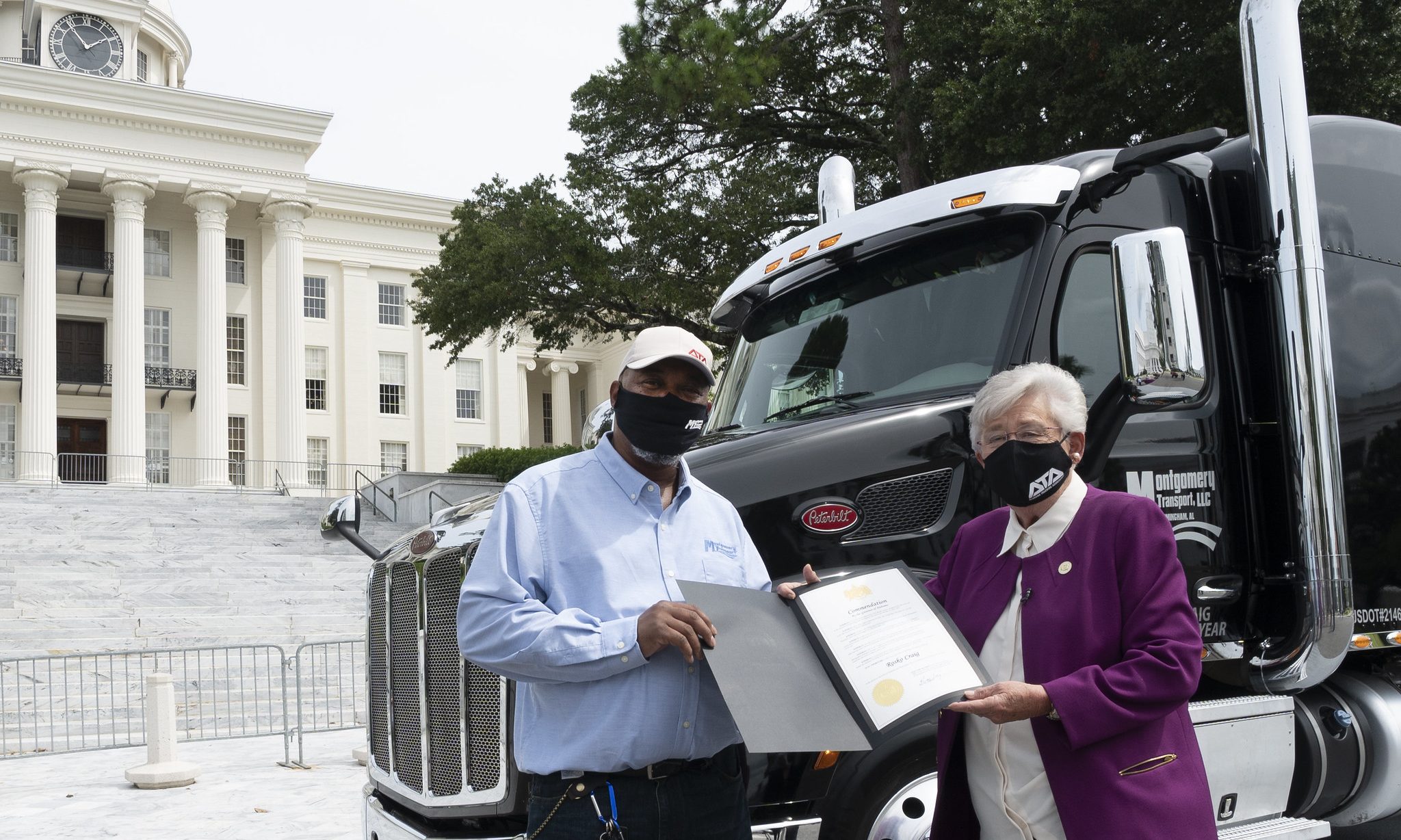 To kick off National Truck Driver Appreciation Week in Alabama, Gov. Kay Ivey honored the state's most accomplished professional truck driver, Rosko Craig of Silas, Alabama, during a brief ceremony at the foot of the state Capitol steps Monday afternoon.
Truck Driver Appreciation Week is from Sept. 13 to 19.
Craig, 50 — a truck driver for the Birmingham-based Montgomery Transport LLC — was recently named the Alabama Trucking Association's Driver of the Year, sponsored by Nextran Truck Centers, for his dedication to professionalism and safety and his 3 million career miles driven without an accident.
The governor invited Craig to stop by the Capitol to meet her and her staff and to discuss the trucking industry's key role in the state's economy, as well as the crucial role truck drivers filled to keep stores and other facilities well-stocked with essential items and supplies during the coronavirus pandemic.
Craig pulled his rig up to the steps of the Capitol and even offered onlookers a blast of his truck's horn. Ivey then presented Craig an official commendation recognizing him as Alabama's Truck Driver of the Year and to honor the trucking industry's importance as the state's premier goods movement network.
"Rosko certainly has a positive attitude and a proven track record over his 20-plus-year trucking career," Ivey said. "Our hats go off to Rosko and all our truckers who keep Alabama moving!"
Craig told the governor that, for him, the keys to success in trucking are safety, hard work and determination.
"I love trucking because it was a childhood dream of mine," he said. "I support my family, my wife, my son, my daughter, my grandson — they are my rock and my backbone. I couldn't do this without them."
Mark Colson, president of the Alabama Trucking Association, thanked Ivey for recognizing the importance of the trucking industry.
"Sometimes America's 3.5 million truck drivers are taken for granted But visit any grocery store, business, or medical facility in Alabama, and it becomes obvious that truckers move America," Colson said. "Most importantly, America's professional truck drivers are committed to doing their jobs safely, because they too are mothers and fathers, sons and daughters, and friends and neighbors.
"The next time you speak with a professional truck driver, ask them how many safe miles he or she has, but don't be surprised if the answer is in the millions."
Also in attendance was Craig's boss, Rollins Montgomery, president of Montgomery Transport, who added that Craig represents the best of the trucking industry.
"I wish I had 100 Roskos working for the company," he said. "We're so honored to be here today to celebrate and recognize his outstanding achievement. We are so thankful to have him on the Montgomery Transport team."
Baldwin, Escambia and Mobile residents impacted by Sally urged to apply for federal aid
FEMA has approved $11.1 million in housing grants to individuals and families through Sept. 28, according to the governor's office.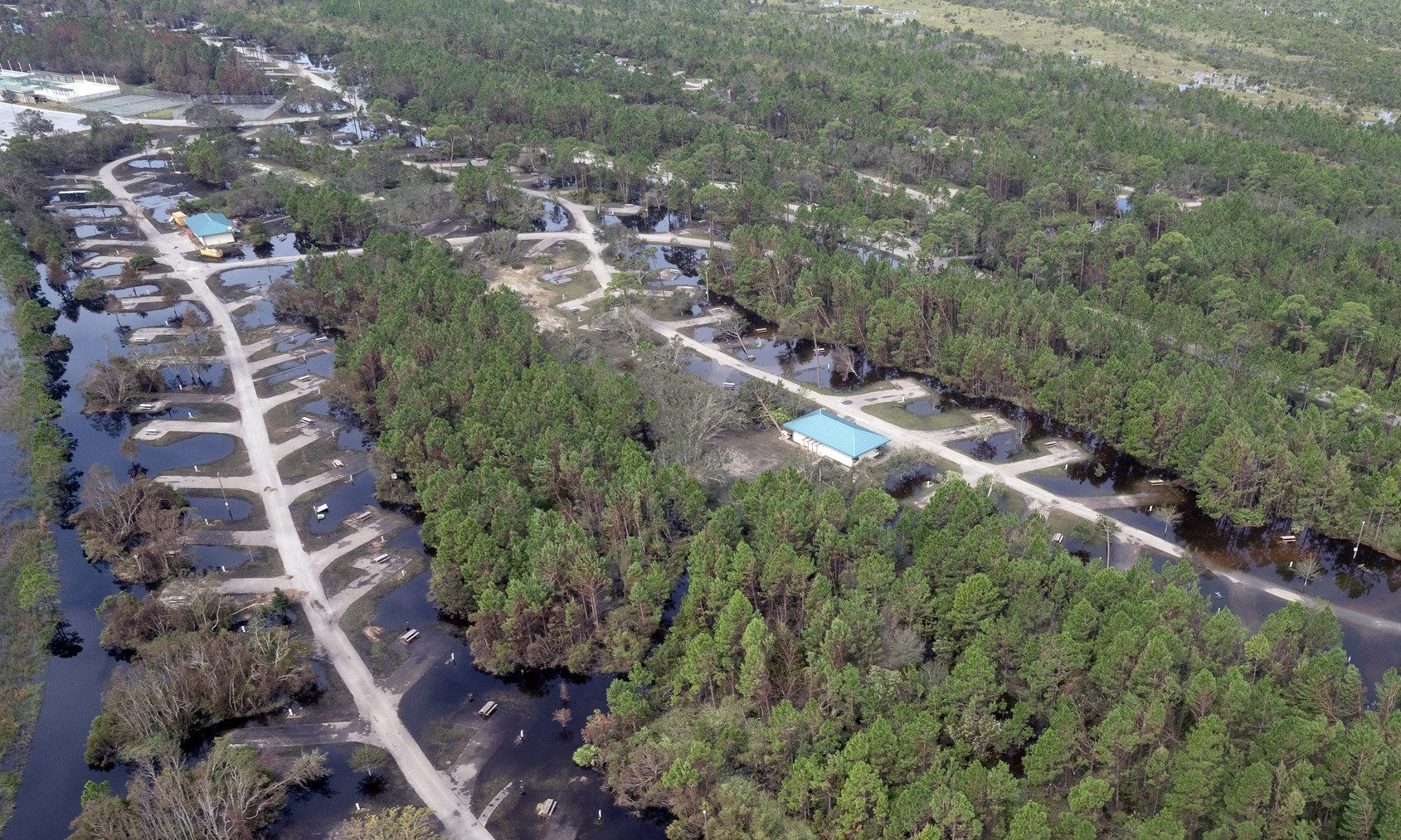 Gov. Kay Ivey on Monday announced more than $11 million in federal disaster aid has been approved for those impacted by Hurricane Sally in Baldwin, Escambia and Mobile counties.  
FEMA has approved $11.1 million in housing grants to individuals and families through Sept. 28, according to Ivey's office. 
"Hurricane Sally took a punch to our coastal areas, but thanks in part to the millions of dollars in federal assistance, the people of Alabama are moving along the road to recovery," Ivey said. "I remain grateful to President Trump, Administrator Gaynor and their teams for prioritizing the people of Alabama reeling from Hurricane Sally. We will get through this together; we have done it before, and we will do it again."
Federal grants to repair homes or for renting temporary housing made up $8.9 million of the FEMA funding. Grants for childcare, moving and storage, medical and dental comprised the remaining $2.1 million. 
The U.S. Small Business Administration has approved an additional $570,900 in disaster home repair loans for those impacted by Sally.
Ivey's office encourages homeowners and renters in Baldwin, Mobile and Escambia counties to apply to FEMA for federal disaster assistance as soon as possible. Residents of these three Alabama counties may also be eligible to receive assistance for uninsured and underinsured damage and losses resulting from the hurricane.
Residents in those three counties impacted by Hurricane Sally may register for FEMA disaster assistance online by visiting disasterassistance.gov or by calling 800-621-3362. Persons who are deaf, hard of hearing or have a speech disability and use a TTY may call 800-462-7585. Multi-lingual operators are available. The toll-free lines are open daily from 6 a.m. to midnight CST.
Those with a homeowner's insurance policy are encouraged to file an insurance claim before applying for federal assistance. 
Information that may be useful to have when you register include:
Address of the damaged primary dwelling where the damage occurred

Current mailing address

Current telephone number

Insurance information and description of disaster-caused damage and loss

Total household annual income

Names and birth dates of family members who live in the household

Name and Social Security number of co-applicant (if applicable)

Routing and account number for checking or savings account so FEMA may directly transfer disaster assistance funds
 For more information on Hurricane Say visit FEMA's website here.