Officials warn against unlicensed, unscrupulous contractors in Sally's wake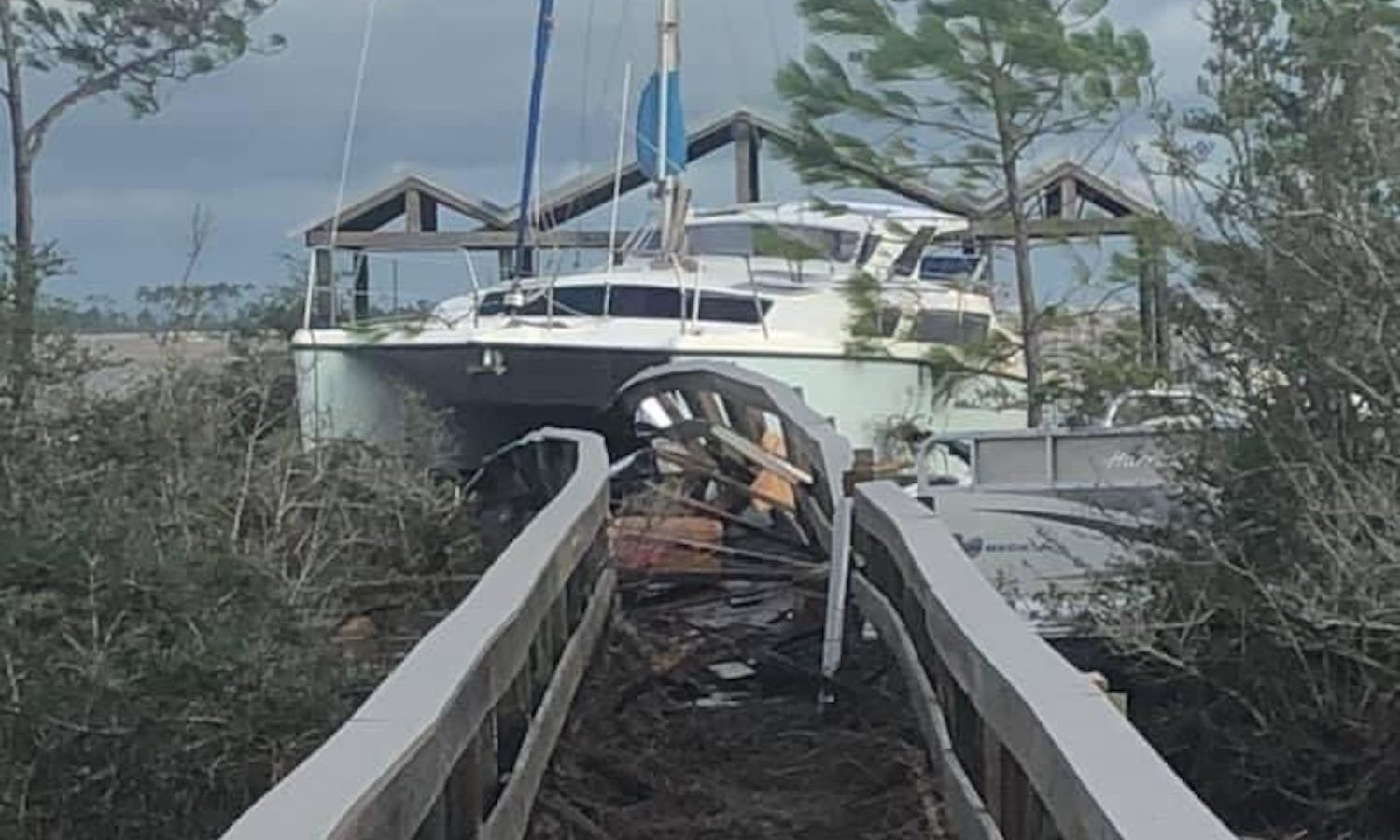 State officials on Thursday warned the public about "unlicensed and/or unscrupulous contractors" in the wake of Hurricane Sally's damage along Alabama's coast and elsewhere in the state. 
"The damage left in the wake of Hurricane Sally is widespread and catastrophic," said Alabama Attorney General Steve Marshall in a statement. "Over the weeks and months ahead, many thousands of Alabamians will be in urgent need of home repairs. Unfortunately, unscrupulous operators frequently seek to take advantage of disaster victims, targeting those struggling to recover. The Home Builders Licensure Board, the Department of Insurance and the Attorney General's Office want consumers to know the steps to finding reliable and responsible workers, and to recognize the signs of fraudulent contractors."
Alabama Insurance Commissioner Jim Ridling said in a statement that it's important for Alabama consumers to protect themselves from those who would take advantage of them, especially after a major weather event. 
"Consumers should check a contractor's license and talk to their insurance company before making a selection," Ridling said. 
J.R. "Chip" Carden, director of the Alabama Home Builders Licensure Board, echoed those warnings and in a statement said homeowners should be careful when selecting a contractor. 
"Do your homework," Carden said. "Call any references the builder gives you and check with the Board to confirm if a builder is licensed and in good standing. Don't be in a rush. A bad decision now can make a difficult situation even worse."
A few tips to remember about Alabama Consumer Protection laws:
Under Alabama law, a contractor who performs residential roof work directly for a homeowner and the cost is over $2,500 MUST be licensed by the Alabama Home Builders Licensure Board, including being properly bonded.
If the repairs to a house require work beyond just putting on a new roof or anything structural, the contractor is required to have an unlimited license issued by the Alabama Home Builders Licensure Board.
A contractor who provides emergency services such as tarping your house cannot then use those services to bind a homeowner into a contract. Contractors are entitled to reasonable compensation for these emergency type services, but they cannot use this to bind a homeowner to a contract for further repair work and/or price gouging.
Contractors MUST provide homeowners a "NOTICE OF CANCELLATION" disclaimer in a contract for roof repairs. This is to protect homeowners from being on the hook for a contract that is more than the claim payment from the insurer. Homeowners have five days to give notice to cancel the contract.
Alabama law recently passed by the Legislature allows a homeowner to cancel a roofing contract within five business days after the homeowner receives written notice from the insurance company that all or any part of the claim is not a covered loss under the policy or that the covered claim will not be sufficient to cover the amount of the contract.
Under Alabama law, a residential roofing contractor shall not represent or offer to negotiate on the homeowner's behalf with the insurance company.
The Attorney General, Department of Insurance and Home Builders Licensure Board also outline steps consumers should take when working with a contractor builder on storm damage repairs:
Ask if they are licensed. Ask to see the card! The HBLB license is a credit card-sized license – a sample is listed on HBLB's website. You may check on a builder's license status by calling 1-800-304-0853, or by visiting www.hblb.alabama.gov.

Ask for and check references, especially if the builder makes unsolicited contact with you or is from out-of-town.

Make sure quotes and contracts are in writing. Under state law, licensed homebuilders must use a written contract. Make sure it includes the contractor's full name, address, telephone number, a description of the work to be performed, starting and estimated completion dates, and the total cost of the job.

NEVER make a full payment or substantial down payment up front. Do not make a final payment until you are satisfied, and all subcontractors have been paid. If they tell you that more money is needed in advance, be wary.

Ask for proof of insurance, including workers compensation and general liability.
For more information, contact the Home Builders Licensure Board, 445 Herron Street, Montgomery, Alabama 36104, (334) 242-2230 or 1-800-304-0853 or www.hblb.alabama.gov.
Alabama's Black Belt lacks quality internet access, report finds
Twenty-two of 24 Black Belt counties are below the statewide average of 86 percent of the population who have access to high-speed internet, and two Black Belt Counties — Perry and Chocktaw — have no access at all. 
During an online video briefing Monday on a report about a lack of internet access in Alabama's Black Belt, University of Alabama student Brad Glover warned reporters that he could get kicked off the briefing at any moment. 
That's because he was talking during the video briefing by way of audio only, using his cell phone, as he does not have access to high-speed internet access at his Linden, Alabama, home in the Black Belt's Marengo County. 
The COVID-19 pandemic that sent students home to study online left many in the Black Belt and other rural parts of Alabama in the lurch, without access to the high-speed internet enjoyed by so many other Americans, according to the latest report in the University of Alabama's Education Policy Center's Black Belt 2020 series. 
The latest report, titled "Internet Access Disparities in Alabama & the Black Belt," found that 22 of 24 Black Belt counties, as defined by the Education Policy Center, are below the statewide average of 86 percent of the population who have access to high-speed internet, and two Black Belt Counties — Perry and Chocktaw — have no access at all. 
"It is still a terrible struggle for me to connect to get the things done that are required," said Glover, who interned with the Education Policy Center. 
Stephen Katsinas, director of the Education Policy Center, said that in the 1930s, nine of ten rural homes lacked the electric service that urban American homes, by that point, had for 40 years. 
"The Rural Electrification Act was passed to address this abject market failure," Katsinas said. "Today, as the COVID pandemic has shown, access to high-speed internet is as essential to rural Alabama as the REA was in the 1930s. Alabama must directly address the market failures that exist today to bring high-speech internet to every rural Alabamian, so that our rural workforce can access the lifelong learning skills they need, and our rural businesses can compete globally." 
The COVID-19 pandemic has also spotlighted the need to expand the growing area of telemedicine. 
Dr. Eric Wallace, medical director of Telehealth at UAB, told reporters during the briefing Monday that patients are largely doing telehealth from their homes, and explained that disparities in access to high-speed internet present a problem for them. 
"Since the COVID-19 pandemic began, UAB has done approximately 230,000 telehealth visits, and 60 percent of those were done by video," Wallace said. 
"Forty percent are audio only, and why is audio only? It's because we do not have broadband," Wallace said. "So it's not just broadband. It's broadband. It's tech literacy. Socioeconomics, to have a device in your home. It's all of that."
Wallace said that the coronavirus crisis has made clear that telemedicine is a "100 percent necessity" and that patient satisfaction studies make clear it's not going anywhere. 
The reasons for disparities in access to high-speed internet are myriad, explained Noel Keeney, one of the authors of the report and a graduate research assistant at the Education Policy Center. 
Keeney noted a study by BroadbandNow that estimates there are 154 internet providers in Alabama, but there are 226,000 Alabamians living in counties without a single provider, and 632,000 in counties with just a single provider. 
Even for those with access to internet providers, Keeney said that just approximately 44.4 percent of Alabamians have internet access at a cost of $60 monthly or below. 
"If we really care about our rural areas, we need to make an investment, and it needs to cut off that cost at a very low rate," Wallace said. 
Katsnias said there's a growing consensus on the part of Alabama's political leaders that access to high-speed internet is an important issue, noting that Gov. Kay Ivey in March 2018, signed into law the Alabama Broadband Accessibility Act, which has given internet access to nearly 100,000 Alabama students. 
"In March, Gov. Ivey awarded $9.5 million in broadband expansion grants, with a significant amount going to Black Belt communities," the report reads. "This was followed by $5.1 million in additional grants in May." 
"The State of Alabama also allocated $100 million in federal CARES Act-related dollars for "equipment and service for broadband, wireless hot spots, satellite, fixed wireless, DSL, and cellular-on-wheels to increase access for K-12 students undergoing distance learning," the report continues. 
An additional $100 million in CARES Act funds were made available to facilitate virtual learning across Alabama's K-12 schools, researchers wrote in the report, and another $72 million in federal aid went to the state's colleges and universities. 
Katsinas said however those federal funds are spent, the state still needs a long term plan for how to address the disparities in access to high-speed internet. 
"We need a long term plan and we need to do what we can do immediately," Katsinas said
Read more of the Education Policy Center's reports in the "Black Belt 2020" series here.