Sen. Doug Jones won't support SCOTUS nominee before Nov. 3 election
"Certainly, power grabs are not uncommon in our political system, but few are accompanied by such blatant hypocrisy as we are witnessing now," Jones said.
Sen. Doug Jones, D-Alabama, on Friday said he would not support any nominee to the U.S. Supreme Court before the outcome of the Nov. 3 election is determined. 
Speaking during a livestreamed briefing, Jones said that while Republicans appear to have enough votes to replace the late Justice Ruth Bader Ginsburg, he will not be a party to denying the people a voice in the process in the election of the next president "in just under 44 days." 
President Donald Trump said Saturday that he plans to nominate Amy Coney Barrett to replace Ginsburg, who on Friday became the first woman, and first Jewish person, to lie in state at the U.S. Capitol. 
Several Republicans who voiced opposition to President Barack Obama's nomination of Judge Merrick Garland to the Supreme Court more than 10 months before the 2016 election have reversed course, and now say they support Trump nominating a selection with election day just a little more than a month away. 
"Certainly, power grabs are not uncommon in our political system, but few are accompanied by such blatant hypocrisy as we are witnessing now," Jones said. "In fact, I believe that the level and intensity of hypocrisy being displayed by Senator McConnell and the president, with regard to the rush to confirm Justice Ginsburg's successor, is unmatched in the history of our constitutional government." 
Jones said what McConnell and other Republicans should be focusing on instead is getting another round of much-needed COVID-19 aid to small businesses and people impacted by the pandemic. 
"Rather than pushing this confirmation to the top of the Senate calendar, the majority leader should turn his focus instead to protecting the lives and livelihoods of the American people. We should pass a new bipartisan COVID-19 stimulus package to give Americans and businesses the relief that they desperately need, and that economists say if required to shore up the economy now," Jones said. 
Jones expressed concern as well for what medical experts are warning could be a new spike in COVID-19 nationwide. 
"There could be an even greater urgency, if our health care professionals' warnings come to pass," Jones said. "And that is as temperature drops and people go indoors that this virus spikes, and we see another surge." 
Asked why his opponent, Tommy Tuberville, won't debate Jones, he said, "It's pretty simple. He doesn't know what he's talking about."  
"He has no clue. He is Coach Clueless," Jones said. 
Jones noted that when asked recently on his thoughts on extending the John R. Lewis Voting Rights Act of 2020, Tuberville stumbled through an answer that indicated he wasn't sure what the Voting Rights Act was.
"He had no earthly idea," Jones said. 
Jones said Tuberville isn't going to debate him because Tuberville doesn't want to talk about issues.
"He doesn't want to talk about a plan. His plan is simply this: Whatever Donald Trump says, I'm good," Jones said, "and if Donald Trump says or does something that is not good, it's crickets coming from Coach Tuberville." 
Jones noted that after multiple news outlets, including Fox News, confirmed reporting that Trump had said disparaging things about veterans who died in combat, Tuberville has not spoken out against Trump's comments. 
Jennifer Griffin, senior national security correspondent for Fox News, reported that she has spoken to senior U.S. officials who backed up reporting by The Atlantic, and said Trump said of the Vietnam War "anyone who went was a sucker." 
"He has not said a thing about what was confirmed by Fox News about the president's comment," Jones said of Tuberville. "That's just disgraceful."
Alabama Republicans urge Jones to meet with Trump's SCOTUS nominee
"Today is the day we are challenging Doug Jones to do something he rarely does — listen to the majority of Alabamians," Lathan said.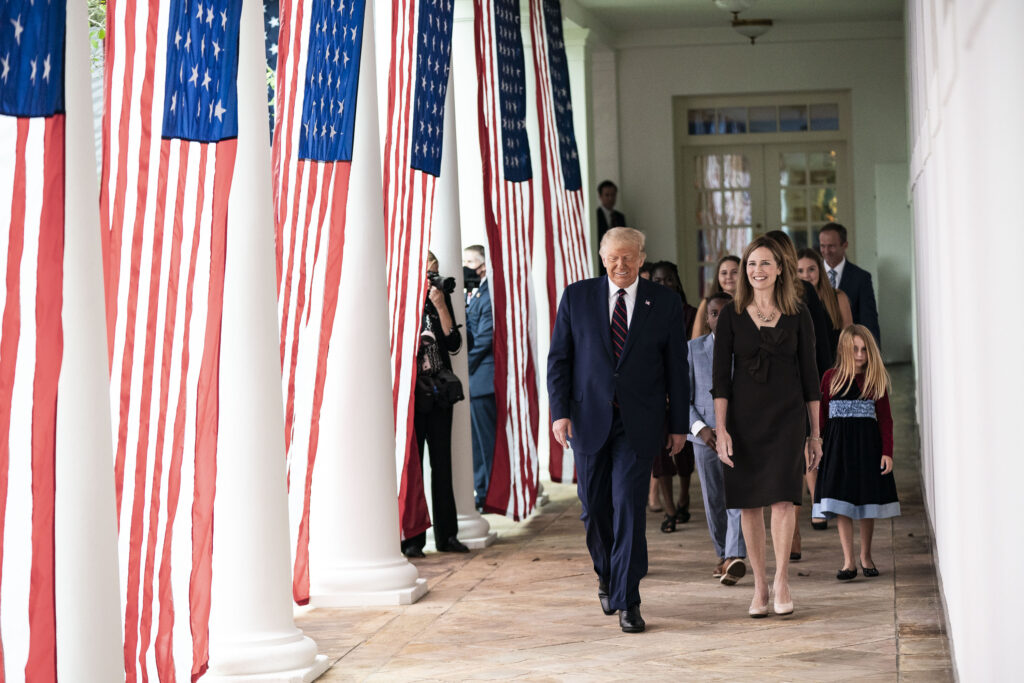 Wednesday, Alabama Republican Party Chairman Terry Lathan and over 25 supporters held a news conference at ALGOP Headquarters in Hoover to demand that Senator Doug Jones not ignore the majority of Alabamians and consider Amy Coney Barrett for the Supreme Court.
"Today is the day we are challenging Doug Jones to do something he rarely does — listen to the majority of Alabamians," Lathan said. "He has ignored the majority over and over on major issues."
Lathan asserted that Jones ignored the wishes of Alabamians when he voted guilty on articles of impeachment against the president earlier this year, and when he voted against confirmed for then-nominee Judge Brett Kavanaugh in 2018.
"He still owes Justice Kavanaugh an apology for going along with the circus the Democrats orchestrated against a nominee that Alabamians supported," Lathan said. "On voting to withhold funding from the southern border wall being built. On declaring he will vote to take away Alabama tax cuts courtesy of President Trump … in other words take away your money that you work for — he's telling you, Alabama, it's his to take and not yours to keep. He wants your family income back."
Jones has said he will not vote to confirm Barrett — or any nominee — before the results of the Nov. 3 general election have been decided. Democrats oppose Barrett's nomination because her appointment to the court would solidify a 6-3, highly conservative majority and because Republicans denied President Barack Obama's nominee, Judge Merrick Garland, hearings and a vote in 2016.
"He said it's because it's too close to an election. Well, there was an election held in 2016 and 2018 — Alabama said we highly support President Trump in the White House and America added two more Republican U.S. Senate seats," Lathan said. "With the Republican Party now the majority in the Senate and in the White House, Senator Jones needs to do his job — meet with her, listen to her and then decide on Judge Barrett's credentials."
Republicans appear to have a majority to confirm Barrett to the court, with hearings scheduled for later this month. Jones's vote is unlikely to make a difference in the confirmation fight.
"It is a poor reflection of the state of our national politics that, just hours after Justice Ginsburg's passing, we were thrust into a divisive partisan fight over her successor, denying the nation the time to mourn this extraordinary American's death," Jones said. "Just weeks from a national election, we are confronting a blatant power grab by Senate Majority Leader Mitch McConnell and the President that will undermine the court and subvert the will of the American people."
Lathan said that, "Tone deafness to the seating of Judge Barrett will not stand. There is no reason not to meet with this mother of 7 who drives a minivan, is highly regarded by her students, professors and those who have worked with her in the judicial system. Why is he afraid? He looks weak. Alabama does not like that look at all. Do your job, Senator Jones. Use your own words that you pride yourself on of being fair. Meet with Judge Barrett on behalf of Alabama."
Jones has pointed to what Democrats call the hypocrisy of Senate Majority Leader Mitch McConnell, who denied Garland hearings in the spring of 2016, months out from an election. McConnell is now pushing for Barrett to be confirmed less than a month before a general election.
"Just four years ago, Leader McConnell held open a Supreme Court seat for ten months before a presidential election because he said time and again that, in an election year, we must let the American people decide," Jones said. "If confirming a Supreme Court justice ten months prior to a presidential election would have denied the American people a voice, then isn't he now denying the American people a voice by rushing to confirm a justice just weeks before a presidential election?"
"Under these circumstances, I will not support the confirmation of any Supreme Court justice nominee before the election," Jones explained. "We should not force the country into a brutal and divisive partisan confirmation fight while Americans are already voting to choose the next President. If President Trump is re-elected, I will evaluate any pending or future nominee on their merits and vote for or against the nominee based solely on their qualifications."
Lathan was joined at ALGOP headquarters by State Rep. David Wheeler, R-Vestavia; State Sen. Jabo Wagoner, R-Vestavia; Jefferson County Republican Party Chairman former State Rep. Paul DeMarco, R-Homewood; and Republican National Committeewoman Vickie Drummond.
Lathan said Republicans would vote Jones out on Nov. 3.
"OK — go ahead Senator Jones. You do you and we are going to do us," Lathan said. "On Nov. 3, when Alabamians have all of the power, we will prove that your one hit wonder term was really a one hit blunder term. We will thumb our noses at you with the stroke of our pens. You will have no one to blame but yourself. In 34 days, your millions of dollars and appeasement of the left will not save you. Alabamians don't take kindly to being ignored and on Nov. 3, they will not be ignored by you any longer."
"In 34 days, Alabama will again add a new page in our history books when we will show Doug Jones that the voters are the be all to end all," Lathan said. "We will end his placeholder status and elect Tommy Tuberville to replace Doug Jones. Coach Tuberville will support our president and, as important, not ignore the wishes of the people of sweet home Alabama."
"The world is watching Alabama. Will we keep the majority in the Senate," Lathan said.
Lathan challenged Senator Doug jones "to at least meet with her that is the minimum that he can do."
Lathan warned that "Complacency is the enemy of the Republican Party," when discussing the GOP's prospects in the 2020 election.