Lawsuit alleges "religious test" on Alabama voter registration form
Plaintiffs say the phrase "so help me God" amounts to a mandatory religious oath.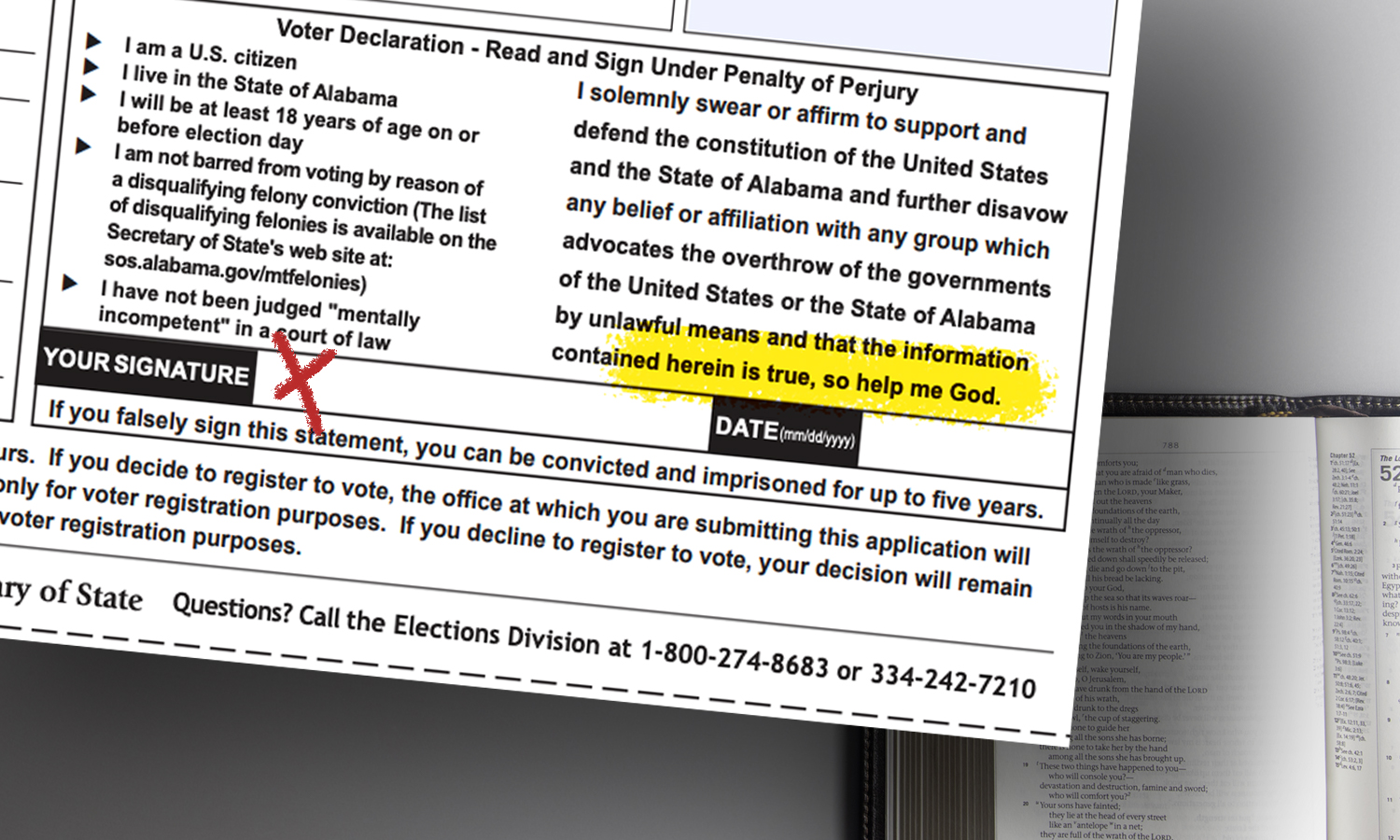 A lawsuit filed in federal court is challenging language on Alabama's voter registration form, saying that the phrase "so help me God" amounts to a mandatory religious oath prohibited by the Constitution.
Alabama is the only state that requires voters to swear the truthfulness of their voter registration information by signing a form that includes those words without any option of a secular affirmation.
The lead plaintiff is Randal Cragun, an atheist who has sought to register to vote in Alabama since November 2019. He noticed that on the mail-in form that is downloadable from the secretary of state's website, a warning states: "Read and sign under penalty of perjury," and, "If you falsely sign this statement, you can be convicted and imprisoned for up to five years." The declaration begins "I solemnly swear or affirm" and ends with "so help me God."
Cragun contacted Secretary of State John Merrill's office to ask how he could register without signing the declaration as it is written, according to the Freedom From Religion Foundation, which filed the suit on behalf of Cragun and three other plaintiffs. The next day, Cragun was told by the director of elections that no legal mechanism existed to provide an alternative, and that crossing out any portion would result in the application being rejected.
"It is deplorable that in our secular nation nontheistic citizens are encountering a religious test to register to vote," said Annie Laurie Gaylor, co-president of FFRF. "No citizen should have to choose between their right to vote and their freedom of conscience."
Before filing the lawsuit, the organization sent a letter to Merrill's office saying that the oath violates the First Amendment. It cited Torcaso v. Watkins, in which the Supreme Court ruled that neither a state nor the federal government can force a person to profess a belief or disbelief in any religion.
Merrill declined to comment until his office has been served with the lawsuit, but according to FFRF, he has maintained that the registration forms are "prescribed by statute" and "that any changes would require legislative action."
The lawsuit alleges that his office has the authority to create and amend voter registration forms. In a statement, FFRF noted that in all other states, voters are provided either a secular registration form or are not required to submit an oath or affirmation.
The group added that government officials routinely allow people who must take an oath, including attorneys, jurors and witnesses, "to make a secular affirmation instead when they are unable to swear 'so help me God' as a matter of conscience."
The plaintiffs are seeking a permanent injunction that prohibits the secretary of state from requiring voters who register to swear "so help me God" and that requires his office to provide voter registration forms that don't include the phrase as a requirement. They are also asking for a declaratory judgment that Merrill has violated the Constitution by not providing a secular alternative.
"The secretary of state has willfully excluded nontheist citizens from registering to vote and is coercing a statement of belief in a monotheistic god by requiring nontheists to swear a religious oath," said Patrick Elliott, FFRF's senior attorney in the litigation.
Click here for information about registering to vote
You can register to vote online or download a form to print and mail to your local county registrar.
In its letter to Merrill, FFRF said that a constitutional ban on mandatory religious oaths is a "well-settled issue." 
In a 1972 case, Nicholson v. Bd. of Comm'rs of Ala. State Bar Ass'n, the court ruled, "We hold that it is a violation of the Constitution for the state of Alabama to compel plaintiff to swear an oath invoking the help of God as a prerequisite to entering upon the practice of law."
The suit's three other plaintiffs are Chris Nelson, Heather Coleman and Robert Corker. 
It was filed in the U.S. District Court for the Northern District of Alabama, Southern Division. Steven P. Gregory, of the Birmingham-based Gregory Law Firm, is local counsel. FFRF associate counsel Liz Cavell is also involved in the case.
Sean Worsley, Black disabled veteran arrested for medical marijuana, gets parole
The Alabama Board of Pardons and Paroles granted Worsley parole on Wednesday.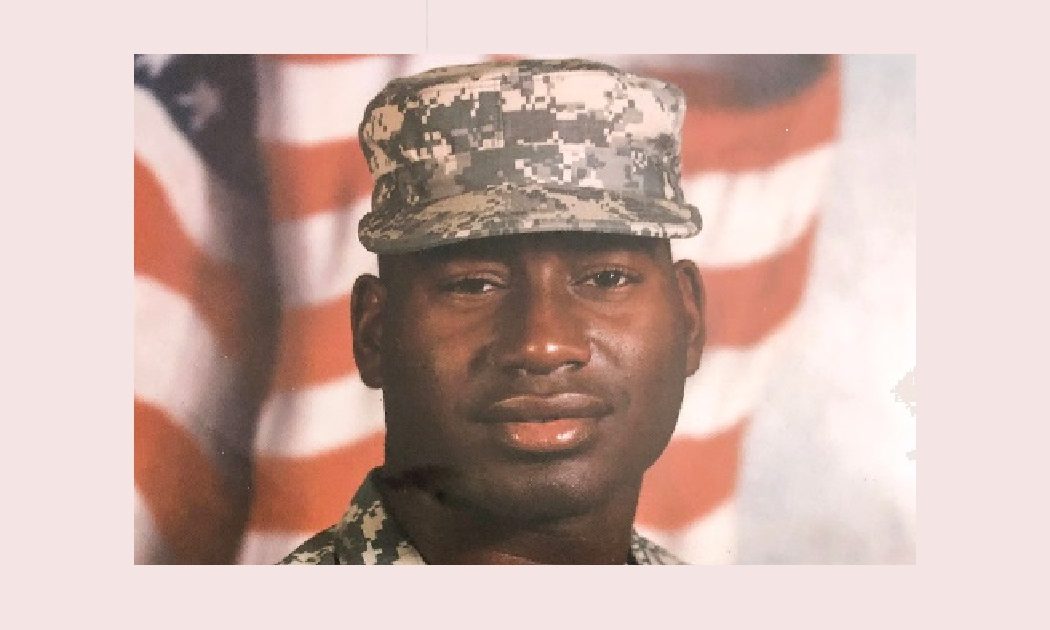 Sean Worsley, the disabled Black veteran who spent eight months incarcerated for possession of legally prescribed medical marijuana, has been released on parole.
The Alabama Board of Pardons and Paroles granted parole on Wednesday for Worsley. Worsley served in the Iraq War where he received a Purple Heart. Unfortunately, he also returned from the war with injuries and chronic PTSD, which he treated with legally prescribed marijuana in his home state of Arizona.
In 2016, Worsley and his wife were driving through Alabama on their way to visit relatives in North Carolina, when they stopped for gas in Gordo. The Worsleys were apparently playing their music too loud so were approached by a Gordo police officer for violating the Gordo noise ordinance.
The Worsleys granted the officer's request to search the vehicle. He found the marijuana, which Worsley claimed was legally prescribed.
Medical marijuana is legal in most of the country, but not in the state of Alabama. While Worsley did not have enough marijuana in his possession for a trafficking charge, the arresting officer charged him with possession of marijuana for other than personal use, a felony in Alabama. The assistant district attorney prosecuting the case agreed.
Worsley agreed to a five-year probation, including drug treatment, as part of a plea deal to avoid prison in 2017. Worsley claims that the VA would not let him get their drug treatment because he does not have a problem.
The district attorney's office in Alabama told APR that Worsley was kicked out of the VA for failure to comply with the program. Alabama ordered Worsley to appear in court in Pickens County. Worsley claims that he did not know about this court date. The court charged him with failure to appear, revoked his probation, and declared him a fugitive from justice.
Worsley was arrested in Arizona for possession of marijuana with an expired medical marijuana card.
Alabama asked that Worsley be extradited back to Pickens County where he was jailed. The trial judge ordered the disabled veteran to serve the full five years in prison. Due to the incredible overcrowding of the Alabama Department of Corrections and the coronavirus crisis, ADOC could not find the space for him, so left him in the Pickens County Jail for five months.
Worsley spent the last three months with ADOC in the aging Draper Correctional Facility. Worsley was denied Community Corrections because he has a nonviolent felony record in 2011 in addition to his Alabama offense.
Civil libertarians, marijuana advocates, veterans advocates and justice reform advocates were horrified by Worsley's treatment by the Alabama court system after Alabama Appleseed's Research Director Leah Nelson first publicized the case.
Worsley's bid for parole was supported by a coalition of advocates and service providers, including John Carroll, a retired federal magistrate judge and Vietnam War veteran who now teaches at the Cumberland School of Law; Beau Armistead, a Birmingham-based counselor who specializes in treating veterans like Worsley who live with PTSD and has offered to treat Worsley pro bono on his release; BLOX LLC, an architecture and manufacturing firm that has offered Worsley a job; the Dannon Project, a re-entry provider that will help guide Worsley's transition out of prison; and dozens of veterans who signed a letter to the Parole Board supporting Worsley's release.
Online supporters raised over $100,000 to cover legal costs and other financial consequences of his conviction, including his wife Eboni Worsley's move to Birmingham.
"Sean Worsley, was shown compassion by the Alabama Board of Pardons and Paroles," said Chey Lindsey Garrigan, executive director of the Alabama Cannabis Industry Association. "This is a commendable act that should be acknowledged."
Garrigan's group is lobbying the Alabama legislature to legalize medical marijuana in the state and to guarantee safe passage for travelers from other states, where marijuana is legal so that other visitors are not at risk of being jailed while passing through Alabama.
"My faith in THE MOST HIGH has been further solidified in the demonstration of the law functioning in Alabama to help and not harm individuals via the parole board," Eboni Worsley said in a statement. "We're grateful to be able to pick up the pieces and begin rebuilding our lives once Sean is released. I am very grateful to the Parole Board of Alabama for showing the public the heart of the warm welcoming spirit of the people I've met since transitioning to Alabama."
Worsley's situation attracted national attention in July following a blog post by the Alabama Appleseed Center for Law and Justice. APR picked up the story as well as The Washington Post and Fox News.
"After three months covering Sean's case and learning about his life and his service to this country I am thrilled he will no longer be held in prison for the mistake of stopping for gas in Alabama with his legally prescribed medicine," Nelson said. "At the same time, I can't say justice has been served, because Sean should never have been arrested or jailed at all."
"A extraordinary group of advocates finally achieved a good outcome for Sean, but until Alabama fixes its overly punitive marijuana laws, struggling people will continue to be harmed and precious state resources will be wasted on enforcement of laws that have no connection to public safety," said Appleseed executive director Carla Crowder.
"The case of Sean Worsley deals with a convergence of several issues," said State Rep. Neil Rafferty, D-Birmingham. "It deals with Alabama's harmful marijuana laws, particularly concerning medical marijuana. It deals with our country's misunderstanding and treatment of veterans returning home and transitioning to civilian life. And it deals with excessive policing – that put suspicion on a man doing nothing more than listening to the radio and playing air guitar to his wife."
Rafferty is a post-9/11 veteran who advocated for Sean's release.
"While the news of Sean's parole is welcomed and to be celebrated, it only serves to highlight the legislative chamber's duty to make right these wrongs and allow our criminal justice system to focus on crimes that actually endanger community safety," Rafferty added.