Barry Moore "very impressed" by Pence's debate performance
"Wednesday night we saw yet again the difference between our two choices on election day," Moore said.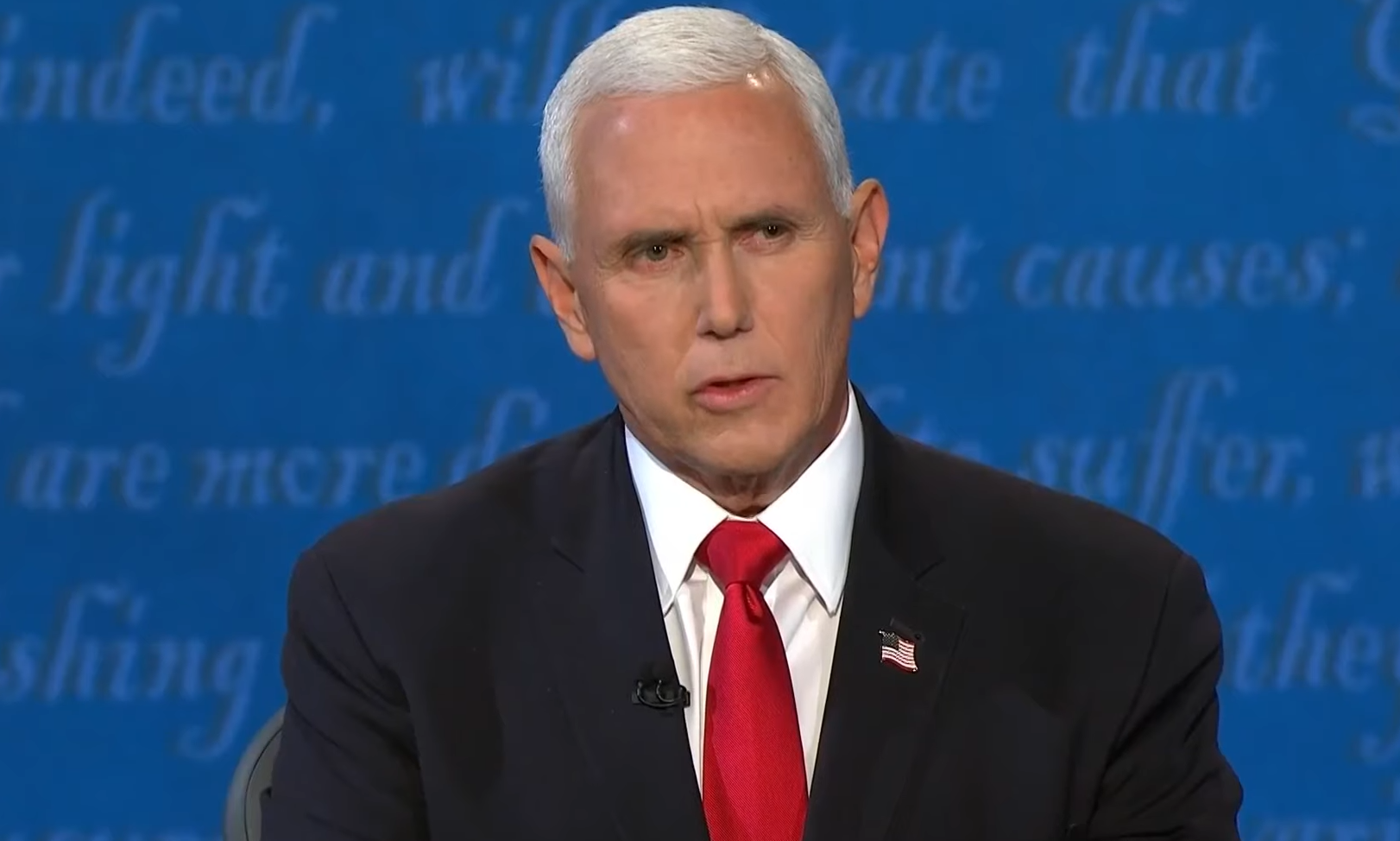 Alabama Republicans praised Vice President Mike Pence for his performance in Wednesday's vice presidential debate. Congressional candidate Barry Moore said he "was very impressed with how the Vice President handled himself throughout the debate."
"Wednesday night we saw yet again the difference between our two choices on election day," Moore said. "Vice President Pence's caring for and confidence in the American people came through clearly. On the other hand, Senator Harris did what she and Joe Biden have done over and over again—'selectively edit' the facts to fit their own narrative, and when she couldn't do that, she was 'creative' with the truth."
Moore is the Republican nominee in the 2nd Congressional District.
"Kamala Harris repeated Biden's plan to repeal the Trump tax cuts to 'reinvest in infrastructure'," Moore said. "She and Joe Biden are determined to force another Obama stimulus—which didn't work the first time—on all of us. They also want to impose the Green New Deal on us, and aren't afraid to say so. The Vice President, on the other hand, pointed out the tremendous growth our economy enjoyed during the first three years of the Trump/Pence administration, our great strides on international trade, and the great progress we've made towards conquering the COVID virus in a remarkably short period of time."
"The American people can see through the distortions and spin coming from Joe Biden and Kamala Harris," Moore said. "The facts are clear. The President and Vice President gave us a booming economy after eight years of Obama/Biden stagnation. Trump and Pence are leading us towards recovery during the worst pandemic in a hundred years. The Democrats continue to promise to raise taxes, impose the economy-killing Green New Deal, use taxpayer money to fund abortions at any stage of pregnancy and implement their radical progressive ideology, guided by Bernie Sanders and his 'democratic socialist' wing of their party. Like so many Americans, I believe them, and I don't want to see our country go through that. I'm confident that our President and his Vice President will be re-elected on November 3rd because they are clearly the best choice for America and the American people."
Moore is on the ballot in the 2nd congressional race in the Nov. 3 general election. He is a veteran, small businessman, husband and father of four from Enterprise.
The Alabama Republican Party said in a statement, "The Vice Presidential debate is over. Mike Pence is one of America's finest Vice Presidents and was put up against an extreme liberal, Kamala Harris."
ALGOP made a fundraising appeal in the wake of the debate: "We want to show Vice President Pence and the Trump team that the Alabama GOP is still running strong."
Trump Victory National Finance Committee member Perry Hooper Jr. said, "Vice President Mike Pence was very organized and discipline the entire night. Mrs. Harris came across very arrogant. She also never answered the question on Court packing and lied about her support for the Green Deal and fracking. It was a banner night for the VP."
The Republican Attorney Generals Association said in a statement, "The 'Original Lawless Liberal' Kamala Harris's radical liberal extremist record makes her unfit to hold the office of the Vice President. In addition to Kamala's support of the Green New Deal, illegal immigration, and court packing, the lawless liberal has encouraged nationwide violent rioting and crime."
RAGA Chairman Louisiana Attorney General Jeff Landry said, "The American people need to look no further than Kamala's record as the nation's most liberal attorney general and as the most radical U.S. Senator to understand that she is truly the 'Original Lawless Liberal.' Her fight for far-left policies including supporting the disastrous Green New Deal, putting illegal immigrants ahead of Americans, and failing to follow the rule of law or defending law enforcement make her unfit to hold the office of Vice President. Americans need safety and security, not mobs and anarchy, which unfortunately Harris continues to support. During tonight's debate, it will become even more clear that America needs the strong leadership of President Donald Trump and Vice President Mike Pence, not a radical takeover of the country that would be led by liberal extremists Joe Biden and Kamala Harris."
RAGA Executive Director Adam Piper added: "Americans will reject the Biden-Harris ticket because they want jobs, not mobs. As California's former top law enforcement officer, Kamala Harris certainly knows the important role law enforcement plays in fighting some of the nation's most grave public safety challenges, like the opioid epidemic and human trafficking. However, Harris has encouraged the radical 'defund the police' movement and cheered on the violent mobs proliferating violence nationwide to 'not stop.' RAGA has been holding this 'Original Lawless Liberal' accountable from the start, and the American people will reject her in November."
The general election will be Nov. 3. Moore faces Democratic nominee Phyllis Harvey Hall in the general election.
Alabama's Black Belt lacks quality internet access, report finds
Twenty-two of 24 Black Belt counties are below the statewide average of 86 percent of the population who have access to high-speed internet, and two Black Belt Counties — Perry and Chocktaw — have no access at all. 
During an online video briefing Monday on a report about a lack of internet access in Alabama's Black Belt, University of Alabama student Brad Glover warned reporters that he could get kicked off the briefing at any moment. 
That's because he was talking during the video briefing by way of audio only, using his cell phone, as he does not have access to high-speed internet access at his Linden, Alabama, home in the Black Belt's Marengo County. 
The COVID-19 pandemic that sent students home to study online left many in the Black Belt and other rural parts of Alabama in the lurch, without access to the high-speed internet enjoyed by so many other Americans, according to the latest report in the University of Alabama's Education Policy Center's Black Belt 2020 series. 
The latest report, titled "Internet Access Disparities in Alabama & the Black Belt," found that 22 of 24 Black Belt counties, as defined by the Education Policy Center, are below the statewide average of 86 percent of the population who have access to high-speed internet, and two Black Belt Counties — Perry and Chocktaw — have no access at all. 
"It is still a terrible struggle for me to connect to get the things done that are required," said Glover, who interned with the Education Policy Center. 
Stephen Katsinas, director of the Education Policy Center, said that in the 1930s, nine of ten rural homes lacked the electric service that urban American homes, by that point, had for 40 years. 
"The Rural Electrification Act was passed to address this abject market failure," Katsinas said. "Today, as the COVID pandemic has shown, access to high-speed internet is as essential to rural Alabama as the REA was in the 1930s. Alabama must directly address the market failures that exist today to bring high-speech internet to every rural Alabamian, so that our rural workforce can access the lifelong learning skills they need, and our rural businesses can compete globally." 
The COVID-19 pandemic has also spotlighted the need to expand the growing area of telemedicine. 
Dr. Eric Wallace, medical director of Telehealth at UAB, told reporters during the briefing Monday that patients are largely doing telehealth from their homes, and explained that disparities in access to high-speed internet present a problem for them. 
"Since the COVID-19 pandemic began, UAB has done approximately 230,000 telehealth visits, and 60 percent of those were done by video," Wallace said. 
"Forty percent are audio only, and why is audio only? It's because we do not have broadband," Wallace said. "So it's not just broadband. It's broadband. It's tech literacy. Socioeconomics, to have a device in your home. It's all of that."
Wallace said that the coronavirus crisis has made clear that telemedicine is a "100 percent necessity" and that patient satisfaction studies make clear it's not going anywhere. 
The reasons for disparities in access to high-speed internet are myriad, explained Noel Keeney, one of the authors of the report and a graduate research assistant at the Education Policy Center. 
Keeney noted a study by BroadbandNow that estimates there are 154 internet providers in Alabama, but there are 226,000 Alabamians living in counties without a single provider, and 632,000 in counties with just a single provider. 
Even for those with access to internet providers, Keeney said that just approximately 44.4 percent of Alabamians have internet access at a cost of $60 monthly or below. 
"If we really care about our rural areas, we need to make an investment, and it needs to cut off that cost at a very low rate," Wallace said. 
Katsnias said there's a growing consensus on the part of Alabama's political leaders that access to high-speed internet is an important issue, noting that Gov. Kay Ivey in March 2018, signed into law the Alabama Broadband Accessibility Act, which has given internet access to nearly 100,000 Alabama students. 
"In March, Gov. Ivey awarded $9.5 million in broadband expansion grants, with a significant amount going to Black Belt communities," the report reads. "This was followed by $5.1 million in additional grants in May." 
"The State of Alabama also allocated $100 million in federal CARES Act-related dollars for "equipment and service for broadband, wireless hot spots, satellite, fixed wireless, DSL, and cellular-on-wheels to increase access for K-12 students undergoing distance learning," the report continues. 
An additional $100 million in CARES Act funds were made available to facilitate virtual learning across Alabama's K-12 schools, researchers wrote in the report, and another $72 million in federal aid went to the state's colleges and universities. 
Katsinas said however those federal funds are spent, the state still needs a long term plan for how to address the disparities in access to high-speed internet. 
"We need a long term plan and we need to do what we can do immediately," Katsinas said
Read more of the Education Policy Center's reports in the "Black Belt 2020" series here.