Barry Moore "pleased" with President Trump's town hall performance
"I was pleased with how President Trump did during his Town Hall," Moore said.
Congressional candidate Barry Moore said Thursday that he was pleased with President Donald Trump's performance during Thursday's NBC News town hall in Miami.
"I was pleased with how President Trump did during his Town Hall," Moore said. "Thursday night, despite what I felt was a moderator that was biased against him. He did a great job of pointing out his record of success and how a Joe Biden administration would be disastrous for our economic recovery from the COVID pandemic."
"I especially liked how he pointed out that the Democrat's behavior during Justice Kavanaugh's appointment process affected Justice Barrett's appointment," Moore said. "The Democrats sowed discord and division during Justice Kavanaugh's confirmation and now they're reaping the consequences of that discord."
"This President can rightly claim to have created the greatest economy in our nation's history, and I'm so glad we had those three years to recover from the Obama/Biden Great Recession before the pandemic hit," Moore said. "I don't think there's any doubt Donald Trump is the better choice to lead us through the pandemic reopening and recovery."
Trump Victory Finance Committee member former Perry Hooper Jr., a former Alabama state representative, agreed with Moore that the president performed well.
"The President was very high energy and was confident in his responses to the guests questions," Hooper said. "It was obvious that the crowd loved him. They clapped for the President and a guest seated right behind the President seem to agree with everything the President said. One lady that was introduced as someone leaning to voting for Biden seemed mesmerized by the President and complimented him. The only person in the room that came across not supporting the President was NBC's Savannah Guthrie. In my opinion, I believe the left was putting a lot of pressure on her to be argumentative. As far as Biden's Town Hall Meeting went, He finally indicated he was for packing the Court. That should scare the heck out of Conservative Americans."
Both Trump and Democratic nominee Joe Biden held competing town halls in place of the canceled second debate previously scheduled for Thursday evening.
There was originally supposed to be three presidential debates, but after the first debate, Trump tested positive for the coronavirus. Following a brief hospitalization, the president recovered. The non-partisan Commission on Presidential Debate updated the rules so the debate could be held virtually. Trump rejected that option and thus a debate was replaced with two different town halls.
"I was disappointed that we missed a chance to directly compare President Trump and Mr. Biden because of their competing Town Halls, but what I did see of Mr. Biden's performance was more of the same old, same old–he's both for and against basically every issue, and even with a sympathetic moderator he couldn't keep his stories straight," Moore said. "I'm looking forward to the final debate because I expect our President to once again show why he's our best choice for the next four years."
Moore is running in the general election on Nov. 3 for Alabama's 2nd Congressional District. He owns a small waste management company along with his wife, Heather. They have four children. Moore was elected to the Alabama House of Representatives in 2010 and re-elected in 2014. He lost in the Republican primary in 2018.
Moore faces Democratic nominee Phyllis Harvey Hall. Incumbent Martha Roby, R-Alabama, is not running for re-election.
Coalition of attorneys general file opposition to Alabama attempt to ban curbside voting
The AGs argue that Alabama's suggestion to the courts that curbside voting invites fraud is "unfounded."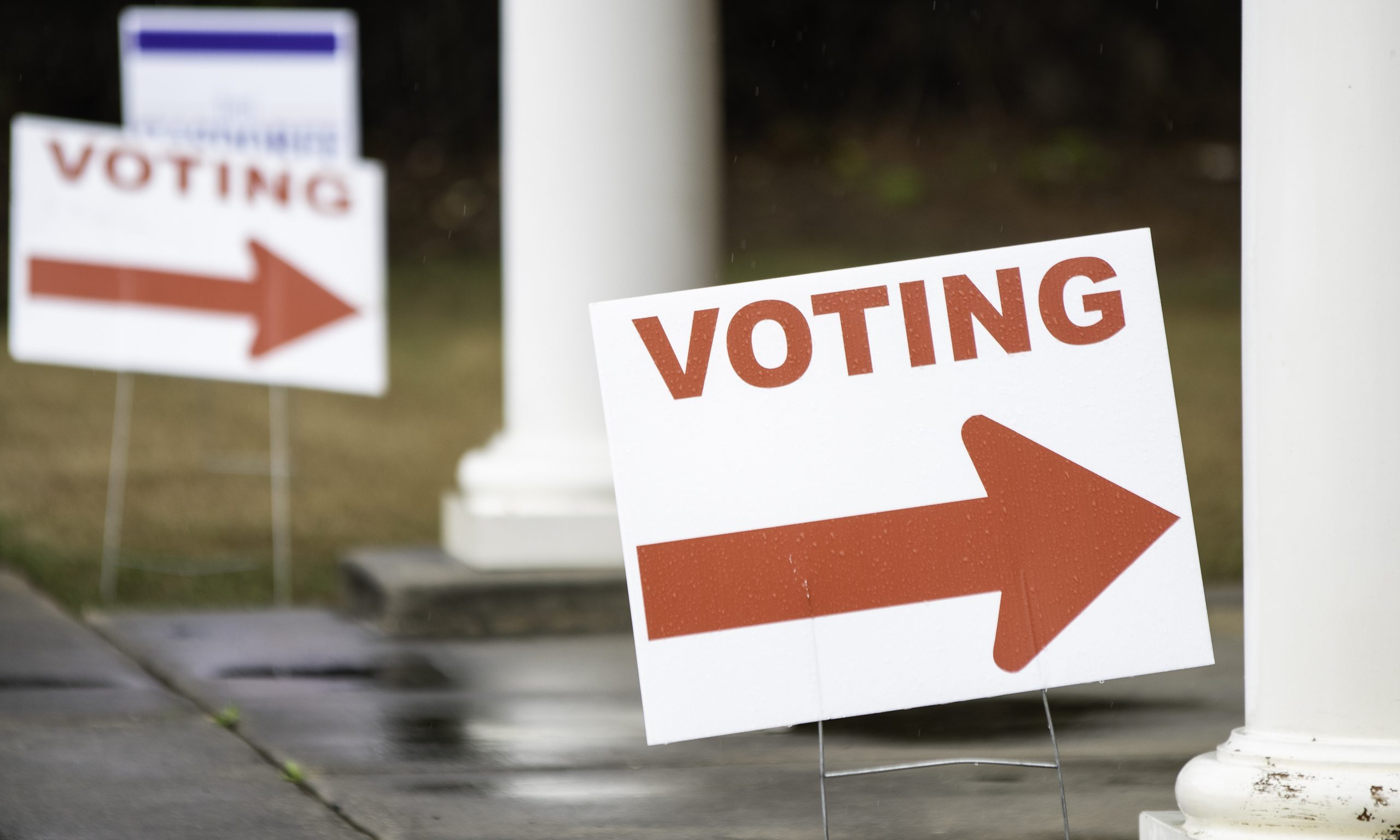 A coalition of 17 state attorneys general have filed an opposition to Alabama's attempt to get the U.S. Supreme Court to ban curbside voting. 
In a friend-of-the-court brief, led by District of Columbia Attorney General Karl Racine, the attorneys general argue to that curbside voting is safer for those at greatest risk from COVID-19, and that a ban on the practice would disproportionately impact the elderly, the disabled and Black Alabamians.
They also argue that Alabama's suggestion to the courts that curbside voting invites fraud is "unfounded." 
"The Presidential Advisory Commission on Election Integrity, established by President Trump following the 2016 election, 'uncovered no evidence to support claims of widespread voter fraud,'" the brief states, adding that there is no evidence that curbside voting in the many states that allow it invites fraud. 
"The practice is longstanding and widespread—as noted, more than half of states have historically offered curbside voting in some form," the brief continues. 
Alabama Attorney General Steve Marshall on Oct. 13 said the state will appeal to the U.S. Supreme Court a federal appeals court ruling allowing curbside voting in the Nov. 3 election. 
A panel of federal appeals court judges on Oct. 13 reversed parts of U.S. District Judge Abdul Kallon's Sept. 30 ordered ruling regarding absentee voting in the upcoming Nov. 3 elections, but the judges let the previous ruling allowing curbside voting to stand. 
The lawsuit, filed by the NAACP Legal Defense and Educational Fund, Southern Poverty Law Center, American Civil Liberties Union, ACLU of Alabama and Alabama Disabilities Advocacy Program, was brought on behalf of several Alabamians with underlying medical conditions. 
"Curbside voting is a longstanding, secure voting option that local jurisdictions have made available to protect the health of vulnerable voters, including elderly, disabled, and voters with underlying health issues," Racine said in a statement. "Curbside voting minimizes the risk to persons who are particularly susceptible to COVID-19, and local jurisdictions should be able to offer this common-sense accommodation to voters. State Attorneys General will keep fighting to ensure that voters can safely make their voices heard at the ballot box this November."
The brief filed by the coalition of state attorneys general comes as the number of COVID-19 hospitalizations across Alabama has been ticking upward.
Racine is joined in the brief by attorneys general from California, Connecticut, Delaware, Hawaii, Illinois, Maryland, Michigan, Minnesota, Nevada, New Mexico, New York, Oregon, Rhode Island, Vermont, Virginia and Washington.