Eula Battle, wife of Huntsville Mayor Tommy Battle, has died
Battle announced the death of his wife and best friend, Eula Catherine Sammons Battle, in a statement Tuesday.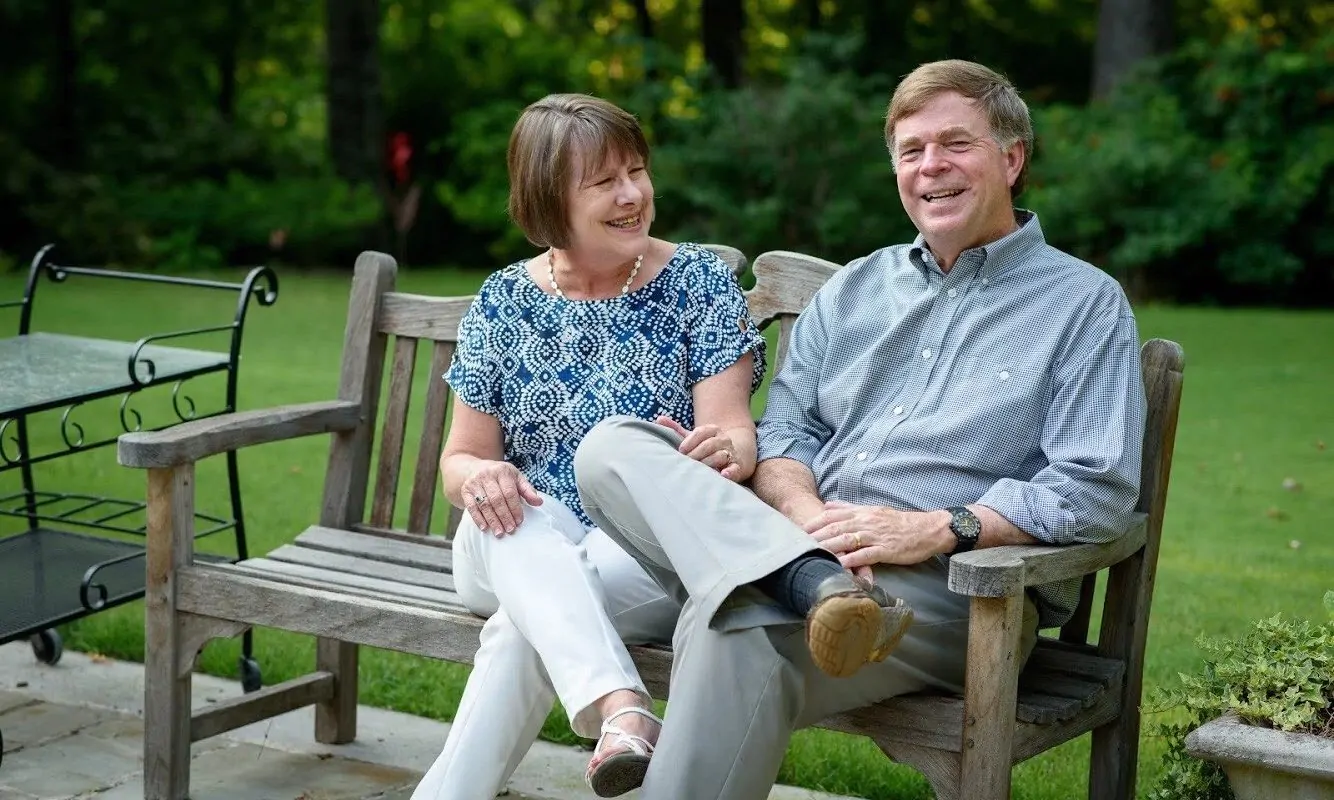 Eula Battle, the wife of Huntsville Mayor Tommy Battle, passed away Tuesday after a bought with cancer. She was 65.
Battle announced the death of his wife and best friend, Eula Catherine Sammons Battle, in a statement.
Eula was born in Huntsville, Alabama, on Sept. 29, 1955, to Dr. Robert A. Sammons and his wife, Calvert Sammons. She was the second youngest of five children.
She graduated of Huntsville High School, got a bachelor's degree in elementary education from Wesleyan College. She worked 31 years as a schoolteacher. After her first year of teaching in Conyers, Georgia, Eula returned home to teach kindergarten in the Madison County School System. She was named Madison County Teacher of the Year in 2000 for her outstanding service and dedication.
Once Eula "retired" from public education, she went on to support and teach in the newly formed Greengate School, an academic program focused on students with dyslexia and other learning disabilities.
In 2010, she co-founded Free 2 Teach, a non-profit that supplies free school materials for local teachers. To date, Free 2 Teach has distributed more than $7 million in supplies and materials to Huntsville-area teachers.
Eula's focus on education also influenced a mayoral initiative, the Mayor's Book Club, where she championed businesses to fund more than 100,000 books for students in Title 1 schools. Eula and Tommy wanted children in need to be able to build their own personal libraries to hopefully instill a love of reading and learning.
Eula campaigned with Tommy door to door on their dates when he was first running for mayor in 1988. She was instrumental in garnering public support for his subsequent bid for mayor in 2008 and tirelessly traveled the state when Tommy entered the 2018 governor's race, always promoting Huntsville and gathering a network of more friends and fans along the way.
"Eula never met a stranger and those who had the honor of meeting and knowing her will miss her gregarious spirit, robust laughter and fierce devotion to family and friends. She was everyone's favorite aunt, best friend, and enthusiastic cheerleader. Eula was a terrific cook, challenging Tommy's culinary expertise, making mealtime at the Battle house a delicious affair."
Eula was exceptionally proud of her son, Drew, and her two grandsons, George and Benjamin.
She was actively involved in her community her entire life. She was a former member of the Junior League of Huntsville and Grace Club, was an active member of Trinity United Methodist Church, was selected as a participant in the Leadership Huntsville Class 26 and belonged to Alpha Kappa Delta, an honorary organization for women educators, and to the Daughters of the American Revolution.
She was honored by the Women's Economic Development Council Foundation in 2014, received the DAR Founders Medal for Education in 2019, and received the 2020 Boy Scouts Whitney M. Young Community Service Award. In 2019 Athens State University established the Eula S. Battle education scholarship so she could have a hand in developing future teachers. In 2020, Eula was a White Linen and Wine Honoree for the Russell Hill Cancer Foundation.
Eula is survived by her husband, Tommy Battle; their son, Drew Battle and his wife, Lauren; grandsons, George and Benjamin; brothers, Dr. Robert Sammons (Louise), Dr. Calame Sammons (Dianne), and Bill Sammons (Laurie); a sister, Susan Sammons Sullins (Bill); and 12 nieces and nephews.
In lieu of flowers, memorials can be sent to Free 2 Teach or Trinity United Methodist Church in Huntsville. Laughlin Funeral Home is handling the arrangements.
Congressman Mo Brooks, R-Alabama, said in a statement, "Martha and I extend our deepest heartfelt sympathies to the entire Battle family as they grieve the loss of Eula Battle. Eula's tremendous legacy will be felt in Huntsville for decades as her kindness and charity ripple through the many lives she touched. May God's peace be with the Battle family. Eula's many loved ones can be assured she is now in a better place."
Gov. Kay Ivey, "I'm saddened to hear of the passing of Eula Battle. She was a loving and supportive wife to Mayor Battle, and as he refers to her, his 'best friend.' I extend my deepest sympathies and prayers to their family in this hard season."
Lt. Gov. Will Ainsworth said, "The Tennessee Valley lost one of its most dedicated community leaders with the passing of Eula Battle. Eula devoted her life to teaching and provided her students with valuable lessons that they carry to this day. Kendall and I send our prayers of condolence to the Battle family."
Speaker of the Alabama House Mac McCutcheon, R-Monrovia, said, "Charitable acts and generosity were Eula's trademarks, and her presence in the Huntsville community will be dearly missed. My wife, Debbie, and I lost a true friend with the passing of Eula, and I pray that God provides comfort to Mayor Battle and his family during this time."
Alabama hospitals nearing COVID-19 summer surge levels
Wednesday was the 18th straight day with more than 1,000 people in hospitals in Alabama with COVID-19. 
Alabama hospitals reported caring for 1,483 people infected with COVID-19 on Wednesday, the highest number of patients since Aug. 11, when the state was enduring its summer surge. Wednesday was also the 18th straight day with more than 1,000 people in hospitals in Alabama with COVID-19. 
The seven-day average of hospitalizations was 1,370 on Wednesday, the 36th straight day of that average rising. The Alabama Department of Public Health reported 2,453 new cases Wednesday. The 14-day average of new cases was — for the eighth day in a row — at a record high of 2,192. 
Across the country, more than 80,000 people were hospitalized for COVID-19 on Tuesday, a record high and the 15th straight day of record hospitalizations nationwide, according to the COVID Tracking Project, a coronavirus tracking website.
The CDC this week recommended people not travel for Thanksgiving to help prevent the spread of coronavirus. 
"The only way for us to successfully get through this pandemic is if we work together," said Dr. Kierstin Kennedy, UAB's chief of hospital medicine, in a message Tuesday. "There's no one subset of the community that's going to be able to carry the weight of this pandemic and so we all have to take part in wearing our masks, keeping our distance, making sure that we're washing our hands." 
Kennedy said the best way she can describe the current situation is "Russian Roulette." 
"Not only in the form of, maybe you get it and you don't get sick or maybe you get it and you end up in the ICU," Kennedy said, "but if you do end up sick, are you going to get to the hospital at a time when we've got capacity, and we've got enough people to take care of you? And that is a scary thought." 
The Alabama Department of Public Health on Wednesday reported an increase of 60 confirmed and probable COVID-19 deaths. Deaths take time to confirm and the date a death is reported does not necessarily reflect the date on which the individual died. At least 23 of those deaths occurred in November, and 30 occurred in other months. Seven were undated. Data for the last two to three weeks are incomplete.
As of Wednesday, at least 3,532 Alabamians have died of COVID-19, according to the Department of Public Health. During November, at least 195 people have died in Alabama from COVID-19. But ADPH is sure to add more to the month's tally in the weeks to come as data becomes more complete.
ADPH on Wednesday announced a change that nearly doubled the department's estimate of people who have recovered from COVID-19, bringing that figure up to 161,946. That change also alters APR's estimates of how many cases are considered active.
ADPH's Infectious Disease and Outbreak team "updated some parameters" in the department's Alabama NEDSS Base Surveillance System, which resulted in the increase, the department said.