Tuberville addresses Jefferson County Republican Party
Tuberville urged everyone to vote on Tuesday and to vote to re-elect President Donald Trump.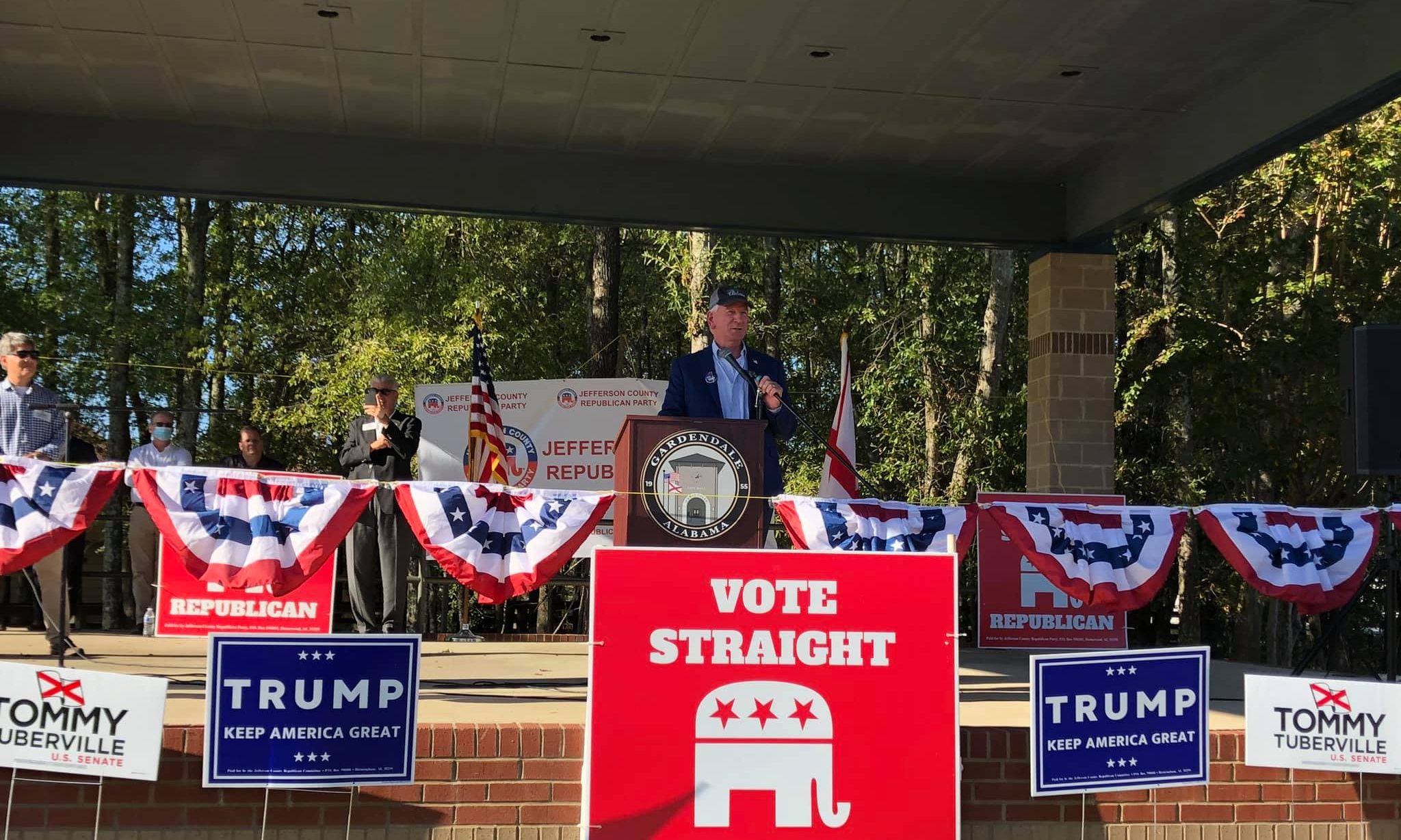 Republican Senate candidate Tommy Tuberville spoke to Republicans in Gardendale on Sunday in what was his last scheduled campaign event before his Election Night watch party in Montgomery. Tuberville headlined the Jefferson County Republican Party event.
Tuberville is challenging incumbent U.S. Sen. Doug Jones, D-Alabama.
Tuberville urged everyone to vote on Tuesday and to vote to re-elect President Donald Trump.
"This morning I was watching President Trump somewhere — Michigan or Wisconsin. Thousands of people are there and his overcoat was covered in snow," Tuberville said. "He is relentless, and that is who we want representing us."
"He has had to fight the media, he has had to fight members of his own party, he has had to fight Democrats," Tuberville said of the president. "I am a little embarrassed about how we, not all of us, have treated him."
"When he got elected I could not sleep for a week, because I was so excited that finally, somebody was going to do something to save the country," Tuberville said. "God sent us and elected Donald Trump."
"If you were born in this country, you hit the lottery," Tuberville said. "There ain't ever been a country on the face of this earth better than this one."
"He once called me at 2:34 in the morning, I asked him do y'all have clocks there in the White House and he said, 'coach, sleep is overrated,'" Tuberville said. "The guy loves to work. He loves to get things done. He is not a politician. He is a businessman."
Tuberville said that he has been thinking about politics for more than two years.
"I thought about running for Governor, but I didn't do that," Tuberville said. "My wife and I prayed on it, and when I told her that I was running for Senate, she said 'Don't come home until you win,' and I haven't been home for almost two years. I look forward to coming home 10 o'clock Tuesday night."
"My dad dropped out of school to join the Army in World War II," Tuberville said. "He drove a tank all over Europe. He drove a tank through Paris. He said it was unbelievable to see how all the people welcomed them. He was wounded in the Battle of the Bulge. Was out for a month and went back and stayed in for the rest of his life. He died of a massive heart attack when he was 53 during a training exercise."
"Dad was fighting socialists in Europe. Today we are fighting socialism here in America," Tuberville said. "I would never have dreamed it, but it is here knocking on our door."
"I know how to win and that is to put all of yourself into it," Tuberville said. "I have done that for the last 18 or 19 months."
"Some people say defund the police," Tuberville added. "Are you kidding me? Some people say we are too tough on people. We are not tough enough."
"Some people say that President Trump is not nice enough. It is time not to be nice," Tuberville said. "Some people don't like him, because he is a little brash. No, he is a leader."
"This is the last event I will attend," Tuberville said. "There is not a lot to do other than to go vote. I think we are going to have a massive vote on Tuesday. You are going to see lines that are real long. Take some headphones with you so that you can listen to music, but whatever you do stay in line and vote."
"This election is about the American dream," Trump explained. "It was my dream to be a head football coach. It took me 15 years as an assistant working for very little money. I failed and I got back up. I failed and I got back up again.
Tuberville said that he coached in championship games, bowls and Iron Bowls.
"It is not about my race, but it is about President Trump," Tuberville said. "It is unfortunate that we are going to have a lot of people who are going to vote to end a lot of the freedoms that we enjoy in this country."
"The most important people in your country are your state, local, and county officials. It is not senators and presidents," Tuberville told the crowd. "Thank them for the service that they do because it is a chore."
"I look forward to representing you in a few days and go to Washington to be your voice," Tuberville concluded. "The guy I am running against hasn't done that, not once. We are going to send him to California where he has raised all of his money."
Jefferson County Republican Party Chairman Paul DeMarco said, "The Jefferson County Republican Party has been working hard to get out the vote for Tuesday."
"The eyes of the nation are watching us," DeMarco said. "It is not the presidential race. They know we are going to vote for Donald Trump, but the Senate. This race has the potential to decide who controls the Senate."
"I have not seen a candidate that got this much enthusiasm in a long time," DeMarco said of the Tuberville campaign. "We are going to work hard and make sure that we elect Tommy Tuberville on Tuesday."
State Rep. Jim Carns, R-Vestavia, is the co-chair for Trump's re-election campaign in Alabama.
"It is great to see people here working to get out the vote," Carns said. "Five years ago, I was in Mobile where we had roughly 40,000 people show up unexpectedly.
"I got to speak to that crowd," Carns said of the Trump rally in Mobile. "All of the promises that he made then he has either kept or is in the process of keeping."
"All the polls were telling us that Trump didn't have a chance," Carns said of the 2016 campaign. "Election night November 8, 2016, Florida came in first shock and awe. You couldn't believe it. Then North Carolina came in. Shock and awe. Then Wisconsin, Ohio and Pennsylvania and that put him over the top. Then Michigan."
"The media is absolutely unavailable for the truth," Carns said. "I think he is going to do it again."
State Sen. Jabo Wagoner, County Commissioners Joe Knight and Steve Ammons, State Rep. Matt Friday, Criminal Court of Appeals Judge Chris McCool, State Rep. Dan Roberts and State Rep. Allen Treadaway were all in attendance.
The election is Tuesday. Bring a valid photo-ID.
"A tidal wave:" ICU beds scarce as Alabama breaks another hospitalization record
Infectious diseases experts worry if hospitals will have enough staff to handle "what might be a tidal wave of patients in the next month."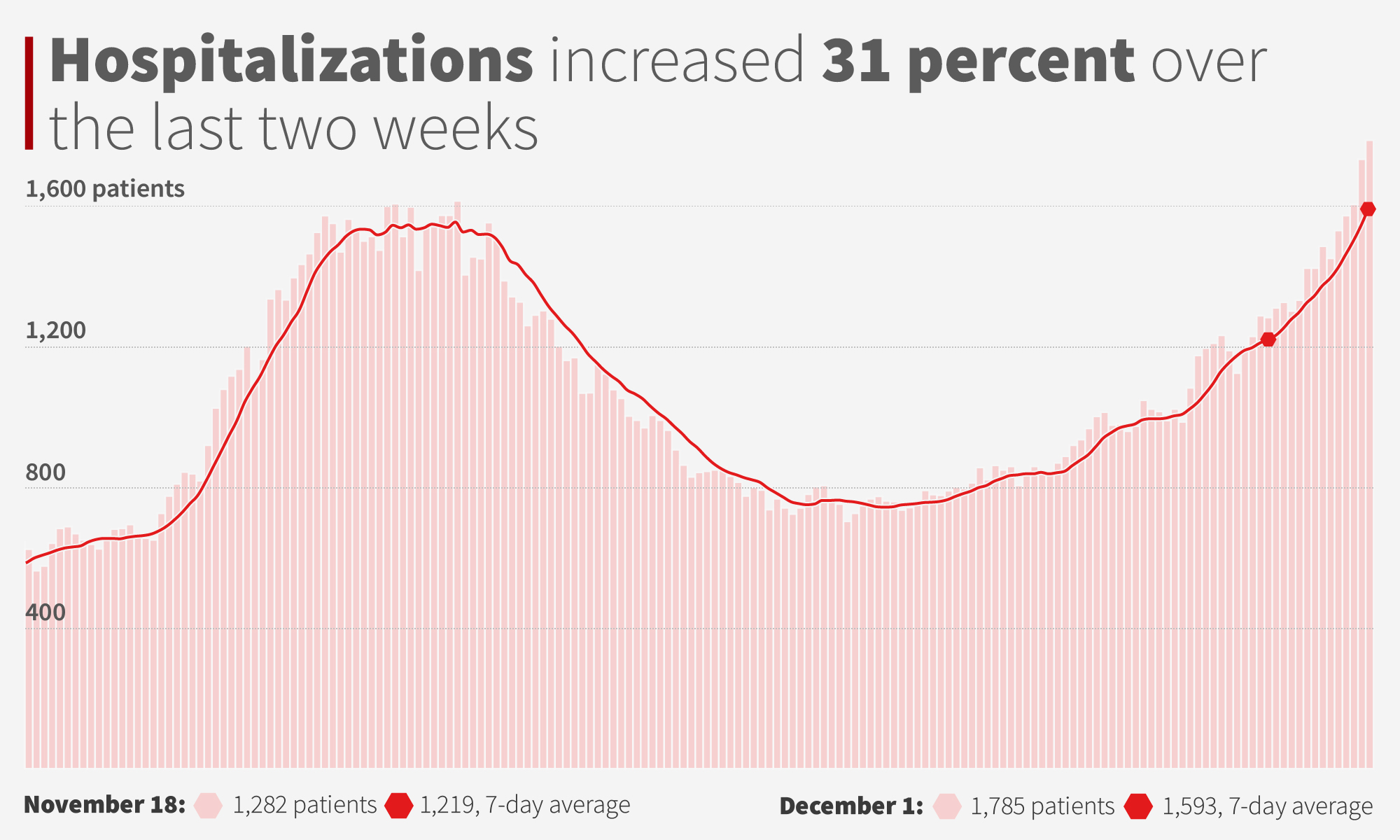 There were no intensive care beds available in Mobile County on Tuesday, the second day in a row Alabama set a record for hospitalized COVID-19 patients, and if models hold up, there could soon be the need to set up temporary medical facilities outside of hospitals, according to a UAB infectious disease expert. 
Dr. Jeanna Marrazzo, director of UAB's Division of Infectious Diseases, told reporters on Tuesday that looking at some models that forecast what might happen in the three weeks after Thanksgiving "you could conceivably see a true need for setting up ancillary care places in three weeks." 
"I hope that doesn't happen. Are we looking at the kind of situation that New York City experienced in March? A lot depends on what happened over Thanksgiving weekend," Marrazzo said, referring to the use of tent hospitals in New York City during the early spring surge there that overran hospitals. 
UAB had a record high 125 COVID-19 patients hospitalized on Monday and Tuesday, and Huntsville Hospital also set a new record Tuesday, with 317 hospitalized. There was a record high 1,785 COVID-19 hospitalizations statewide on Tuesday, and on Monday there had never been fewer intensive care beds available in the state. 
Marrazzo said the health care workforce continues to work valiantly and are "struggling very hard." What keeps her up at night, she said, is worrying if hospitals will have enough staff to handle "what might be a tidal wave of patients in the next month." 
"It may not look like we can affect what's going to happen in two to three weeks, post-Thanksgiving, but we can impact what happens around Christmas time and after that," Marrazzo said. 
The death toll from COVID-19 continues to increase across most of the country, Marrazzo said. On average, the U.S. is seeing between 1,400 and 1,600 people lose their lives to coronavirus each day, she said. In Alabama, at least 3,638 people have died from COVID-19.
Alabama reported an additional 60 deaths on Tuesday and has averaged at least 24 deaths reported each day over the last two weeks.
Each morning, Marrazzo gets a list of those admitted to UAB for COVID-19, those discharged and those coronavirus patients who have died. Not a day goes by when there isn't one name on that list of someone who didn't make it, she said. 
"And I think about that person, and I think about their family," Marrazzo said. "And unfortunately those numbers, as I mentioned before, are going up, and the balance of people being admitted is higher than the number of people who are being discharged." 
Alabama added 3,376 cases on Tuesday, which was the largest single-day case increase, excluding when on Oct. 23 ADPH added older backlogged test results. Tuesday's high number was the product of a delay in reporting to ADPH due to the holiday weekend, the department said in a data note. 
Still, Alabama's case count continues to increase alarmingly and testing is still down, Marrazzo explained. The state's 14-day average of new daily cases on Tuesday was at 2,289. That's a 28 percent increase from just two weeks ago. 
"This is a really, really scary inflection point, "Marrazzo said, "and I don't think that we are going to be able to turn it around without experiencing some more stress and some more pain." 
The positivity rate in Alabama over the last week has been an average of 32 percent, more than five times as high as public health experts say it should be to ensure there are enough tests and cases aren't going undetected. 
"If we would test more we would probably find more, so I think these numbers are an underestimate," Marrazzo said. 
Asked what has gone wrong, that even with the knowledge of how people can protect themselves — wearing masks, practicing social distancing and staying home as much as possible — we're still seeing huge spikes, Marrazzo described a complicated set of circumstances. 
"Is it because they don't believe it's going to affect them?" she asked. 
At first, COVID-19 was something happening in China, and then it moved closer to home, Marrazzo explained. Next, it became a question of "well, it's older people who are getting sick," and there was a sense of invulnerability among the young, who thought they'd be fine and that they wouldn't infect others, she said. 
"And then I think even for people who have been trying to be good there's a huge amount of fatigue," Marrazzo said. Even health care workers become worn down, and may take risks they know they shouldn't and become infected in their own communities, she said. 
"I think we've been hammering it home, but I also think in some ways, we need to do it in a way that's sympathetic and not angry," she said. "Because yeah, I'm pretty upset about what's going to happen in the next couple of weeks, but getting angry with people and shaming them is not the answer at this point, so I think all we can do is to continue to report on the facts."