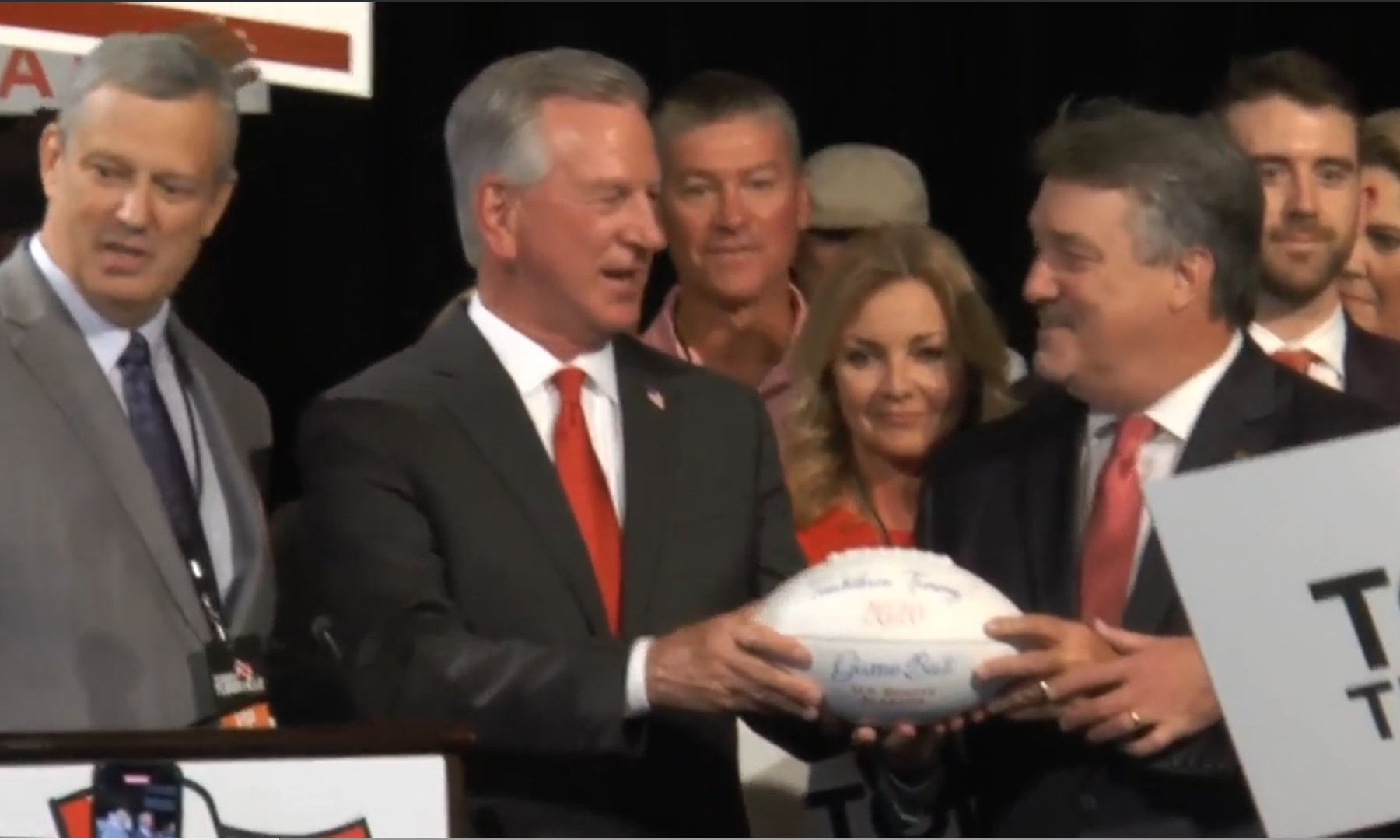 Republican Tommy Tuberville unseats Democratic Sen. Doug Jones
Tuberville, a former Auburn University head football coach, ran on his admiration and support for President Donald Trump, and the people of Alabama agreed.
The people of Alabama on Tuesday voted for Tommy Tuberville to be their next U.S. senator, ousting incumbent Democratic Sen. Doug Jones, the only Democrat to win a statewide election in Alabama since 2008.
Tuberville, a former Auburn University head football coach, ran on his admiration and support for President Donald Trump, and the people of Alabama agreed, voting for both in a landslide.
"I want to thank President Donald Trump," Tuberville told supporters in his victory speech. "He is without a doubt in my lifetime the guy who's done more for the United States of America than any other man."
Vice President Mike Pence congratulated Tuberville for the victory and said that if he and Trump are re-elected, that they looked forward to working together for the benefit of Alabama.
"I want to be a senator for all Alabama, not just those who voted for me," Tuberville told supporters.
Tuberville said that he worked all out for two years to win the seat and was jubilant at the victory. Tuberville thanked his wife Suzanne and his sons Tucker and Troy for standing with him in his campaign.
Tuberville told reporters that the first thing that he intended to do was to hire a staff.
As of press time, Tuberville had a staggering 61.4 percent of the vote. Jones managed just 38.6 percent of the vote, doing worse than Tuscaloosa Mayor Walt Maddox did as the Democratic nominee in the 2018 gubernatorial race.
"On behalf of the Alabama Republican Party, I offer our deepest congratulations to Senator-elect Tuberville," said Alabama Republican Party Chair Terry Lathan in a statement. "We are confident he will listen to the concerns of his constituents, unlike his predecessor, while representing our great state with honor and integrity. The seat has been reset to reflect the conservative values of Alabama."
Sen. Todd Young, R-Indiana, chairs the National Republican Senatorial Committee.
"Congratulations to Senator-elect Tommy Tuberville on his landslide victory in Alabama," Young said. "Coach Tuberville will be a staunch advocate for conservative values and Alabamians, and I look forward to working with him to advance the Republican agenda in the Senate."
"I appreciate his service, but it is time for him to go," Tuberville said of Jones.
Jones's narrow victory over Chief Justice Roy Moore in the 2017 special election for the Senate is the only time a Democrat has defeated a Republican for any statewide race in Alabama since 2008. Democrats dominated Alabama for decades, but have not been able to field a viable statewide candidate in Alabama since 2010, outside of Jones's improbable 2017 Senate victory.
Jones outspent Tuberville eight-to-one, but 82 percent of Jones's dollars came from out of state.
Jones has had a bitter feud with Alabama Democratic Conference leader Joe Reed and helped topple Reed ally Nancy Worley as state party chair, but that change in leadership yielded no tangible benefits for Jones. The Alabama Democratic Party boasted that they had launched the greatest get out the voter effort in their history, but it was difficult to see what that accomplished.
Alabama Democrats remain overwhelmingly Black. White voters in Alabama rejected Jones's "One Alabama" campaign message.
Democratic presidential nominee former Vice President Joe Biden, who never contested Alabama, was defeated in the state 63.5 to 35.4 percent. The Jones campaign knew that they needed Trump supporters to vote for Jones and ran a number of ads claiming there were Republicans for Jones. That never materialized on election day. Slightly more than three percent of Alabama voters voted for Trump and split their ticket to vote for Jones.
Nationally the race was exactly what Senate Republicans needed to continue their majority. As of press time it appears that there is no pathway for Republicans to lose control of the Senate. Senate Majority Leader Mitch McConnell, R-Kentucky, crushed his own challenger even though national Democrats poured nearly a hundred million dollars into that race.
Democrats successfully defeated Republican incumbents Martha McSally in Arizona and Corey Gardner in Colorado, but Tuberville's landslide victory meant that Democrats, as of press time, had a net gain of just one. It appears that Tillis was victorious in North Carolina and that Perdue was re-elected without a runoff in Georgia.
They need to pick up four seats to be assured a majority.
As of press time, Republican challenger John James in Michigan leads Gary Peters 49.7 percent to 48.4 percent. They are still counting votes in Michigan, which has not been called in the Senate or the presidential race.
Republican Senate incumbent Sen. Kelly Loeffler will be in a January runoff with Democratic challenger Raphael Warnock.
Last Conversations: Dr. Frank Lockwood
At the time of those texts, I had no clue that I'd never speak with my brother again.
My brother, Frank Lockwood, was a family practice doctor with an office in McDonough, Georgia. Frank was a great doctor, who used his intelligence, compassion and humor to improve the lives of his patients. And, even though he was great at his job, the practice of medicine, in many ways, just paid the bills.
Above all else, Frank wanted to be an entertainer. He submitted video applications to participate on "Survivor" and even got a call-back for "The Mole." The highlight of his 15 minutes of fame was his disastrous appearance on "Who Wants to Be a Millionaire." (Google: Worst. Audience. Ever. On. Millionaire.)
Locally, Frank was a founding member of Atlanta's Village Theatre, an improv comedy group.
In short, Frank was highly intelligent and wickedly funny. So, I was dismayed when he called me in early July, and I couldn't recognize his voice. Frank told me that he'd contracted coronavirus from one of his patients and had been sick for several days. The cadence and rhythm of his voice were clearly Frank, but the pitch was all wrong. I assume the coughing had wreaked havoc on his vocal cords.
I am an employment lawyer. I defend employers who are getting sued by their employees. In my younger days, I defended plenty of employers who were sued for workers' compensation benefits — monetary and medical benefits provided to employees who are injured on-the-job.
Thus, in my role as the Lockwood Family Consigliere, Frank wanted to know if he could receive workers' compensation benefits from his employer because he caught coronavirus at work. We discussed the intricacies of a workers' compensation claim, and Frank hung-up, promising to think about the issue further.
My next communications with my brother were my last. On July 3, 2020, at 5:36 a.m., I received this text from him: Wanna work comp these folks to death. I'm in micu now.
MICU is the intensive care unit.  I was asleep at 5:36 a.m., but I texted back at 7:40: Glad to see the 'rona has not dampened your spirit. Want me to get you a lawyer?
His response: Yep.
At the time of those texts, I had no clue that I'd never speak with my brother again. He was 52 and in good physical shape with no co-morbidities. He was a patient in a hospital where he knew all of the physicians treating him. I knew a few people who contracted the disease and recovered. Everything I read led me to believe that my brother would have a fight but would recover.
It didn't work out that way. Frank was sedated, placed on a ventilator and temporarily rallied. The greatest tragedy is that he was removed from the ventilator and briefly conscious on July 13, but his husband, Bernie, did not get a chance to speak with him.
Frank's immune system turned on him with a "cytokine storm." He was returned to the ventilator and struggled for the next three weeks. I am thankful that I was able to be present, along with Bernie and our brother, Chris, when he passed away on Aug. 5.
As we walked out of the hospital that day, an announcement was made over the facility intercom that a patient was leaving for home. And then they played Pharrell's "Happy." In hindsight, I'm pretty sure that song was for somebody else. But at that moment Bernie, Chris and I simultaneously bawled and laughed. To us, it was like Frank Lockwood, the entertainer, had chosen his own exit music.
I've got a lot of regrets about my relationship with my brother and my last words with him. But, I promise you this: We have retained counsel in Georgia, and we are gonna work comp those folks to death.