Auburn vs. Mississippi State game postponed
The University of Alabama vs. LSU game is also very much in jeopardy due to a COVID-19 outbreak at LSU.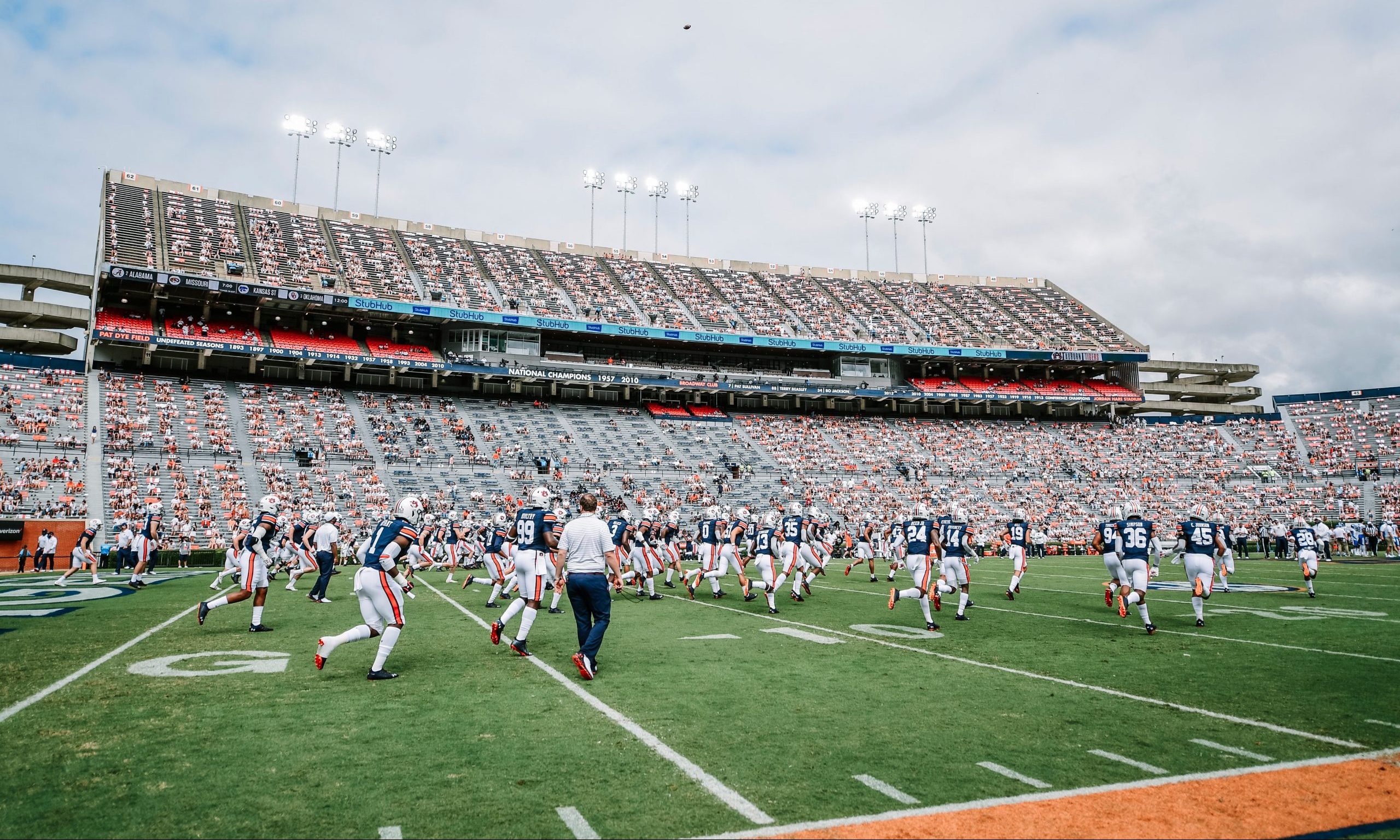 The Auburn at Mississippi State football game that was scheduled for Saturday, Nov. 14, has been postponed to Dec. 12 because of positive coronavirus tests and subsequent quarantining within the Mississippi State football program. The University of Alabama vs. LSU game is also very much in jeopardy due to a COVID-19 outbreak at LSU.
"Based on positive tests and those considered as close contacts, along with non-COVID injuries, we do not have the minimum number of scholarship student-athletes available for Saturday's game against Auburn," said MSU athletic director John Cohen. "While we are disappointed that Saturday's game has been postponed, our priority is the health, safety and well-being of our student-athletes and staff. We will continue to follow all established protocols and evaluate the most responsible path to return to the field."
Mississippi State has been hard hit already by players having to miss due to the coronavirus.
"We were one from not playing against Vanderbilt," said Mississippi State head football coach Mike Leach. "We're some under that now. We almost didn't play last week. Fortunately, we were able to."
"This is kind of unfolding, although we were close to having to cancel last week," said Leach "Fortunately, we didn't have to. We hoped it wouldn't, but we knew there was a pretty good chance we would have to cancel this week just because we were that close."
Leach told reporters that he did not know when health officials will allow his team to practice again.
"I don't think anyone wants to be postponed," Leach said. "I think everybody is excited to go out and practice. We haven't had a meeting on it yet, like I said it just happened within the last couple of hours. And this is their off-day anyway."
"So far, any coaches that got it, got it way earlier," Leach said when asked about coaches getting the virus. "A few of them did get it, but they got over it. Nobody has been hospitalized. We've had cases around here like everyone has, but nobody's gone to the hospital."
"We test all the time," Leach said when asked about testing protocols. "We get tested three times a week, and as they get tested, some guys are positive. From there, they have the protocol where you have to sit for two weeks, and we have a couple of two weeks overlapping now."
Mississippi State officials said that the decision to postpone the game was consistent with the SEC's COVID-19 management requirements. The game has been tentatively rescheduled for Dec. 12.
Alabama's game against LSU is perilously close to also being postponed. LSU already has postponed a game so LSU is playing Florida on Dec. 12, making it difficult for the Alabama vs. LSU game to be played if it is postponed.
Sports Illustrated college sports reporter Ross Dellenger said on Twitter, "#LSU's outbreak stems from a party around Halloween and, because of contact tracing, has put the Tigers dangerously close to the SEC's 53-man threshold to play, sources tell SINow. Team is very thin at defensive back and quarterback."
The SEC's COVID-19 management parameters, developed by its Return to Activity and Medical Guidance Task Force, include a minimum threshold of at least 53 scholarship student-athletes available to participate in a game with a minimum number of scholarship players required for some positions. The requirements include one quarterback; seven offensive linemen, including one center; and four defensive linemen.
To this point, 47 college football games this season have been postponed or canceled due to COVID-19 concerns, including the Troy University vs. South Alabama game.
There have been over 51 million cases of the novel strain of the coronavirus, SARS-CoV-2, diagnosed thus far worldwide and 1,255,626 people have died.
Alabama hospitals nearing COVID-19 summer surge levels
Wednesday was the 18th straight day with more than 1,000 people in hospitals in Alabama with COVID-19. 
Alabama hospitals reported caring for 1,483 people infected with COVID-19 on Wednesday, the highest number of patients since Aug. 11, when the state was enduring its summer surge. Wednesday was also the 18th straight day with more than 1,000 people in hospitals in Alabama with COVID-19. 
The seven-day average of hospitalizations was 1,370 on Wednesday, the 36th straight day of that average rising. The Alabama Department of Public Health reported 2,453 new cases Wednesday. The 14-day average of new cases was — for the eighth day in a row — at a record high of 2,192. 
Across the country, more than 80,000 people were hospitalized for COVID-19 on Tuesday, a record high and the 15th straight day of record hospitalizations nationwide, according to the COVID Tracking Project, a coronavirus tracking website.
The CDC this week recommended people not travel for Thanksgiving to help prevent the spread of coronavirus. 
"The only way for us to successfully get through this pandemic is if we work together," said Dr. Kierstin Kennedy, UAB's chief of hospital medicine, in a message Tuesday. "There's no one subset of the community that's going to be able to carry the weight of this pandemic and so we all have to take part in wearing our masks, keeping our distance, making sure that we're washing our hands." 
Kennedy said the best way she can describe the current situation is "Russian Roulette." 
"Not only in the form of, maybe you get it and you don't get sick or maybe you get it and you end up in the ICU," Kennedy said, "but if you do end up sick, are you going to get to the hospital at a time when we've got capacity, and we've got enough people to take care of you? And that is a scary thought." 
The Alabama Department of Public Health on Wednesday reported an increase of 60 confirmed and probable COVID-19 deaths. Deaths take time to confirm and the date a death is reported does not necessarily reflect the date on which the individual died. At least 23 of those deaths occurred in November, and 30 occurred in other months. Seven were undated. Data for the last two to three weeks are incomplete.
As of Wednesday, at least 3,532 Alabamians have died of COVID-19, according to the Department of Public Health. During November, at least 195 people have died in Alabama from COVID-19. But ADPH is sure to add more to the month's tally in the weeks to come as data becomes more complete.
ADPH on Wednesday announced a change that nearly doubled the department's estimate of people who have recovered from COVID-19, bringing that figure up to 161,946. That change also alters APR's estimates of how many cases are considered active.
ADPH's Infectious Disease and Outbreak team "updated some parameters" in the department's Alabama NEDSS Base Surveillance System, which resulted in the increase, the department said.