More than 2,200 Alabamians have registered for Skills for Success, the rapid workforce training program launched one year ago by the Alabama Community College System's Innovation Center.
Skills for Success is offered at no cost to participants thanks to legislative appropriations that allow for the development and deployment of training statewide. Current training courses are preparing Alabamians for in-demand jobs in industries ranging from construction and fiber optics to trucking and food and beverage services.
"Thanks to Skills for Success, Alabamians are receiving the training they need to quickly secure good jobs and career promotions," said Jimmy H. Baker, Chancellor of the Alabama Community College System. "This means more Alabamians are getting an opportunity to succeed in our state's economy and Alabama businesses are finding more of the skilled workers they desperately need."
A unique feature of Skills for Success is how quickly the training can be completed. Most students have been able to complete training in about 2-3 weeks. 
Brian Haynes, a student who received training for work as a heavy equipment operator, said the rapid nature of the course is ideal "for busy people like myself."
"It's short," Haynes said, "so it allows us to get the essential training that we need to enter the job market and we can hit the ground running." 
A reason the training can be completed so quickly is part of it is offered online, with self-paced interactive learning that can take place anywhere a student can connect to the Internet. Upon completing the online portion of the course, students then complete hands-on training with qualified instructors at any of the 24 community and technical colleges around the state.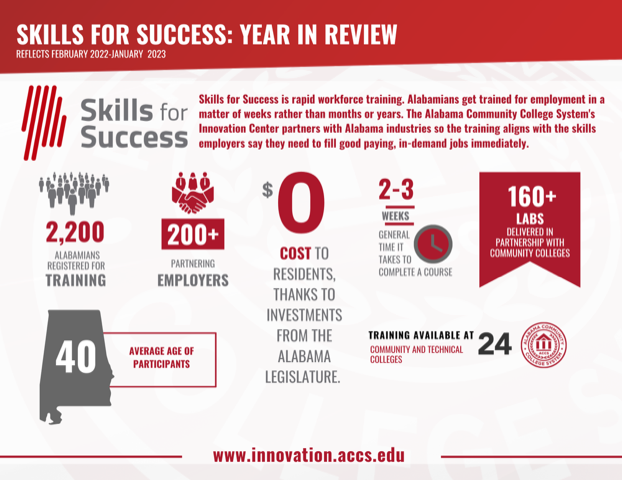 The Innovation Center, a division of the Alabama Community College System, works with the state's businesses, industries and municipalities to develop the Skills for Success courses. These partnerships ensure the training aligns with the skills employers say workers need to fill available jobs, said Julie Frizzell, Director of the Innovation Center.
"In our first year, around 200 employers have worked with us to train their new employees or upskill their existing employees," said Frizzell. "The demand for this rapid training has been incredible and shows just how critically needed it is for both workers and employers." 
Alabama business and industry leaders agree.
"The number one challenge for most businesses right now is finding and retaining a skilled workforce. Skills for Success training, developed through partnership with industry partners, is the most innovative in the nation," said Chris Stricklin, Chief Technology Officer for Dunn Companies.
"This training gives people an opportunity to expand their skill set and make them an integral part of their community," said Rosemary Elebash, State Director of the National Federation of Independent Business.
"Workforce challenges have been persistent in our industry even before the pandemic," said Mark Colson, President/CEO of the Alabama Trucking Association. "The Innovation Center offering this new curriculum provides a lot of flexibility for adults to access training on their own time so they can get more behind-the-wheel time."
Most of the Skills for Success courses offered to date have centered around Commercial Drivers Licenses and heavy equipment operations. New training courses for careers in fiber optics, manufactured home installation, meat cutting and hotel operations will start soon, and more courses are being developed, said Frizzell. 
For more information and a list of current course offerings, go online to innovation.accs.edu.