AG Strange Announces $35.25 Million Multistate Settlement with GE Funding Over Municipal Bond Derivatives Scheme
Staff Report
Press Release from the office of Attorney General Luther Strange
(MONTGOMERY)–Attorney General Luther Strange announced a $34.25 million settlement with GE Funding Capital Market Services, Inc. ("GE Funding") as part of an ongoing nationwide investigation of alleged illegal conduct in the municipal bond derivatives industry.
As part of the multistate settlement, GE Funding has agreed to pay $30 million in restitution to affected state agencies, municipalities, school districts and not-for-profit entities nationwide that entered into guaranteed investment contracts with GE Funding and two of its affiliates – Trinity Funding Company, LLC and Trinity Plus Funding Company, LLC – between 1999 and 2005. In addition, GE Funding agreed to pay a $1.25 million civil penalty and $3 million for fees and costs of the investigation to the settling states.
The states' investigation developed evidence that certain traders at GE Funding, in concert with certain brokers, engaged in conduct that allowed the broker to determine in advance that GE Funding would win a bid for a guaranteed investment contract by allowing GE Funding to receive a "last look' and arranging for other financial institutions to submit purposely non-winning courtesy bids. On many occasions, due to the "last look", GE Funding was able to lower its bid to the issuer and still win the transaction.
The multistate settlement is a distinct component of a coordinated global $70 million settlement that GE Funding entered into today. As a part of this global settlement, GE Funding also reached agreement with the U.S. Securities and Exchange Commission, the U.S. Department of Justice's Antitrust Division and the Internal Revenue Service. GE Funding is the fifth financial institution to settle with the multistate working group in the ongoing municipal bond derivatives investigation following Bank of America, UBS AG, JP Morgan and Wachovia. To date, the state working group has obtained settlements worth almost $350 million.
"I am pleased that this settlement will make compensation available to Alabama entities that were harmed," said Attorney General Strange. "I appreciate the leadership and diligent work of those involved and commend our Antitrust Chief James Steinwinder for leading Alabama's four-year investigation and negotiation of the settlement on behalf of the State of Alabama."
This settlement was reached with the cooperation of GE Funding's cooperation in our ongoing investigation of bid rigging and Antitrust abuses of the municipal bond derivatives market.
Municipal bond derivatives are contracts that tax-exempt issuers use to reinvest proceeds of bond sales until the funds are needed, or to hedge interest-rate risk. In April 2008, the states began investigating allegations that certain large financial institutions, including national banks and insurance companies, and certain brokers and swap advisors, engaged in various schemes to rig bids and commit other deceptive, unfair and fraudulent conduct in the municipal bond derivatives market.
The states' broader investigation, which is still ongoing, has revealed wrongful and deceptive conduct coordinated among individuals at a number of financial institutions, and certain brokers with whom they had working relationships. The wrongful conduct took the form of improper communications among competitors, submission of non-competitive courtesy bids, allowing financial institutions improper access to confidential bidding information, payment of improper fees to brokers to steer business and submission of fraudulent certifications of compliance to government agencies, among others, in contravention of U.S. Treasury regulations.
Regardless of the means used to carry out the various schemes, the objective was to enrich the financial institution and/or the broker at the expense of the issuer – – and ultimately taxpayers – – depriving the issuer of a competitive, transparent marketplace. As a result of such wrongful conduct, state, city, local, and not-for-profit entities entered into municipal derivatives contracts on less advantageous terms than they would have otherwise.
Trump Truck and boat parades this weekend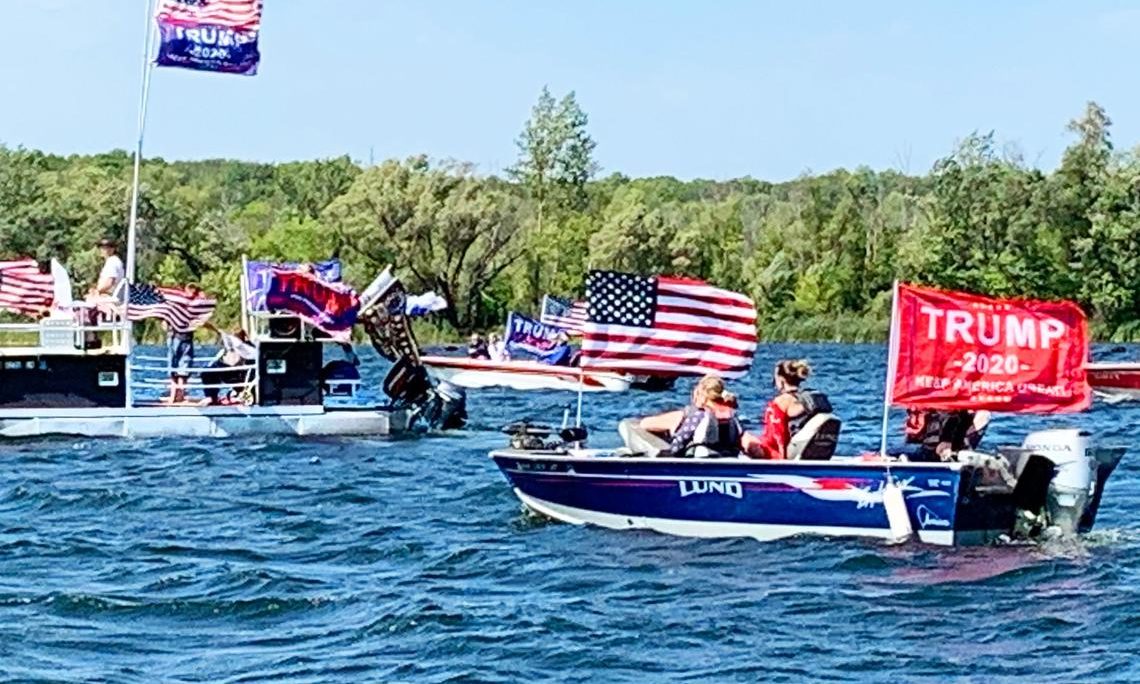 As Election Day draws near, Alabama Republicans are excited about promoting the re-election of Donald J. Trump as President and the election of Tommy Tuberville for U.S. Senate. This weekend two pro-President Trump events are happening in the state. There will be a truck parade from Ashland to Phenix City on Saturday sponsored by the Clay County Republican Party, while there will also be a boat parade on Wilson Lake in the Shoals sponsored by the Colbert County Republican Party on Sunday.
The pickup trucks will assemble at the Ashland Industrial Park in Clay County, 8240 Hwy 9, Ashland. There is a pre-departure rally at 10:00 a.m. central standard time. The trucks will depart at 11:00 a.m. and then proceed on a parade route that will take them into the bitterly contested swing state of Georgia. The Trump Pickup Parade will wind through east Alabama and West Georgia traveling through LaGrange and Columbus before concluding near the Alabama/Georgia line in Phenix City, 332 Woodland Drive, Phenix City at approximately 2:00 p.m. central time. Speakers will begin at 3:00. Trump flags will be on sale at the event.
The Phenix Motorsports Park will be hosting what sponsor hope could possibly the world's largest Pickup Tuck parade in U.S. history that is routing over 50 mile through Georgia in effort to "pickup" President Trump's numbers in GA.
A number dignitaries have been invited to address the Phenix City rally, including Coach Tuberville. Former State Sen. Shadrack McGill, Trump Victory Finance Committee member former State Rep. Perry O. Hooper Jr., and Paul Wellborn, the President and CEO of the largest Family owned Kitchen Cabinet manufacture in the USA are among the featured speakers who have committed to speak at the event.
Entertainment will be provided by: Charity Bowden, an up and coming country music singer who was the runner up on "The Voice". Charity will sing 'I am Proud to be an American' as well as songs from her Voice performances. The McGill Girls will also perform. The three beautiful and talented sisters will be singing patriotic songs in three part harmony. Geoff Carlisle, a professional DJ will be keeping the crowd pumped with music and entertainment.
Following the speakers and the entertainment there will Trump truck-vs- Joe Bidden truck races down the drag strip for the finale.
The Northwest Alabama boat parade will be on Sunday. The boats will gather at 2:00 p.m. near Turtle Point and then the flotilla will parade around the open waters of Wilson Lake til 3_00 p.m.. There will be a contest for best decorated Trump boats.
Trump supporters have held a number of large boat parades across the state to show their support for the re-election of Pres. Trump.
Boat parade sponsors say that this parade will be: pro-American, pro-law enforcement, pro-military.