Judge Roy Moore talks about the race for Chief Justice
By Tom Ward
Alabama Political Reporter
Note: This article is the second installment of a five-part series.
Question: Why do you want to be Alabama's Chief Justice?
Judge Moore: Having served as Chief Justice before, I have a strong understanding of what is needed at this crucial time. I also understand how the Chief Justice can best meet the needs of the people of Alabama.
Question: If you are elected, what is the first thing you will do as Chief Justice?
Judge Moore: The first thing I would do is to get our state's judicial system properly organized. The Chief Justice is not only the state's chief judicial officer, but also the chief administrative officer of the court system.
Question: Name your most important legal accomplishment.
Judge Moore: Several opinions from my time as Chief Justice have had a lasting impact. I helped stop the equity funding litigation, saving the state over a billion dollars. Also, in the anti-lottery litigation, I'm especially proud of an opinion that clarified the meaning or the word "gambling" as it pertained to those circumstances and statutes. That opinion has been frequently cited by state and federal courts.
Question: If you could change one thing about your political career so far, what would that be?
Judge Moore: I would have helped the people of Alabama understand the Ten Commandments controversy. Because of media reports, most people thought the issue was the monument itself, but it was really about the sovereignty of God.
Question: Tell us something nice about each of your opponents.
Judge Moore: I am glad that they share my experience of having serving as a Circuit Court Judge. That experience is important to the Chief Justice, as it is the court of general jurisdiction in our state. Although I do not know either of them well, it is my understanding that they are both good, decent men.
Question: Like many states, Alabama faces serious budget problems. What experience do you have in managing and cutting budgets?
Judge Moore: When I first became Chief Justice, we received what was then the largest budget cut in the history of court system. That was followed by another large cut the next year. We made hard choices, but we kept the court system open without delays.
Question: Why should the voters of Alabama choose you?
Judge Moore: They should choose me, first, because I have the most experience as a former Chief Justice. Second, I have successfully handled issues such as the occupational tax, equity funding, the lottery. Even after my years as Chief Justice, I have filed amicus curae briefs in important cases relating to both the U.S. Constitution and the Alabama Constitution.
Please visit JudgeRoyMoore.org to learn more about my accomplishments and experience.
Third, and maybe most importantly, I am not controlled by any special interests. People in the media often complain about the groups who control candidates, but then they celebrate the ability to raise money from those groups and their supporters.
It is not the role of a Supreme Court Justice to be controlled, and people do not give large sums of money for nothing.
Question: Whom are you supporting for President of the United States?
Judge Moore: I have not chosen a candidate yet, but I do know that I will not support our current President, Barack Obama.
Print this piece
Jones criticized for voting to limit Trump's war powers authority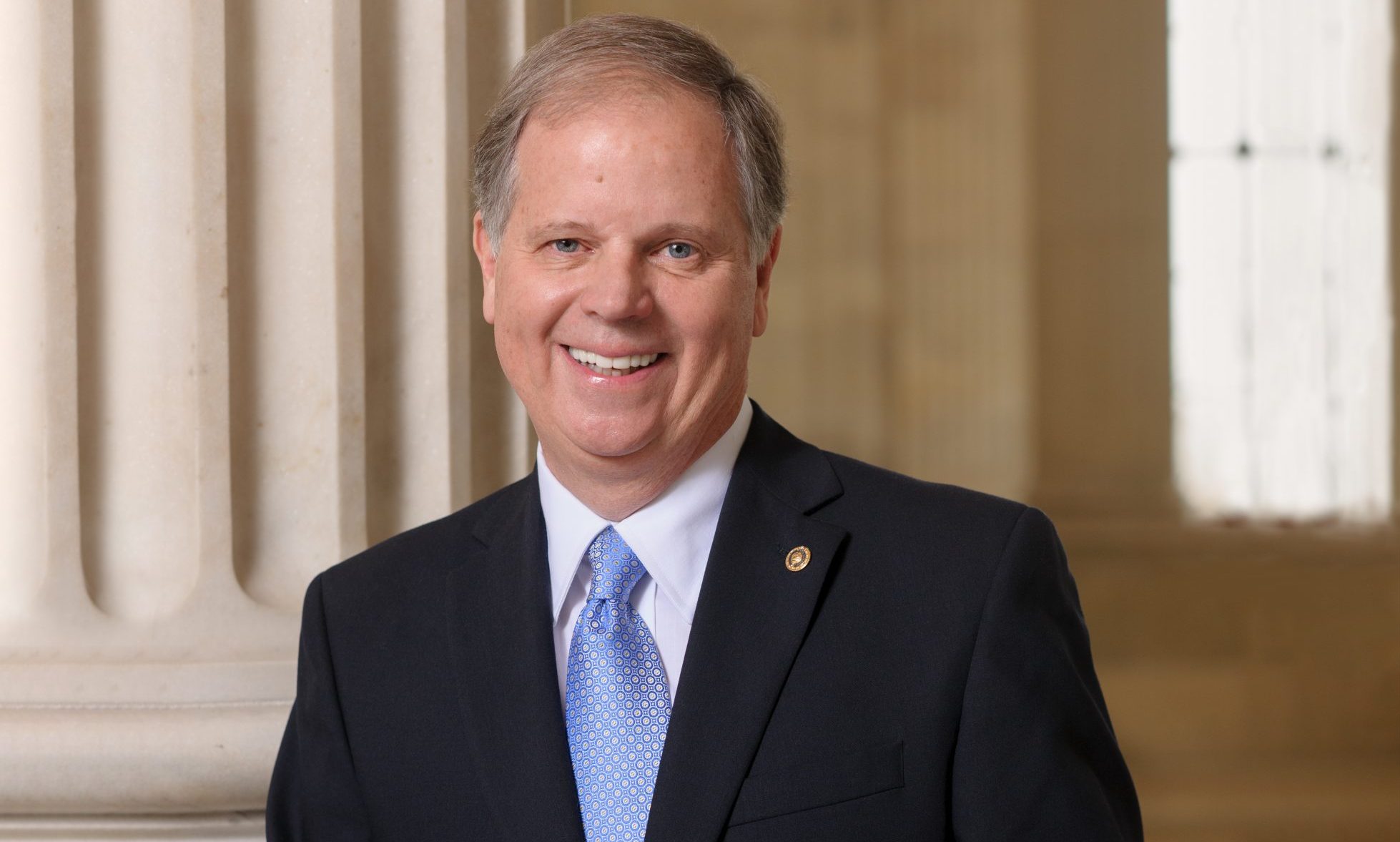 Thursday, U.S. Senator Doug Jones (D-Alabama) voted in favor of S.J.Res.68, a resolution which directs the removal of United States military from hostilities against the Islamic Republic of Iran that have not been authorized by Congress. Jones have been criticized by Republicans for voting to limit President Donald J. Trump's war powers on Iran.
"Before a President can lead us into war, he or she must first earn the support of the American people and also fulfill their solemn constitutional obligation to seek approval from Congress," Sen. Jones said in a statement. "While the President has the power to protect Americans in the case of an imminent attack, that authority does not extend to committing our service members to long-term hostilities unilaterally. This resolution sends a strong message that we will follow the Constitution and we will not send our troops into harm's way without the serious consideration and consent of the Congress."
Trump Victory National Finance Committee member Perry O. Hooper Jr. released a statement in response.
"Senator Jones once again turned his back on Alabama and voted as the leftwing Democrats commanded. He has no regard for the values, opinions or views of Alabamians," Hooper said. "He sees us as deplorables just like the elites of the Democratic party who have funded 80 percent of his doomed campaign for re-election.:
Hooper stated, "I whole heartily support the President who stated 'We are doing very well with Iran and this is not the time to show weakness… If my hands were tied, Iran would have a field day. Sends a very bad signal. The Democrats are only doing this as an attempt to embarrass the Republican Party.'"
"The Commander-in-chief must be free to work with his staff and his military leaders to conduct covert operations like the one that eliminated Iran's terrorist-in-chief General Soleimani," Hooper added. "You can't micromanage the war on terrorism. The Democrats in Congress are so filled with Trump Derangement Syndrome that no matter how much it would benefit our country and the world; they would never give Trump a "victory". If it came down to it, they would leak everything to the media no matter what the consequences."
Senator Jones is a cosponsor of the legislation and a member of the Senate Armed Services Committee. Eight moderate Republicans voted with the Democrats on the resolution.
Senator Jones has also been criticized by Republicans for his comments that he was "appalled" by Pres. Trump's actions following his acquittal on both Articles of Impeachment.
"Newsflash for Senator Doug Jones: Most Alabamians have been appalled by his actions his entire time in office," former Attorney General Jeff Sessions said. "It's about time we send Doug home, and replace him with someone who understands our values. Alabamians deserve a Senator they can be proud of again."
Sessions is a candidate for the Republican nomination for Jones' Senate seat.
The Republican primary will be on March 3.
Print this piece