Newt Gingrich and the Politics of Frustration
Staff Report
Newt Gingrich won a decisive victory in South Carolina tonight, defeating Mitt Romney by more than 10 points, after having been down by 10 points just a week ago.
How do we account for this remarkable turnaround? Obviously, the debates last week were a crucial factor. But why did he resonate so well with strong conservatives in these debates, after having been left virtually for dead immediately following New Hampshire?
It probably was not because of his policy proposals. Consider this Gingrich suggestion from the Myrtle Beach debate, which drew raucous applause.
Joe Klein reminded me that this started with an article he wrote 20 years ago. New York City pays their janitors an absurd amount of money because of the union. You could take one janitor and hire 30-some kids to work in the school for the price of one janitor, and those 30 kids would be a lot less likely to drop out. They would actually have money in their pocket. They'd learn to show up for work. They could do light janitorial duty. They could work in the cafeteria. They could work in the front office. They could work in the library. They'd be getting money, which is a good thing if you're poor. Only the elites despise earning money.
There are two ways to look at this proposal. Perhaps Gingrich is offering a federal government takeover of New York sanitation workers, so as to generate something close to full employment. From that perspective, this is certainly the most liberal policy proposal ever to be offered at a Republican debate! Alternatively, perhaps Gingrich was offering a suggestion to Mayor Michael Bloomberg on how to get more kids to work. From that perspective, it is a non sequitur, at least in the context of a presidential debate, as Gingrich does not need to be president to make the recommendation.
So what on earth was this conservative crowd applauding? It was that last sentence – "Only the elites despise earning money" – which captures the essence of this most recent Gingrich boomlet.
Conservatives are very frustrated, and rightfully so. Their feeling is that they play by the rules – they work hard, pay their taxes, raise their kids right – but what do they get for it? Their values are mocked on television and the movies, the media castigates them as a bunch of extremists, they pay taxes while half of the country does not, and the Obama administration took to demagoguing them virtually from day one of his tenure. I know of what I speak – a few months back I was driving down the road and saw a sign in front of a business lamenting, "Where is the America I grew up in?" I nodded my head in approval.
Governor declares state of emergency ahead of Tropical Storm Zeta
Zeta is currently a tropical storm over the Gulf of Mexico, but it is predicted to make landfall as a category one hurricane.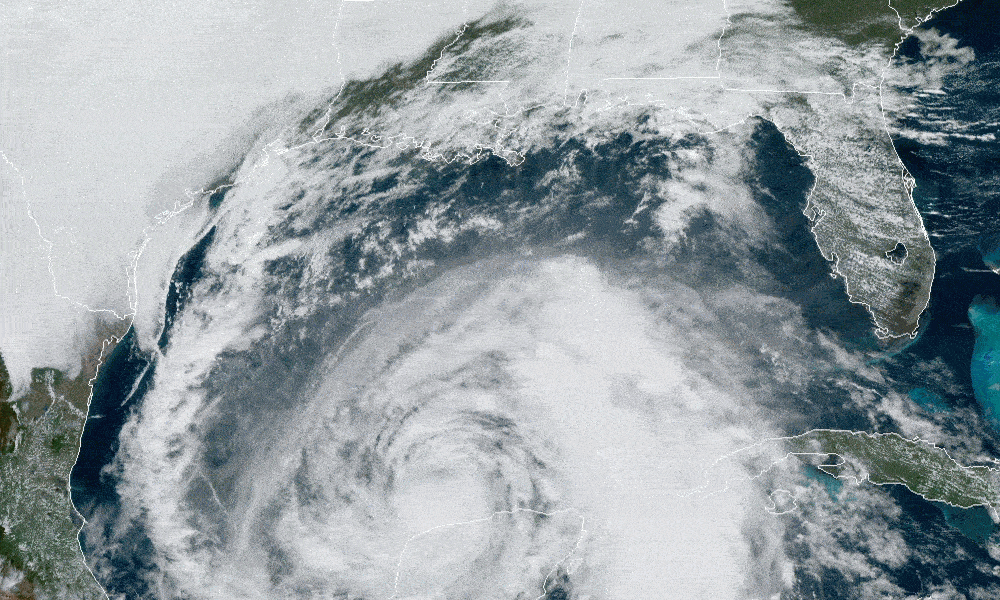 Alabama Gov. Kay Ivey on Tuesday issued a state of emergency as Tropical Storm Zeta approaches the Gulf Coast.
"Ahead of Tropical Storm Zeta's anticipated landfall Wednesday evening as a Category 1 hurricane, I am issuing a state of emergency effective today at 4:00 p.m.," Ivey said. "While this storm is not expected to have an impact as large as storms we've seen move through the Gulf earlier this year, we want to be in the best place possible to respond to anticipated rain, storm surge and mass power outage. I encourage everyone to remain weather aware and tuned in to their trusted news source as this storm could shift direction or change intensity. We continue to track the path of this storm and will stay in touch with the people of Alabama with any updates."
Zeta is currently a tropical storm over the Gulf of Mexico, but it is predicted to make landfall as a category one hurricane. The National Hurricane Center is predicting Zeta to make landfall in Mississippi on Wednesday and then proceed toward Alabama, but these storms can and do move.
A more easterly track could prove devastating to the Alabama Gulf Coast as was the case with Hurricane Sally, which shifted course in September, hitting Alabama, though Zeta is expected to be weaker than Sally at landfall.
The storm surge from the Mississippi-Alabama border to Dauphin Island is forecast to be 5 to 8 feet. Mobile Bay to the Alabama-Florida border is expected to have 3 to 5 feet of storm surge and from the border to Navarre, Florida, could experience 2 to 4 feet of storm surge.
Hurricane force winds are a possibility with this storm. Tropical force winds are expected to be an issue for Southern Mississippi and Alabama well inland. There is expected to be heavy rainfall across the state Wednesday night into Thursday morning.
The Baldwin County Emergency Management Agency announced that sandbags are available inside the county commission office at Robertsdale Central Annex (22251 Palmer Street) until 4:30 p.m. Tuesday and from 8 a.m. until 4:30 p.m. Wednesday or while they last.
Bring any help and shovels you will need. There is a limit of just 25 bags per person. Alabama's coastal counties are currently under a Tropical Storm Warning, a Storm Surge Warning for Mobile County and a High Rip Current and High Surf Warning.
Congressman Bradley Byrne said, "I just finished up briefings from Alabama EMA, FEMA, and the National Hurricane Center regarding #Zeta. We should not take this storm lightly and should start making preparations right away. After sundown Wednesday, I'd encourage everyone in Southwest Alabama to stay home and off the roads until sunrise Thursday. This storm will have impacts as far north as Montgomery, so those in Washington, Clarke, and Monroe counties will see tropical storm force winds and heavy rain. I'd encourage everyone to charge their phones and other necessary electronics. If you have an emergency during the storm, call 911 and do not try to drive."
Coastal Alabama is still in the process of recovering from Hurricane Sally which hit the state on Sept. 15.