House Passes Key Economic Development Bill
From the Office of Speaker Mike Hubbard
Despite scare tactics, lawmakers approve bi-partisan plan to recruit new jobs, retain existing industry
MONTGOMERY – Alabama is one step closer to having a major weapon in its economic development arsenal, as the House of Representatives passed a key job-growth bill on Thursday.
House members passed a constitutional amendment that allows voters to give the Governor and the Alabama Development Office the authority to offer incentives like those used on the Mercedes project to recruit new industry to Alabama and prevent existing industry from leaving the state.
Rep. Barry Mask, who works as a local economic developer and who sponsored House Bill 159, said this bill was a major component of a job-growth package designed to give the state more tools for helping existing industry expand and recruiting new companies to the state.
"We're trying to give our state and local economic developers more tools to help grow existing businesses and land new industry, both of which result in more jobs for Alabamians," Rep. Mask said. "I was pleased to work with colleagues from both parties to make this bill better so that voters can be confident in the plan we put before them."
Despite scare tactics employed to defeat the bill by the Alabama Education Association and the Alabama Democratic Party, this constitutional amendment and its corresponding enabling bill both passed with strong bi-partisan support. Even the House Minority Leader voted in favor of both bills.
"It's hard to believe anyone would be against bi-partisan efforts to boost job growth," Speaker Hubbard said. "When the economy grows, our education budget grows, and we have more funds to put toward schools. More jobs and more money for education means everybody wins. Most importantly, the people win over the special interests."
The constitutional amendment and enabling legislation now move to the Senate, where State Senator Phil Williams (R-Gadsden) is carrying both.
"I want to congratulate the House Members, especially  Rep. Barry Mask, for doing an outstanding job, and Governor Bentley for his continued support," Senator Williams said. "We are going to take this thing into the second half now and run it all the way to the goal line."
More information on the Alabama Job Creation and Retention Act:
This constitutional amendment (HB 159 passed today by a vote of 66 yays and 22 nays) would allow voters to give the Governor and the Alabama Development Office more flexibility in offering tax incentives to land major economic development projects and retain companies that might otherwise relocate outside Alabama without having to call a special session of the Legislature.
The corresponding enabling bill (HB160, passed on Tuesday by a vote of 69 yays and 19 nays) sets strict parameters for how incentives can be used to ensure return on investment. Bi-partisan amendments to the bill strengthened investment and job creation requirements, as well as accountability and transparency safeguards.
Trump Truck and boat parades this weekend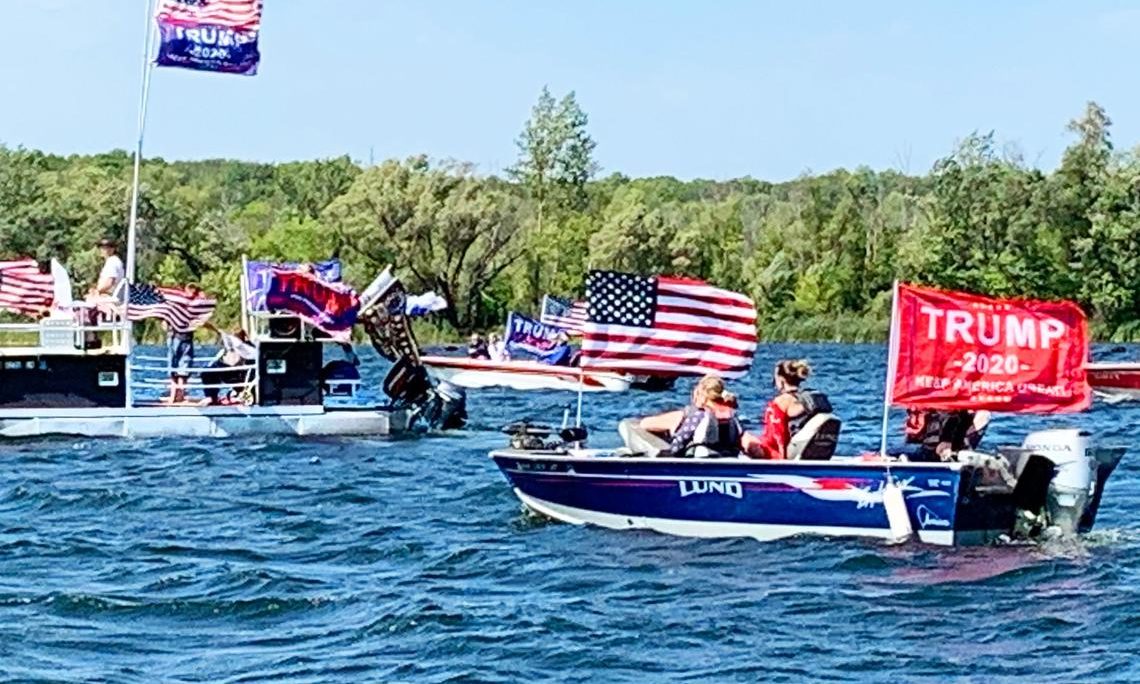 As Election Day draws near, Alabama Republicans are excited about promoting the re-election of Donald J. Trump as President and the election of Tommy Tuberville for U.S. Senate. This weekend two pro-President Trump events are happening in the state. There will be a truck parade from Ashland to Phenix City on Saturday sponsored by the Clay County Republican Party, while there will also be a boat parade on Wilson Lake in the Shoals sponsored by the Colbert County Republican Party on Sunday.
The pickup trucks will assemble at the Ashland Industrial Park in Clay County, 8240 Hwy 9, Ashland. There is a pre-departure rally at 10:00 a.m. central standard time. The trucks will depart at 11:00 a.m. and then proceed on a parade route that will take them into the bitterly contested swing state of Georgia. The Trump Pickup Parade will wind through east Alabama and West Georgia traveling through LaGrange and Columbus before concluding near the Alabama/Georgia line in Phenix City, 332 Woodland Drive, Phenix City at approximately 2:00 p.m. central time. Speakers will begin at 3:00. Trump flags will be on sale at the event.
The Phenix Motorsports Park will be hosting what sponsor hope could possibly the world's largest Pickup Tuck parade in U.S. history that is routing over 50 mile through Georgia in effort to "pickup" President Trump's numbers in GA.
A number dignitaries have been invited to address the Phenix City rally, including Coach Tuberville. Former State Sen. Shadrack McGill, Trump Victory Finance Committee member former State Rep. Perry O. Hooper Jr., and Paul Wellborn, the President and CEO of the largest Family owned Kitchen Cabinet manufacture in the USA are among the featured speakers who have committed to speak at the event.
Entertainment will be provided by: Charity Bowden, an up and coming country music singer who was the runner up on "The Voice". Charity will sing 'I am Proud to be an American' as well as songs from her Voice performances. The McGill Girls will also perform. The three beautiful and talented sisters will be singing patriotic songs in three part harmony. Geoff Carlisle, a professional DJ will be keeping the crowd pumped with music and entertainment.
Following the speakers and the entertainment there will Trump truck-vs- Joe Bidden truck races down the drag strip for the finale.
The Northwest Alabama boat parade will be on Sunday. The boats will gather at 2:00 p.m. near Turtle Point and then the flotilla will parade around the open waters of Wilson Lake til 3_00 p.m.. There will be a contest for best decorated Trump boats.
Trump supporters have held a number of large boat parades across the state to show their support for the re-election of Pres. Trump.
Boat parade sponsors say that this parade will be: pro-American, pro-law enforcement, pro-military.