Alabama Republican Senate and Congressional Delegation All Vote With Republican Budget Hawks
By Brandon Moseley
Alabama Political Reporter 
Both the U.S. House and U.S. Senate passed the election year bill extending the temporary Social Security Tax cut and generous unemployment benefits to the end of the year.  Alabama's Republican Senators and Congressional Delegation all voted 'No' on the extension because it did not include deficit reduction.  Senator Jeff Sessions (R) , Senator Richard Shelby (R), Representative Robert Aderholt (R), Rep Jo Bonner (R), Rep. Mike Rogers (R), Rep. Mo Brooks (R), Rep. Martha Roby (R), and Rep. Spencer Bachus (R) all joined the increasingly vocal group of Republican Budget Hawks in opposition to the legislation that would increase the federal budget deficit.   
In a press release Congresswoman Martha Roby (R) from Montgomery said, "Everyone knows that the temporary payroll tax holiday, which undermines the long-term health of social security in favor of a short term economic stimulus—was originally meant to last one year. Now, faced with a tough choice, Congress and the President balked, extending the tax holiday for another year while refusing to pay for it. The effect of this unprincipled approach is an even greater shortfall in the Social Security trust fund, on which millions of senior citizens rely."
In his own statement, Congressman Spencer Bachus said, "The House addressed this with a bill, but what we keep seeing from President Obama and Senator Harry Reid is a continued failure to rein in the out-of-control deficit."
On the floor of the U.S. House of Representative Congressman Mo Brooks (R) from Huntsville said, "What Washington won't tell the American people is that H.R. 3630 is another debt busting bill that further empowers China and other American creditors to become our masters while enslaving America and the American people with generations of oppressive debt burdens payments. Mr. Speaker, America yearns for leadership that involves mature adult conversations with American voters about the financial condition we are in, and what H.R. 3630 is really about.  There are simply too many in Washington who pander to voters in an election year for political gain.  H.R. 3630 represents the worst of Washington. I cannot speak for other Congressmen, but, as for me, today, I and other budget hawks stood strong for America's future.  We voted to kill H.R. 3630, stop the deception, stop pandering to voters, and save America from yet another mountain of oppressive debt."
Rep. Roby said, "In the end, the legislation approved today will add more than $167 billion to the deficit over the next three years. That is a shocking step backward in our effort to rein in deficits. In a single vote, Congress canceled out all of the spending reductions that we fought for and achieved last fiscal year."
Rep. Brooks said, "My parents taught me about debt.  Debt never rests.  Debt works against you 24 hours a day.  7 days a week.  52 weeks a year.  Too much debt enslaves you.  Your creditors and your debt become your masters.  You become their servant.  This is what debt does to every American family and is doing slowly but surely to America. According to the CBO report, H.R. 3630 racks up debt at the rate of over $12 billion per month in FY 2012.  H.R. 3630 should be printed on sheets of gold because it costs American taxpayers roughly $500 million per page in additional debt burden and payments!"
The temporary payroll tax cut extension will keep the Social Security Tax rate withheld from most workers' checks at 4.2% until the end of the year.  If the bill had not passed the rate would have risen to 6.2% on March 1st.  Part of the package is paid for by increasing the amount that new federal hires will pay for their pensions from .8% of their gross pay to 2.3%. 
The bill also extends the amount of weeks the unemployed can receive unemployment benefits. Currently the unemployed are allowed to draw 99 weeks of unemployment checks.  This bill lowers the maximum amount of time to either 73 or 40 to 63 weeks depending on the local job market.  Our understanding at press time is that Alabama is one of the state NOW with lower unemployment so unemployment benefits here will max out somewhere between 40 and 63 weeks depending on the formula and the unemployment at the time it is calculated.  Mississippi, Georgia, Florida, and Tennessee have higher unemployment so their benefits are maxed out at 73 weeks.  Without the extension that would have decreased to ~20 weeks of benefits.  This bill also delays automatic cuts to the reimbursement rates that doctors receive from Medicare and Medicaid.
The extension passed in the House by a margin of 293 to 132 and in the Senate by 60 to 36.
The National debts stands at $15.4 trillion.  The growing budget deficit is $1.3 trillion.
To read Rep. Roby's press release:
http://roby.house.gov/press-release/roby-opposes-167-billion-increase-us-deficit
To read Rep. Mo Brooks comments
http://brooks.house.gov/press-releases/rep-brooks-votes-to-protect-americas-solvency/
Hash tags: payroll tax extension unemployment benefits Congress Martha Roby Spencer Bachus Mo Brooks Senate Alabama National debt
Slow absentee voting in Tuscaloosa sparks outrage, possible legal action
Among the issues were incredibly long lines that left some voters waiting more than five hours and an inefficient process that managed to take in fewer than 100 absentee ballots in six hours.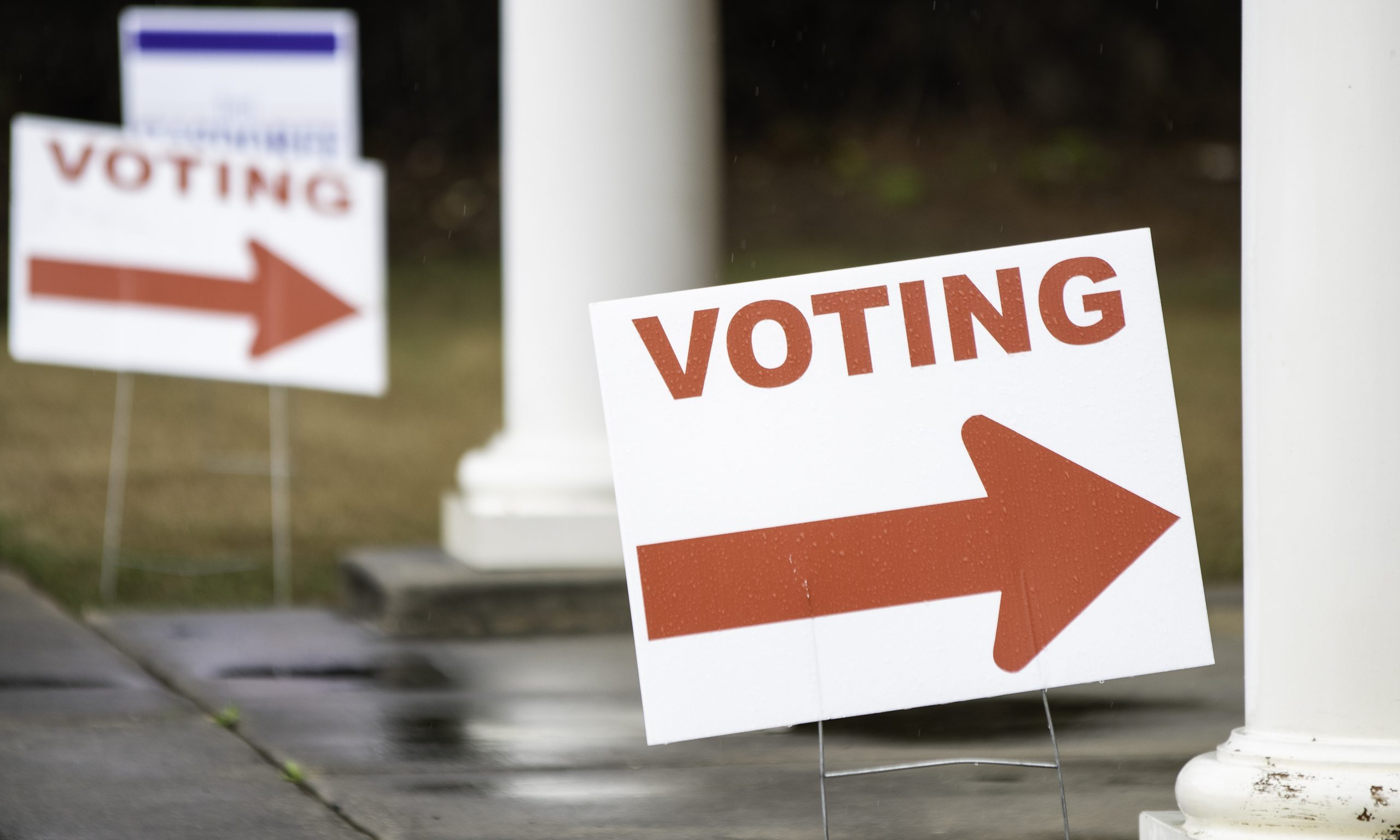 Long lines and slow absentee ballot processing in Tuscaloosa County have left voters outraged and incumbent Sen. Doug Jones's campaign threatening legal action. 
On Wednesday, Jones's campaign attorney, Adam Plant, sent a letter to Tuscaloosa County Circuit Clerk Magaria Bobo, outlining a number of issues with ongoing absentee voting and promising to take legal action if Bobo doesn't improve the process on the final day, Friday. Among the issues documented by Plant were incredibly long lines that left some voters waiting more than five hours and an inefficient process that managed to take in fewer than 100 absentee ballots in six hours. 
Additionally, Plant noted that Bobo has hired her family members to help process absentee ballots and at least one family member had made disparaging remarks on social media about voters. 
"You and those acting on your behalf are suppressing the vote of qualified Alabama voters," Plant wrote in the letter. "If you are unable or unwilling to execute your duties competently, and allow Tuscaloosa voters to exercise their voting rights without undue burdens, we will take further action."
In an interview with the Montgomery Advertiser on Wednesday, Bobo noted that her office had received more than 13,000 requests for absentee ballots — a remarkable uptick from the 3,000 or so her office usually receives — and there had been problems in managing that number of ballots while also adhering to social distancing guidelines within the office. 
However, as Plant's letter notes, the massive increase in absentee ballots for this election shouldn't have been a surprise. Also, Secretary of State John Merrill had made additional funds available to absentee managers to facilitate hiring extra staff, purchasing additional computers and staying open for longer hours to accommodate the anticipated increase. 
In a press release on Wednesday, the Alabama Democratic Party criticized Bobo and her family members, and the release included screenshots of Facebook posts from Bobo's daughter lashing out at voters who complained about the long wait times. 
"No voter should have to wait in line for hours to exercise their rights," said ADP executive director Wade Perry. "We should leverage every tool we have to make voting easier, not harder. Also, it should go without saying that election workers should not insult the very people they are employed to serve. If Ms. Bobo is incapable of processing voters quickly, someone else needs to do the job."