Alabama Senate Consider Bill Restoring Promised Pay for National Board Certified Teachers
By Brandon Moseley
Alabama Political Reporter
State Representative Merika Coleman (D) from Birmingham issued a statement urging the Alabama State Senate to restore salary supplements for teachers with National Board Certifications.  National Board Certification is a rigorous process. To attain full National Board Certification a teacher must have a minimum of three years teaching experience, submit four portfolio entries (a combination of written and video submissions) and undergo assessment exercises, which are evaluated and scored by National Board Certified Teachers.
State Senator Jabo Wagoner who is sponsoring the bill in the Senate said, "The Caucus has made education a top priority this legislative session. This bill is a big part of that. We want to encourage teachers in Alabama to seek to better themselves." "An investment in our teachers is an investment in each and every Alabama student."
Representative Coleman said, "The state promised this money to these teachers, and we need to keep that promise."  "These teachers invested their own money into getting nationally certified, and they have earned this supplement to help recover their expenses." "Democrats and Republicans came together in the House to do the right thing and pass this bill. Now I am asking our Senators to do the same," said Rep. Coleman. "This isn't about politics, it's about promises. The state made a promise, and we have to keep it."
'The Alabama Political Reporter' had an exclusive interview with Lara McClendon, a National Board Certified Art Teacher at Margaret Elementary School in the St. Clair County School System. Ms. McClendon said that National Board Certification is a voluntary certification and that for the teaching profession it is roughly the equivalent of the Bar or CPA's exam in other professions.  The assessment that the teachers have to pass is based on mastery of the subject matter that they teach. The first three portfolios needs to show that the teacher is making a real impact in the classroom.  The fourth portfolio should show that the teacher has an impact in the real world beyond the classroom.  It forces teachers to get out of their classroom and get involved with the greater community.
Ms. McClendon says that National Board Certification is more of a process than a test.  It takes one to three years to complete and is very time intensive.  The cost for the teachers is $2,500 and she or he has to pay that whether they complete the certification or not.  There are additional costs if the teacher has to redo part of the process. Ms. McClendon said that there is no guarantee that you will succeed even after devoting the time and the expense to the process.
Ms. McClendon said that the state of Alabama had promised the $5,000 per year stipend for teachers who passed their Certification when the program began.  Then when the recession hit, that was cut to $4400.  Later that was again cut to just $3500.  The certificate is only good for ten years, not for the entire career of the teacher.  Ms. Lara McClendon said that raising the stipend back to the promised $5,000 per year would show those teachers that they are really appreciated and respected by the state.  "They really are your best teachers. They are your teacher leaders.  They really impact the students beyond just their classroom."
McClendon is one of 18 National Board Certified teachers in the St. Clair County School System. She and former St. Clair County Assistant Superintendent John Moore (now Superintendent at the City of Leeds School System) set up a program to encourage and assist St. Clair County teachers going through the process of becoming Nationally Board Certified.  National Board Certified teachers like Mary Morrow and Terry Brasher are some of the best teachers in the state. Unfortunately, the money for that has also dried up.  McClendon said her dream is to get corporate sponsorship for the National Board Certified teacher program in St. Clair County. Ms. McClendon said that every measure of analyzing teacher performance shows students perform better with National Board Certified Teachers.
Ms. McClendon recommended a documentary explaining the National Board Certification process and what teachers who maximize their own knowledge and skills can have on a community.  The documentary is called the 'Mitchell 20'.  In review of the film by the University of Phoenix, "20 teachers banded together and collectively decided to boost their professional development to assist in providing a better education for the school's needy students, 99 percent of whom qualify for the Free School Lunch program and more than 46 percent of whom live in poverty. Over the past few years, the "Mitchell 20," as they are now known, attempted to attain National Board Certification in order to improve their teaching performance. Not all succeeded, but what they learned during the grueling year-long process was invaluable."
Representative Merika Coleman was elected to the Alabama House of Representatives in 2002 and is an Assistant Professor of Political Science at Miles College.  Rep Jay Love (R) is the sponsor of the bill in the House and Sen. Wagoner is sponsoring the bill in the Alabama Senate.
Since 1987 97,000 American teachers have become Nationally Board Certified. 1,848 National Board Certified Teachers work in the State of Alabama.
Governor declares state of emergency ahead of Tropical Storm Zeta
Zeta is currently a tropical storm over the Gulf of Mexico, but it is predicted to make landfall as a category one hurricane.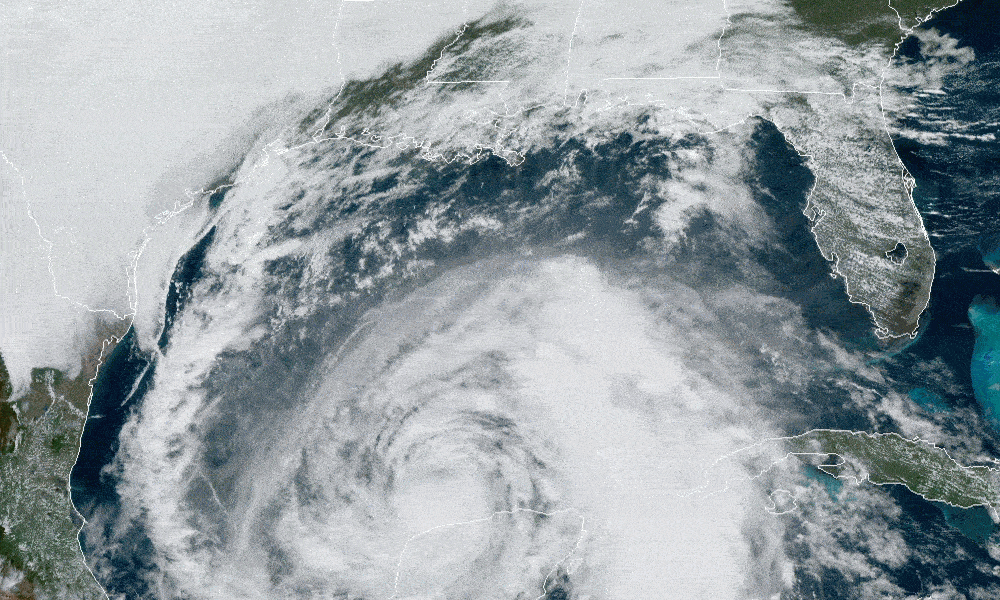 Alabama Gov. Kay Ivey on Tuesday issued a state of emergency as Tropical Storm Zeta approaches the Gulf Coast.
"Ahead of Tropical Storm Zeta's anticipated landfall Wednesday evening as a Category 1 hurricane, I am issuing a state of emergency effective today at 4:00 p.m.," Ivey said. "While this storm is not expected to have an impact as large as storms we've seen move through the Gulf earlier this year, we want to be in the best place possible to respond to anticipated rain, storm surge and mass power outage. I encourage everyone to remain weather aware and tuned in to their trusted news source as this storm could shift direction or change intensity. We continue to track the path of this storm and will stay in touch with the people of Alabama with any updates."
Zeta is currently a tropical storm over the Gulf of Mexico, but it is predicted to make landfall as a category one hurricane. The National Hurricane Center is predicting Zeta to make landfall in Mississippi on Wednesday and then proceed toward Alabama, but these storms can and do move.
A more easterly track could prove devastating to the Alabama Gulf Coast as was the case with Hurricane Sally, which shifted course in September, hitting Alabama, though Zeta is expected to be weaker than Sally at landfall.
The storm surge from the Mississippi-Alabama border to Dauphin Island is forecast to be 5 to 8 feet. Mobile Bay to the Alabama-Florida border is expected to have 3 to 5 feet of storm surge and from the border to Navarre, Florida, could experience 2 to 4 feet of storm surge.
Hurricane force winds are a possibility with this storm. Tropical force winds are expected to be an issue for Southern Mississippi and Alabama well inland. There is expected to be heavy rainfall across the state Wednesday night into Thursday morning.
The Baldwin County Emergency Management Agency announced that sandbags are available inside the county commission office at Robertsdale Central Annex (22251 Palmer Street) until 4:30 p.m. Tuesday and from 8 a.m. until 4:30 p.m. Wednesday or while they last.
Bring any help and shovels you will need. There is a limit of just 25 bags per person. Alabama's coastal counties are currently under a Tropical Storm Warning, a Storm Surge Warning for Mobile County and a High Rip Current and High Surf Warning.
Congressman Bradley Byrne said, "I just finished up briefings from Alabama EMA, FEMA, and the National Hurricane Center regarding #Zeta. We should not take this storm lightly and should start making preparations right away. After sundown Wednesday, I'd encourage everyone in Southwest Alabama to stay home and off the roads until sunrise Thursday. This storm will have impacts as far north as Montgomery, so those in Washington, Clarke, and Monroe counties will see tropical storm force winds and heavy rain. I'd encourage everyone to charge their phones and other necessary electronics. If you have an emergency during the storm, call 911 and do not try to drive."
Coastal Alabama is still in the process of recovering from Hurricane Sally which hit the state on Sept. 15.