Rep. Roby: Health Care Law, Afghanistan
From the Office of U.S. Representative Martha Roby
March 27, 2012
Health Care Law Discourages Job Creation:
Hilda Solis, Secretary of the Department of Labor, testified during a House Education and the Workforce Committee hearing last week on the Department's budget and policy priorities for Fiscal Year 2013. As a committee member, I had the opportunity to question Sec. Solis about the troubling regulatory actions that affect small businesses across the country—especially the new rules resulting from President Obama's health care reform law.
During my questioning, I highlighted an Alabama employer who may be forced to close several facilities due to costly regulations imposed by the health care law. I hear repeatedly from business owners in our area who tell me they are unable to comply with federal rules and regulations instituted under the new law.
Supporters of the law claimed it would create jobs, but the health care law actually discourages job creation. The costly regulations imposed by the law cause small businesses to close their doors, which hurts job creators, and job seekers, across the country. Rather than continue down the path toward bigger, more expensive government, we need to look at market-based reforms that actually lower cost, increase access, and maintain high quality of care.
I have taken 26 votes since I took office to completely repeal President Obama's health care law, block its provisions, or defund its programs. I remain committed to dismantling this costly expansion of government.
Update on Afghanistan:
I am honored to serve as a member on the House Armed Services Committee, which allows me to shape defense policies that affect our nation and our district. Last week, I participated in a committee hearing with General John Allen, USMC Commander of International Security Assistance Force and Dr. James N. Miller, Jr., the Acting Under Secretary of Defense and Principal Under Secretary of Defense for Policy at the Department of Defense. Their testimony at the hearing provided an update on the status on the ground in Afghanistan.
Gen. Allen and Dr. Miller shared new data about our operations in Afghanistan, and discussed the progress of the U.S. mission there. The hearing came in the wake of two troubling incidents involving U.S. troops, but their detailed testimony demonstrated that coalition and Afghan forces remain strong and are working toward completing their mission on the established timeline—a fact not widely discussed in the media.
The military is in the process of bringing down U.S. troop levels in Afghanistan from about 100,000 to 68,000. In doing so, Congress looks to our military leaders for accurate information, and Gen. Allen and Dr. Miller testified that, despite significant progress, there remains a great deal of work to be done before U.S. troops are fully withdrawn. Neither leader supported accelerating the troop withdrawal at this time.
Speaking at a Press Conference following the HASC hearing
My Meetings:
Thanks to the many individuals, organizations, and groups who came into my Washington, D.C., office last week. I always look forward to the opportunity to listen to your views and learn more about the issues that are important to you. A few of those I met with last week included: Alabama Association of National Association of Convenience Stores; members of the Montgomery Rescue Mission; Electric Cities of Alabama; Commander Bret Clark and other members from the 908th Airlift Wing; Campus Fire; Alabama Peanut Farmers; Commissioner Clyde Marsh with the Alabama Department of Veterans Affairs; League of Southeastern Credit Unions; Alabama Alliance for Main Street Fairness; Marion Military Institute; Barbara Alford with the Wiregrass Foundation; the Davidson family; students from East Memorial Christian Academy; and the Association of Conservation Districts (AACD) and Alabama Soil and Water Conservation Committee (SWCC).
Contact Me:
Keeping close contact with you is my top priority as I am traveling between Alabama and Washington, D.C. As the 112th Congress continues, I hope you will stay updated on my activities by joining me at:
Trump Truck and boat parades this weekend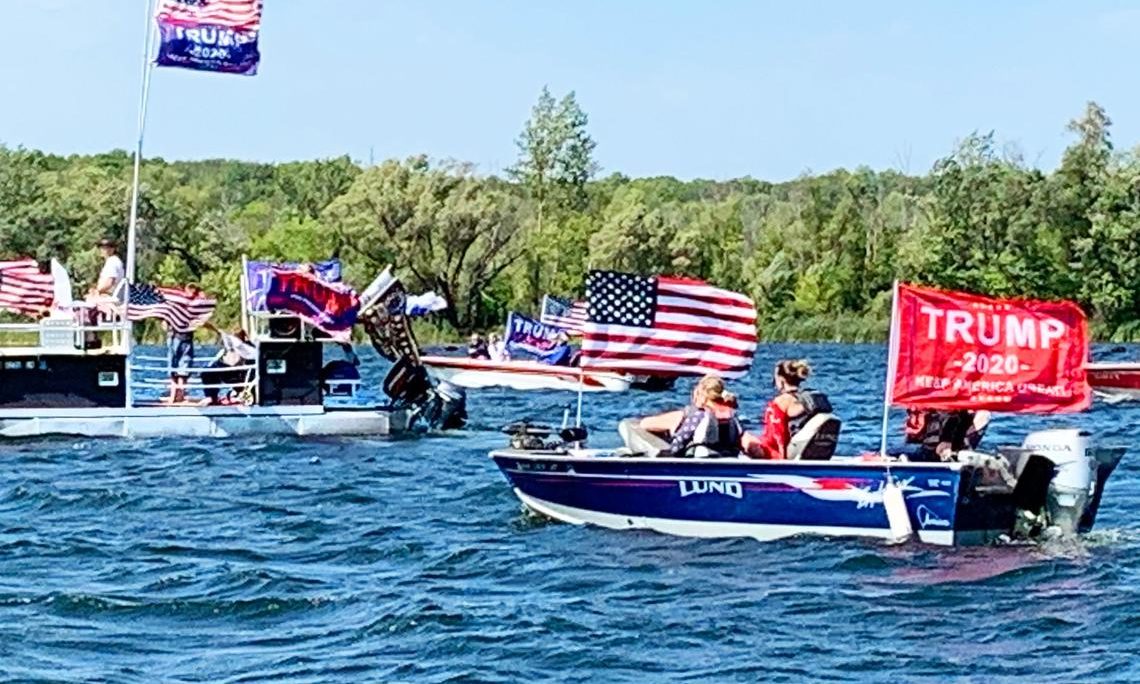 As Election Day draws near, Alabama Republicans are excited about promoting the re-election of Donald J. Trump as President and the election of Tommy Tuberville for U.S. Senate. This weekend two pro-President Trump events are happening in the state. There will be a truck parade from Ashland to Phenix City on Saturday sponsored by the Clay County Republican Party, while there will also be a boat parade on Wilson Lake in the Shoals sponsored by the Colbert County Republican Party on Sunday.
The pickup trucks will assemble at the Ashland Industrial Park in Clay County, 8240 Hwy 9, Ashland. There is a pre-departure rally at 10:00 a.m. central standard time. The trucks will depart at 11:00 a.m. and then proceed on a parade route that will take them into the bitterly contested swing state of Georgia. The Trump Pickup Parade will wind through east Alabama and West Georgia traveling through LaGrange and Columbus before concluding near the Alabama/Georgia line in Phenix City, 332 Woodland Drive, Phenix City at approximately 2:00 p.m. central time. Speakers will begin at 3:00. Trump flags will be on sale at the event.
The Phenix Motorsports Park will be hosting what sponsor hope could possibly the world's largest Pickup Tuck parade in U.S. history that is routing over 50 mile through Georgia in effort to "pickup" President Trump's numbers in GA.
A number dignitaries have been invited to address the Phenix City rally, including Coach Tuberville. Former State Sen. Shadrack McGill, Trump Victory Finance Committee member former State Rep. Perry O. Hooper Jr., and Paul Wellborn, the President and CEO of the largest Family owned Kitchen Cabinet manufacture in the USA are among the featured speakers who have committed to speak at the event.
Entertainment will be provided by: Charity Bowden, an up and coming country music singer who was the runner up on "The Voice". Charity will sing 'I am Proud to be an American' as well as songs from her Voice performances. The McGill Girls will also perform. The three beautiful and talented sisters will be singing patriotic songs in three part harmony. Geoff Carlisle, a professional DJ will be keeping the crowd pumped with music and entertainment.
Following the speakers and the entertainment there will Trump truck-vs- Joe Bidden truck races down the drag strip for the finale.
The Northwest Alabama boat parade will be on Sunday. The boats will gather at 2:00 p.m. near Turtle Point and then the flotilla will parade around the open waters of Wilson Lake til 3_00 p.m.. There will be a contest for best decorated Trump boats.
Trump supporters have held a number of large boat parades across the state to show their support for the re-election of Pres. Trump.
Boat parade sponsors say that this parade will be: pro-American, pro-law enforcement, pro-military.