EDITORIAL: Education Options Act of 2012
By ALGOP Chairman Bill Armistead
Student success improvements have been stagnant in Alabama education for years. This circumstance is a tragedy. The absence of serious reform diminishes the likelihood of achievement for Alabama's children. We cannot allow another year of operating Alabama schools under a "business as usual" atmosphere.
On March 14, Governor Bentley announced the Education Options Act of 2012. The Act provides flexibility within local school systems and more instructional options for students and parents. The Act, with Alabama citizens' support, will lead to change in the lives of Alabama's children.
The Act will allow local educators to tailor guidelines to fit the needs of individual classes or students. According to Governor Bentley, "We want to allow educators to move out of the one-size-fits-all structure…Local teachers and local school administrators know what's best for their students. This Act will give them the tools they need to best prepare students for the future."
Under the Act, teachers may incorporate new materials or teaching styles to accommodate varying student needs. Teachers will also have increased accountability. Accountability comes from greater administrative authority placed with local school boards who will have an active role ensuring that students are reaching their top potential.
The Act also forms the groundwork for establishing a small number of public charter schools. State Superintendent of Education Dr. Tommy Bice indicates that there are new opportunities that charter school options could give students. "When making crucial decisions for the students we serve, I want all possible options at my disposal, including public charter schools," Bice said. "Within that context, I can determine the best possible solution based on the needs of the students and the community."
Charter schools have been the centerpiece of education reform dialogue for many months, but the option faces criticism. The chief complaints include the potential strain on education funding and that charter schools will deflect efforts to improve traditional public school standards. It's no surprise that these complaints are coming from AEA chief Henry Mabry since that organization has long opposed real education reform in Alabama.
These complaints are misleading and false. The Act allows for only 50 charter schools to be established. Additionally, charter schools are subject to stringent oversight standards that demand achievement. Failed performance can lead to revocation of the charter and removal of funding if education goals are not met. If a charter school falls short of the school board's goals of improving test scores, creating an innovative learning environment, and better preparing students for college, then the school is either put on probation or closed.
Charter schools increase graduation rates and college admissions of students. The RAND Corporation found that in Chicago and Florida charter schools students were seven to fifteen percent more likely to graduate and between eight and ten percent more likely to be admitted to college than if they had remained at their previous traditional schools. The Harvard Graduate School of Education and MIT found that charter school students in Boston performed at high levels in English, math, and writing compared to students in local traditional schools.
It makes sense that charter school students perform at higher levels and therefore increase their chances of college admission within the environment of charter schools. Most charter schools operate under a model that resembles collegiate methods to train students. Like college, charter schools allow flexibility. Flexibility has long been the style of top colleges and universities, where subject matter experts – not bureaucrats – may form the curriculum based upon the needs of the student and the demands of the field. Colleges also include high levels of accountability, which is a model for how charter schools will function. College instructors, like charter school instructors, must participate in professional development in order to keep their jobs or get a promotion.
Parents make the best decisions regarding their child's education, and this Act will provide them with options not currently available to them. And students will have classrooms that understand individual needs and that shape curriculum to meet those needs.
All concerned Alabamians should research this issue for themselves, and they can begin by visiting StudentsFirst.org. Also, the bill, HB 541, can be viewed at the Alabama Legislative Information System Online web site (http://alisondb.legislature.state.al.us/acas/ACASLoginMac.asp).
We must stand with Governor Bentley and our Republican legislators as they stand up for students and parents.
Bill Armistead is a former State Senator from Columbiana and is the current Chairman of the Alabama Republican Party.
Trump Truck and boat parades this weekend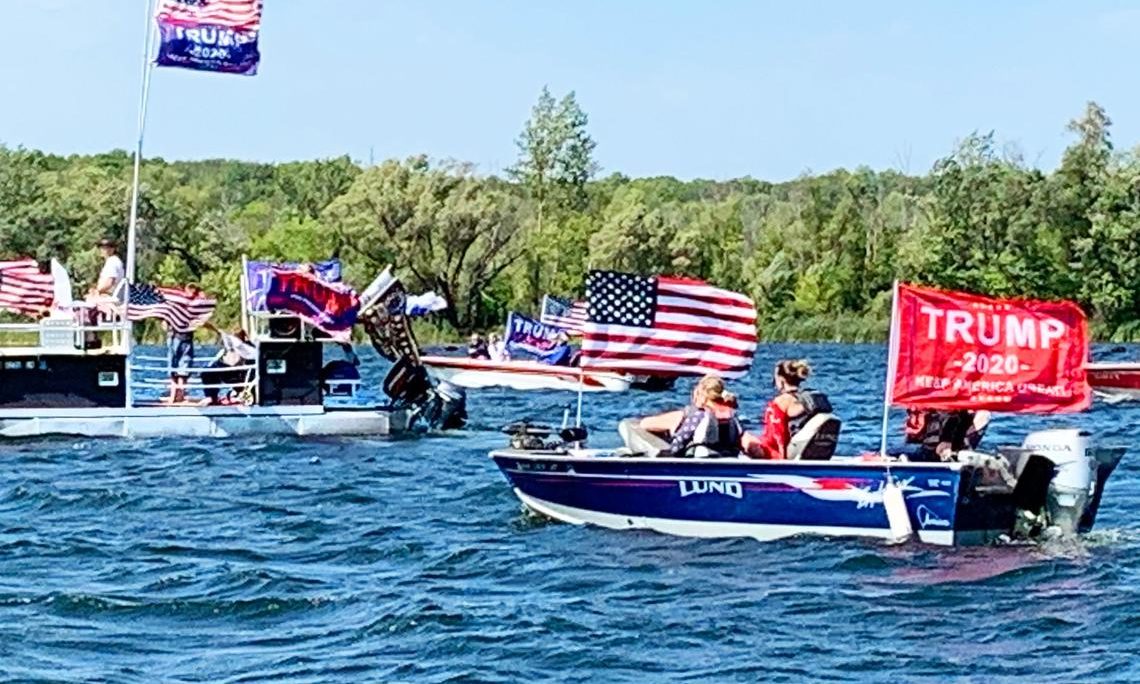 As Election Day draws near, Alabama Republicans are excited about promoting the re-election of Donald J. Trump as President and the election of Tommy Tuberville for U.S. Senate. This weekend two pro-President Trump events are happening in the state. There will be a truck parade from Ashland to Phenix City on Saturday sponsored by the Clay County Republican Party, while there will also be a boat parade on Wilson Lake in the Shoals sponsored by the Colbert County Republican Party on Sunday.
The pickup trucks will assemble at the Ashland Industrial Park in Clay County, 8240 Hwy 9, Ashland. There is a pre-departure rally at 10:00 a.m. central standard time. The trucks will depart at 11:00 a.m. and then proceed on a parade route that will take them into the bitterly contested swing state of Georgia. The Trump Pickup Parade will wind through east Alabama and West Georgia traveling through LaGrange and Columbus before concluding near the Alabama/Georgia line in Phenix City, 332 Woodland Drive, Phenix City at approximately 2:00 p.m. central time. Speakers will begin at 3:00. Trump flags will be on sale at the event.
The Phenix Motorsports Park will be hosting what sponsor hope could possibly the world's largest Pickup Tuck parade in U.S. history that is routing over 50 mile through Georgia in effort to "pickup" President Trump's numbers in GA.
A number dignitaries have been invited to address the Phenix City rally, including Coach Tuberville. Former State Sen. Shadrack McGill, Trump Victory Finance Committee member former State Rep. Perry O. Hooper Jr., and Paul Wellborn, the President and CEO of the largest Family owned Kitchen Cabinet manufacture in the USA are among the featured speakers who have committed to speak at the event.
Entertainment will be provided by: Charity Bowden, an up and coming country music singer who was the runner up on "The Voice". Charity will sing 'I am Proud to be an American' as well as songs from her Voice performances. The McGill Girls will also perform. The three beautiful and talented sisters will be singing patriotic songs in three part harmony. Geoff Carlisle, a professional DJ will be keeping the crowd pumped with music and entertainment.
Following the speakers and the entertainment there will Trump truck-vs- Joe Bidden truck races down the drag strip for the finale.
The Northwest Alabama boat parade will be on Sunday. The boats will gather at 2:00 p.m. near Turtle Point and then the flotilla will parade around the open waters of Wilson Lake til 3_00 p.m.. There will be a contest for best decorated Trump boats.
Trump supporters have held a number of large boat parades across the state to show their support for the re-election of Pres. Trump.
Boat parade sponsors say that this parade will be: pro-American, pro-law enforcement, pro-military.