Boeing: A investigative look into an alleged pattern and practice of deceit: Part one
By Brandon Moseley
Alabama Political Reporter
For six decades a Birmingham business helped make Americans safe at home and abroad. Today that company is gone. The owners of that company believe aerospace giant Boeing used a pattern and practice of deceit to ruin their company. They hold Boeing responsible and are demanding justice.
Americans believe in competition. Football is our favorite sport. Racing has long been popular in this country, thoroughbreds for earlier generations, stock cars for a more modern era. Similarly Americans (Occupy Movement and other new age socialists excepted) believe in fair competition between businesses. The company who delivers the best product faster, better, and cheaper is the company that is supposed to win. This is a capitalist country with a market economy. We even make our corporations bid for defense contracts rather than relying on some state-run industrial complex. Presumably the company with the best product at the best price that does the best work wins those prized military contracts. But what happens if somebody is cheating to win those coveted contracts? What happens when the process is no longer fair and has been corrupted? Or rigged? That question is at the heart of the allegations that Alabama Aircraft Industries is leveling at Boeing in a $100 million lawsuit in federal court. The Boeing Company is the largest aerospace company in the world. Lawyers for Alabama Aircraft Industries are alleging that Boeing has engaged in a pattern and practice of improper, unethical, and even illegal trade practices in their dealings with the historic Alabama company that has been doing business in Birmingham for 61 years.
Recently, The Alabama Political Reporter sat down with both the former Chairman of the Board of Alabama Aircraft Industries (AAI) Skip Bowling and AAl Litigation Trustee Joe Ryan about the downfall of Pemco/Alabama Aviation and the lawsuit against Boeing that alleges Boeing is directly responsible for Pemco's decline.
Alabama Aircraft Industries, formerly Pemco Aviation Group was founded in Birmingham in 1951 as Hayes Aircraft. By the mid 1950s, Hayes was busy refurbishing B-50D bombers into KB-50J aerial tankers for the U.S. Air Force's Strategic Air Command. The B-50s were being replaced by the then new B52 bombers. In addition to the tanker conversion, Hayes added jet engines to the B-50s to improve their speed and altitude so that new high performance jet fighters would not stall out during refueling behind the slower KB-50s. Hayes was awarded a contract to do Programmed Depot Maintenance (PDM) on C130s Hercules transports in 1965. In the 1960s, the KB-50J tankers were replaced by purpose built KC-135 Stratotankers for the Air Force's aerial refueling needs. In 1969, Hayes received the contract to do the PDM work on the Air Force's KC-135 Stratotankers. In 1983, the company that emerged from Hayes Aircraft was PR Inc. and then Precision Standard Incorporated. Later the company became Pemco Aviation Group with Pemco Aeroplex being the division responsible for the Programmed Depot Maintenance at the Birmingham facility. After selling off its commercial aviation division (Pemco World Air Services) in 2007, the remaining core defense contractor was Alabama Aviation Industries (AAI). From 1969 to 2009 AAI and its predecessors did programmed depot maintenance on over 2,400 KC-135 Stratotankers, far more than any other company. At its height, 1,600 well compensated workers were employed by Pemco doing defense contract work on aircraft at the company's massive Birmingham facility which is on of the grounds of the Birmingham Airport (Shuttlesworth International Airport). This is the sort of economic development project that economic development planners and governors drool over and which workers can build an entire lifetime around…..and it was here in Alabama, producing jobs while maintaining our military's aircraft for decades.
The KC-135 Stratotanker was built by Boeing and is based on the Boeing 707 airliner. As aircraft age, they require extensive rebuilds and maintenance to continue flying. Programmed Depot Maintenance (PDM) is typically performed every 5 years or after 20,000 hours in the air on a KC-135. Alabama Aircraft Industries Chairman Skip Bowling told us that when a plane is sent to the depot for a maintenance visit the staff looks for fatigue cracks and corrosion. There is a checklist the technicians go through and perform. They disassemble the aircraft. Bowling said that you find unknown problems in this process often over and above the work that was planned. Sometimes you even have to take the wings off. Everything is inspected, cleaned, repaired, and put back together. Then the plane is repainted and sent back to the Air Force. Bowling said that the process takes 150 to 180 days normally to complete.
For thirty years, Pemco did almost all of the PDM work on the KC-135s. That contract was rebid in 1998. Inexplicably, the Air Force bundled the KC-135 PDM work contract with depot maintenance on the tank busting A-10 close air support fighter bomber aircraft. The two aircraft are entirely different. The person responsible for making the decision to bundle the two contracts was Principal Deputy Undersecretary of the Air Force for Acquisition Darleen Druyun, a civilian Air Force employee charged with procurement contracts. Who has since pleaded guilty to awarding contracts to Boeing over other companies for private compensation….companies like Alabama Aircraft Industries. Trustee Ryan said, "This bundling which was done to no one's surprise caused Boeing to receive the contract because everybody on the planet knew that Alabama Aircraft was not equipped to maintain the A-10s." Chairman Bowling said. "I cannot conceive why you would bundle those two contracts from either a technical, facilities or any other rational reason." Bowling said "there was no reason why that would be to the benefit of the government." Chairman Bowling said that bundling the A10 and KC-135 maintenance contracts worked "to exclude Pemco from competing and that, very likely, was the motivation behind it," because Pemco did not have the necessary expertise to adequately do the maintenance on the A-10s.
Boeing was awarded the FY1998 contract to do the PDM work on both the KC-135s and the A-10s by Darleen Druyun. Boeing however had a great deal of difficulty starting the process of taking over the maintenance of the KC-135 contract. While Boeing had originally built the KC-135s, refurbishing the aging aircraft was a new experience for them and they had a lot of problems getting the work done. Chairman Bowling said "Boeing did have substantial difficulty in the start-up of this new contract in San Antonio. And where the Air Force would have been left completely unprepared to support the fleet if Pemco had not been pulled in with all of their experience and all of their ability to pick up on this new contract and do the work that Boeing had been contracted for. Had they not done that the Air Force readiness would have been significantly impacted." The U.S. Air Force was very displeased with the quality of the work being done by Boeing's San Antonio facility and delays were hampering America's military readiness as planes were piling up in San Antonio instead of being returned to service. Darleen Druyun then ordered Boeing to split the KC-135 work with Pemco which was finishing KC-135 PDM work under their old contract. Instead of being the primary contractor, Pemco became a Boeing subcontractor. Over half of the work would be done in Birmingham and the rest would be done in San Antonio where knowledge of Pemco's processes and methodology would help Boeing resolve problems with their in-house KC-135 PDM work.
Darleen Druyun's improper and illegal relationship with Boeing would eventually lead to her pleading guilty and being sentenced to 9 months in federal prison. Boeing Chief Financial Officer (CFO) Michael Sears was also convicted and sentenced to four months in federal prison and fired for his improper and illegal dealings with Ms. Druyun, whom he had made a Boeing Vice President in exchange for an extremely favorable tanker contract. Boeing never admitted any guilt but CEO Phil M. Condit was forced to resign and the company agreed to pay the United States Government a fine of $615 million.
Pemco lost that 1998 ten-year contract to be the primary contractor on the KC-135 PDM contract, but was able to salvage their business by becoming a Boeing subcontractor. This, however, would not be the end of Pemco/Alabama Aviation's problems with The Boeing Company.
To Be Continued
Three mental health crisis centers coming to Mobile, Montgomery and Huntsville
"Today marks a culture change in Alabama for treatment of individuals with mental illness and substance use disorders," Mental Health Commissioner Lynn Beshear said.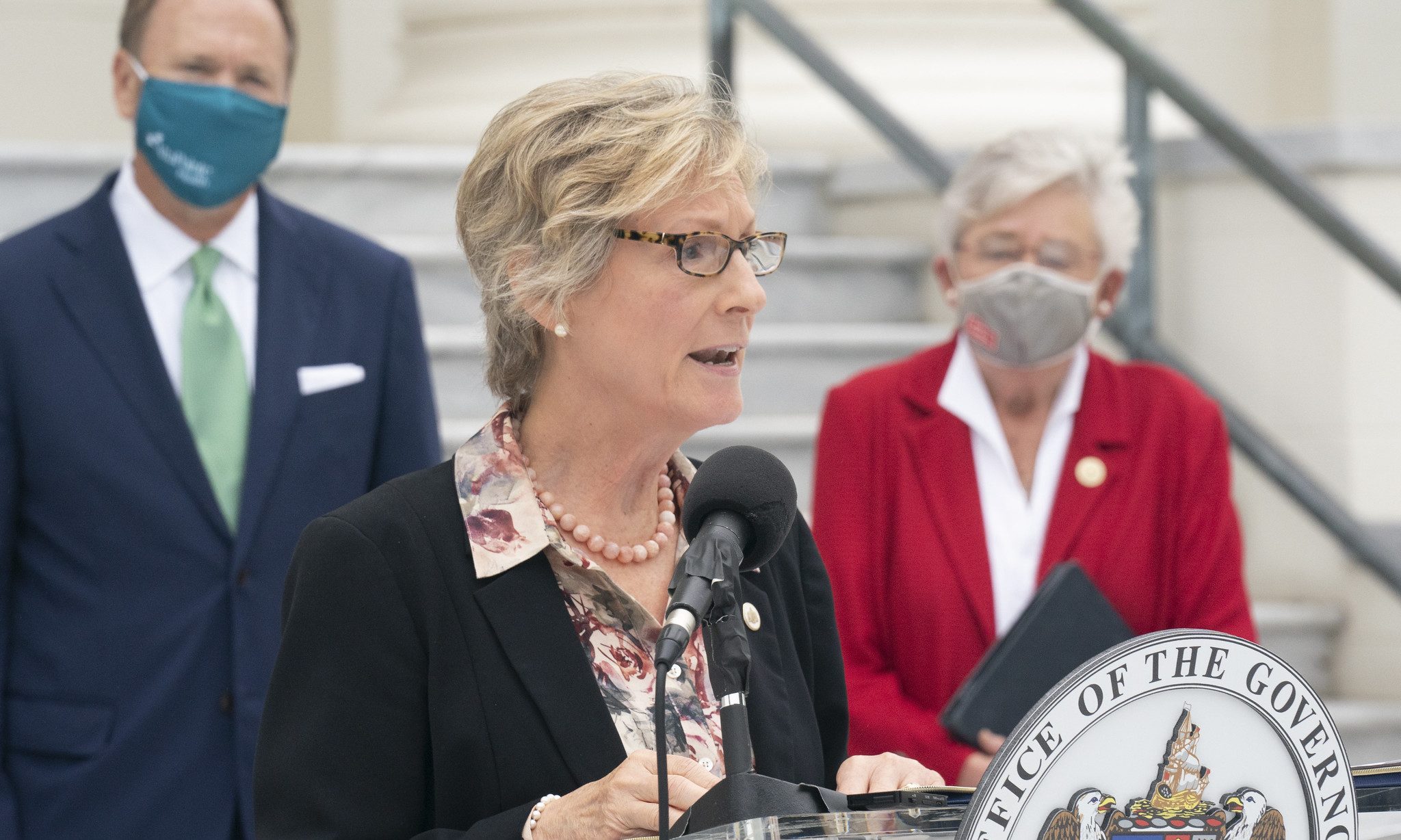 Gov. Kay Ivey on Wednesday announced an $18 million project to create three new mental health crisis centers to be located in Mobile, Montgomery and Huntsville. 
These centers, once in operation, will reduce the number of people suffering from mental health crises who are hospitalized or jailed, Ivey said during a press briefing in front of the Capitol Building in Montgomery. 
"When these facilities are open and fully staffed, these centers will become a safe haven for people facing mental health challenges," Ivey said. 
Lynn Beshear, commissioner of the Alabama Department of Mental Health, said during the briefing that the centers will provide "recovery based" care with "short term stays of a few hours, or up to a few days, to provide treatment, support, and connection to care in the community." 
"Today marks a culture change in Alabama for treatment of individuals with mental illness and substance use disorders," Beshear said. 
Beshear said AltaPointe Health in Mobile will operate one of the three facilities, and once built it is to serve Mobile, Baldwin, Clarke, Conecuh, Escambia, Monroe and Washington counties with 21 new beds, including 15 temporary observation beds. Altapointe will begin with a temporary space while constructing the new facilities, she said. 
Beshear said the Montgomery Area Mental Health Authority is partnering with the East Alabama Mental Health Authority and the Central Alabama Mental Health Authority to serve the 11 counties in Region 3 with 21 new beds, including 10 temporary observation and respite beds. 
"The regional crisis center will be located in Montgomery, and will be open to walk-ins and for drop off by law enforcement, first responders and referrals from emergency rooms," Beshear said. 
Wellstone Behavioral Health in Huntsville was selected to open the third center, and will do so at a temporary site while a new facility is being built, with the help of an additional $2.1 million from local governments, Beshear said. That facility will eventually have 39 beds, including 15 for temporary observation and 24 for extended observation.
"There's not a day that goes by that after-hours care is not an issue in our state," said Jeremy Blair, CEO of Wellstone Behavioral Health, speaking at the press conference. "And so I applaud the Department of Mental Health and the leaders for their efforts in recognizing that and taking it a step further and funding our efforts here." 
Asked by a reporter why a center wasn't located in Jefferson County, one of the most populous counties with a great need for such a center, Ivey said those residents will be served in one of the other regions. 
"Plans are underway to continue this effort. Today's beginning, with these three crisis centers, is just the beginning," Ivey said. 
Ivey added that request for proposals were sent out for these three centers and "it was a strong competition for the location of these three crisis centers." 
Alabama House Majority Leader Nathaniel Ledbetter, R-Rainsville, said during the briefing that more than a year ago, Ivey asked him what the state should be looking at, and that he replied "we're failing miserably in mental health."
Ledbetter said Ivey asked him to take on the challenge of correcting the state's response to mental health, and a team was created to do just that. 
"Working together, today's announcement will not only change Alabamians lives, but will help to save lives," Ledbetter said.