Obama's FDA Puts New Demands on America's Farmers and Ranchers
By Brandon Moseley
Alabama Political Reporter
Wednesday President Barack H. Obama's Food and Drug Administration (FDA) announced that they want meat and poultry producers to stop giving antibiotics to their animals to make them grow faster.
The FDA's deputy commissioner for foods, Michael Taylor said, "This is a sea change. We're finally ready to put this issue behind us." The FDA will give companies three months to declare their intentions "so we know who's going along with us on this and who isn't," and then will begin a 90-day comment period, Taylor says. After that, companies will have three years to implement the changes. If some companies don't go along, he says, the FDA will "look toward other regulatory options."
The FDA is asking that the animal pharmaceutical industry require that producers have access to their products only with a veterinarian's prescription.  They are also asking that veterinarians not prescribe any antibiotics to promote growth or improve feed efficiency and they are asking that farmers, ranchers, and feedlots voluntarily stop using antibiotics in the feed and water of food animals for production purposes.
'The Alabama Political Reporter' talked with Dr. Billy Powell, Executive Vice President for the Alabama Cattlemen's Association (ACA).  Powell said that the changes do not directly impact Alabama's cattle farms and ranches because cattle producers have a strong track record of working with veterinarians in the prudent and appropriate use of antibiotics and other herd health tools. Through multiple industry-led initiatives, including the Beef Quality Assurance Program and the Producer Guidelines for Judicious Use of Antimicrobials, cattle farmers and ranchers work hand-in-hand with veterinarians to select and use antibiotics carefully and only when needed.  Dr. Powell said that this relationship between cattle farmers and veterinarians is key to the further production of safe, wholesome beef that is continuously raised by family farms in the United States to feed a growing world population.  Powell said that the (ACA) is pleased that FDA has resisted unscientific calls to completely ban the use of antibiotics and antimicrobials in cattle and other livestock species because this issue remains a multifaceted, extremely complex issue that cannot be adequately addressed solely by focusing on the use of antibiotics in animal agriculture.   Powell says that the ACA supports using animal's pharmaceuticals to treat illnesses and maintain the health of livestock as part of humane treatment of farm animals and is just another way that cattle farmers are committed to raising healthy livestock.
FDA Commissioner Margaret A. Hamburg said, "It is critical that we take action to protect public health.  The new strategy will ensure farmers and veterinarians can care for animals while ensuring the medicines people need remain safe and effective. We are also reaching out to animal producers who operate on a smaller scale or in remote locations to help ensure the drugs they need to protect the health of their animals are still available."
In the 1960s, researchers discovered that including low levels of antibiotics in the feed of food animals could improve the average daily weight gains (ADG) and decrease the amount of feed necessary for the animal to gain a pound of gain, feed efficiency (FE).  Since the 1970s, some physicians have blamed the increasing number of antibiotic resistant strains of pathogens in human health on the use of antibiotics in animal agriculture.  Since then the FDA has prevented some new classes of antibiotics from being used in food animals for this reason and has increased mandatory withdrawals times before an animal treated with antibiotics can be harvested for food.  Critics of this scientific theory argue that properly cooked meat should not expose consumers to any bacteria or pathogens, whether they are antibiotic resistant or not and that over-prescription of antibiotics in human medicine is a much more likely cause of antibiotic resistance in humans than anything given to an animal weeks or months before it was slaughtered.
Alabama women to Ivey: Support fair processes
Last week, Ivey co-authored a letter of support for Barrett and released it to media outlets.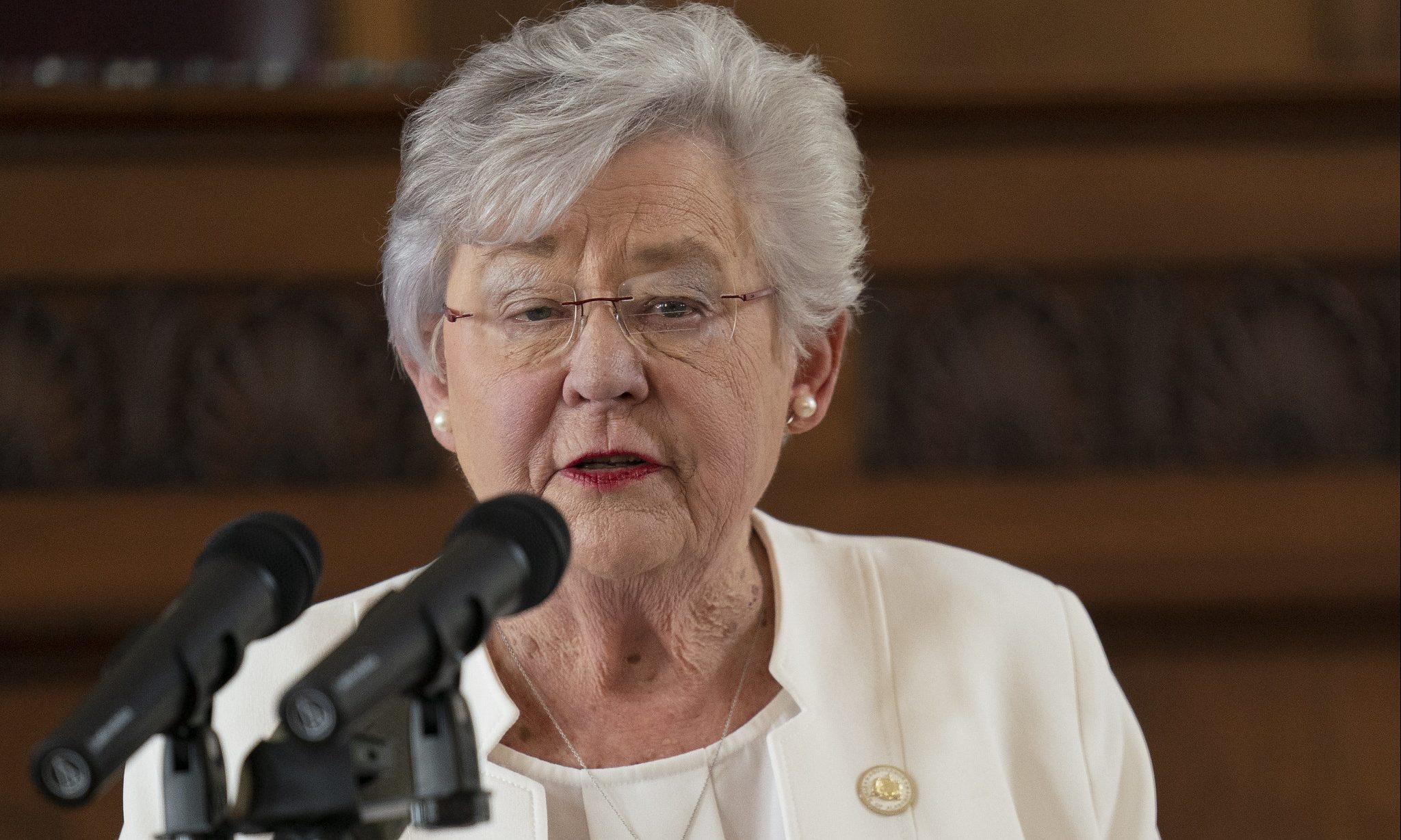 A letter signed by a bipartisan group of about a thousand Alabama women takes issue with Gov. Kay Ivey's recent support of Republican Supreme Court nominee Amy Coney Barrett, and it encourages Ivey and other state officials to instead support fair processes.
Last week, Ivey co-authored a letter of support for Barrett and released it to media outlets. In response, the letter from Alabama women calls the process to nominate Barrett, which is occurring after more than 50 million votes have been cast and in a Senate that is predicted to change from Republican to Democratic control, unfair and "anti-democratic."
The letter, which doesn't criticize Ivey or request that she rescind her endorsement of Barrett, asks instead that Ivey and other state leaders honor women by implementing and following fair processes that provide women with equal opportunities.
The full letter is below:
Dear Governor Ivey,
We are a group of women. We are current and future mothers, grandmothers, caregivers, leaders and champions of all citizens of our great state. We are moderates, progressives and conservatives. When we agree with our leaders, we say so, as we have in your support for education, workforce development, and sensible mask policies.  
We also speak up when we do not agree. Thus, we want to respond to your letter in support of Amy Coney Barrett because it does not represent our views. 
Like you and Judge Barrett's father, we want to tell all young girls that they can do anything their male counterparts can do and they can be anything and everything they want to be. We want it to be a truth, not just a signal "that the most qualified individual will get the job".  In addition to those things, we want them to know and believe that the process will be fair, because no matter the job, the process should be fair. And our children and young people (boys or girls) should be able to trust that democracy works and can be counted on. How can we assure them when this process has been so rushed and undemocratic?
We are women who oppose Judge Barrett's confirmation, because confirming her at this time, when 50 million Americans have already cast their votes, is anti-democratic. Regardless of what ways she does or does not think or talk like us, what matters is that a confirmation should not take place after the election is underway. 
We do not expect you to rescind your support of Judge Barrett. However, we urge you and the other women leaders who have advanced to top positions in our government to stand with us in asking for a fair process that takes place after the election. A process that helps us to believe that our voices and our votes matter because the American people should have the right to choose who nominates the next Supreme Court Justice.
Respectfully, 
Emily Hess Levine
Lindsey Chitwood
Megan Cheek
Kira Fonteneau
Ronne M. Hess
Cindi Cassis Branham
Anna Brantley Fry
Joellyn M. Beckham
Kristen Berthiaume
Alexandra Ruthann Bullock McElroy
The letter is signed by more than 800 women. The full list of signatures was sent to APR with the letter. We have chosen to list only the first 10 for the sake of brevity.