Editorial: It is NOT About the Morning After Pill
By Susan Britt
Alabama Political Reporter
Understanding that people these days do not have a great deal of time for research, call me a geek, but I heavily research subjects before typing a word. Bills that we report on are read before writing about them.
While understanding that there is room for error, egregious error is unacceptable. When buzz words about controversial subjects are used to sensationalize a story without confirming the information causing unnecessary diversion of attention from what could be an important bill that saves lives, it is just plain irresponsible. If you don't have time to do the research or understand the subject don't discuss the it and especially don't report on it. Right or wrong, people depend on authority figures, teachers and yes journalists to be their eyes and ears on subjects. When we get it wrong, it can cause unnecessary consequences.
Over the last couple of weeks, many people, including colleagues in the press, have referred to SB6 and SB96 as the "morning after" bill when it is not. Both bills sponsored by Senator Gerald Allen (R-Tuscaloosa) are specifically targeted at an "abortion-inducing" drug that is administered after conception.
While mifepristone (RU486) can be used as a "morning after" pill in small doses (after conception, before implantation) these bills target "medical abortion" where mifepristone used in conjunction with misoprostol to cause contraction of the uterus resulting in an abortion (after implantation). It doesn't take a physician to understand the difference.
The purpose of this bill is to stop women from purchasing mifepristone online and self-administering at home by requiring a physician's supervision. There are multiple dosages at multiple times of administration that depend upon the gestation of the fetus (this is written in the text of both bills in detail). Using an off-brand of these drugs can be deadly (also in the text of the bills). Without emergency backup or medical supervision, even the self-administration can result in death.
Online stores have been set up targeting these women with slogans like "save you money" with nice, smiling models in lab coats showing their approval. A physician's consultation is not necessary and the drug can simply be prescribed and purchased with a couple of clicks.
Let's get our facts straight. Wikipedia defines mifepristone as:
Mifepristone is a synthetic steroid compound used as a pharmaceutical. It is a progesterone receptor antagonist used as an abortifacient in the first months of pregnancy, and in smaller doses as an emergency contraceptive. Mifepristone is also a powerful glucocorticoid receptor antagonist, and has occasionally been used in refractory Cushing's Syndrome (due to ectopic/neoplastic ACTH/Cortisol secretion). During early trials, it was known as RU-38486 or simply RU-486, its designation at the Roussel Uclaf company, which designed the drug. The drug was initially made available in France, and other countries then followed—often amid controversy. It is marketed under tradenames Mifegyne and Mifeprex.
Women's Health at About.com defines it as:
This emergency contraception method is different from another "morning after" pill used widely in Europe – known as RU486 or mifepristone. The FDA approved RU486 for use in the in United States in September 2000. Unlike emergency contraception, which acts before implantation of the fertilized egg, RU486 is an antiprogestin, which causes the uterine lining to shed after implantation. For this reason, RU 486 is sometimes referred to as an "abortion pill," although it can only be used up to six weeks after conception. RU 486 must be given by a physician in three separate doses.
The above information was obtained through a Google search that took seconds. While I am not always right, I work very hard to make sure that I am at least not wrong. Misinformation and misrepresentation whether intentional or not is deceiving and destructive.
Be careful what you utter from your mouth or type with your fingers, someone's life might just be depending on you.
UAB expert: We can't wait until it's too late to act on surging cases
"We still are at a time point when we have an ability to intervene, and do something to reduce that case count, to reduce the eventual mortality," UAB specialist Dr. Jodie Dionne-Odom said.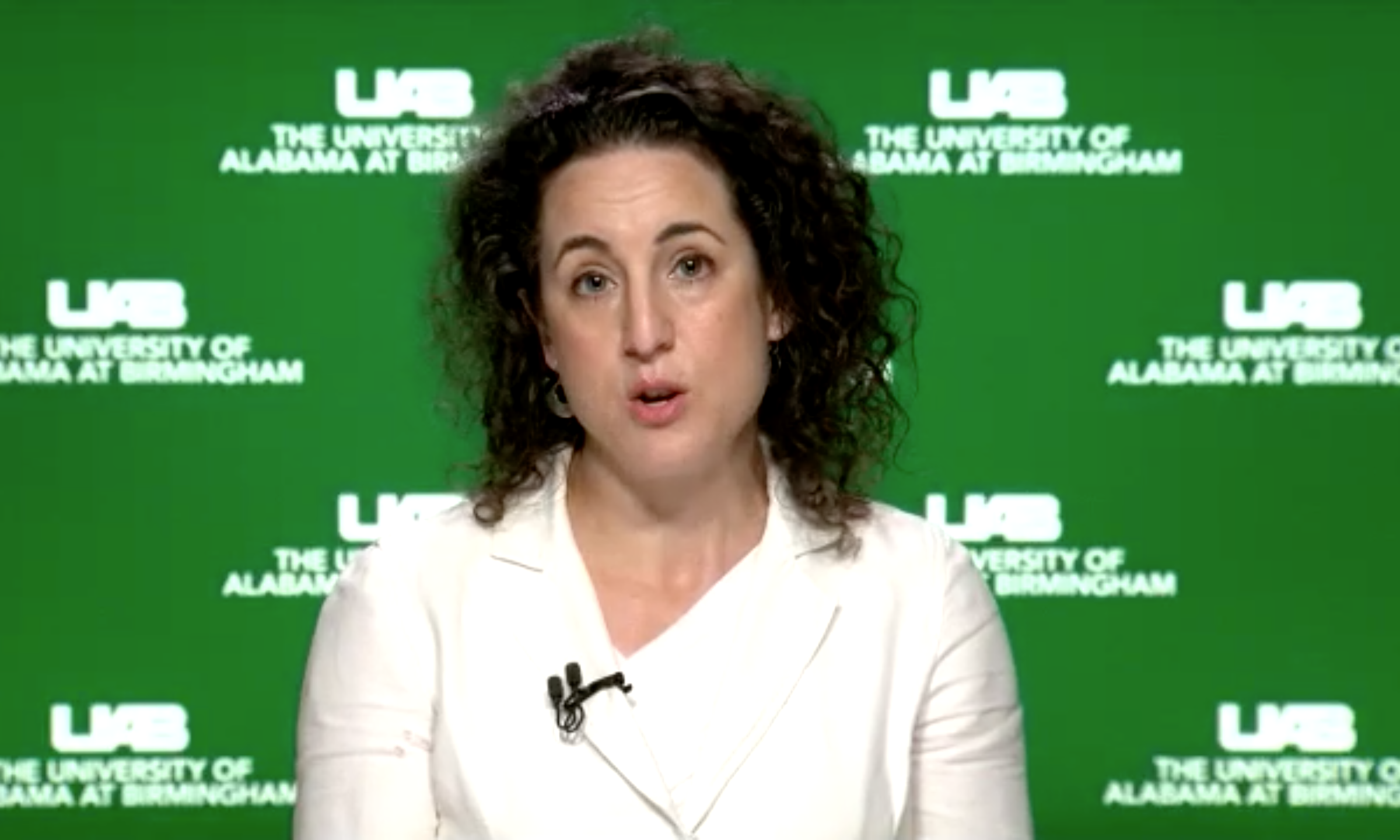 Alabama continues to see record numbers of new COVID-19 cases and hospitalizations, and the best way to turn the trend around is to wear face masks and practice social distancing, a UAB doctor says. 
Dr. Jodie Dionne-Odom, an infectious disease specialist at UAB, told reporters in a press conference Wednesday that the seven-day average of new daily coronavirus cases in Alabama has increased fourfold over the past several weeks. 
"We still are at a time point when we have an ability to intervene, and do something to reduce that case count, to reduce the eventual mortality," she said. "You don't want to wait until things are so bad that it's difficult for us to reverse the trend at all."
Dionne-Odom said she's concerned that the window of time to turn the trend of increasing cases, hospitalizations and the impending deaths that will surely come is limited. Wearing masks in public and practicing social distancing are some of the best tools we have to do so, she said.
On Wednesday, the state added 1,161 new COVID-19 cases and 25 deaths from the virus. It's killed 1,032 people in Alabama, the UAB physician said. At least 1,110 people were being treated in hospitals in the state Wednesday, according to the Alabama Department of Public Health, the most since the pandemic began.
The 14-day average of new daily cases was 1,057 — the highest it's been since the start of the pandemic. 
"The fact that we're seeing these sharp increases and hospitalization in cases over the past week or two is really concerning," Dionne-Odom said. "And we expect, given the lag that we know there is between cases and hospitalization — about a two-week lag, and a three-week lag between cases and deaths — that we're on a part of the curve that we just don't want to be on in our state."
UAB Hospital's COVID-19 intensive care and acute care units were approaching their existing capacity Tuesday, when the hospital was caring for 92 coronavirus patients. The hospital had 91 inpatients who had been diagnosed with COVID-19 on Wednesday.
Of those being treated in UAB's COVID-19 ICU unit Tuesday, less than half were on ventilators, a UAB spokesperson, Bob Shepard, said in a message to APR on Tuesday. Ventilator usage is actually dropping, he said, a positive sign. The hospital has both a COVID ICU and a COVID acute care unit designated to keep patients separated from those who don't have the virus, but it has more space in other non-COVID units.
"If we reach a point where we have more patients needing space in either unit, we will create more space in other areas of the hospital and designate additional beds for COVID patients," Shepard said.
"The issue is that designating more beds for COVID care reduces the number of beds we have for patients with non-COVID illnesses, which can have a profound effect on the overall health of our community," he said.
That flexibility was echoed by Dionne-Odom, who said that it is the type of system where they can create capacity as it's needed. 
"And we have units that we can open and close and take care of patients with COVID and staff who are familiar with the procedures of wearing PPE and gowning and keeping healthcare workers safe," Dionne-Odom said. "So we've used everything that we've learned since March, working really hard to be able to take care of more patients. That said, you have to remember that every bed that we're using today for someone with COVID can potentially be a bed that someone else would need, who's having a stroke or having a heart attack." 
"These problems are continuing to happen, and they need ICU-level care too," she continued. "So we don't want to continue to see an increase in the COVID cases because that has the indirect effect of affecting how we care for all the other patients with serious diseases." 
Dionne-Odom said that they know from experience that some of those being hospitalized for the virus will die in the coming weeks, "so we're all watching the next several weeks very cautiously." 
Testing across the state has increased in recent weeks, but so has the percentage of tests that are positive, a sign that not enough testing is being done, and cases are going undetected. 
Dionne-Odom said many cities across the southeast have high testing positivity rates of between five percent and 15 percent, and in some cases as high as 20 percent.

"And what that number means is when you're getting one of five tests back positive, is that there's a lot of spreading infection in the community that you are not detecting," Dionne-Odom said. 
Alabama's seven-day percent positivity rate was 14.69 on Wednesday. Public health experts say it should be at or below five percent or cases are going undetected. 
In Jefferson County, as of Wednesday, the percentage was roughly 14 percent.
While the majority of hospitalized patients are older, UAB does have COVID-19 patients in their 30s who are very ill and in ICU units, Dionne-Odom said.
"So the message is still true that this disease tends to impact older adults more than younger adults, but if you're 20, 30, 40, especially if you have an underlying condition, but even if you don't, you're not immune from this disease. You're still at risk of having severe outcomes," Dionne-Odom said.