Newman Technologies To Locate New Plant in Albertville
Staff Report
ALBERTVILLE– The City of Albertville and Marshall County on Friday welcomed Newman Technology to the Albertville Industrial Park.
The new plant, a supplier to the Honda Manufacturing of Alabama plant in Lincoln, initially will employ 60 people and begin production in early 2013.
Newman, which manufactures door sashes and exhaust components for Honda, Acura and Subaru, has plans for continued expansion of the facility and the labor force. This will be the company's first plant in Alabama.
Governor Robert Bentley thanked the company for its confidence in the state's business climate and said he was glad that the State of Alabama played a role in attracting the company.
"It was a tremendous effort by both our state and local partners working together to bring a company here that will continue to lower the unemployment rate of the area and provide good jobs," Governor Bentley said.
"We are pleased that Newman Technology will become the newest corporate citizen in Alabama's thriving automotive supplier base as well as our newest international partner," said Alabama Department of Commerce Secretary Greg Canfield. "We are proud to be this company's partner and promise to help encourage its future growth and prosperity here. Welcome to Alabama."
Albertville officials said the City was engaged in the process from the beginning. "We received the call from ADO (now the Alabama Department of Commerce) late on a Friday afternoon last November. All they told us was to be ready to show multiple sites in Marshall County Monday morning at 10:00 a.m.," said Matt Arnold, president of the Marshall County Economic Development Council.
Four sites in Marshall County were shown, including two site visits in Albertville shown by Mayor Lindsey Lyons.  Later, as the project came together, the company settled on the Bryant Tract, a 20 acre piece of property in the Albertville Industrial Park that was purchased by the Albertville Industrial Development Board in 2001.
After numerous visits from and to Aiken, S.C., Newman Technology of Alabama breaks ground today on a $15+ million facility. "This project is the culmination of a tremendous effort by the City of Albertville and the Marshall County Economic Development Corporation," said Albertville Mayor Lyons.
Gray Construction, headquartered in Lexington, Ky., will be the general contractor on the project. Gray has designed and built over 300 automotive facilities across the U.S., and has worked in Alabama for 17 years.  The company's Birmingham office will manage this project.
"In addition to the positive impact of jobs, the enthusiasm of Newman officials and Newman's history of being an outstanding corporate partner cannot be understated. We're proud and honored they have selected Albertville," said Mayor Lyons.
Arnold said this project is a good example of how economic development is all about relationships.  When company officials visited Alabama under the title "Project Newt" in November 2011, some had been to Marshall County before on another project.   "While that project did not materialize, it established relationships with Marshall County economic development officials that helped lead to the announcement we have today," said Arnold. "You never write off a lead.  You never know where it might take you."
Governor declares state of emergency ahead of Tropical Storm Zeta
Zeta is currently a tropical storm over the Gulf of Mexico, but it is predicted to make landfall as a category one hurricane.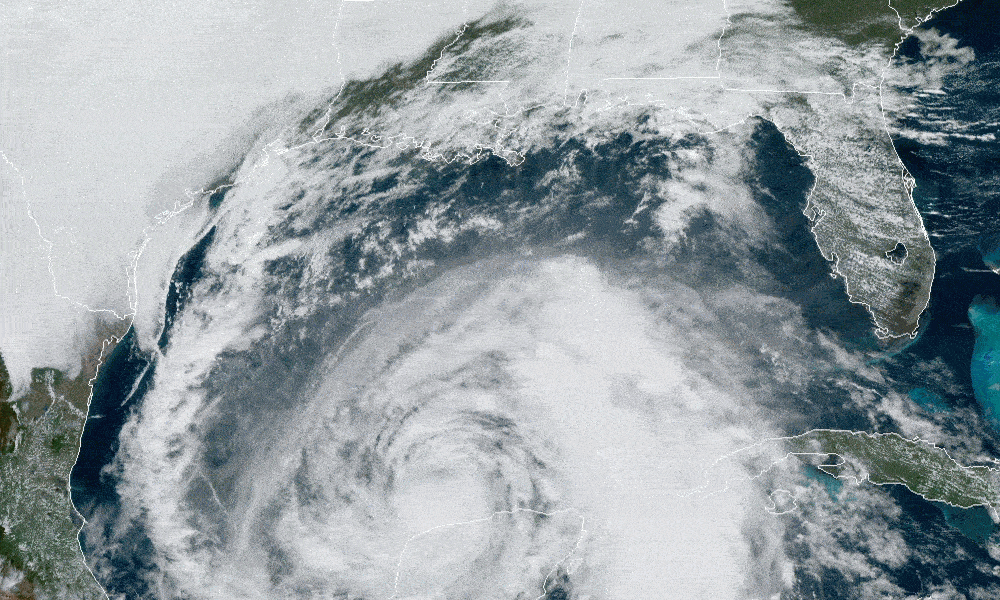 Alabama Gov. Kay Ivey on Tuesday issued a state of emergency as Tropical Storm Zeta approaches the Gulf Coast.
"Ahead of Tropical Storm Zeta's anticipated landfall Wednesday evening as a Category 1 hurricane, I am issuing a state of emergency effective today at 4:00 p.m.," Ivey said. "While this storm is not expected to have an impact as large as storms we've seen move through the Gulf earlier this year, we want to be in the best place possible to respond to anticipated rain, storm surge and mass power outage. I encourage everyone to remain weather aware and tuned in to their trusted news source as this storm could shift direction or change intensity. We continue to track the path of this storm and will stay in touch with the people of Alabama with any updates."
Zeta is currently a tropical storm over the Gulf of Mexico, but it is predicted to make landfall as a category one hurricane. The National Hurricane Center is predicting Zeta to make landfall in Mississippi on Wednesday and then proceed toward Alabama, but these storms can and do move.
A more easterly track could prove devastating to the Alabama Gulf Coast as was the case with Hurricane Sally, which shifted course in September, hitting Alabama, though Zeta is expected to be weaker than Sally at landfall.
The storm surge from the Mississippi-Alabama border to Dauphin Island is forecast to be 5 to 8 feet. Mobile Bay to the Alabama-Florida border is expected to have 3 to 5 feet of storm surge and from the border to Navarre, Florida, could experience 2 to 4 feet of storm surge.
Hurricane force winds are a possibility with this storm. Tropical force winds are expected to be an issue for Southern Mississippi and Alabama well inland. There is expected to be heavy rainfall across the state Wednesday night into Thursday morning.
The Baldwin County Emergency Management Agency announced that sandbags are available inside the county commission office at Robertsdale Central Annex (22251 Palmer Street) until 4:30 p.m. Tuesday and from 8 a.m. until 4:30 p.m. Wednesday or while they last.
Bring any help and shovels you will need. There is a limit of just 25 bags per person. Alabama's coastal counties are currently under a Tropical Storm Warning, a Storm Surge Warning for Mobile County and a High Rip Current and High Surf Warning.
Congressman Bradley Byrne said, "I just finished up briefings from Alabama EMA, FEMA, and the National Hurricane Center regarding #Zeta. We should not take this storm lightly and should start making preparations right away. After sundown Wednesday, I'd encourage everyone in Southwest Alabama to stay home and off the roads until sunrise Thursday. This storm will have impacts as far north as Montgomery, so those in Washington, Clarke, and Monroe counties will see tropical storm force winds and heavy rain. I'd encourage everyone to charge their phones and other necessary electronics. If you have an emergency during the storm, call 911 and do not try to drive."
Coastal Alabama is still in the process of recovering from Hurricane Sally which hit the state on Sept. 15.