Vernon Burns: Protecting the defenseless
The abuse of the defenseless is one of the many faces of a civilization in decline. The ability to know right from wrong is the gift that separates mankind from the animal world. The great test for mankind is how we use this gift. We, as individuals and as a society, are tested each day by the way we protect and care for our most vulnerable fellow human beings. The abuse of our children, our mentally deficient, and our elderly are more evidence of our devaluation of human life and avoiding our personal responsibilities. 
The neglect, the physical, mental, and or sexual abuse of an innocent child is beyond any excuse, anytime, anyway, anywhere!!! This statement of natural law is a defining point in man kinds long quest to rise from the dark and self serving animals we are and stand in the light of reason with the angels. Society deviated from this natural law in 1973 when a child became not the gift of life and a fellow human being, but something less, something disposable , only a choice. We, as a nation, sanction and encourage the ultimate abuse, the taking of an innocent human life. 
This degrading of human life is also a defining point in our nations and man kinds history. This legal and moral retreat from personal responsibilities is having effects throughout our society. We now accept the taking of a very young human life for our convenience. What is the next step down this path? Is it the mentally deficient and the elderly? While the abuse and the neglect of our children, and those who are mentally children, is a profound problem rooted in the worst selfish nature of man, I see it as more clear cut and definable than my primary topic, the abuse of those nearer the end of life. As child abuse receives national attention, as well it should, most abuse of the senior member of our society goes unnoticed. 
What is elder abuse? In the worst case it is physical abuse. Other abuses include mental, medical, financial, neglect, a combo of these abuses or all of them put together.  While this is hard core criminal activity, it's very hard to detect. After such abuse is detected, I like to think, our society is dealing with the criminals and helping the victims. But at that point we are dealing with a problem and not the underlying causes of that problem. 
With an aging population and the so called demands of modern life what is expected of us? What is right? Clearly the days of the extended family are over. The basic family (mother, father, and children) and the extended family ( grandparents, aunts, uncles, cousins, etc.) have been the building blocks of civilization for thousands of years and now these self supporting structures are breaking down. 
This break down of the family and the idea that you are not personally responsible for yourself or your children, and you are surely not responsible for your parents or grandparents well being, is the result of generations of government promoted dependence. Every well intentioned government social program has bred this dependance and lack of personal character into what was, not long ago, the strongest, most self reliant, people on earth. We have been conditioned to feel no shame in taking what we have  not earned with the sweat of our labor or in letting others carry a burden that is rightfully our duty. Your natural obligations to your family and the shame you must feel if you don't meet these obligations, as a human being, is the most valuable thing any government has ever taken from any society. 
How can we restore what was once the pride and honor of protecting and supporting yourself and your family to our nation? Can government put back what it has done so much to take away? As much as I dislike government involvement in anything beyond its basic functions, government can and must work to defend the helpless and restore a rational sense of responsibility to our nation. I am not wise enough to know how to accomplish this or to see the unintended consequences of what I suggest. I do know most of the problems of family breakdown and abuse are an unintended consequence. I do know we can't continue down the path we have taken for so many years. We must turn things around, we have no choice.
Here are some suggestions for consideration:
1.) Declare an unborn child to be a human being with all natural human rights and protections.
2.) Declare the care, well being and education of a child is the responsibility of both parents, mother and father, equally and absolutely. The parents, not the tax payers, are legally charged with this duty to the age of legal majority of the child. 
3.) Declare the care and well being of persons with a child or children, to be the responsibility of the child or children of those parents equally and absolutely, when and if it is required. End the long established practice of transferring the assets of the parents out of their ownership and then having the parents supported by the tax payers. Off springs, not taxpayers, are legally charged with this duty. 
4.) Completely revise or end all, so called, entitlement programs that give our people the sense that the  purpose of government is to meet all of their needs and wants. This is destroying our nation. 
These are just four of the many very broad concepts that speak to what I see as the root causes of our social breakdown. I realize governments can not dictate morality, but they must not provide the easy path to immorality.   
Print this piece
Opinion | Secretary of State responds to Alabama Political Reporter op-ed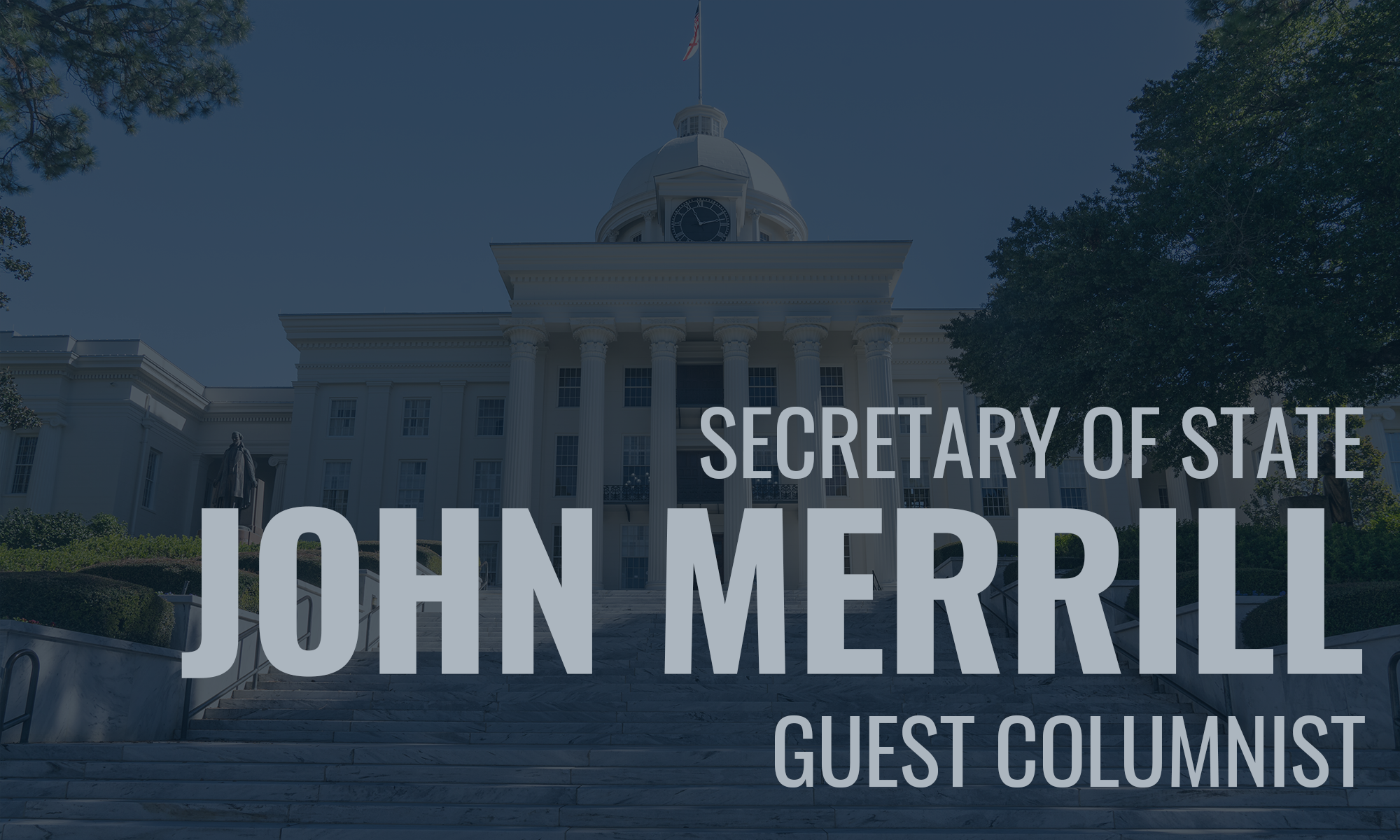 The following statement from Secretary of State John H. Merrill is in response to the inaccurate op-ed published yesterday morning by Josh Moon of Alabama Political Reporter:
This morning, Josh Moon of Alabama Political Reporter alleged that "voting by mail does not lead to fraud."
Moon went on to undermine the six voter fraud convictions and the five associated with tampering with absentee ballots in the last five years, claiming that these numbers are not substantial enough to have basis.
Let's start with the facts, Josh.
When you have one person that violates the trust and confidence in the elections process by committing illegal activity, that is one too many. Whether you have one voter fraud conviction or a thousand, you are proving to the electorate that elections require integrity and credibility! We will continue to work to build trust and confidence in the elections process.
Claiming "you can't commit enough fraud to alter the outcome of such a race" is naive and careless.
In 2018, we saw a member of the legislature who won her race by a mere six votes and another member who won his race by 28 votes. That same year, we witnessed a sheriff's race that was tied even after the recount. It should be apparent to anyone that just a few votes can determine the outcome of an election.
The fraudulent practice of ballot harvesting, which is often associated with voting by mail, led to the defeat of seven Republican candidates in the California 2018 midterm election. Young Kim, who ran to represent California's 39th Congressional District, was leading the vote count on election night and even in the week that followed the election. Two weeks later and after Kim attended New Member Orientation, the Democrat challenger was declared the winner after 11,000 mail ballots were counted. These ballots favored the Democrat challenger at a much higher rate than the previously counted ballots.
Similarly, during the 2018 Election Cycle, the North Carolina Board of Elections appropriately refused to certify the results of the 9th Congressional District's election due to the illegal misuse of absentee ballots.
It has also been reported, through data collected by the Election Assistance Commission, that between 2012 and 2018, 28.3 million mail-in ballots went unaccounted for, which equates to one in five of all absentee or mail-in ballots.
So, obviously, Josh, you can commit enough fraud to alter the outcome of an election.
The issues with mail-in voting far exceed the few that Josh attempts to raise. Consider Nevada where thousands of absentee ballots were just sent to inactive voters in Clark County. Consider the thousands of envelopes piling up in post offices or outside homes, apartments, and other facilities. Consider California in 2016 where 83 ballots were sent to one address housing just two people.
Then, Josh, after you have considered Alabama where in 2016, 109 absentee ballots were sent to the mother of a mayoral candidate in Brighton or when 119 absentee ballots were mailed to an abandoned home in Wilcox County, tell me that mail-in voting does not increase the likelihood for fraud to be committed.
To then pretend "small-town races" in Dothan, which is Alabama's seventh largest municipality out of 463, are not worthy of being noted is ludicrous.
The state's absentee law requiring a photo ID to be submitted with the application, which I remind you was passed last year with bipartisan support and sponsored, at our request, by Rodger Smitherman (D-Birmingham), has worked to prevent these sorts of opportunities in our state. This comprehensive, reform legislation has provided safeguards in our absentee process.
One major consideration that many supporters of mail-in voting fail to mention is cost. Currently, the administration for one Election Cycle (Primary, Runoff, and General) in our state is $16.5 million, whereas the administration of a full mail-in Election Cycle is almost $60 million.
I am positive that even Josh Moon can find a better way to spend $43.5 million generated by taxpayers.
Print this piece