Bentley Announces FEMA Grant to Help Tornado Disaster Survivors
By Brandon Moseley
Alabama Political Reporter
On Wednesday, Governor Robert Bentley announced that the Federal Emergency Management Agency had awarded that state a $12.9 million Disaster Case Management Grant to help Alabamians continue the long-term recovery process from the April 2011 tornadoes.
Alabama Governor Robert Bentley said, "Since last year's storms, we have worked continuously to help people across this state.  I remain encouraged by the strength and resiliency of the people of Alabama, and this grant will allow us to continue our efforts to help people rebuild their lives."  "As more people complete their recovery, our communities can be restored stronger than ever.  We remain committed to using every resource we have available to help our state rebuild."
Jon Mason, director of the Governor's Office of Faith-Based and Community Initiatives, said, "This grant will allow disaster case management to continue for a longer period of time in order to meet the needs that we still see in so many communities.  This is a unique program, and we are excited to be able to offer it to people who are working hard to restore what was lost in the storms."
The Governor's written statement said: "Survivors in communities across the state still face a variety of unmet needs.  Those needs include rebuilding and construction costs that were not fully covered by insurance, the replacement of certain possessions, and more.  With this grant, disaster case managers can assess individual needs and work with storm survivors to outline a goal-oriented plan for their recovery."
Survivors of the April 27th storm with unmet, disaster related needs can access disaster case management services, even after receiving state and federal disaster assistance.  This program is being administered by The Governor's Office of Faith-Based and Community Initiatives, which is headed by Jon Mason.
Earlier in the week Governor Bentley said, "Just seeing the date of April 27 on the calendar conjures up strong emotions among Alabamians.  It is my hope that the memorial events planned across the state next week will bring some comfort to families who lost loved ones and to those who are still on the difficult road to recovery."
On April 27th 253 Alabama residents were killed when 62 long track tornados swept across Alabama striking 43 of Alabama's 67 counties.  An Alabama state flag representing every person killed in the tornadoes are being displayed on the grounds of the Capitol this week.
Governor Robert Bentley will participate in a prayer service observing the one year anniversary of the tornados Friday, April 27, 2012 at 9:00 am on the Alabama State Capitol steps.
To read Governor Bentley's Press Release in its entirety:
Alabama women to Ivey: Support fair processes
Last week, Ivey co-authored a letter of support for Barrett and released it to media outlets.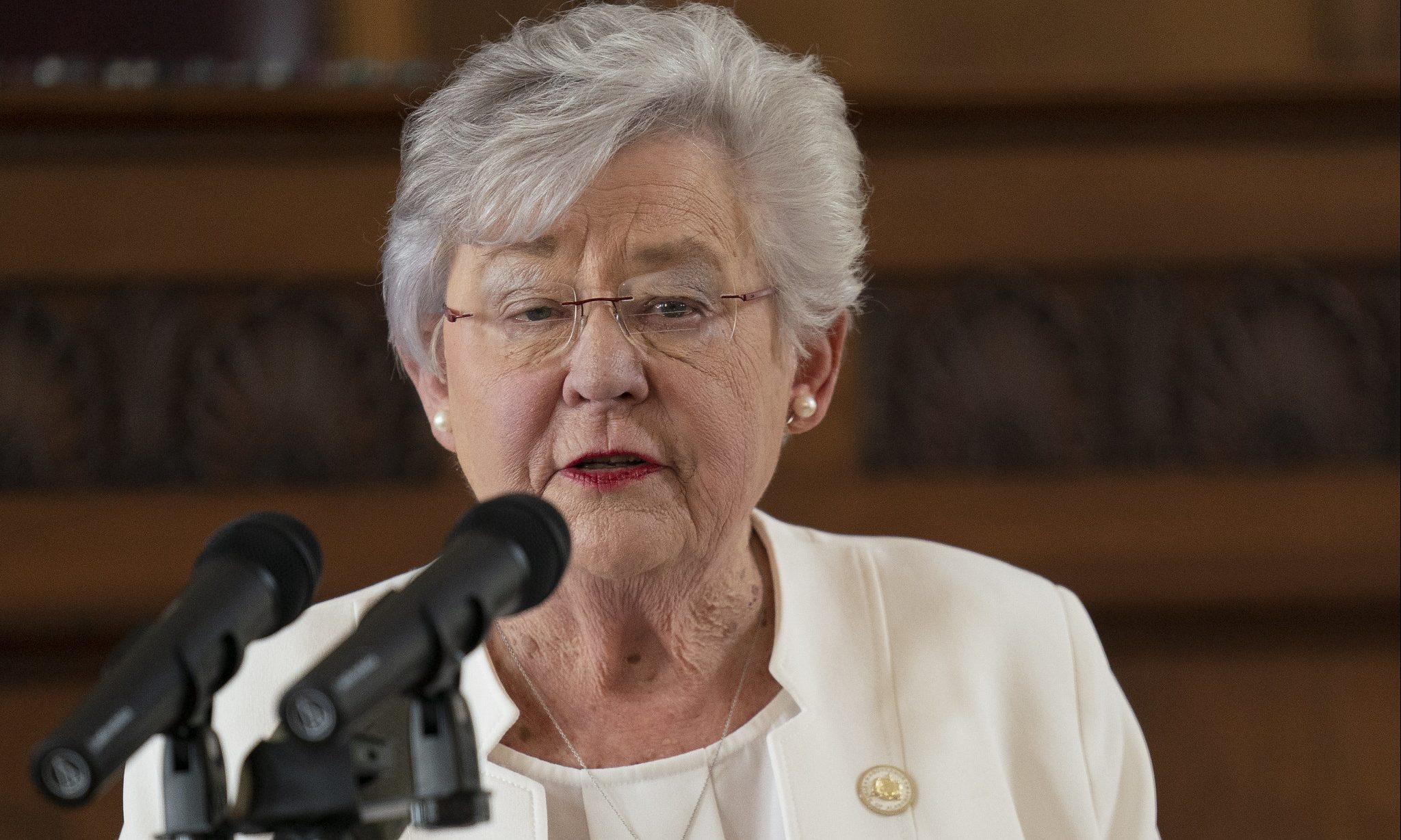 A letter signed by a bipartisan group of about a thousand Alabama women takes issue with Gov. Kay Ivey's recent support of Republican Supreme Court nominee Amy Coney Barrett, and it encourages Ivey and other state officials to instead support fair processes.
Last week, Ivey co-authored a letter of support for Barrett and released it to media outlets. In response, the letter from Alabama women calls the process to nominate Barrett, which is occurring after more than 50 million votes have been cast and in a Senate that is predicted to change from Republican to Democratic control, unfair and "anti-democratic."
The letter, which doesn't criticize Ivey or request that she rescind her endorsement of Barrett, asks instead that Ivey and other state leaders honor women by implementing and following fair processes that provide women with equal opportunities.
The full letter is below:
Dear Governor Ivey,
We are a group of women. We are current and future mothers, grandmothers, caregivers, leaders and champions of all citizens of our great state. We are moderates, progressives and conservatives. When we agree with our leaders, we say so, as we have in your support for education, workforce development, and sensible mask policies.  
We also speak up when we do not agree. Thus, we want to respond to your letter in support of Amy Coney Barrett because it does not represent our views. 
Like you and Judge Barrett's father, we want to tell all young girls that they can do anything their male counterparts can do and they can be anything and everything they want to be. We want it to be a truth, not just a signal "that the most qualified individual will get the job".  In addition to those things, we want them to know and believe that the process will be fair, because no matter the job, the process should be fair. And our children and young people (boys or girls) should be able to trust that democracy works and can be counted on. How can we assure them when this process has been so rushed and undemocratic?
We are women who oppose Judge Barrett's confirmation, because confirming her at this time, when 50 million Americans have already cast their votes, is anti-democratic. Regardless of what ways she does or does not think or talk like us, what matters is that a confirmation should not take place after the election is underway. 
We do not expect you to rescind your support of Judge Barrett. However, we urge you and the other women leaders who have advanced to top positions in our government to stand with us in asking for a fair process that takes place after the election. A process that helps us to believe that our voices and our votes matter because the American people should have the right to choose who nominates the next Supreme Court Justice.
Respectfully, 
Emily Hess Levine
Lindsey Chitwood
Megan Cheek
Kira Fonteneau
Ronne M. Hess
Cindi Cassis Branham
Anna Brantley Fry
Joellyn M. Beckham
Kristen Berthiaume
Alexandra Ruthann Bullock McElroy
The letter is signed by more than 800 women. The full list of signatures was sent to APR with the letter. We have chosen to list only the first 10 for the sake of brevity.