Pro Undocumented Worker Group Plan Rally in Montgomery on Sunday
By Brandon Moseley
Alabama Political Reporter
The Alabama Coalition on Immigrant Justice (ACIJ) has announced that they are holding a "Mega-March" in Montgomery on Sunday, May 27th.
The Alabama Political Reporter talked with ACIJ spokesperson and organizer Salvador Cervantes about the event.  Mr. Cervantes said that the group was seeking the repeal of HB56 and its replacement HB658.  Mr. Cervantes said that the group was pursuing a two track parallel process to get HB56/HB658 repealed: they are working the political process of seeking legislative appeal while hoping that the Supreme Court rules against the Arizona law (which would impact the case against HB56 in the 11th Circuit Court of Appeals in Atlanta).
The ACIJ is expecting over 800 protestors to participate in the event.  In their written statement the group said, "Groups from all over the state including Albertville, Alexander City, Athens, Clanton, Decatur, Dothan, Greater Birmingham and Russellville will be coming to Montgomery to participate in the march against discrimination and racism."  At 3:00 on Sunday the ACIJ and their supporters will gather at the state capital and then the group will march from there to the Governor's Mansion.
Mr. Cervantes said, "We are very disappointed with Governor Robert Bentley."  Mr. Cervantes said that Governor Bentley said on one day he would not sign the bill (HB658) and then the next day he signed it because the Governor lacked the "appetite" for a fight with the state legislature.  Cervantes said that Bentley had a responsibility to tell the legislators to improve the bill and he did not.
'The Alabama Political Reporter' asked Mr. Cervantes if the farmers would have enough labor for the harvest season that is just beginning.  Mr. Cervantes said that he has been meeting with a lot of them and "they have been hurting since last year."  "They are very scared about what kind of workers they can hire" this season.
Bernard Simelton, President of the NAACP Alabama State Conference, said in a written statement, "This fight isn't just about immigration, as the legislature would have you believe.   It's about judging people on the color of their skin instead of the content of their heart.  This is not the kind of law we want in Alabama, this is not who we are.  We are one family, one Alabama marching together for justice."
Mr. Cervantes said that he is an American citizen, but because he is a "brown skinned person" he has been stopped and asked to provide proof of legal residence under Alabama's law.  Mr. Cervantes said that that shouldn't happen in Alabama and that is one reason why he is active in the HB56/HB658 repeal effort.  Cervantes said that he preferred that we use the term "undocumented persons" because that is a more accurate description than the more commonly used "illegal aliens" term. "Undocumented persons" simple means people who have crossed the border without inspection he explained.
HB56, titled the Beason Hammon Alabama Citizen and Taxpayer Act, was passed last June as the strictest state anti-illegal immigration bill in the country.  The law has been denounced by pro-immigrant groups, Alabama farmers and contractors, Churches, and President Obama's U.S. Department of Justice.  The federal government has led an effort in the courts to prevent the law from being enforced and the case is currently in the U.S. Eleventh Circuit Court of Appeals in Atlanta.
To learn more about the Alabama Coalition for Immigrant Justice visit their website:
Governor declares state of emergency ahead of Tropical Storm Zeta
Zeta is currently a tropical storm over the Gulf of Mexico, but it is predicted to make landfall as a category one hurricane.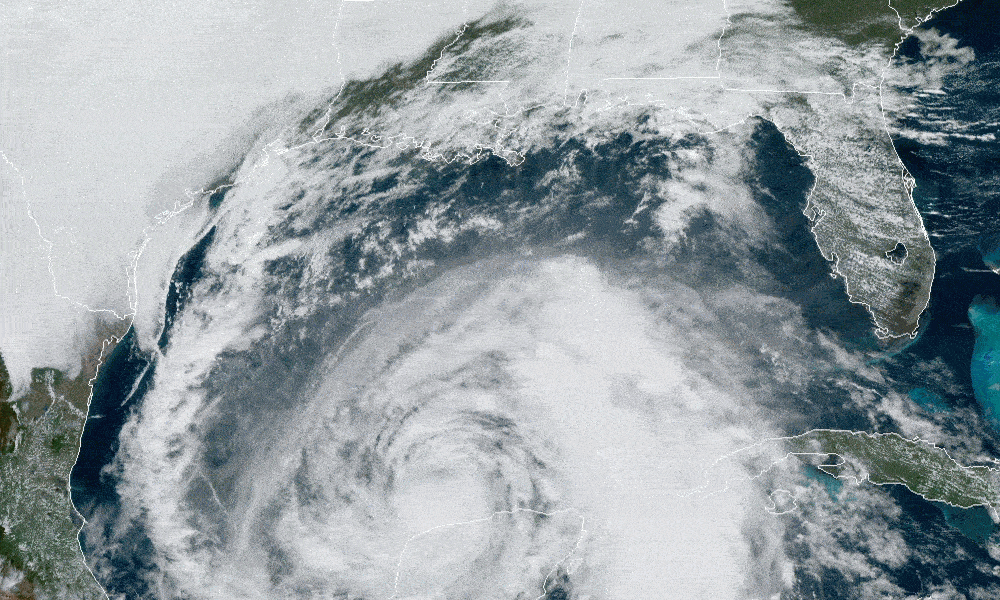 Alabama Gov. Kay Ivey on Tuesday issued a state of emergency as Tropical Storm Zeta approaches the Gulf Coast.
"Ahead of Tropical Storm Zeta's anticipated landfall Wednesday evening as a Category 1 hurricane, I am issuing a state of emergency effective today at 4:00 p.m.," Ivey said. "While this storm is not expected to have an impact as large as storms we've seen move through the Gulf earlier this year, we want to be in the best place possible to respond to anticipated rain, storm surge and mass power outage. I encourage everyone to remain weather aware and tuned in to their trusted news source as this storm could shift direction or change intensity. We continue to track the path of this storm and will stay in touch with the people of Alabama with any updates."
Zeta is currently a tropical storm over the Gulf of Mexico, but it is predicted to make landfall as a category one hurricane. The National Hurricane Center is predicting Zeta to make landfall in Mississippi on Wednesday and then proceed toward Alabama, but these storms can and do move.
A more easterly track could prove devastating to the Alabama Gulf Coast as was the case with Hurricane Sally, which shifted course in September, hitting Alabama, though Zeta is expected to be weaker than Sally at landfall.
The storm surge from the Mississippi-Alabama border to Dauphin Island is forecast to be 5 to 8 feet. Mobile Bay to the Alabama-Florida border is expected to have 3 to 5 feet of storm surge and from the border to Navarre, Florida, could experience 2 to 4 feet of storm surge.
Hurricane force winds are a possibility with this storm. Tropical force winds are expected to be an issue for Southern Mississippi and Alabama well inland. There is expected to be heavy rainfall across the state Wednesday night into Thursday morning.
The Baldwin County Emergency Management Agency announced that sandbags are available inside the county commission office at Robertsdale Central Annex (22251 Palmer Street) until 4:30 p.m. Tuesday and from 8 a.m. until 4:30 p.m. Wednesday or while they last.
Bring any help and shovels you will need. There is a limit of just 25 bags per person. Alabama's coastal counties are currently under a Tropical Storm Warning, a Storm Surge Warning for Mobile County and a High Rip Current and High Surf Warning.
Congressman Bradley Byrne said, "I just finished up briefings from Alabama EMA, FEMA, and the National Hurricane Center regarding #Zeta. We should not take this storm lightly and should start making preparations right away. After sundown Wednesday, I'd encourage everyone in Southwest Alabama to stay home and off the roads until sunrise Thursday. This storm will have impacts as far north as Montgomery, so those in Washington, Clarke, and Monroe counties will see tropical storm force winds and heavy rain. I'd encourage everyone to charge their phones and other necessary electronics. If you have an emergency during the storm, call 911 and do not try to drive."
Coastal Alabama is still in the process of recovering from Hurricane Sally which hit the state on Sept. 15.