Alabama Coalition for Immigrant Justice Supports Obama's Decision
By Brandon Moseley
Alabama Political Reporter
The Alabama Coalition for Immigrant Justice (ACIJ) issued a written statement Friday praising President Barack H. Obama's announcement that illegal aliens younger than 30, who have been in the U.S. for five consecutive years and have a high school diploma or GED or military service and no criminal record will be granted two year stays of deportation and will be allowed to apply for work permits to remain in the county and obtain legal residency.
The ACIJ's Victor Palofax said, "This is huge.  This is an enormous victory for kids all across America.  I want to thank President Obama and all the DREAMers for bringing us to this moment.  A million young people's lives have been transformed today because of this.  A million kids are now safe to pursue their dreams."
Congresswoman Terri Sewell (D) from Selma said that she supported the President's decision as well.  On Facebook the Freshman U.S. Congress Member said, "I stand with President Obama and I applaud and support his leadership on immigration today."
Mr. Palofax said, "Today's decision is a big step in the right direction, and lawmakers across Alabama and the nation should follow President Obama's lead and begin work on positive solutions that address the needs of the millions of immigrants living in America," continued Victor Palofax.
The ACIJ said in their release that the decision by the President: "stands in strong contrast to the direction Alabama's Republican leadership have taken the state with HB 56 and HB 658 – known as the nation's harshest anti-immigrant law."
The new rules changes were announced by Secretary Janet Napolitano and the U.S. Department of Homeland Security.
President Obama spoke to reporters in the Rose Garden shortly afterwards.  President Obama said, "Effective immediately, the Department of Homeland Security is taking steps to lift the shadow of deportation from these young people.  Over the next few months, eligible individuals who do not present a risk to national security or public safety will be able to request temporary relief from deportation proceedings and apply for work authorization."
The President said, "it makes no sense to expel talented young people, who, for all intents and purposes, are Americans — they've been raised as Americans; understand themselves to be part of this country — to expel these young people who want to staff our labs, or start new businesses, or defend our country simply because of the actions of their parents — or because of the inaction of politicians."
The President went on to urge Congress to pass the DREAM Act (Development, Relief, and Education for Alien Minors Act) which would give the undocumented youth legal residency and put them on a path towards American citizenship.
The Alabama Coalition for Immigrant Justice opposes the mass deportation of illegal immigrants and supports the repeal of Alabama's anti-illegal immigration law, the Beason Hammons Alabama Citizens and Taxpayers Protection Act (HB56/HB658).
To learn more about the ACIJ visit their website:
To read President Obama's comments in their entirety:
http://www.whitehouse.gov/the-press-office/2012/06/15/remarks-president-immigration
Trump Truck and boat parades this weekend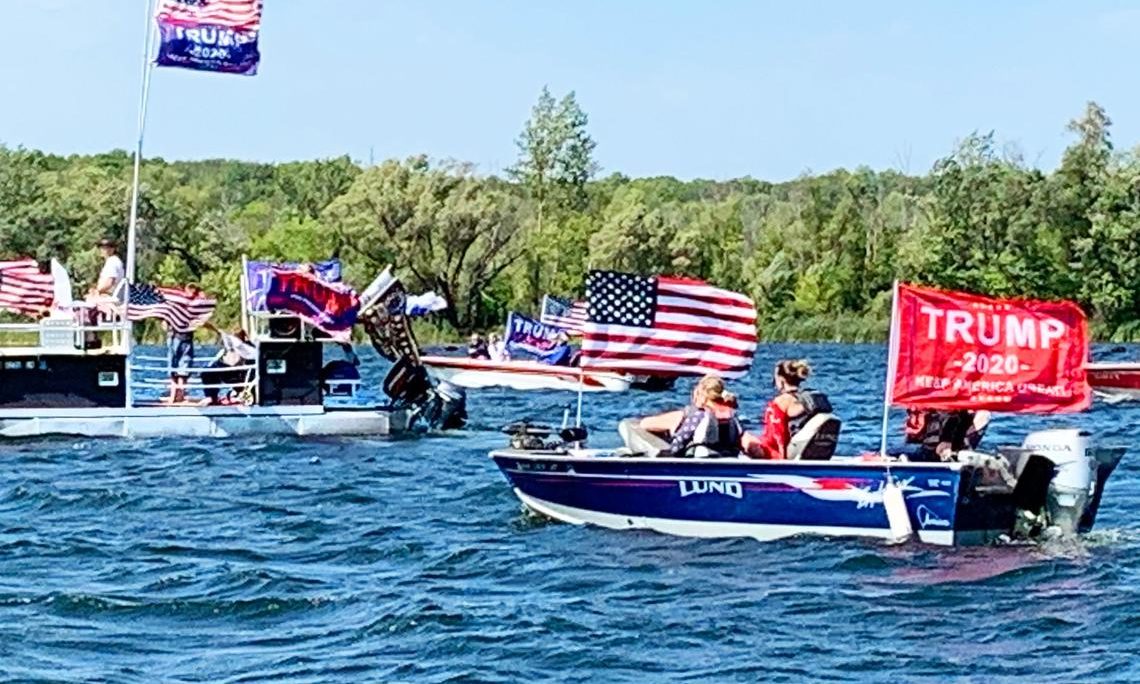 As Election Day draws near, Alabama Republicans are excited about promoting the re-election of Donald J. Trump as President and the election of Tommy Tuberville for U.S. Senate. This weekend two pro-President Trump events are happening in the state. There will be a truck parade from Ashland to Phenix City on Saturday sponsored by the Clay County Republican Party, while there will also be a boat parade on Wilson Lake in the Shoals sponsored by the Colbert County Republican Party on Sunday.
The pickup trucks will assemble at the Ashland Industrial Park in Clay County, 8240 Hwy 9, Ashland. There is a pre-departure rally at 10:00 a.m. central standard time. The trucks will depart at 11:00 a.m. and then proceed on a parade route that will take them into the bitterly contested swing state of Georgia. The Trump Pickup Parade will wind through east Alabama and West Georgia traveling through LaGrange and Columbus before concluding near the Alabama/Georgia line in Phenix City, 332 Woodland Drive, Phenix City at approximately 2:00 p.m. central time. Speakers will begin at 3:00. Trump flags will be on sale at the event.
The Phenix Motorsports Park will be hosting what sponsor hope could possibly the world's largest Pickup Tuck parade in U.S. history that is routing over 50 mile through Georgia in effort to "pickup" President Trump's numbers in GA.
A number dignitaries have been invited to address the Phenix City rally, including Coach Tuberville. Former State Sen. Shadrack McGill, Trump Victory Finance Committee member former State Rep. Perry O. Hooper Jr., and Paul Wellborn, the President and CEO of the largest Family owned Kitchen Cabinet manufacture in the USA are among the featured speakers who have committed to speak at the event.
Entertainment will be provided by: Charity Bowden, an up and coming country music singer who was the runner up on "The Voice". Charity will sing 'I am Proud to be an American' as well as songs from her Voice performances. The McGill Girls will also perform. The three beautiful and talented sisters will be singing patriotic songs in three part harmony. Geoff Carlisle, a professional DJ will be keeping the crowd pumped with music and entertainment.
Following the speakers and the entertainment there will Trump truck-vs- Joe Bidden truck races down the drag strip for the finale.
The Northwest Alabama boat parade will be on Sunday. The boats will gather at 2:00 p.m. near Turtle Point and then the flotilla will parade around the open waters of Wilson Lake til 3_00 p.m.. There will be a contest for best decorated Trump boats.
Trump supporters have held a number of large boat parades across the state to show their support for the re-election of Pres. Trump.
Boat parade sponsors say that this parade will be: pro-American, pro-law enforcement, pro-military.