Roby Denounces Obamacare on House Floor
By Brandon Moseley
Alabama Political Reporter
U.S. Representative Martha Roby took to the House floor to state her opposition to President Barack Obama's health care law.  The controversial Patient Protection and Affordable Care Act (commonly called Obamacare) was passed in March 2010 before Congresswoman Roby was elected in the 2010 election.  Widespread unpopularity with the legislation contributed to the Republican takeover of the U.S. House of Representatives in the 2010 election.
Rep. Roby addressed the House, "Over the course of the 112th Congress, all of my colleagues and I have cast over 27 votes to repeal or defund this current law. Soon, the Supreme Court is going to hand down a landmark decision regarding the constitutionality of this very law we that are discussing here tonight. Of course, this, like all of your districts, will affect my home district in Alabama."
Rep. Roby said, "Most of us can agree that this law has very little to do with the common sense health care reform, but translates into substantial costs – well over $500 billion that must be paid by hard working, tax-paying Americans."
Rep. Roby said that her constituents have expressed concerns about the plan.  "One of their largest fears is IPAB, the Independent Payment Advisory Board—labeled by critics, the death panel. Under current law, this 15 member Board will be empowered to find cost savings in Medicare by rationing health care services to senior citizens. Like the President's czars, this Board will be handpicked by the President, and will not be accountable to the American people or any person that they elected to the Congress to represent them."
Rep. Roby said that doctors in Alabama have told her that Obamacare cuts in Medicare provider payments will result in more doctors refusing to see Medicare patients.  Fewer doctors will go into family practices and internal medicine and seniors will have less access to care.
Rep. Roby said that another concern of her constituents is the employer mandated health insurance provision.  Rep. Roby said, "I recently heard from another constituent who owns independent grocery stores throughout Alabama, employing over 500 workers. This means 500 families are making a living from this business. And when he is required by law to provide all of his employees with health insurance, his grocery stores will go bankrupt, causing significant layoffs to his employees."
Congresswoman Roby said that Obamacare's mandate that employers provide all of their employees with healthcare insurance could cost the country 1.6 million jobs and 66% of those cuts will come from small businesses.
Rep. Roby concluded, "I cannot emphasis enough that the uncertainty surrounding this law is stifling job creation. As we are accused day after day of not presenting jobs bills, this is it.  This is the number one jobs bill. When we repeal this law we will lift the heavy hand of government and we believe, and I know, that the private sector, with that certainty, will once again begin hiring those people who desperately need jobs all over this country."
Congresswoman Roby represents Alabama's 2nd Congressional District.  She is seeking a second term in the November 6th election.  Democrat Therese Ford is her opponent.
Alabama and 25 other states, plus the National Federation of Independent Business and several individuals, have sued the administration asking the Supreme Court to reject Obamacare as unconstitutional on the grounds that the tenth amendment to the Constitution limits the authority of the Congress to regulate the conduct on individual citizens.  That decision is expected within days.
Trump Truck and boat parades this weekend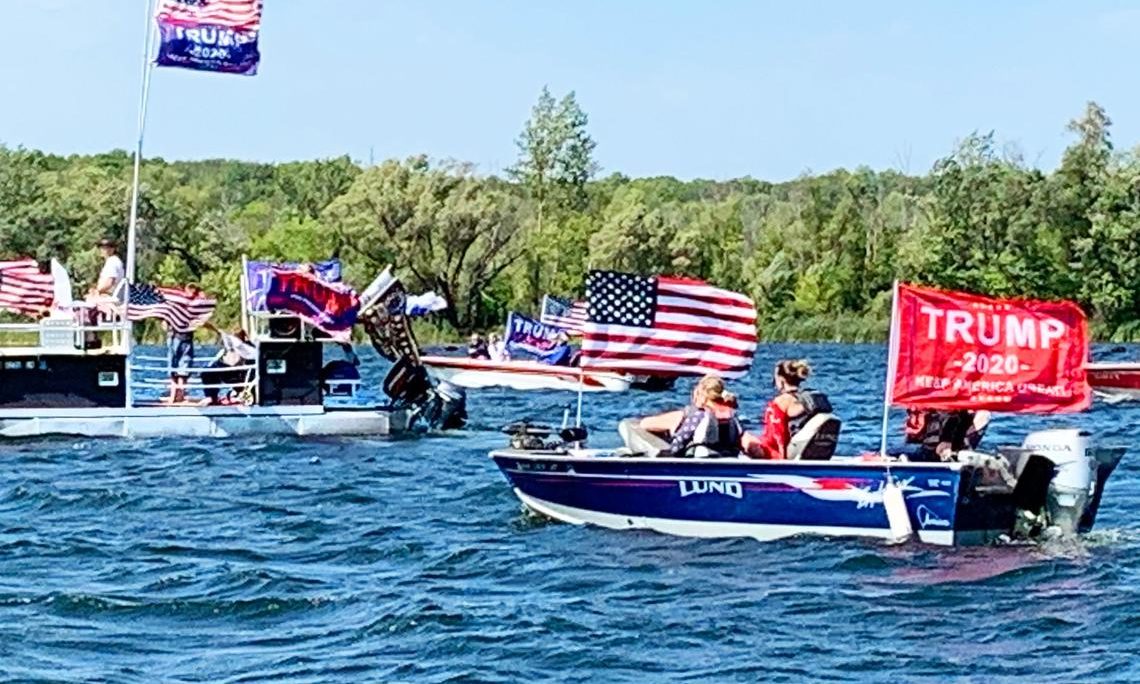 As Election Day draws near, Alabama Republicans are excited about promoting the re-election of Donald J. Trump as President and the election of Tommy Tuberville for U.S. Senate. This weekend two pro-President Trump events are happening in the state. There will be a truck parade from Ashland to Phenix City on Saturday sponsored by the Clay County Republican Party, while there will also be a boat parade on Wilson Lake in the Shoals sponsored by the Colbert County Republican Party on Sunday.
The pickup trucks will assemble at the Ashland Industrial Park in Clay County, 8240 Hwy 9, Ashland. There is a pre-departure rally at 10:00 a.m. central standard time. The trucks will depart at 11:00 a.m. and then proceed on a parade route that will take them into the bitterly contested swing state of Georgia. The Trump Pickup Parade will wind through east Alabama and West Georgia traveling through LaGrange and Columbus before concluding near the Alabama/Georgia line in Phenix City, 332 Woodland Drive, Phenix City at approximately 2:00 p.m. central time. Speakers will begin at 3:00. Trump flags will be on sale at the event.
The Phenix Motorsports Park will be hosting what sponsor hope could possibly the world's largest Pickup Tuck parade in U.S. history that is routing over 50 mile through Georgia in effort to "pickup" President Trump's numbers in GA.
A number dignitaries have been invited to address the Phenix City rally, including Coach Tuberville. Former State Sen. Shadrack McGill, Trump Victory Finance Committee member former State Rep. Perry O. Hooper Jr., and Paul Wellborn, the President and CEO of the largest Family owned Kitchen Cabinet manufacture in the USA are among the featured speakers who have committed to speak at the event.
Entertainment will be provided by: Charity Bowden, an up and coming country music singer who was the runner up on "The Voice". Charity will sing 'I am Proud to be an American' as well as songs from her Voice performances. The McGill Girls will also perform. The three beautiful and talented sisters will be singing patriotic songs in three part harmony. Geoff Carlisle, a professional DJ will be keeping the crowd pumped with music and entertainment.
Following the speakers and the entertainment there will Trump truck-vs- Joe Bidden truck races down the drag strip for the finale.
The Northwest Alabama boat parade will be on Sunday. The boats will gather at 2:00 p.m. near Turtle Point and then the flotilla will parade around the open waters of Wilson Lake til 3_00 p.m.. There will be a contest for best decorated Trump boats.
Trump supporters have held a number of large boat parades across the state to show their support for the re-election of Pres. Trump.
Boat parade sponsors say that this parade will be: pro-American, pro-law enforcement, pro-military.