Alabama's natural gas royalties are falling
Staff Report
MONTGOMERY, Alabama — Royalties paid to the state by companies pumping natural gas offshore fell from a high of $373.1 million in the 2006 fiscal year to $119.9 million in fiscal 2011, according to the State Oil and Gas Board.
The board expects that decline to continue in fiscal 2012, which ends Sept. 30, with royalties for the year totaling $72.3 million.
"I think it's bad news. It's another obstacle that we'll face in trying to garner sufficient resources to fund state government," said Sen. Arthur Orr, R-Decatur, who chairs the state Senate committee that oversees Alabama's operating budget for Medicaid, prisons and other noneducation areas of government.
The board expects Alabama's royalties from offshore natural gas to range from $69.1 million to $75.4 million a year in fiscal 2013 through fiscal 2016, and then to steadily decline, assuming no big jump in natural gas prices. The board estimates royalties of about $50 million in fiscal 2020 and $32 million in fiscal 2025.
"That is the bottom line: We'll get less money from those resources," state Treasurer Young Boozer said.
Dave Bolin, deputy director of the State Oil and Gas Board, which is based in Tuscaloosa, said state royalties rise and fall with the amount of gas produced offshore multiplied by the price for natural gas.
"The production is currently showing an 8.53 percent decline on an annual basis," Bolin said. "Unless there is a substantial increase above current prices, the revenues will continue to decline."
Natural gas royalties paid by ExxonMobil, Shell and other companies have been a huge windfall for the state since commercial production started more than two decades ago.
For example, royalties paid the state totaled $3.5 billion from fiscal 1993 through fiscal 2011. But the flow of cash has slowed as production offshore has steadily declined since 2003 and natural gas prices nationwide have plunged since 2008, in part because of increased production of natural gas extracted from shale rock formations.
"It's a finite resource," Bolin said of the state's offshore reservoirs of natural gas. "There's only so much of it."
Most of state government's natural gas royalties, 64.35 percent under current law, go to the Alabama Trust Fund, a state savings account that on April 30 had $2.28 billion in invested assets. State voters in the 1980s amended the state constitution to create the trust fund.
Each year, about 69 percent of the trust fund's interest and other income goes to the state General Fund, a major source of money for Medicaid, prisons and other noneducation areas of government.
The trust fund's nine-member board, led by the governor, also can transfer to the General Fund as much as 52.5 percent of the trust fund's annual capital gains, such as profits from sales of stocks.
The General Fund collected from the trust fund $119.1 million in the 2011 fiscal year, $64.4 million in fiscal 2010, $94.7 million in fiscal 2009 and $213.3 million in fiscal 2008, state records show.
The General Fund so far in this fiscal year has hauled in $311.7 million from the trust fund, mainly because of a one-time $266.4 million payment that arose after the Attorney General's Office said the trust fund board underestimated past payments to the General Fund and other accounts and shortchanged them.
The $311.7 million collected from the trust fund so far this year represents 18 percent of all General Fund spending budgeted for the entire fiscal year.
Smaller shares of earnings, or in some cases capital gains, from the Alabama Trust Fund under current law are distributed to cities and counties statewide, the state's Forever Wild land conservation program, a senior services trust fund and a trust fund for cities and counties. Forever Wild got $15 million in fiscal 2011, for instance.
Orr said the Alabama Trust Fund would have had more money to invest, and that earnings or capital gains for the General Fund and other recipients almost certainly would have been greater if the state's royalty payments hadn't declined so much in recent years.
"The effect is extremely detrimental on state government, and more particularly, the funding for the General Fund," Orr said. "We've been feeling this decline in addition to just the reduction of ordinary tax revenues during the economic decline."
Orr said the State Oil and Gas Board's forecast for future royalties, especially the drop expected after fiscal 2016, "is just another bad omen for the future of reliable General Fund revenues."
Alabama women to Ivey: Support fair processes
Last week, Ivey co-authored a letter of support for Barrett and released it to media outlets.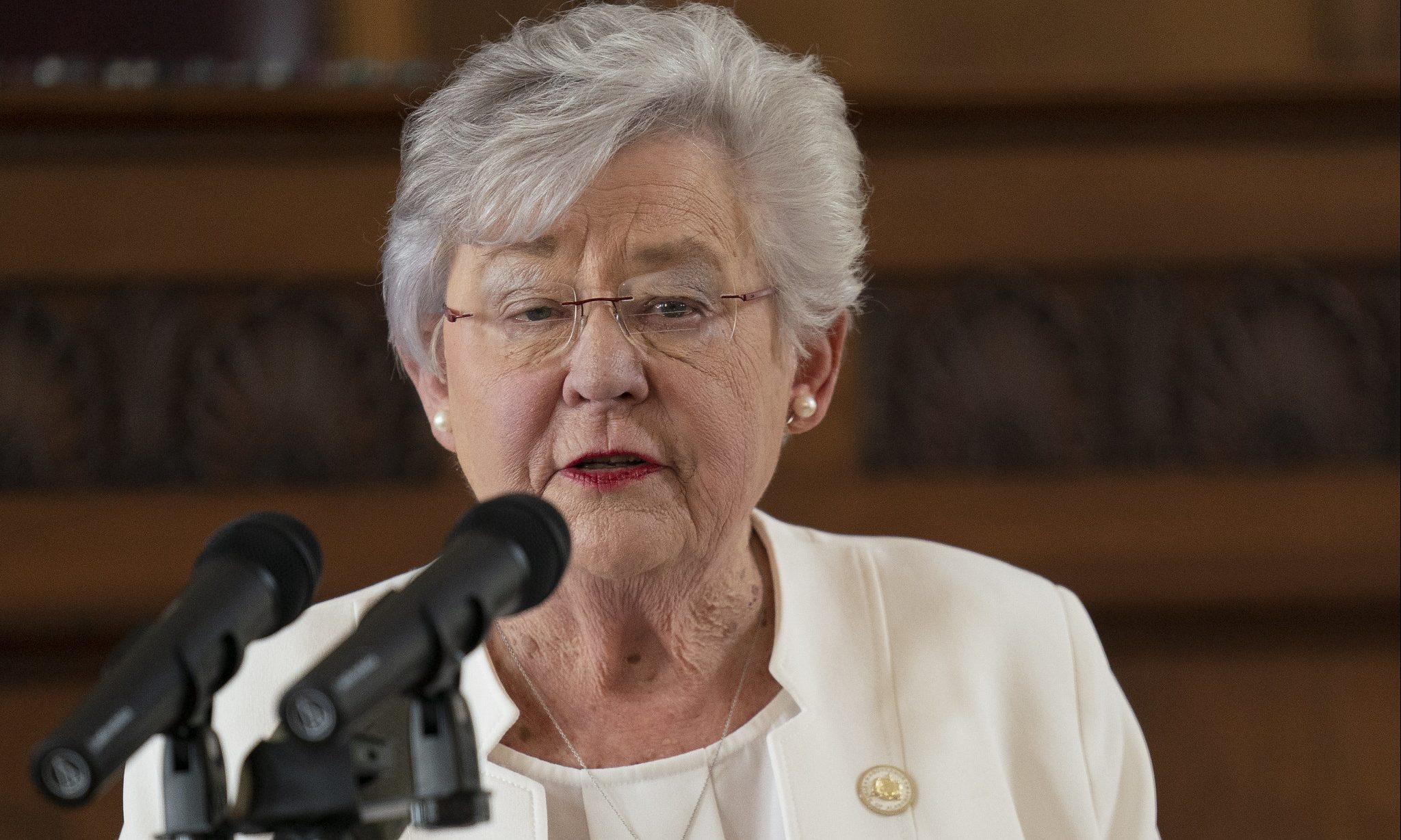 A letter signed by a bipartisan group of about a thousand Alabama women takes issue with Gov. Kay Ivey's recent support of Republican Supreme Court nominee Amy Coney Barrett, and it encourages Ivey and other state officials to instead support fair processes.
Last week, Ivey co-authored a letter of support for Barrett and released it to media outlets. In response, the letter from Alabama women calls the process to nominate Barrett, which is occurring after more than 50 million votes have been cast and in a Senate that is predicted to change from Republican to Democratic control, unfair and "anti-democratic."
The letter, which doesn't criticize Ivey or request that she rescind her endorsement of Barrett, asks instead that Ivey and other state leaders honor women by implementing and following fair processes that provide women with equal opportunities.
The full letter is below:
Dear Governor Ivey,
We are a group of women. We are current and future mothers, grandmothers, caregivers, leaders and champions of all citizens of our great state. We are moderates, progressives and conservatives. When we agree with our leaders, we say so, as we have in your support for education, workforce development, and sensible mask policies.  
We also speak up when we do not agree. Thus, we want to respond to your letter in support of Amy Coney Barrett because it does not represent our views. 
Like you and Judge Barrett's father, we want to tell all young girls that they can do anything their male counterparts can do and they can be anything and everything they want to be. We want it to be a truth, not just a signal "that the most qualified individual will get the job".  In addition to those things, we want them to know and believe that the process will be fair, because no matter the job, the process should be fair. And our children and young people (boys or girls) should be able to trust that democracy works and can be counted on. How can we assure them when this process has been so rushed and undemocratic?
We are women who oppose Judge Barrett's confirmation, because confirming her at this time, when 50 million Americans have already cast their votes, is anti-democratic. Regardless of what ways she does or does not think or talk like us, what matters is that a confirmation should not take place after the election is underway. 
We do not expect you to rescind your support of Judge Barrett. However, we urge you and the other women leaders who have advanced to top positions in our government to stand with us in asking for a fair process that takes place after the election. A process that helps us to believe that our voices and our votes matter because the American people should have the right to choose who nominates the next Supreme Court Justice.
Respectfully, 
Emily Hess Levine
Lindsey Chitwood
Megan Cheek
Kira Fonteneau
Ronne M. Hess
Cindi Cassis Branham
Anna Brantley Fry
Joellyn M. Beckham
Kristen Berthiaume
Alexandra Ruthann Bullock McElroy
The letter is signed by more than 800 women. The full list of signatures was sent to APR with the letter. We have chosen to list only the first 10 for the sake of brevity.