Marsh Shows Leadership and Accountability in Senate Pro Tem's Office
By Bill Armistead Chairman ALGOP
Wasteful spending and corrupt politicians go together like pigs and mud. One of the oldest tactics in politics is to place blame on an opposing party for financial shortcomings in order to cover their own failures. Since 2010, Alabama Democrats have complained about the way the new Republican majority is running things in Montgomery. Thanks to the tireless efforts of Republicans and journalists in Montgomery, we now know that the Democrats are the true big spenders.
Recently uncovered records revealed a shocking lack of accountability and ethics in the formerly Democrat controlled Senate, culminating in outrageous spending over the course of five years from the President Pro Tem's office. In the last year of Democratic control, the office spent close to $2.1 million dollars, often showing preferential treatment to employees hired by Democrats by paying questionable "bonuses". Often, they ignored the basics of running an office, such as paying bills on time, or even at all. Several delinquent bills fell on a fresh Republican administration, saddling them and the state of Alabama with the check for their wasteful ways.
The accountability for these egregious wastes of taxpayer money rests on a few key players at the top of the Senate. The Chief Financial Officer of the former Democrat controlled President Pro Tem's office left dismissed employees on record, letting checks pile up, sometimes sitting in desk drawers for years. This says nothing of checks being disbursed to employees of the pro tem's office for times they are recorded as not working. Massive "bonuses" for preferred employees were often added to their budget.  The Montgomery Advertiser reported on June 19th that "One top staffer received a raise of $7,102 per period in her last two paychecks and at least five other employees received a raise of at least $3,000 per pay period in each of their last two paychecks. Those were on top of some large one-time payments such as bonuses or supplements of up to $13,000 that some employees received through the years." White was one of many high-level employees who directly benefited from these bonuses and raises approved by then President Pro Tem, Senator Rodger Smitherman (D-Birmingham).
Smitherman penned memos approving bonuses for preferred employees such as his Chief Financial Officer and his Chief of Staff. Records show that they received exorbitant bonuses from one of Smitherman's predecessors, Democrat Senator Lowell Barron. This shows that the Democrats who controlled the Senate had little regard for the taxpayer's money and used it like "play money".  The kind of wasteful spending and cronyism shown to select employees proves that Democrats are not focused on the greater good for Alabama, but on their own greed and power-grabbing tactics. These egregious wastes of taxpayer money serve to illustrate why Alabama simply cannot afford more Democratic control.
Republican Senator Del Marsh, in his first term as President Pro Tem, has curbed spending and corrected the overdrafts left to the office. From paying overdue bills to assuring payment for insurance for employees, Marsh has drastically turned the spending of the office around. Marsh has halved spending from his office alone, and has reduced the size of the office staff from the over 40 employeed under Democrat leadership, to just four employees today – this is the type of leadership that Alabama needs, and the accountability that the taxpayers deserve.
The record of the President Pro Tem's office under Democrat-rule reveals reckless irresponsibility. These guys raided Alabama's coffers for too long and it has taken the better part of two years to clean up their grossly mismanaged mess. Fortunately, Alabama now has Republican leadership that values responsibility and is seeking to correct these abuses committed against the people of Alabama. I applaud Senator Marsh and his efforts to lead by example by managing to have his office live within its means, just like families all across Alabama.
Bill Armistead, a former state Senator from Columbiana, is the Chairman of the Alabama Republican Party.
COVID-19 hospitalizations in Alabama continue surge
On Monday, 1,335 patients with COVID-19 were being cared for in hospitals statewide, the most to date.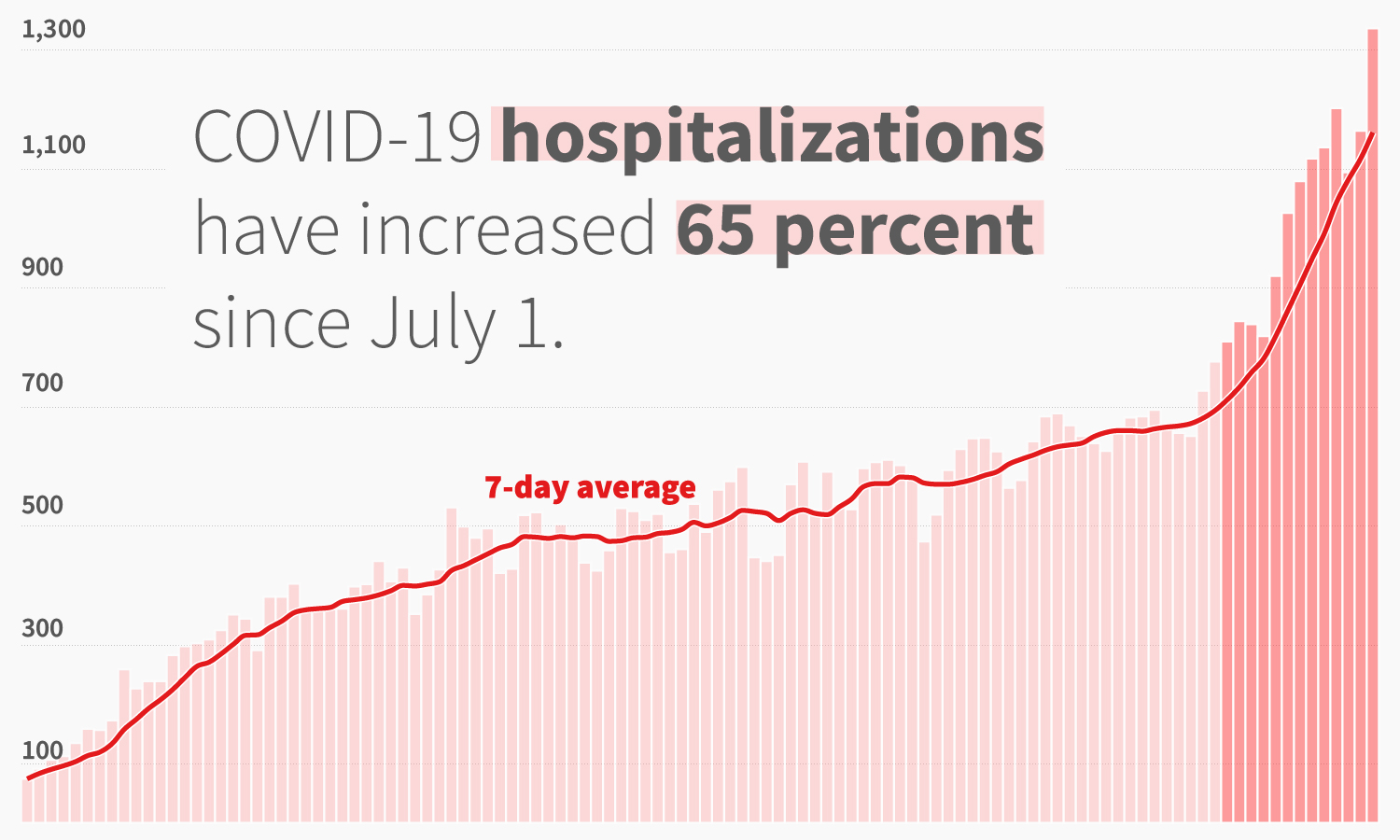 Alabama on Monday saw the highest number yet of COVID-19 patients in hospitals since the start of the pandemic, and the second-highest single-day increase in coronavirus cases on record. 
On Monday, 1,335 patients with COVID-19 were being cared for in hospitals statewide. That was 172 more COVID-19 patients than were hospitalized the previous day — and the largest single-day increase in hospitalization numbers reported by the Alabama Department of Public Health.

The last record number of hospitalized COVID-19 patients in Alabama was on Friday, when 1,201 people were being treated statewide. The increase Monday is also 134 more patients than were being care for on Friday.
Friday was the sixth straight day of record-breaking COVID-19 hospitalizations in Alabama. Friday also saw the second-highest number of deaths in a single day in the state, when ADPH confirmed 35 new deaths as a result of COVID-19, nearly breaking the previous record of 37 set on May 12.
On Monday, the state also added 1,860 to Alabama's total case count, bringing the cumulative total now to 54,768 confirmed cases. That's the second-highest single-day increase in cases since the start of the pandemic. With 25,783 people presumed to have recovered from the virus, and at least 1,096 dead, more than half of the state's cases, or 27,889, are presumed to be active.

Testing has ticked up slightly in the last few weeks — Alabama's seven-day average of tests conducted was 9,176 on Monday, 93 more than the previous high set on July 5 — but the percentage of tests that are positive continues to increase as well, a sign that new cases aren't just due to more testing. 
The seven-day average positivity rate Monday was 16.18 percent, which was almost 30 percent higher than it was a week ago. Taking into account the Alabama Department of Public Health's incomplete testing data on July 9 and in early April, which threw off the positivity rate, Monday's seven-day average was the highest on record for Alabama. 
Public health officials say that the percent of tests that are positive should be at or below 5 percent or there's not enough testing being done and cases are going undetected. 
Madison County continues to see a surge in new cases. The county added 267 new coronavirus cases on Monday, and over the last week added 1,044 new cases, which was 70 percent more than were added the week before. Madison County's positivity rate this week has been roughly 16 percent. 
Jefferson County followed closely behind Madison County, adding 266 new cases Monday and 1,602 cases within the last week, which was a 30 percent increase from the week before. 
In Mobile County, there were 157 new cases Monday.
Mobile County's weekly total of new cases for the last week was 23 percent higher than the previous week.