Author and Criminal Defense Attorney Opposes Death Penalty
By Brandon Moseley
Alabama Political Reporter
Richard S. Jaffe is the Senior Partner of the Birmingham, Alabama law firm of Jaffe & Drennan, P.C.  Mr. Jaffe specializes in the areas of criminal defense and especially cases involving the death penalty.  He is currently advocating ending the death penalty in Alabama and the United States while also promoting his book, 'Quest for Justice: Defending the Damned.'
Mr. Jaffe has been a criminal trial lawyer for 36 years and has been board certified by the National Board of Trial Advocacy as a Criminal Trial Specialist since 1984.  Jaffe is listed in both Super Lawyers and Best Lawyers of America.  In 2012 he was named among the top 50 lawyers in Alabama, by Best Lawyers of America. He is licensed to practice law in Alabama, Georgia, New York, and Washington, DC.
Mr. Jaffe said, "Many who were formally fervent supporters of the death penalty have changed their minds once fully exposed to all its angles and miscarriages of justice.   Lives already destroyed beyond repair dangle within the machinery of our criminal justice system as it struggles to achieve its professed mission, while 'justice' often hides in its shadows. When the system fails us, an irreparable betrayal pierces the heart and soul of each person involved, sometimes the soul of a whole community, and occasionally that of the entire nation."
Jaffe's many clients include Eric Robert Rudolph and George Zimmerman.
Jaffe has worked on hundreds of murder cases and more than 60 capital cases.  Over the course of his career Jaffe has managed to get three persons exonerated for crimes that had wrongly sent them to death row.  No other single attorney alive in the country has that many.  Mr. Jaffe's book recalls the real life exonerations of James Willie "Bo" Cochran, Gary Drinkard and Randal Padgett at new trials in detail.  These were all cases where defendants were previously found guilty by juries of their peers, but were later awarded new trials where they were exonerated of the crimes.  According to Jaffe, one was a victim to false evidence planted by the police, another went to death row based on witness testimony where it was later learned that the witness had perjured their self, and the third was a victim of a staged rape including the planting of his DNA.
"Being a part of a jury determination which frees a falsely convicted person from the throes of death cannot be described in words," says Jaffe. "It is an act of grace that forever lives within my soul."
According to his written statement, in the book Jaffe makes a case for why the death penalty should not exist in the US.  Mr. Jaffe points to the disproportionate number of non-Caucasian, and often mentally debilitated people on death row, the costliness of the death penalty versus housing prisoners for life, and Jaffe presents statistical evidence that executions do not deter crime.  According to statistics presented by Jaffe, Americans are only 5% of the world's population, but we have 25% of the world's prison population.
Barry Scheck, a Professor of Law at Benjamin N. Cardozo School of Law said, "This riveting book takes you inside the intricate human drama of real death penalty cases – defendants who are guilty and those who are innocent – in a way you will not forget. Some of these stories will shock and challenge even the strongest proponents of capital punishment. A must read for those who care about justice in America."
To learn more about the book visit the book's website:
 http://www.questforjusticethebook.com,
To learn more about Richard Jaffe visit his website:
COVID-19 hospitalizations in Alabama continue surge
On Monday, 1,335 patients with COVID-19 were being cared for in hospitals statewide, the most to date.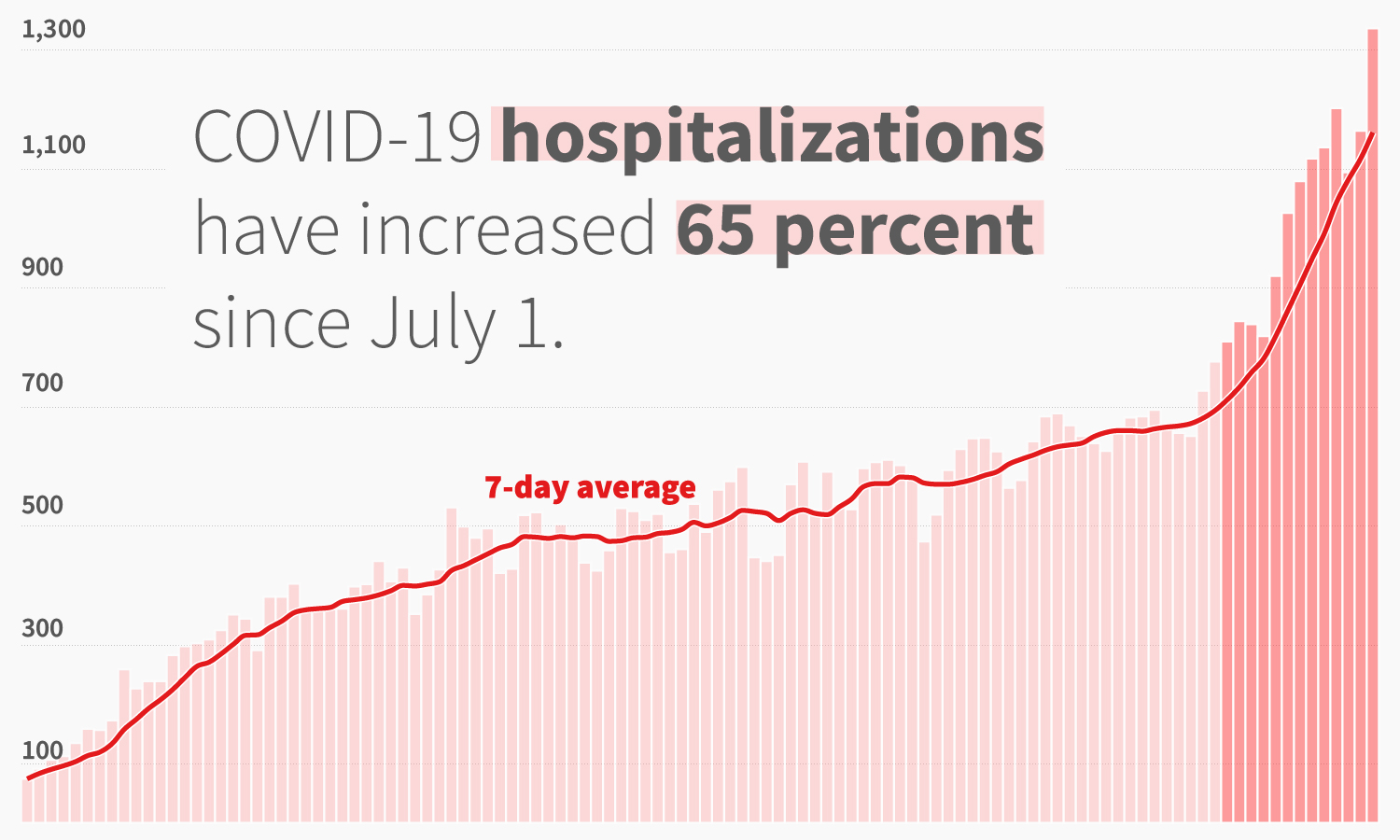 Alabama on Monday saw the highest number yet of COVID-19 patients in hospitals since the start of the pandemic, and the second-highest single-day increase in coronavirus cases on record. 
On Monday, 1,335 patients with COVID-19 were being cared for in hospitals statewide. That was 172 more COVID-19 patients than were hospitalized the previous day — and the largest single-day increase in hospitalization numbers reported by the Alabama Department of Public Health.

The last record number of hospitalized COVID-19 patients in Alabama was on Friday, when 1,201 people were being treated statewide. The increase Monday is also 134 more patients than were being care for on Friday.
Friday was the sixth straight day of record-breaking COVID-19 hospitalizations in Alabama. Friday also saw the second-highest number of deaths in a single day in the state, when ADPH confirmed 35 new deaths as a result of COVID-19, nearly breaking the previous record of 37 set on May 12.
On Monday, the state also added 1,860 to Alabama's total case count, bringing the cumulative total now to 54,768 confirmed cases. That's the second-highest single-day increase in cases since the start of the pandemic. With 25,783 people presumed to have recovered from the virus, and at least 1,096 dead, more than half of the state's cases, or 27,889, are presumed to be active.

Testing has ticked up slightly in the last few weeks — Alabama's seven-day average of tests conducted was 9,176 on Monday, 93 more than the previous high set on July 5 — but the percentage of tests that are positive continues to increase as well, a sign that new cases aren't just due to more testing. 
The seven-day average positivity rate Monday was 16.18 percent, which was almost 30 percent higher than it was a week ago. Taking into account the Alabama Department of Public Health's incomplete testing data on July 9 and in early April, which threw off the positivity rate, Monday's seven-day average was the highest on record for Alabama. 
Public health officials say that the percent of tests that are positive should be at or below 5 percent or there's not enough testing being done and cases are going undetected. 
Madison County continues to see a surge in new cases. The county added 267 new coronavirus cases on Monday, and over the last week added 1,044 new cases, which was 70 percent more than were added the week before. Madison County's positivity rate this week has been roughly 16 percent. 
Jefferson County followed closely behind Madison County, adding 266 new cases Monday and 1,602 cases within the last week, which was a 30 percent increase from the week before. 
In Mobile County, there were 157 new cases Monday.
Mobile County's weekly total of new cases for the last week was 23 percent higher than the previous week.