DHS Announces Application Process for Deferred Action for Undocumented Aliens to Remain in US
By Brandon Moseley
Alabama Political Reporter
The Immigration Policy Center (IPC) released a written statement following a release by the U.S. Citizenship and Immigration Services (USCIS) of important details about the Deferred Action for Childhood Arrivals (DACA) process.
The Immigration Policy Center (IPC) has released a report,' Who and Where the DREAMers Are: A Demographic Profile of Immigrants Who Might Benefit from the Obama Administration's Deferred Action' in which it estimates that 936,930 youth between the ages of 15 and 30 could immediately qualify for the conditional illegal alien amnesty initiative ordered by President Barack H. Obama.
The IPC said in their written release, "Because potential applicants reside in all states and every congressional district, today's announcement clarifying the application process sets the stage for an intense period of preparation around the country, as communities wait for the request form to be released on August 15. The DACA program is designed for young people who are under the age of 31; entered the United States before age 16; have resided in the country for at least five years as of June 15, 2012; have not been convicted of a felony, a "significant" misdemeanor, or three other misdemeanors; and are currently in school, graduated from high school, earned a GED, or served in the military."
According to the IPC the key points shared by USCIS: include a new form will be available on August 15. All DACA requests will require payment of $85.  "Persons who wish to receive work authorization must pay, with limited exemptions, the current employment authorization document fee of $365."
The information provided on the form will be kept confidential. This includes information relating to applicants' family members or legal guardians.  The information will not be used for immigration enforcement.  However if the applicant themselves meet the current USCIS criteria for referral to Immigration and Customs Enforcement or issuance of a Notice to Appear (NTA) in immigration court the information could (under those circumstances) be used against the applicant.
Crimes that could disqualify the applicant you for receiving DACA or the work permit include burglary, domestic violence, sexual abuse or exploitation, unlawful possession of firearms, driving under the influence, or drug distribution or trafficking.  Also any crimes where the applicant's sentence was for more than 90 days in jail, not including suspended sentences and time held pursuant to immigration detention.
Minor traffic offenses and convictions for immigration related offenses like Alabama's controversial HB 56 or Arizona's SB 1070 will not be considered as grounds for disqualification of an applicant's amnesty or visa.  Whether the state makes immigration crimes a felony or a misdemeanor is irrelevant according to USCIS rules.
According to the IPC most of the potential beneficiaries of deferred action live in California and Texas. Many also reside in North Carolina, Georgia, Colorado, and Washington State.  The IPC says that nearly every state has a significant population of qualified applicants. The IPC says that almost 70% of potential beneficiaries are from Mexico.  There are also significant populations from Central America, South America, the Caribbean, and Asia.
The IPC said that, "Knowing who the potential beneficiaries are and where they live will be critical as USCIS initiates this new program. Using this data, USCIS, as well as advocates offering assistance, can locate pockets of potential beneficiaries who may be living in geographic areas that are underserved or who may require information in languages that were unanticipated."
Critics of the plan argue that the Constitution gives the President no authority to unilaterally rewrite immigration laws set by the Congress and reward illegal immigrant communities with legal status and visas.  Whether or not it is legal, some polls show the President leading his GOP rival by as much as 30% among Hispanic voters.  President Obama's supporters credit the President's bold unilateral immigration policy with his popularity among Latino voters.  Critics say that the President's policy serves as a magnet for illegal immigrants and worsens an already poor U.S. labor market.
Governor declares state of emergency ahead of Tropical Storm Zeta
Zeta is currently a tropical storm over the Gulf of Mexico, but it is predicted to make landfall as a category one hurricane.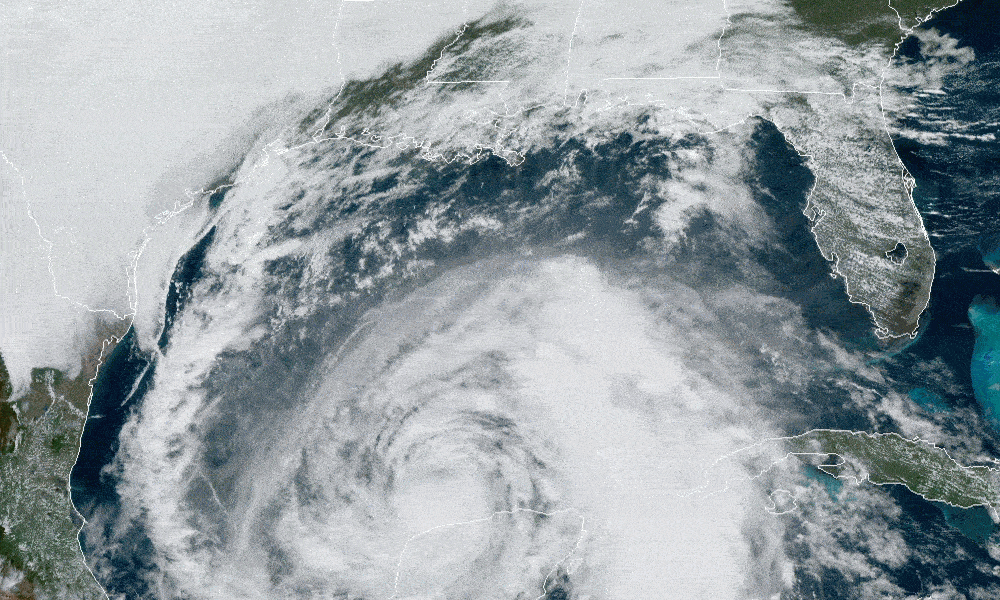 Alabama Gov. Kay Ivey on Tuesday issued a state of emergency as Tropical Storm Zeta approaches the Gulf Coast.
"Ahead of Tropical Storm Zeta's anticipated landfall Wednesday evening as a Category 1 hurricane, I am issuing a state of emergency effective today at 4:00 p.m.," Ivey said. "While this storm is not expected to have an impact as large as storms we've seen move through the Gulf earlier this year, we want to be in the best place possible to respond to anticipated rain, storm surge and mass power outage. I encourage everyone to remain weather aware and tuned in to their trusted news source as this storm could shift direction or change intensity. We continue to track the path of this storm and will stay in touch with the people of Alabama with any updates."
Zeta is currently a tropical storm over the Gulf of Mexico, but it is predicted to make landfall as a category one hurricane. The National Hurricane Center is predicting Zeta to make landfall in Mississippi on Wednesday and then proceed toward Alabama, but these storms can and do move.
A more easterly track could prove devastating to the Alabama Gulf Coast as was the case with Hurricane Sally, which shifted course in September, hitting Alabama, though Zeta is expected to be weaker than Sally at landfall.
The storm surge from the Mississippi-Alabama border to Dauphin Island is forecast to be 5 to 8 feet. Mobile Bay to the Alabama-Florida border is expected to have 3 to 5 feet of storm surge and from the border to Navarre, Florida, could experience 2 to 4 feet of storm surge.
Hurricane force winds are a possibility with this storm. Tropical force winds are expected to be an issue for Southern Mississippi and Alabama well inland. There is expected to be heavy rainfall across the state Wednesday night into Thursday morning.
The Baldwin County Emergency Management Agency announced that sandbags are available inside the county commission office at Robertsdale Central Annex (22251 Palmer Street) until 4:30 p.m. Tuesday and from 8 a.m. until 4:30 p.m. Wednesday or while they last.
Bring any help and shovels you will need. There is a limit of just 25 bags per person. Alabama's coastal counties are currently under a Tropical Storm Warning, a Storm Surge Warning for Mobile County and a High Rip Current and High Surf Warning.
Congressman Bradley Byrne said, "I just finished up briefings from Alabama EMA, FEMA, and the National Hurricane Center regarding #Zeta. We should not take this storm lightly and should start making preparations right away. After sundown Wednesday, I'd encourage everyone in Southwest Alabama to stay home and off the roads until sunrise Thursday. This storm will have impacts as far north as Montgomery, so those in Washington, Clarke, and Monroe counties will see tropical storm force winds and heavy rain. I'd encourage everyone to charge their phones and other necessary electronics. If you have an emergency during the storm, call 911 and do not try to drive."
Coastal Alabama is still in the process of recovering from Hurricane Sally which hit the state on Sept. 15.