Birmingham Artist Thomas Andrew Commissioned to Paint Elephant as Fundraiser for Republican Party
Staff Report
Press Release
HOMEWOOD,Ala. – With the Republican National Convention just around the corner, delegates are about to head south to Tampa. Every election year, the delegates are given a gift at the convention as a thank you for their service to the state and country. This year, their gift will include a Limited Edition print from one of Alabama's most notable artists, Thomas Andrew Findlay. The artist was commissioned to create four elephant paintings, two with the Alabama state flag in the background and two with Old Glory behind the GOP's majestic icon. One painting was chosen to be made into prints, and the Alabama delegates will be gifted the first prints in the series. Moreover, the original paintings are 36″ x 48″, and videos were created of the artist painting the artwork from start to finish. Tom also included beautiful music in the videos by notable Alabama musicians such as Act Of Congress, The Sleep Design, and award-winning country singer Joseph Baldwin. The videos are time-lapsed to approximately 3 minutes and housed on YouTube. The original paintings will be auctioned at the convention and Limited Edition prints are being sold to help raise funds for the party.
"We are thrilled to be able to offer these beautiful, one-of-a-kind creations to our delegates," stated Bill Armistead, Chairman of the Alabama Republican Party. "Tom is a gifted artist and a credit to our community. It is our pleasure to showcase his art at the 2012 RNC Convention in Tampa."
How did an Auburn University graduate become Alabama's most notable artist for painting elephants? "It all started with some photographs my step-mother had taken on her first African safari vacation," says Birmingham artist Thomas Andrew. "My father commissioned me to paint one of the photos for their 25th wedding anniversary. It just so happened to be a picture of a mother and baby elephant drinking from a watering hole."
Thomas Andrew Findlay is originally from Miami but moved to Alabama at the age of 8. One of the first questions he was asked by his new peers was "Who are you for, Alabama or Auburn?" He reflects back and says "At the time, I had no idea how important that was in this state, but most of my friends pulled for the University of Alabama, so I grew up watching the Crimson Tide. I went to some games and even attended the Bear Bryant television show." But, after graduating from Mountain Brook High School in 1986, Tom headed to Auburn to study architecture. His interests quickly switched after witnessing an amazing new machine called an Apple computer. Tom graduated from Auburn in1990 with a BFA and a concentration in graphic arts. In 2004, Tom started painting full-time and is best known for his angelic and landscape artwork. Over the years, he was encouraged to paint elephants by his friends who had graduated from the University of Alabama, but Tom resisted and didn't paint another elephant until 2011. "I saw Leroy Neiman's painting of an elephant and loved it, so I picked up a palette knife and painted several elephants," says Tom. "I like the looseness of the palette knife and how it creates an impressionistic style." To set his elephant artwork apart from the rest, Tom hides an "A" in each of his elephant paintings."I enjoy watching people search for the hidden A," he adds.
At the 2011 Bluff Park Art Show in Birmingham, Tom unveiled his new elephant series. He sold all but one.
As far as politics go, Tom considers himself a moderate Republican. "It depends on the issue. I can't say that I agree with any party on every issue," he says. However, when it comes to business matters, Tom agrees with the Republican philosophy. "There's a big misconception about artists and politics. Most of my non-artist friends assume I am a Democrat because I am an artist. However, most of the successful working artists I know tend to favor the Republican view because they are small business people."
So, who is the model for Tom's Republican elephant painting?" I don't want to give out names, but he lives at the Birmingham Zoo," says Tom. "We have an amazing zoo and something that no other zoo in America has: four male elephants. They are truly majestic creatures and I love to paint them." Tom is also creating an original elephant painting to be auctioned at the Birmingham Zoo gala this fall.
For more information, contact Tom at www.thomasandrewart.com.
Governor declares state of emergency ahead of Tropical Storm Zeta
Zeta is currently a tropical storm over the Gulf of Mexico, but it is predicted to make landfall as a category one hurricane.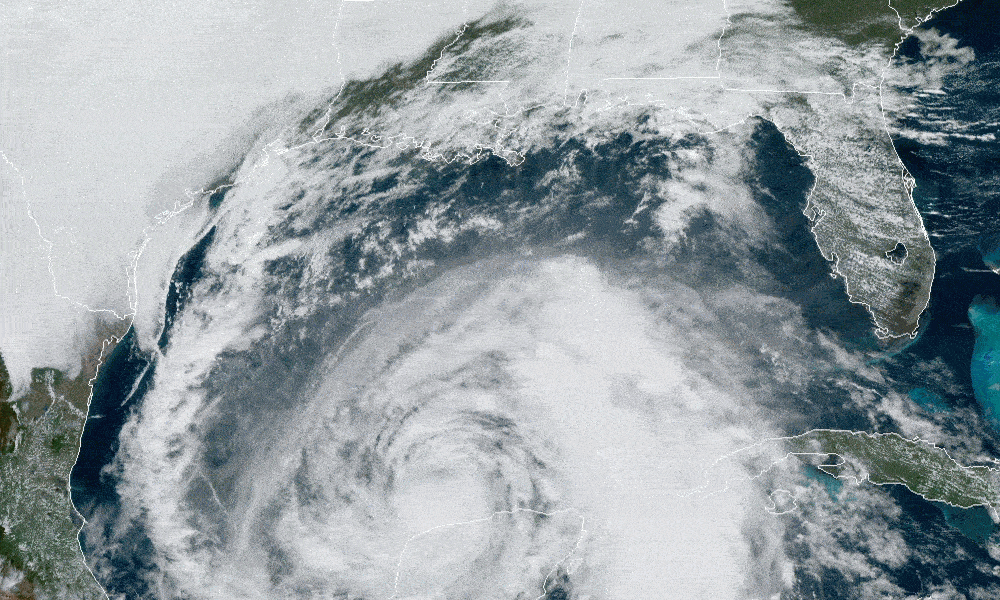 Alabama Gov. Kay Ivey on Tuesday issued a state of emergency as Tropical Storm Zeta approaches the Gulf Coast.
"Ahead of Tropical Storm Zeta's anticipated landfall Wednesday evening as a Category 1 hurricane, I am issuing a state of emergency effective today at 4:00 p.m.," Ivey said. "While this storm is not expected to have an impact as large as storms we've seen move through the Gulf earlier this year, we want to be in the best place possible to respond to anticipated rain, storm surge and mass power outage. I encourage everyone to remain weather aware and tuned in to their trusted news source as this storm could shift direction or change intensity. We continue to track the path of this storm and will stay in touch with the people of Alabama with any updates."
Zeta is currently a tropical storm over the Gulf of Mexico, but it is predicted to make landfall as a category one hurricane. The National Hurricane Center is predicting Zeta to make landfall in Mississippi on Wednesday and then proceed toward Alabama, but these storms can and do move.
A more easterly track could prove devastating to the Alabama Gulf Coast as was the case with Hurricane Sally, which shifted course in September, hitting Alabama, though Zeta is expected to be weaker than Sally at landfall.
The storm surge from the Mississippi-Alabama border to Dauphin Island is forecast to be 5 to 8 feet. Mobile Bay to the Alabama-Florida border is expected to have 3 to 5 feet of storm surge and from the border to Navarre, Florida, could experience 2 to 4 feet of storm surge.
Hurricane force winds are a possibility with this storm. Tropical force winds are expected to be an issue for Southern Mississippi and Alabama well inland. There is expected to be heavy rainfall across the state Wednesday night into Thursday morning.
The Baldwin County Emergency Management Agency announced that sandbags are available inside the county commission office at Robertsdale Central Annex (22251 Palmer Street) until 4:30 p.m. Tuesday and from 8 a.m. until 4:30 p.m. Wednesday or while they last.
Bring any help and shovels you will need. There is a limit of just 25 bags per person. Alabama's coastal counties are currently under a Tropical Storm Warning, a Storm Surge Warning for Mobile County and a High Rip Current and High Surf Warning.
Congressman Bradley Byrne said, "I just finished up briefings from Alabama EMA, FEMA, and the National Hurricane Center regarding #Zeta. We should not take this storm lightly and should start making preparations right away. After sundown Wednesday, I'd encourage everyone in Southwest Alabama to stay home and off the roads until sunrise Thursday. This storm will have impacts as far north as Montgomery, so those in Washington, Clarke, and Monroe counties will see tropical storm force winds and heavy rain. I'd encourage everyone to charge their phones and other necessary electronics. If you have an emergency during the storm, call 911 and do not try to drive."
Coastal Alabama is still in the process of recovering from Hurricane Sally which hit the state on Sept. 15.