How Paul Ryan's Medicare Plan Is Coming Back to Haunt Obama
Staff Report
Last year, Democrats gleefully attacked Paul Ryan as a granny killer for daring to take on Medicare reform. They thought their point was won; Ryan was buried in an avalanche of ridicule. Americans typically don't like their entitlements threatened; seniors and near-seniors—the groups most likely to turn out on Election Day—are particularly wary, as they should be.
But Mitt Romney pulled a surprise, nominating Ryan as his running mate. R-squared then launched a direct attack on the president's cuts  in Medicare spending. And "Boom!" The big stick just came back and hit the Dems: A recent poll in all-important Florida shows folks there are a bit more terrified right now—and even more so among seniors—of the president's health-care law and its affect on Medicare than of Ryan's proposal.
But there are still weeks and onslaughts to go. Charges are already furiously flying back and forth. "Their plan ends Medicare as we know it" is met with "the president is raiding Medicare."
Well, in politics, not all lies are all lies. And not all truths are complete.
Both the Romney/Ryan and Obama plans end Medicare "as we know it." The program is running out of money as fewer people pay in than receive benefits. In just 12 years, Medicare's hospital trust fund is predicted to become insolvent. And for the next 17½ years, 10,000 baby boomers will reach age 65 every day. So, it's really just a question of when the end comes—for Medicare, Medicaid, and Social Security—and what happens next.
It's also true that the president has cut more than $700 billion from Medicare and credits it toward the cost of Obamacare. While some of those cuts are admirable—everyone wants to see fraud reduced—other cuts are in payments to providers. And it's a bit disingenuous of Team Obama to claim these cuts won't affect benefits. In Texas, one of the few states to track doctor drop-outs, the number of physicians accepting Medicare patients fell from 78 percent in 2000 to 58 percent in 2012—because of cuts in payments, with more cuts to come. Punishing doctors with lower, sometimes below-cost fees for treating Medicare patients means fewer doctors, decreased care, and even—yes—the potential for rationing of care.
Ryan's original plan also cut Medicare spending at a similar level, but through consumer choice, competition, and market forces, not punitive cost controls. And he planned to return those dollars to the Medicare trust fund.
Governor declares state of emergency ahead of Tropical Storm Zeta
Zeta is currently a tropical storm over the Gulf of Mexico, but it is predicted to make landfall as a category one hurricane.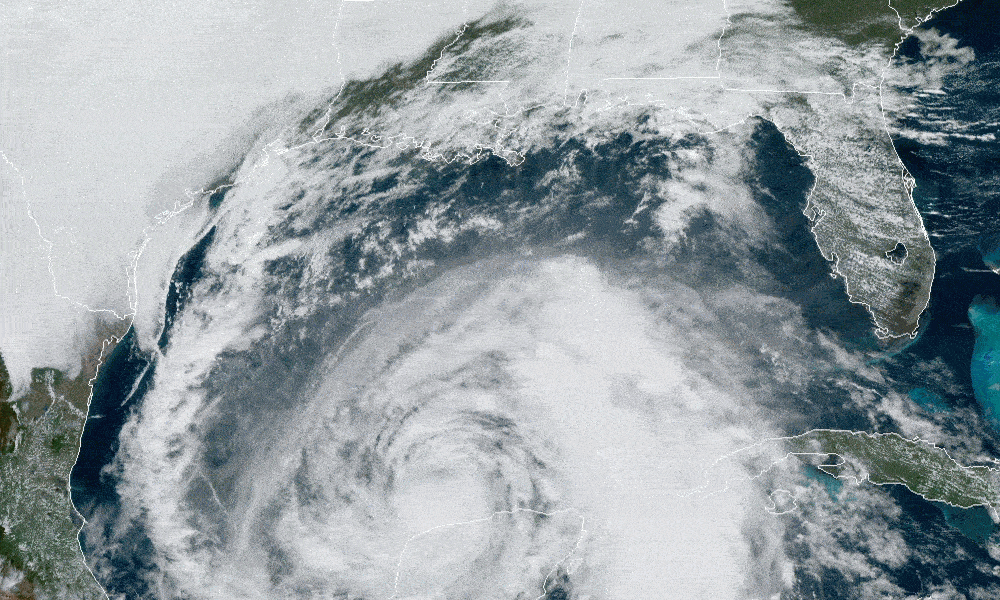 Alabama Gov. Kay Ivey on Tuesday issued a state of emergency as Tropical Storm Zeta approaches the Gulf Coast.
"Ahead of Tropical Storm Zeta's anticipated landfall Wednesday evening as a Category 1 hurricane, I am issuing a state of emergency effective today at 4:00 p.m.," Ivey said. "While this storm is not expected to have an impact as large as storms we've seen move through the Gulf earlier this year, we want to be in the best place possible to respond to anticipated rain, storm surge and mass power outage. I encourage everyone to remain weather aware and tuned in to their trusted news source as this storm could shift direction or change intensity. We continue to track the path of this storm and will stay in touch with the people of Alabama with any updates."
Zeta is currently a tropical storm over the Gulf of Mexico, but it is predicted to make landfall as a category one hurricane. The National Hurricane Center is predicting Zeta to make landfall in Mississippi on Wednesday and then proceed toward Alabama, but these storms can and do move.
A more easterly track could prove devastating to the Alabama Gulf Coast as was the case with Hurricane Sally, which shifted course in September, hitting Alabama, though Zeta is expected to be weaker than Sally at landfall.
The storm surge from the Mississippi-Alabama border to Dauphin Island is forecast to be 5 to 8 feet. Mobile Bay to the Alabama-Florida border is expected to have 3 to 5 feet of storm surge and from the border to Navarre, Florida, could experience 2 to 4 feet of storm surge.
Hurricane force winds are a possibility with this storm. Tropical force winds are expected to be an issue for Southern Mississippi and Alabama well inland. There is expected to be heavy rainfall across the state Wednesday night into Thursday morning.
The Baldwin County Emergency Management Agency announced that sandbags are available inside the county commission office at Robertsdale Central Annex (22251 Palmer Street) until 4:30 p.m. Tuesday and from 8 a.m. until 4:30 p.m. Wednesday or while they last.
Bring any help and shovels you will need. There is a limit of just 25 bags per person. Alabama's coastal counties are currently under a Tropical Storm Warning, a Storm Surge Warning for Mobile County and a High Rip Current and High Surf Warning.
Congressman Bradley Byrne said, "I just finished up briefings from Alabama EMA, FEMA, and the National Hurricane Center regarding #Zeta. We should not take this storm lightly and should start making preparations right away. After sundown Wednesday, I'd encourage everyone in Southwest Alabama to stay home and off the roads until sunrise Thursday. This storm will have impacts as far north as Montgomery, so those in Washington, Clarke, and Monroe counties will see tropical storm force winds and heavy rain. I'd encourage everyone to charge their phones and other necessary electronics. If you have an emergency during the storm, call 911 and do not try to drive."
Coastal Alabama is still in the process of recovering from Hurricane Sally which hit the state on Sept. 15.