Bachus Stressing Tornado Safety in Bibb County
By Brandon Moseley
Alabama Political Reporter
Congressman Spencer Bachus (R) from Vestavia announced that community storm shelters save lives at the dedication for a new storm shelter in Brent, AL.
Rep. Bachus said, "Community storm shelters save lives. We saw that again during the tornadoes that struck Alabama in April 2011. It was a pleasure to work with elected officials and civic leaders in Brent and Bibb County to build this shelter to provide citizens with safe shelter from the storm. The building will serve the additional function of providing a much-needed center for senior citizens to gather and socialize. It is a great new addition to community."
Brent Mayor Dennis Stripling said, "There are still people who do not have a safe place to go during a tornado. We have early warning systems that can give people time to seek shelter and with this new building, we are bringing safe shelter even closer to residents of Brent and Bibb County."
Representative Bachus was the speaker at an open house and dedication for the new storm shelter. Brent, which is in Bibb County, was devastated in a massive tornado that struck the town in 1973, killing five people. The new storm shelter is located at 10445 Highway 5.
Alabama's senior Congressman worked with community leaders to help the people of Brent get $750,000 in Federal Emergency Management Agency (FEMA) funds for construction of the new storm shelter, which will also serve as the area's Senior Citizens Center.
More people have died in tornadoes in Alabama in the last 70 years than in any other state. Despite the danger many people still do not have a tornado shelter to flee to during tornado warnings.
Rep. Bachus wrote a 2003 law that encourages the building of storm shelters in manufactured home communities.
Congressman Spencer Bachus represents Alabama's Sixth Congressional District. Bachus is Chairman of the powerful House Financial Services Committee and is seeking his eleventh term in the United States Congress. His opponent in the November 6th General Election is Penny Huggins Bailey (D), a retired U.S. Air Force Colonel from Leeds, AL.
Jefferson County health officer, UAB head say COVID-19 numbers are improving but flu season is near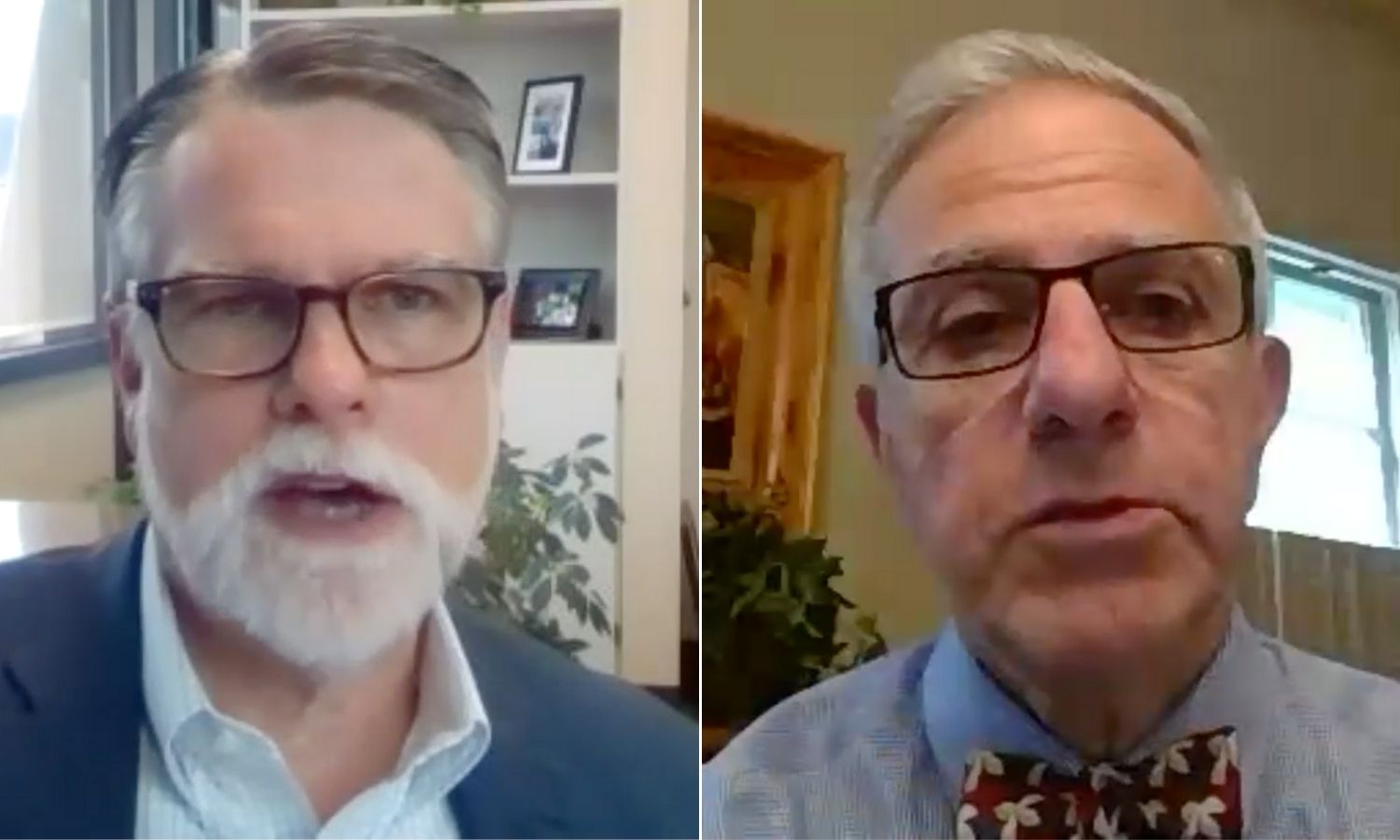 Jefferson County Health Officer Dr. Mark Wilson said Friday that the county's COVID-19 numbers are improving, but with schools reopening and flu season approaching, it's critical for the public to continue wearing face masks and practicing social distancing. 
Wilson and Will Ferniany, the CEO of the UAB Health System, held a press briefing on Friday to discuss the state of coronavirus and what's being done to mitigate the disease that has killed 1,825 people in Alabama and infected 102,196.
In the last few weeks, the number of new daily COVID-19 cases and the percent of tests that are positive in Jefferson County has begun to decline, Wilson told reporters, but he put that decline into perspective. 
"Keep in mind though that this is a slight improvement from being at a pretty bad place with really high numbers, so we still have a long way to go," Wilson said. 
There have been 13,682 confirmed coronavirus cases and 262 deaths in Jefferson County as of Friday, and 939 cases were added within the last week. The county's seven-day average of new daily cases fell from its peak of 295 on July 18 to 156 on Thursday.
Wilson said there is good evidence that the county's face covering order is making a difference in the spread of the disease, and that he thanks the public for making that difference, and asked that they keep doing so. 
"We have four levels of surge," Ferniany said, referring to UAB Hospital's process of temporarily adding hospital bed capacity for COVID-19 patients by removing beds from other areas. "We're on level two capacity." 
Ferniany said the hospital is running at 90 percent capacity, which he said is a "very full hospital" and that between March and around July 20, the hospital was caring for between 60 and 70 coronavirus patients daily, and reached a peak of 130 patients a little more than a week ago. 
"Today we're at 97 patients in-house, and roughly 40 percent are in the ICU," Ferniany said. 
Ferniany said the hospital's ability to care for COVID-19 patients is now limited by the numbers of nurses and other staff, and that UAB is "down several hundred nurses" and burnout from long periods of caring for coronavirus patients is common. 
Both Ferniany and Wilson said they're very concerned about the upcoming flu season and the impact it could have on hospital capacity, as physicians continue to care for COVID-19 patients. 
"The 2018-2019 flu season was the worst flu season we have seen in 40 years, and we actually asked the governor back then to declare a state of emergency because our hospitals were full then with influenza," Wilson said. 
Wilson urged the public to get their annual flu shots once available on Sept. 1 to help prevent additional strain on hospitals statewide. Public health officials worry that the combination of flu and COVID-19 could be difficult to handle — both on a system-wide level and the level of an individual person.
"We have no reason to think that somebody can't get the flu and COVID-19 at the same time, which could be a deadly combination," Wilson said. 
Wilson said while he isn't certain what Gov. Kay Ivey may decide about the statewide mask order, but "in Jefferson County, it's very likely I'm going to be pushing to continue face coverings through the flu season," Wilson said.
Wilson in July advised school superintendents in Jefferson County that middle and high school students should attend school virtually only for the first nine weeks, a stronger recommendation than most superintendents elsewhere have received. 
Wilson told reporters Friday that his recommendation for virtual-only classes to start was done to keep kids, teachers, staff and families safe. 
"We're probably going to have some cases. It's inevitable, but what we want to do is everything we can as kids go back to school to reduce the spread within school so that schools can stay open." 
There are also preliminary plans for a new testing site for children as schools reopen, Wilson said, but those plans continue to be developed. 
Ferniany said UAB Hospital on Thursday got initial approval from the hospital's board to expand COVID-19 testing capacity. 
"Our goal is to try to expand it significantly by the end of December. We probably can't get it up faster than that, but this pandemic is not going away by the end of December so I think we will have a significant increase in our ability to have rapid tests in place by the end of this year," Ferniany said.