"Save the Alabama Trust Fund"
By Mary Scott Hunter
Special Interests in Alabama are urging their employees to vote "Yes" for an amendment to the Alabama Constitution this September 18, 2012.  A "yes" vote will draw down the Alabama Trust Fund (an investment fund of proceeds from state oil and gas leases) by $435 million over three years.  The measure is proposed in order to cover a large shortfall in the state's general fund obligations.  Those in favor point to the dire consequences for Medicaid, our penal system, and other general fund obligations and they cite the need to use the corpus of the trust fund to buy time to reform government and for the economy and tax receipts to improve.
Those opposed cite the Alabama Trust Fund's original intentions and origins.  I spoke with former State Senator and Congressman Sonny Callahan of Mobile and former Congressman and Conservation Commissioner Jim Martin of Gadsden about those origins. They were integrally involved in the original setup of the Alabama Trust Fund.  Congressmen Callahan and Martin both explained to me that the fund was set up to yield interest in perpetuity for the benefit of the General Fund and Forever Wild which receives a portion of the interest.  If the Constitutional Amendment passes, the fund will lose a significant portion of its principal and difficult but necessary budget decisions will be forestalled until after the 2014 elections.  The bill for Medicaid and other general fund items will still come due in 2015, and we will be less able to cover our losses having drawn down the corpus of our investment.  If we do this, we have to hope that our reform efforts that are underway work and that the economy is better and that inflation does not catch up to us.  What if reform takes longer than three years?  What if the economy is not better?  What about inflation expanding our obligations as it inevitably does?
I am a "no" vote.
As our 'National Debt' and the 'Economy' is THE discussion in national politics, so should the focus be in Alabama.  With my experience serving on the State Board of Education I am convinced that we are on the right track in many areas.  We are poised to surge in Education.  I commend Governor Bentley's appointment of Greg Canfield first to ADECA then as Secretary of Commerce.  Under his leadership, "Accelerate Alabama" has been born which marries the efforts of Education and Business.  Because we have one State Board of Education with oversight of all Education from Kindergarten through Community College we are able to very effectively respond to the needs of Business and Work Force Development in Alabama.
In the future, our prosperity will totally depend on how well we use our limited resources, and I certainly understand this as a member of the State Board of Education.  I also understand that this vote is a close call, and I do not question the members of my party who have decided to support the plan.  I, however, cannot find enough positives in the plan to overcome my concerns that this plan is a provisional not a permanent solution.  This initiative will, I predict, pass if the voter turnout is low.  Low voter turnout will mean organized special interests will turn out their voters and will sway the vote.
When will we live within our means in Alabama if not now?  I recognize that there will be a lessening of services, but we have options that have not been properly explored – Medicaid Reform, Sentencing Reform, Cigarette Tax, Gaming Compacts with our Indian Casinos all come to mind. I respectfully disagree with my colleagues in state government who believe that borrowing from our state's oil and gas trust fund is the best option.  The Alabama Trust fund is an interest-bearing investment fund, not a rainy-day or a savings account to be drawn down even in the tough times.  Some may think of it that way, but if that were correct, we would not need a Constitutional Amendment to write the check.
Should the measure pass, I commend the Governor's intent to use the Oil Spill Settlement funds (Restore Act) to repay the Alabama Trust Fund.  I urge our Legislature to pass a pay-back provision and commend those who have committed to do this already.  I caution the Legislature not to be tempted to enter into the practice of "Diversion."  Diversion refers to diverting proper General Fund obligations to the lean but relatively healthy Education Trust Fund.
Let's work together to solve the problems in our General Fund and the agencies it supports.  Let's find a solution that may be painful but realistic in the short term but preserves the Alabama Trust Fund for the future benefit of all Alabamians.
Mary Scott Hunter is a Republican serving on the Alabama Board of Education, District 8 including Limestone, Madison , Jackson , DeKalb and Etowah Counties.
Print this piece
Jones criticized for voting to limit Trump's war powers authority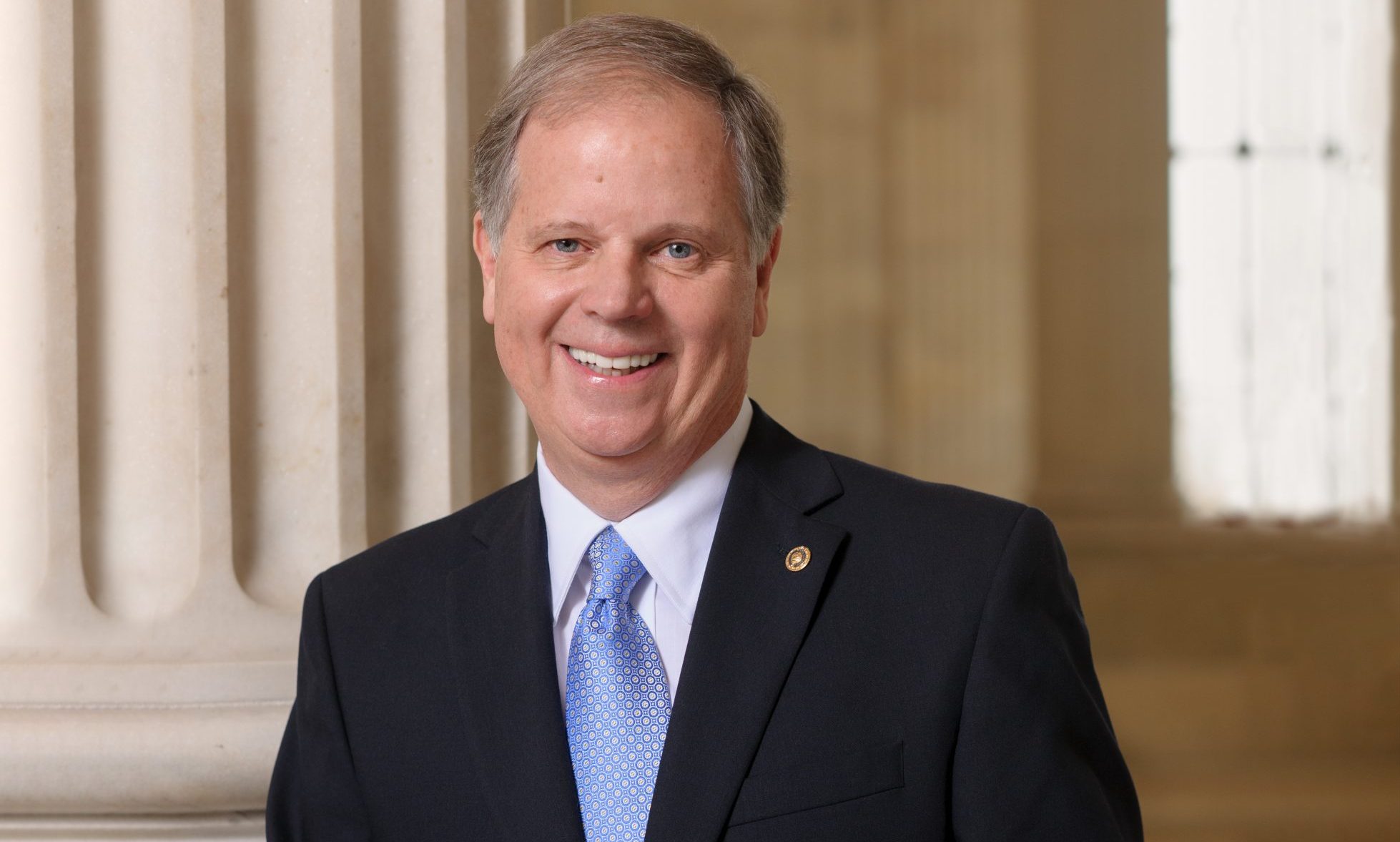 Thursday, U.S. Senator Doug Jones (D-Alabama) voted in favor of S.J.Res.68, a resolution which directs the removal of United States military from hostilities against the Islamic Republic of Iran that have not been authorized by Congress. Jones has been criticized by Republicans for voting to limit President Donald J. Trump's war powers on Iran.
"Before a President can lead us into war, he or she must first earn the support of the American people and also fulfill their solemn constitutional obligation to seek approval from Congress," Sen. Jones said in a statement. "While the President has the power to protect Americans in the case of an imminent attack, that authority does not extend to committing our service members to long-term hostilities unilaterally. This resolution sends a strong message that we will follow the Constitution and we will not send our troops into harm's way without the serious consideration and consent of the Congress."
Trump Victory National Finance Committee member Perry O. Hooper Jr. released a statement in response.
"Senator Jones once again turned his back on Alabama and voted as the leftwing Democrats commanded. He has no regard for the values, opinions or views of Alabamians," Hooper said. "He sees us as deplorables just like the elites of the Democratic party who have funded 80 percent of his doomed campaign for re-election.:
Hooper stated, "I whole heartily support the President who stated 'We are doing very well with Iran and this is not the time to show weakness… If my hands were tied, Iran would have a field day. Sends a very bad signal. The Democrats are only doing this as an attempt to embarrass the Republican Party.'"
"The Commander-in-chief must be free to work with his staff and his military leaders to conduct covert operations like the one that eliminated Iran's terrorist-in-chief General Soleimani," Hooper added. "You can't micromanage the war on terrorism. The Democrats in Congress are so filled with Trump Derangement Syndrome that no matter how much it would benefit our country and the world; they would never give Trump a "victory". If it came down to it, they would leak everything to the media no matter what the consequences."
Senator Jones is a cosponsor of the legislation and a member of the Senate Armed Services Committee. Eight moderate Republicans voted with the Democrats on the resolution.
Senator Jones has also been criticized by Republicans for his comments that he was "appalled" by Pres. Trump's actions following his acquittal on both Articles of Impeachment.
"Newsflash for Senator Doug Jones: Most Alabamians have been appalled by his actions his entire time in office," former Attorney General Jeff Sessions said. "It's about time we send Doug home, and replace him with someone who understands our values. Alabamians deserve a Senator they can be proud of again."
Sessions is a candidate for the Republican nomination for Jones' Senate seat.
The Republican primary will be on March 3.
Print this piece