Voter Fraud is Alive and Well in Alabama, GOP leadership speaks out
By Brandon Moseley
Alabama Political Reporter
Uniontown Alabama is one of the most impoverished places in the country. The economy of the agriculturally rich Black Belt town arguably never really recovered from Alabama's transition from a labor intensive cotton economy. One thing Uniontown does lead in is voter participation. According to the 2010 census 1775 people live in the small town. 635 of those were 17 and under. In theory the maximum number of voting age people in the town is 1140 people, if no one forgot to vote, forgot to register, or were not eligible to vote due to past criminal records.
However 2,587 people are registered to vote in the 91% black town. In many towns the voter roles are inflated due to people dying or moving out of town and not being removed from the voter roles but that is more than twice the number of voting age people in the little town. In Tuesday's election 1,437 people voted. Inexplicably that is 125% of the voting age population of the town. 45% of those ballots were absentee ballots. In the rest of the state just 3 or 4% of voters vote absentee. When Dan Beyerle with the Tuscaloosa News exposed these facts Wednesday it drew a firestorm from Republicans across Alabama.
Alabama Secretary of State Beth Chapman told the Montgomery Advertiser, "As I have said in the past, no county anywhere in the country votes those percentages to my knowledge and certainly no other county in Alabama does," Chapman said of the number of absentee votes.
Republican Party Chairman Bill Armistead said, "Something is fishy in Perry County and it amazes me that Alabama Democratic Party Chairman Mark Kennedy refuses to acknowledge the evidence placed before him concerning voter fraud in Alabama. It is completely obvious to anyone who looks at the facts with an open mind that voter fraud is alive and well in Alabama.
Speaker of the House Mike Hubbard said, "Either Uniontown's citizens are the most civic-minded in the entire state or there are some serious shenanigans occurring in the election process there, but even civic-mindedness can't explain why voter rolls top 130 percent of the population. It is obvious that the voter rolls there are bloated with the names of dead, relocated or even fictitious residents, a fact that does not inspire confidence in honest and fair elections. Only a strong and strictly enforced photo voter ID requirement can return faith to what is obviously a flawed, broken and likely corrupt elections system."
Senate Majority Leader Jabo Waggoner said, "I seriously doubt that this is an isolated mistake, but rather serves as a glowing example to any naysayers that voter fraud is real. For months Democrats and various members of the media have crowed about voter ID laws being cruel and unnecessary because voter fraud is a figment of the imagination. This Uniontown case should end that debate, once and for all."
Senate President Pro Tem Del Marsh said the election results underscore the necessity of fighting potential voter fraud. "These numbers are a suspicious reminder of why we have to stay on guard to protect the sanctity of our election process and fight potential voter fraud. We have an obligation to protect the democratic process we hold so dear and will continue working to identify ways to fight against abuse."
Speaker Hubbard said, "The Obama Justice Department has already blocked photo voter ID requirements in states like Texas and South Carolina, and it is likely it will continue its hostile actions towards Alabama, as well. By working diligently against this needed and valuable honest elections tool, Obama's liberal cronies and extremist groups like the ACLU are turning a blind eye to ballot box stuffing and making the case that the only way their side can win is through cheating."
Chairman Armistead said, "African American voters are being disenfranchised by the criminal activities such as what's happening in Uniontown. As former Alabama Democratic Congressman Artur Davis told the Montgomery Advertiser earlier this year, 'The truth is that the most aggressive contemporary voter suppression in the African American community, at least in Alabama, is the wholesale manufacture of ballots, at the polls and absentee, in parts of the Black Belt.'
Speaker Hubbard said, "To steal someone's vote by casting a fraudulent one against it is literally taking away their birthright as an American," Hubbard said. "As long as everyone plays by the same rules and is required to present the same ID, everyone can rest easy that their rights are being protected."
Prisoners quarantined at formerly closed prison kept in unconstitutional conditions, groups say
Conditions are so bad that inmates have been forced to urinate and defacate on themselves because restrooms are not accessible, the complaint alleges.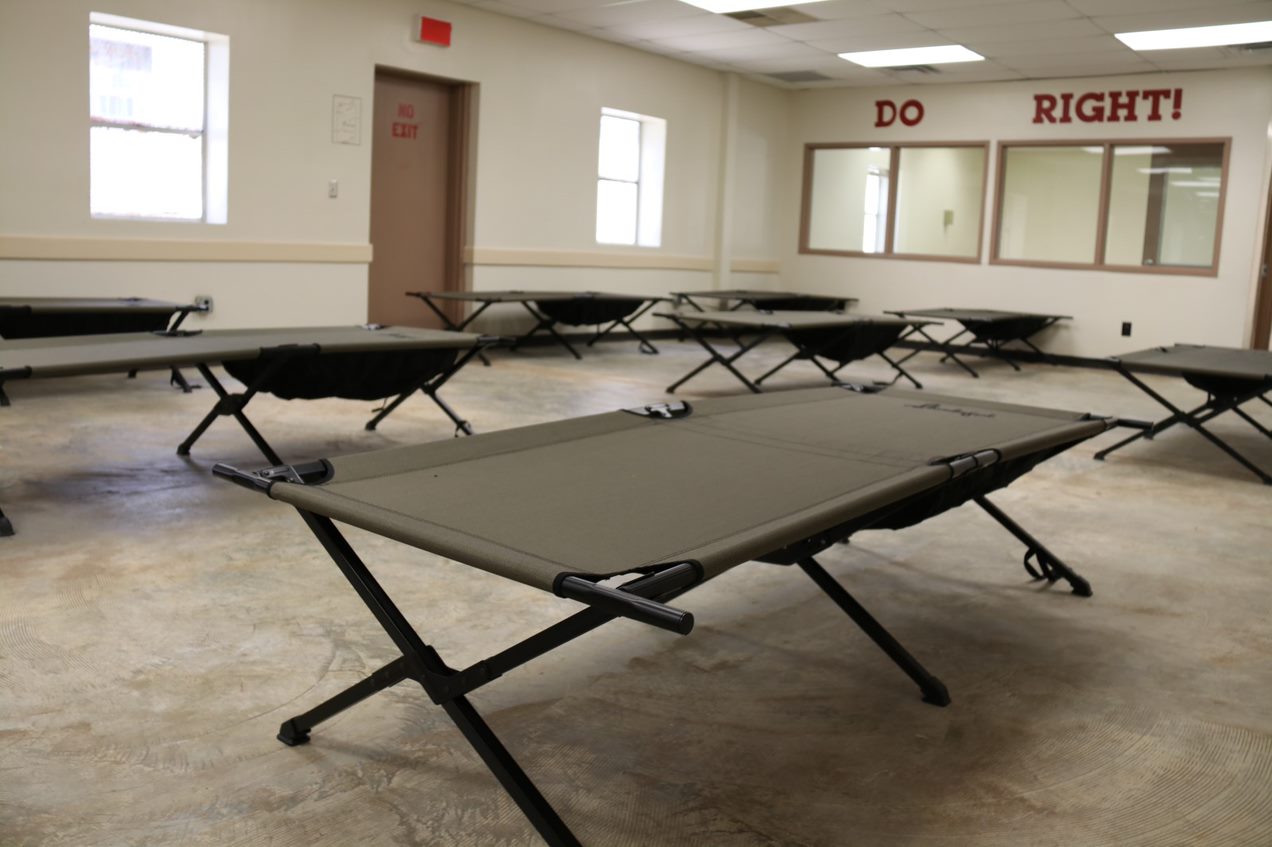 The Alabama Department of Corrections is violating the constitutional rights of inmates being quarantined in deplorable conditions in the previously decommissioned Draper prison, several civil rights groups wrote in a letter to the state's prison commissioner.
The ACLU of Alabama, the Southern Center for Human Rights, Alabama Appleseed and other groups in a letter to Alabama Department of Corrections Commissioner Jeff Dunn on Thursday detail those conditions, which include no indoor toilets or running water, repeated power outages, deprivation of regular showers and the requirement of incarcerated men to urinate in "styrofoam cups and plastic water" bottles.
"These conditions fail to meet the most basic constitutional standards and present a substantial risk of serious harm to people already suffering from a potentially fatal disease," the letter reads. "We therefore request that you immediately cease using Draper to house and/or quarantine COVID-19 patients, and instead house them in medically appropriate settings in accordance with Eighth Amendment standards."
The groups note that Draper was closed after the U.S. Department of Justice, during its investigation of violence in Alabama prisons, noted Draper as exceptionally "dangerous and unsanitary" with "open sewage" near the entrance, rat and maggot infestations and "standing sewage water on the floors."
In October 2017, the Justice Department informed ADOC of the department's shock at the state of the facility and a month later ADOC's engineer concluded that Draper was "no longer suitable to house inmates, or to be used as a correctional facility," the letter states.
ADOC reopened a portion of Draper earlier this year to house incoming inmates from county jails being quarantined amid the COVID-19 pandemic, but the civil rights groups note in the letter that ADOC failed to indicate plans to also use a classroom without bathrooms, running water or adequate medical care at Draper to house COVID-19 patients from other state prisons.
The groups allege in the letter that approximately 15 cots are located in the approximately 500 square feet former classroom, where at any given time between 5 and 15 inmates are being kept. The only restroom facilities the men can use are portable bathrooms outside, and the men have to "bang on the classroom windows to get officers' attention."
"Though officers sometimes escort the men when asked, they decline at other times and fail to maintain a schedule; thus, the men do not have access to bathroom facilities when needed," the letter reads, adding that the men aren't allowed to use the outdoor restrooms between 10 p.m. and 6 a.m.
"We have further reason to believe that one man was permitted to use the bathroom only three times during a 13-day quarantine. Another man was not taken to the bathroom until his third day at Draper, while another was forced to urinate on himself on multiple occasions after being denied bathroom access," according to the letter. "One man suffering from diarrhea was forced to wait hours to use the restroom to defecate. Many others could only relieve themselves into styrofoam cups, plastic bottles, portable urinal containers, or trash cans."
"They had to hold onto urine-filled bottles for hours at a time until they were allowed to leave the classroom to empty them. It is also our understanding that some men held in these conditions did not receive bottles at all; correctional officers simply told these men that they were 'out of luck,'" the letter continues.
The letter also details instances of alleged inadequate medical care, including a man who was sent to a local hospital with heart attack symptoms after not receiving his heart medication for several days.
The groups are also unaware of any Inmates leaving Draper who were tested for COVID-19 before being returned to Elmore and Staton prisons, the letter also states.
"We also have reason to believe that many of the symptomatic men at Staton and Elmore have not reported their symptoms to prison staff for fear of being held at Draper in the deplorable conditions described above," the letter continues.
APR has learned from several sources in recent weeks, who asked not to be identified because they have loved ones in Alabama prisons and are fearful of retributions for speaking out, that many inmates who have symptoms of COVID-19 aren't reporting those symptoms to prison staff for fear of being quarantined. Those family members are concerned that the disease is spreading much more broadly in Alabama prisons than is known as a result, putting their loved ones at greater risk of contracting the deadly disease.
Many of the concerns expressed in the letter were first reported by AL.com reported on Sept. 13, which found that access to medical care in Draper is limited and the conditions unsanitary.
In a response to AL.com's questions for that article, an ADOC spokeswoman wrote that inmates at Draper have access to "medical and mental health care, telephones, law library, mail services, and showers."
"Please remember — Inmates remanded to our custody have been convicted of a crime and handed a sentence to serve time as determined by a court. The unfortunate reality is that he or she, as a result of the crime committed and subsequent conviction, loses his or her freedoms," ADOC said in the responses.
"This response is unacceptable as a matter of principle, and inadequate as a matter of law," the letter from the civil rights group states.
"As ADOC knows, the fact of a criminal conviction does not strip incarcerated people of their rights under the Eighth Amendment, nor does it relieve ADOC of its constitutional obligations to the people in its custody, which are to provide them with 'humane conditions of confinement,' 'adequate food, clothing, shelter, and medical care,' and 'reasonable safety,'" the letter continues.
On Sept. 16, ADOC reported that there have been 403 confirmed COVID-19 cases among inmates, 21 deaths of inmates after testing positive for COVID-19, and 375 cases among prison staff. Two prison workers have died from COVID-19, ADOC previously said.
As of Sept. 14, there had been 1,954 inmate tests for coronavirus, out of the approximately 22,000 state inmates, according to ADOC.
ADOC on Sept. 16 said that on Thursday the department was to begin rolling out a plan to provide free COVID-19 tests to ADOC staff and contracted healthcare staff using fixed and mobile testing sites.
"In addition, we will test all inmates in facilities that house large numbers of inmates with high risk factors as an enhancement to our current testing protocols," ADOC said in a press release.