After 1 Year, 4 Judges, Trial for Pro-Life Sidewalk Counselors Sprayed Off Sidewalk Scheduled for Oct. 23
Staff Report
Press Release
MONTGOMERY, ALABAMA — The Foundation for Moral Law, a national pro-life, religious-liberties organization, announced today that, after months of delays and several recusals, trial is scheduled next week for two Montgomery, Alabama, pro-life sidewalk counselors sprayed off the public sidewalk by a Montgomery abortion clinic.
Even though the abortion clinic repeatedly turned on and off the forceful, 25-foot jet of water and used it to block the public sidewalk in violation of the city code, David Day and Jeshua Screws were arrested in June of 2011 and accused of criminal trespass when they stepped out of the way of the sprinkler jet.  Day and Screws will appear for trial on October 23, 2012, before Hon. Charles Price in Montgomery Circuit Court.
As seen in the picture above, to avoid the jet of water at Reproductive Health Services, pedestrians and joggers frequently walk behind the sprinkler head and onto the clinic property and then return to the sidewalk to proceed. However, when Jeshua and David, trying to exercise freedom of speech and religion on public property, tried to avoid the water jet in the same manner as they had seen passersby frequently do, the abortion clinic owner had them arrested and the City of Montgomery is claiming they committed criminal trespass.
Ben DuPré, the Foundation attorney representing Screws and Day, said the abortion clinic cannot force pro-life advocates off the public sidewalk and then claim the pro-lifers are violating the law. "Montgomery's abortion clinic does not have a right to wrongfully spray people off the sidewalk because they don't like their message of saving life and finding hope in Jesus Christ, and then turn around and accuse them of trespass for avoiding the sprinkler."
Moreover, this case has been repeatedly delayed, primarily because the judges assigned to the case recused for unknown reasons. Originally set for trial in February, then March, and then April of this past year, no fewer than three judges recused before this case was assigned to the current judge.  Day and Screws have asked Judge Price to dismiss the case for failure to give them a speedy trial as required by the United States and Alabama constitutions.
DuPré noted that the sprinkler is not there to water the grass. "The abortion clinic staff routinely turn the sprinkler on and off in an attempt to hit pro-life advocates standing on the public sidewalk. They are trying to protect their cash flow by intimidating, harassing, and silencing those peacefully urging women not to give the clinic hundreds of dollars to take an innocent life."
The Foundation for Moral Law, a national non-profit legal organization, is located in Montgomery, Alabama, and is dedicated to restoring the knowledge of God in law and government through litigation and education relating to moral issues and religious liberty cases.
Governor declares state of emergency ahead of Tropical Storm Zeta
Zeta is currently a tropical storm over the Gulf of Mexico, but it is predicted to make landfall as a category one hurricane.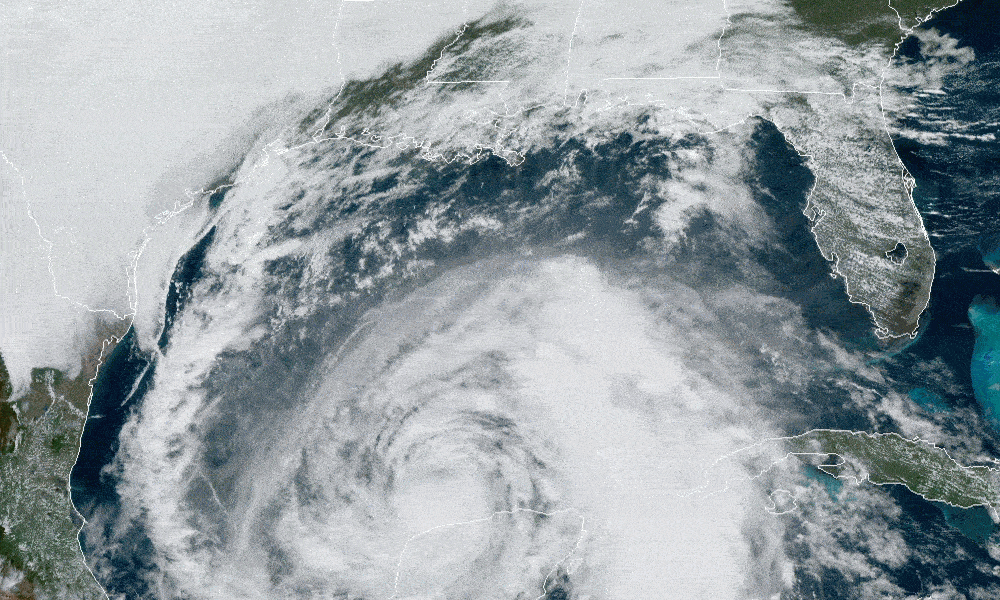 Alabama Gov. Kay Ivey on Tuesday issued a state of emergency as Tropical Storm Zeta approaches the Gulf Coast.
"Ahead of Tropical Storm Zeta's anticipated landfall Wednesday evening as a Category 1 hurricane, I am issuing a state of emergency effective today at 4:00 p.m.," Ivey said. "While this storm is not expected to have an impact as large as storms we've seen move through the Gulf earlier this year, we want to be in the best place possible to respond to anticipated rain, storm surge and mass power outage. I encourage everyone to remain weather aware and tuned in to their trusted news source as this storm could shift direction or change intensity. We continue to track the path of this storm and will stay in touch with the people of Alabama with any updates."
Zeta is currently a tropical storm over the Gulf of Mexico, but it is predicted to make landfall as a category one hurricane. The National Hurricane Center is predicting Zeta to make landfall in Mississippi on Wednesday and then proceed toward Alabama, but these storms can and do move.
A more easterly track could prove devastating to the Alabama Gulf Coast as was the case with Hurricane Sally, which shifted course in September, hitting Alabama, though Zeta is expected to be weaker than Sally at landfall.
The storm surge from the Mississippi-Alabama border to Dauphin Island is forecast to be 5 to 8 feet. Mobile Bay to the Alabama-Florida border is expected to have 3 to 5 feet of storm surge and from the border to Navarre, Florida, could experience 2 to 4 feet of storm surge.
Hurricane force winds are a possibility with this storm. Tropical force winds are expected to be an issue for Southern Mississippi and Alabama well inland. There is expected to be heavy rainfall across the state Wednesday night into Thursday morning.
The Baldwin County Emergency Management Agency announced that sandbags are available inside the county commission office at Robertsdale Central Annex (22251 Palmer Street) until 4:30 p.m. Tuesday and from 8 a.m. until 4:30 p.m. Wednesday or while they last.
Bring any help and shovels you will need. There is a limit of just 25 bags per person. Alabama's coastal counties are currently under a Tropical Storm Warning, a Storm Surge Warning for Mobile County and a High Rip Current and High Surf Warning.
Congressman Bradley Byrne said, "I just finished up briefings from Alabama EMA, FEMA, and the National Hurricane Center regarding #Zeta. We should not take this storm lightly and should start making preparations right away. After sundown Wednesday, I'd encourage everyone in Southwest Alabama to stay home and off the roads until sunrise Thursday. This storm will have impacts as far north as Montgomery, so those in Washington, Clarke, and Monroe counties will see tropical storm force winds and heavy rain. I'd encourage everyone to charge their phones and other necessary electronics. If you have an emergency during the storm, call 911 and do not try to drive."
Coastal Alabama is still in the process of recovering from Hurricane Sally which hit the state on Sept. 15.