Lawmakers: Conservative, Responsible Budgeting Practices Pay Off for Education Budget

Staff Report
From the Office of Senator Tripp Pitman 
MONTGOMERY – Lawmakers in charge of crafting Alabama's education budget said today that by implementing conservative budgeting practices, the state completed the 2012 fiscal year with a balanced budget that did not include any midyear cuts or tax increases, while setting aside $14 million to repay money borrowed from the Alabama Trust Fund. The 2012 Education Trust Fund budget was the first in four years that was not subjected to midyear cuts, or proration. It followed budget cuts that equaled 6.5 percent, 18 percent, 9.5 percent, and 3 percent from 2008 through 2011.
Senator Trip Pittman (R-Montrose), Chairman of the Senate Finance & Taxation Education Committee, and Representative Jay Love (R-Montgomery), Chairman of the House Ways and Means Education Committee, joined students, teachers and local education officials at Wilson Elementary in Montgomery Wednesday to highlight the accomplishment.
Both Pittman and Love credited conservative, responsible budgeting practices and an increase in economic activity with ensuring that spending didn't exceed revenues.
"It's a testament to the new legislative majority that the first education budget we passed was balanced without midyear cuts or increasing taxes," Pittman said. "Drafting a budget in the midst of difficult economic times is never easy, but we made the best choices to prioritize education spending and managed the money we had available to spend. In addition to covering our budget, we also had a surplus of $14 million that we were able to put toward repaying the state's Education Rainy Day Account within the Alabama Trust Fund. This underscores our commitment to repaying the money the Education Trust Fund has borrowed from the ATF during the last quadrennium. Obviously the revenues the state received were a result of the hard work and economic activity of all the citizens across this great state."
"In 2012 we were able to protect funding for K-12 education and fully fund some of the state's proven education reform programs like the Alabama Reading Initiative, the Alabama Math, Science and Technology Initiative, and ACCESS Distance Learning program," Love said. "Fortunately revenues exceeded our expectations for the 2012 fiscal year and we ended the year with a surplus. The Legislature and Governor Bentley have a shared commitment to repay money borrowed from the Alabama Trust Fund, and we were able to put $14 million of the surplus toward that repayment."
Three mental health crisis centers coming to Mobile, Montgomery and Huntsville
"Today marks a culture change in Alabama for treatment of individuals with mental illness and substance use disorders," Mental Health Commissioner Lynn Beshear said.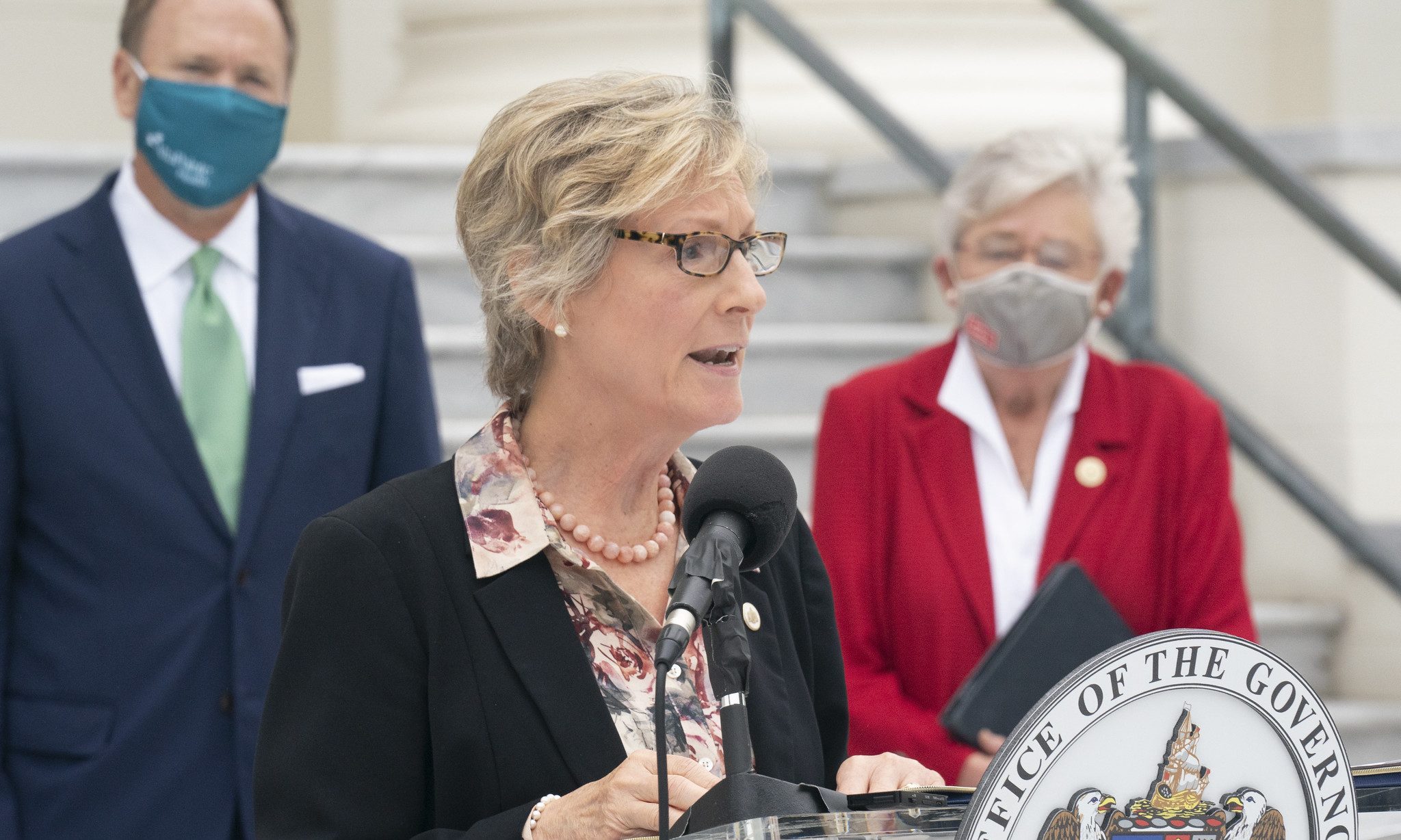 Gov. Kay Ivey on Wednesday announced an $18 million project to create three new mental health crisis centers to be located in Mobile, Montgomery and Huntsville. 
These centers, once in operation, will reduce the number of people suffering from mental health crises who are hospitalized or jailed, Ivey said during a press briefing in front of the Capitol Building in Montgomery. 
"When these facilities are open and fully staffed, these centers will become a safe haven for people facing mental health challenges," Ivey said. 
Lynn Beshear, commissioner of the Alabama Department of Mental Health, said during the briefing that the centers will provide "recovery based" care with "short term stays of a few hours, or up to a few days, to provide treatment, support, and connection to care in the community." 
"Today marks a culture change in Alabama for treatment of individuals with mental illness and substance use disorders," Beshear said. 
Beshear said AltaPointe Health in Mobile will operate one of the three facilities, and once built it is to serve Mobile, Baldwin, Clarke, Conecuh, Escambia, Monroe and Washington counties with 21 new beds, including 15 temporary observation beds. Altapointe will begin with a temporary space while constructing the new facilities, she said. 
Beshear said the Montgomery Area Mental Health Authority is partnering with the East Alabama Mental Health Authority and the Central Alabama Mental Health Authority to serve the 11 counties in Region 3 with 21 new beds, including 10 temporary observation and respite beds. 
"The regional crisis center will be located in Montgomery, and will be open to walk-ins and for drop off by law enforcement, first responders and referrals from emergency rooms," Beshear said. 
Wellstone Behavioral Health in Huntsville was selected to open the third center, and will do so at a temporary site while a new facility is being built, with the help of an additional $2.1 million from local governments, Beshear said. That facility will eventually have 39 beds, including 15 for temporary observation and 24 for extended observation.
"There's not a day that goes by that after-hours care is not an issue in our state," said Jeremy Blair, CEO of Wellstone Behavioral Health, speaking at the press conference. "And so I applaud the Department of Mental Health and the leaders for their efforts in recognizing that and taking it a step further and funding our efforts here." 
Asked by a reporter why a center wasn't located in Jefferson County, one of the most populous counties with a great need for such a center, Ivey said those residents will be served in one of the other regions. 
"Plans are underway to continue this effort. Today's beginning, with these three crisis centers, is just the beginning," Ivey said. 
Ivey added that request for proposals were sent out for these three centers and "it was a strong competition for the location of these three crisis centers." 
Alabama House Majority Leader Nathaniel Ledbetter, R-Rainsville, said during the briefing that more than a year ago, Ivey asked him what the state should be looking at, and that he replied "we're failing miserably in mental health."
Ledbetter said Ivey asked him to take on the challenge of correcting the state's response to mental health, and a team was created to do just that. 
"Working together, today's announcement will not only change Alabamians lives, but will help to save lives," Ledbetter said.