Roby Announces That the 908th Airlift Wing Will Remain at Maxwell
By Brandon Moseley
Alabama Political Reporter
U.S. Representative Martha Roby (R) from Montgomery announced on Facebook and in a written statement that the US Defense Department has decided to keep the Air Force's 908th Airlift wing at Maxwell Air Force base in Montgomery. There had been considerable speculation in defense circles that the Obama administration would move the unit or eliminate it altogether as part of massive defense cuts.
Rep. Roby said on Facebook Thursday, "Great news! I have learned that the 908th Airlift Wing will stay at Maxwell. This could have affected 550 jobs in central Alabama. While the decision is not final, I have been assured that the current plan no longer calls for removal of the seven C-130 aircraft from Maxwell. Senator Sessions, Rep. Rogers, and I have been working together to keep the Air Force accountable for a proposed decision that could affect more than 550 jobs."
US Senator Sessions (R) from Alabama said, "The 908th has been decorated with the Air Force's Outstanding Unit award. They are source of pride to us all.  We have been in close contact with the Air Force and are encouraged by the news that they no longer plan to relocate C-130 aircraft from Maxwell. The decision is not final, but this is positive news and I will continue to advocate for the 908th Airlift Wing as the Air Force reaches its final decision." Sen. Sessions has played a key role in developments surrounding the 908th Airlift Wing and has urged the Defense Department to keep the transport aircraft based in Montgomery.
US Representative Mike Rogers (R) from Saks said, "I am encouraged that the Air Force has listened to our delegation's concerns. This is far from final and we will continue to work closely with Congresswoman Roby and the rest of the delegation to keep the pressure on."
Rep. Roby said, "This is obviously welcome news for Montgomery and the River Region, but especially for the men and women of the 908th and their families.  It is also personally gratifying to receive this news after working alongside Senator Jeff Sessions and Congressman Mike Rogers to keep Pentagon decision makers accountable on this relocation plan. From legislation to personal communication with top commanders, we have used all the resources at our disposal to respectfully demand answers to questions surrounding the fiscal justification of this planned move, and I believe our efforts have paid off. We will remain diligent, however, knowing that the decision is not final."
Rep. Roby said on Facebook, "As a Member of Congress and a Member of the House Armed Services Committee, I have a responsibility to ensure that proposed changes to the military make sense for both the war fighter and the taxpayer. I have great respect for Air Force Secretary Michael Donley and Chief of Staff General Mark Welsh, and I appreciate them taking our concerns into consideration."
The C-130 is a four engine turboprop cargo transport aircraft built by Lockheed first flown in 1954. The military transport aircraft replaced the military's World War II era piston engine C-47 Skytrain, Curtiss C-46 Commando, and Fairchild C-115 flying boxcar. The C-130 performs the tactical transport mission and can safely operate from dirt air strips.
The C-130 has been built in Marietta, Georgia since the 1950s with the C-130A. Over 2,300 have been built. The current version is the C-130J which is replacing aging C-130Es (first flown in 1962). The C-130s at Maxwell are C-130Hs. The C-130H is powered by four Allison T56-A-15 turboprops producing 4,591 horsepower and can carry up to 42,000 pounds of cargo. The C-130 has a range of over 2,000 nautical miles.
The C-130H is 97 feet and 9 inches long, 38 feet, 10 inches high and has a wingspan of 132 feet and 7 inches. The cargo compartment of a C-130H is 40 feet long and almost ten feet wide and 9 feet high. The C-130 has a rear cargo door that allows the C-130 to airdrop the Sheridan tank, 6×6 armored vehicles, or the Daisy Cutter bunker buster bomb.  The C-130 costs $62 million per aircraft.
The C-130 is the military aircraft with the longest continuous production run in history. Ironically, famed Lockheed engineer Kelly Johnson when he saw the first proposal for the aircraft was so unimpressed by it that he predicted that the proposal would kill Lockheed.
Three mental health crisis centers coming to Mobile, Montgomery and Huntsville
"Today marks a culture change in Alabama for treatment of individuals with mental illness and substance use disorders," Mental Health Commissioner Lynn Beshear said.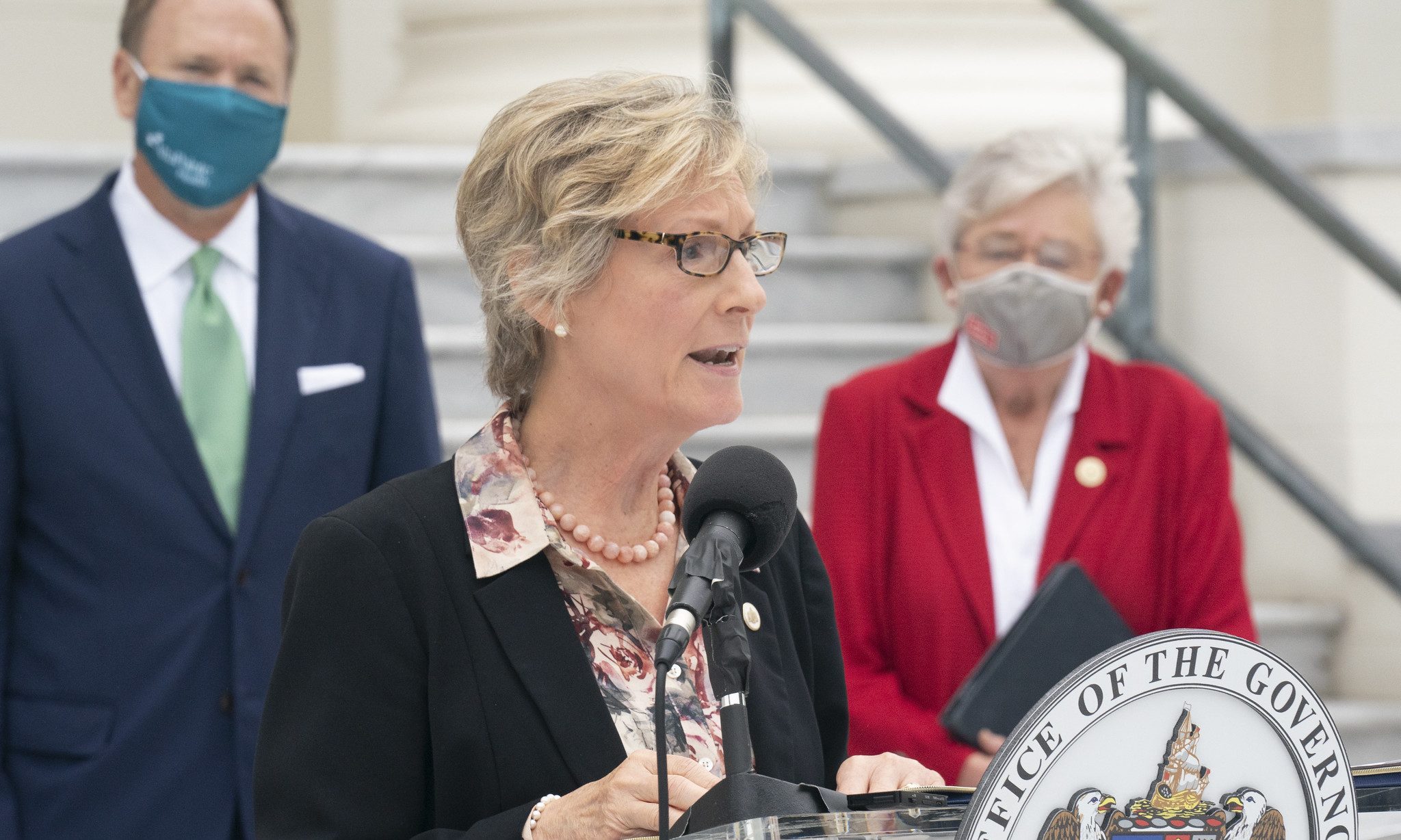 Gov. Kay Ivey on Wednesday announced an $18 million project to create three new mental health crisis centers to be located in Mobile, Montgomery and Huntsville. 
These centers, once in operation, will reduce the number of people suffering from mental health crises who are hospitalized or jailed, Ivey said during a press briefing in front of the Capitol Building in Montgomery. 
"When these facilities are open and fully staffed, these centers will become a safe haven for people facing mental health challenges," Ivey said. 
Lynn Beshear, commissioner of the Alabama Department of Mental Health, said during the briefing that the centers will provide "recovery based" care with "short term stays of a few hours, or up to a few days, to provide treatment, support, and connection to care in the community." 
"Today marks a culture change in Alabama for treatment of individuals with mental illness and substance use disorders," Beshear said. 
Beshear said AltaPointe Health in Mobile will operate one of the three facilities, and once built it is to serve Mobile, Baldwin, Clarke, Conecuh, Escambia, Monroe and Washington counties with 21 new beds, including 15 temporary observation beds. Altapointe will begin with a temporary space while constructing the new facilities, she said. 
Beshear said the Montgomery Area Mental Health Authority is partnering with the East Alabama Mental Health Authority and the Central Alabama Mental Health Authority to serve the 11 counties in Region 3 with 21 new beds, including 10 temporary observation and respite beds. 
"The regional crisis center will be located in Montgomery, and will be open to walk-ins and for drop off by law enforcement, first responders and referrals from emergency rooms," Beshear said. 
Wellstone Behavioral Health in Huntsville was selected to open the third center, and will do so at a temporary site while a new facility is being built, with the help of an additional $2.1 million from local governments, Beshear said. That facility will eventually have 39 beds, including 15 for temporary observation and 24 for extended observation.
"There's not a day that goes by that after-hours care is not an issue in our state," said Jeremy Blair, CEO of Wellstone Behavioral Health, speaking at the press conference. "And so I applaud the Department of Mental Health and the leaders for their efforts in recognizing that and taking it a step further and funding our efforts here." 
Asked by a reporter why a center wasn't located in Jefferson County, one of the most populous counties with a great need for such a center, Ivey said those residents will be served in one of the other regions. 
"Plans are underway to continue this effort. Today's beginning, with these three crisis centers, is just the beginning," Ivey said. 
Ivey added that request for proposals were sent out for these three centers and "it was a strong competition for the location of these three crisis centers." 
Alabama House Majority Leader Nathaniel Ledbetter, R-Rainsville, said during the briefing that more than a year ago, Ivey asked him what the state should be looking at, and that he replied "we're failing miserably in mental health."
Ledbetter said Ivey asked him to take on the challenge of correcting the state's response to mental health, and a team was created to do just that. 
"Working together, today's announcement will not only change Alabamians lives, but will help to save lives," Ledbetter said.