Eurozone Debt Crisis Worsens: Europe Falls Back into Recession
By Brandon Moseley
Alabama Political Reporter
Europe has dropped back into recession. In the third quarter economic output in Europe fell by .1%.  This followed a .2% drop in the second quarter for the $12 trillion European economy. Germany posted a .2% growth number but some experts expect that the larger economic crisis will also drag down Germany.
According to original reporting by Reuters, Joerg Kraemer, the chief economist at Commerzbank said, "That was the last good number Germany for the time being. I don't expect the German economy to return to decent growth rates until the middle of next year."
Similarly the French economy is also expected to be drug down by problems in the rest of Europe. Joost Beaumont of ABN Amro said, ""We expect the French economy to contract again in the final quarter of this year."
Paul De Grauwe, an economist with the London School of Economics said, "We are now getting into a double dip recession which is entirely self-made. It is a result of excessive austerity in southern countries and unwillingness in the north to do anything else."
The worsening global economic conditions combined with a weak US jobs market and the fiscal cliff crisis worries US and Alabama leaders.  Alabama Commissioner of Agriculture and Industries John McMillan said on Facebook of the European recession news, "Are we next?"
Federal Reserve Bank of Dallas President Richard Fisher said in remarks given in Stanford, CA, "The Federal Reserve has been carrying the ball for the fiscal authorities by holding down interest rates in an attempt to stoke the recovery while the fiscal authorities wrestle themselves off the mat, but there are limits to what a monetary authority can do. Only the Congress of the United States can now save us from fiscal perdition. The Fed can't "endlessly" keep purchasing bonds to keep the recovery going."
Meanwhile in Europe millions of workers have gone on strike to protest austerity measures which have cut European entitlements. There have been a series of well publicized suicides by people in Spain who have had their homes repossessed.
Numbers show that the Dutch economy contracted by 1.1%, while Spain declined by .8%
Governor declares state of emergency ahead of Tropical Storm Zeta
Zeta is currently a tropical storm over the Gulf of Mexico, but it is predicted to make landfall as a category one hurricane.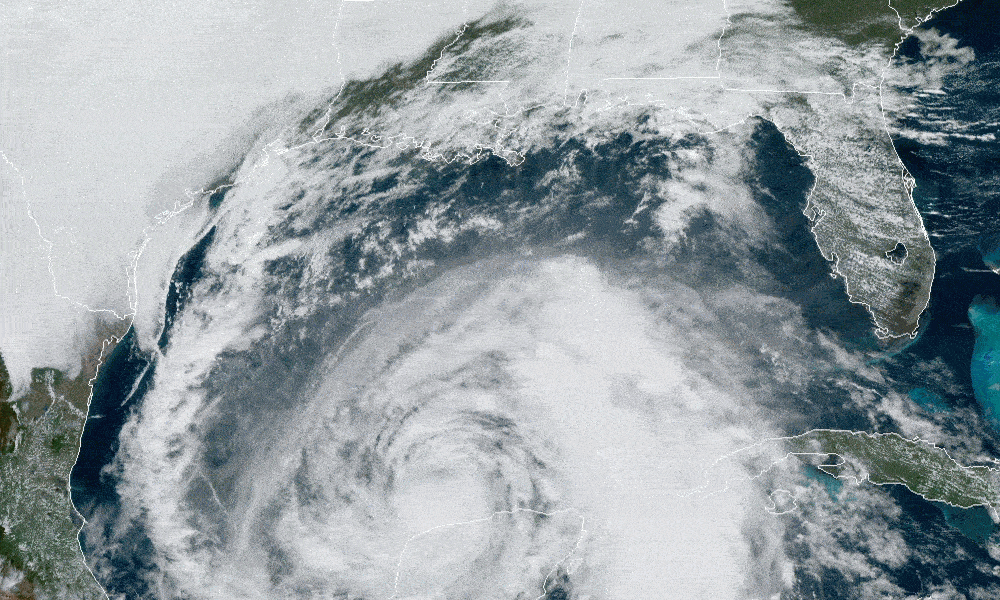 Alabama Gov. Kay Ivey on Tuesday issued a state of emergency as Tropical Storm Zeta approaches the Gulf Coast.
"Ahead of Tropical Storm Zeta's anticipated landfall Wednesday evening as a Category 1 hurricane, I am issuing a state of emergency effective today at 4:00 p.m.," Ivey said. "While this storm is not expected to have an impact as large as storms we've seen move through the Gulf earlier this year, we want to be in the best place possible to respond to anticipated rain, storm surge and mass power outage. I encourage everyone to remain weather aware and tuned in to their trusted news source as this storm could shift direction or change intensity. We continue to track the path of this storm and will stay in touch with the people of Alabama with any updates."
Zeta is currently a tropical storm over the Gulf of Mexico, but it is predicted to make landfall as a category one hurricane. The National Hurricane Center is predicting Zeta to make landfall in Mississippi on Wednesday and then proceed toward Alabama, but these storms can and do move.
A more easterly track could prove devastating to the Alabama Gulf Coast as was the case with Hurricane Sally, which shifted course in September, hitting Alabama, though Zeta is expected to be weaker than Sally at landfall.
The storm surge from the Mississippi-Alabama border to Dauphin Island is forecast to be 5 to 8 feet. Mobile Bay to the Alabama-Florida border is expected to have 3 to 5 feet of storm surge and from the border to Navarre, Florida, could experience 2 to 4 feet of storm surge.
Hurricane force winds are a possibility with this storm. Tropical force winds are expected to be an issue for Southern Mississippi and Alabama well inland. There is expected to be heavy rainfall across the state Wednesday night into Thursday morning.
The Baldwin County Emergency Management Agency announced that sandbags are available inside the county commission office at Robertsdale Central Annex (22251 Palmer Street) until 4:30 p.m. Tuesday and from 8 a.m. until 4:30 p.m. Wednesday or while they last.
Bring any help and shovels you will need. There is a limit of just 25 bags per person. Alabama's coastal counties are currently under a Tropical Storm Warning, a Storm Surge Warning for Mobile County and a High Rip Current and High Surf Warning.
Congressman Bradley Byrne said, "I just finished up briefings from Alabama EMA, FEMA, and the National Hurricane Center regarding #Zeta. We should not take this storm lightly and should start making preparations right away. After sundown Wednesday, I'd encourage everyone in Southwest Alabama to stay home and off the roads until sunrise Thursday. This storm will have impacts as far north as Montgomery, so those in Washington, Clarke, and Monroe counties will see tropical storm force winds and heavy rain. I'd encourage everyone to charge their phones and other necessary electronics. If you have an emergency during the storm, call 911 and do not try to drive."
Coastal Alabama is still in the process of recovering from Hurricane Sally which hit the state on Sept. 15.