AG HONORED BY CENTURY COUNCIL LEADERSHIP AWARD
By Brandon Moseley
Alabama Political Reporter
MONTGOMERY -Attorney General Luther Strange said he is honored that the Century Council is presenting him with its 2012 Leadership Award for efforts to reduce underage drinking and drunk driving.
Attorney General Strange partnered with the organization during Alcohol Awareness Month this past April, along with basketball player Shaquille O'Neal and a student-led initiative called LessThanUThink, to reduce binge drinking at The University of Alabama.
"I want to thank the Century Council for this honor and more importantly for its tireless work and dedication in fighting drunk driving and underage drinking," said Attorney General Strange.
The Century Council, a national not-for-profit organization, has been a leader in addressing the issue of alcohol overconsumption on college campuses. In designating Attorney General Strange as its leadership award recipient, the group praised his outstanding commitment to fighting drunk driving and underage drinking.
"Attorney General Strange's willingness to spend time on college campuses and talk with students about the issue of overconsumption of alcohol proves that he is a tireless advocate for the people of Alabama," said Ralph Blackman, President and CEO of The Century Council. "The Attorney General's leadership on this issue has helped educate many on the dangers of overconsumption and we applaud his efforts."
The Council cites progress in the fight against underage drinking, noting that nationwide, trends in alcohol consumption among college students continue to slowly decline across all prevalence rates measured – from 1991 to 2011 annual consumption declined 12%, monthly alcohol consumption has declined 15% and binge drinking among college students has declined even more over this same period of time – down 16% from 43% to 36% in 2011. (Source: University of Michigan, Monitoring the Future, 2012). Yet as 64% of college students report binge drinking, the Council notes, it is clear that more attention to this important issue is needed.
In announcing the award, the Council commended Attorney General Strange's leadership in Alabama on this issue for helping educate citizens, especially college students, on the dangers of binge drinking and effective ways to reduce it.
Governor declares state of emergency ahead of Tropical Storm Zeta
Zeta is currently a tropical storm over the Gulf of Mexico, but it is predicted to make landfall as a category one hurricane.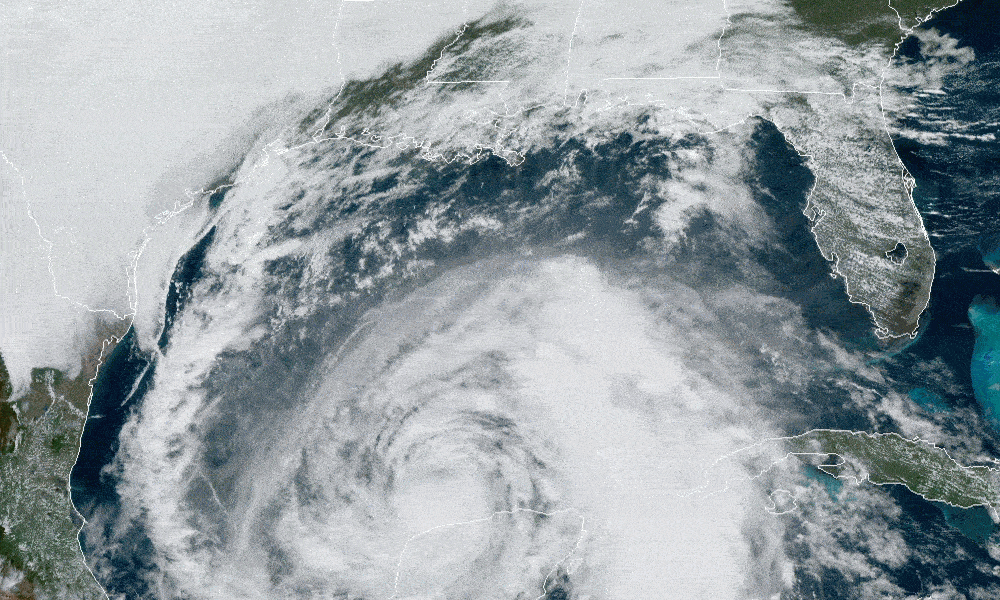 Alabama Gov. Kay Ivey on Tuesday issued a state of emergency as Tropical Storm Zeta approaches the Gulf Coast.
"Ahead of Tropical Storm Zeta's anticipated landfall Wednesday evening as a Category 1 hurricane, I am issuing a state of emergency effective today at 4:00 p.m.," Ivey said. "While this storm is not expected to have an impact as large as storms we've seen move through the Gulf earlier this year, we want to be in the best place possible to respond to anticipated rain, storm surge and mass power outage. I encourage everyone to remain weather aware and tuned in to their trusted news source as this storm could shift direction or change intensity. We continue to track the path of this storm and will stay in touch with the people of Alabama with any updates."
Zeta is currently a tropical storm over the Gulf of Mexico, but it is predicted to make landfall as a category one hurricane. The National Hurricane Center is predicting Zeta to make landfall in Mississippi on Wednesday and then proceed toward Alabama, but these storms can and do move.
A more easterly track could prove devastating to the Alabama Gulf Coast as was the case with Hurricane Sally, which shifted course in September, hitting Alabama, though Zeta is expected to be weaker than Sally at landfall.
The storm surge from the Mississippi-Alabama border to Dauphin Island is forecast to be 5 to 8 feet. Mobile Bay to the Alabama-Florida border is expected to have 3 to 5 feet of storm surge and from the border to Navarre, Florida, could experience 2 to 4 feet of storm surge.
Hurricane force winds are a possibility with this storm. Tropical force winds are expected to be an issue for Southern Mississippi and Alabama well inland. There is expected to be heavy rainfall across the state Wednesday night into Thursday morning.
The Baldwin County Emergency Management Agency announced that sandbags are available inside the county commission office at Robertsdale Central Annex (22251 Palmer Street) until 4:30 p.m. Tuesday and from 8 a.m. until 4:30 p.m. Wednesday or while they last.
Bring any help and shovels you will need. There is a limit of just 25 bags per person. Alabama's coastal counties are currently under a Tropical Storm Warning, a Storm Surge Warning for Mobile County and a High Rip Current and High Surf Warning.
Congressman Bradley Byrne said, "I just finished up briefings from Alabama EMA, FEMA, and the National Hurricane Center regarding #Zeta. We should not take this storm lightly and should start making preparations right away. After sundown Wednesday, I'd encourage everyone in Southwest Alabama to stay home and off the roads until sunrise Thursday. This storm will have impacts as far north as Montgomery, so those in Washington, Clarke, and Monroe counties will see tropical storm force winds and heavy rain. I'd encourage everyone to charge their phones and other necessary electronics. If you have an emergency during the storm, call 911 and do not try to drive."
Coastal Alabama is still in the process of recovering from Hurricane Sally which hit the state on Sept. 15.