Battle Brewing for Leadership of ALGOP
By Bill Britt
Alabama Political Reporter
MONTGOMERY—The upcoming executive meeting of the ALGOP on February, 2, 2013, could become a contest for the future of the Alabama Republican Party.
At the winter meeting, current party Chief Bill Armistead will face an election challenge from Matt Fridy who has served on the GOP Executive Committee since 2002.
Fridy, a attorney and former county party chair, has received endorsements from the top GOP government leadership including Governor Bentley, Lt. Governor Kay Ivey and Speaker of the House Mike Hubbard.
It is Hubbard's endorsement that is most troubling to many of the GOP faithful.
Former GOP Chairman Hubbard has waged a two-year-long stealth campaign against Armistead since his chosen successor, Jay Love, was overwhelmingly defeated by Armistead in 2010.
Armistead, who has been building the Republican Party in Alabama for around 30 years, has been routinely undermined in the press and on blogs by Hubbard's attack machine.
Hubbard, as Speaker of the Alabama House, is seen by many as the most powerful man in Alabama. He has seen his supremacy challenged by Armistead's leadership of the ALGOP.  Also, the news that a Special Grand Jury is investigating Hubbard's time as GOP Chairman and other questionable activities surrounding campaign contributions and personal business dealings has cause major upheaval within the party ranks.
However, insiders say that Fridy is not a Hubbard acolyte but the chosen candidate of Governor Robert Bentley.
In a recent letter to members of the GOP, Governor Bentley wrote, "As we look forward to the 2014 elections, our top priority must be in maintaining and expanding the number of Republicans serving in elected offices in our great state. We must all work together in order to achieve that goal. Matt Fridy has a long record of dedication to the Republican Party… he has devoted thousands of hours to assisting candidates statewide in their bids for office. I believe that Matt will do a fantastic job leading our party into the 2014 election cycle and for that reason, I would ask you to join me in supporting Matt Fridy in the upcoming election for Chairman of the Alabama Republican Party."
The Governor's support of Fridy over his long-time friend has puzzled many while giving a much cherished endorsement to Fridy's candidacy.
According to ALGOP tradition the sitting governor has powerful influence as to who holds the office of chairman but will it be enough this time?
While Bentley fully supported Armistead in 2010, the ties that united the two men seems to have broken.
While the Governor has praised Armistead, those close to Bentley say that the Governor believes the party needs a more youthful image as it approaches the 2014. If this is true, then the choice of 36-year-old Fridy looks to fit the bill.
Fridy says he will be, "…a conservative who uses a new model of leadership to unite, grow and move the party forward."
Over the last month, calls by the "Alabama Political Reporter" to Mr. Fridy have gone unreturned. So we have been unable to ascertain what Fridy means by his statements on his website since he has resisted speaking to the press.
Of the many elected leaders that have joined the Fridy bandwagon, prominent conservative Chief Justice Roy Moore is not one of them.
In a written statement, Justice Moore wrote, "I openly and wholeheartedly support your [Bill Armistead] continued role as Chairman of the Alabama Republican Party and look forward to working with you for many years to make Alabama a safer, happier, and more prosperous place to live for everyone."
Much has been made about party unity but the question is being raise as to whom is causing the split in the party? Those allied with Armistead believe that it is Hubbard who is dividing the party and not Armistead.
GOP insiders believe there has been a battle brewing for the direction of the party.
But it is the Hubbard faction that has many in the party worried. While not wholly aligned with Armistead, many are dead set against a return to control by Hubbard and company.
Recently, Hubbard told the "Birmingham News" that Fridy is "our best chance of moving the party forward and building upon the impressive and historic gains we made in 2010."
Meanwhile Hubbard and others have criticized Armistead over losses in the 2012 election cycle—a time that saw the GOP take command of every statewide elected office—has left some bewildered and others vexed.
Justice Moore does not seem to share in the criticism of Armistead's leadership saying, "My victory in the race for Chief Justice of the Alabama Supreme Court and other victories for the Republican Party at County and State levels can be directly attributed to your [Bill Armistead] hard work and dedicated leadership. Your staff has always been very helpful and cooperative and deserve the highest commendation."
The February winter meeting could be full of political intrigue as the jockeying for leadership is played out before the party faithful.
Congressional candidate James Averhart endorsed by list of U.S. dignitaries, retired military leaders
The 1st Congressional District Democratic candidate has been endorsed by a list of retired U.S. dignitaries and retired military leaders, his campaign said Wednesday.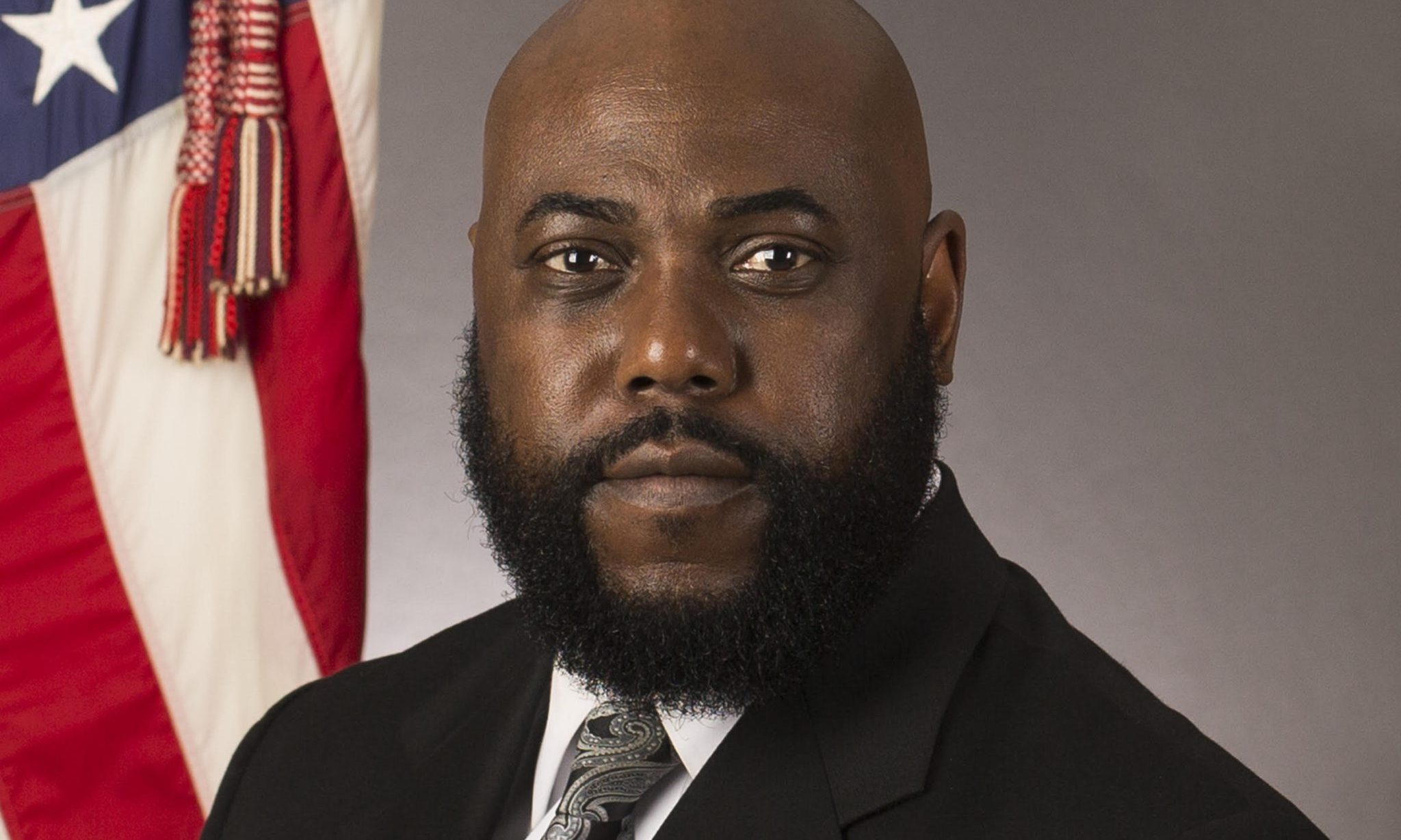 James Averhart, the Democratic candidate in Alabama's 1st Congressional District and a retired U.S. Marine, has been endorsed by a list of retired U.S. dignitaries and retired military leaders, his campaign said Wednesday.
"James Averhart is an integral leader — a man of principles and a patriot. He is the best choice to represent District One on The Hill," said Ambassador Theodore Britton, a World War II Veteran who was nominated by President Gerald Ford to serve as U.S. ambassador to the island nations of Barbados and Grenada.
Retired U.S. Marine Corps Lt. General Walter E. Gaskin, who served as commanding general of the 2nd Marine Division at Camp Lejeune, North Carolina, said Averhart is experienced in matters of government and policy and understands the lay of the land in Washington D.C.
"He will be ready to hit the ground running to get things done for the district, and moreover, be that bridge to unite the parties in Congress as well as the nation," Gaskin said in a statement.
"James Averhart is a strong dynamic leader who will get the job done. He is meticulous and a consummate professional that will advocate and work for all citizens of our district and Alabama," said Ambassador J. Gary Cooper, a retired Marine Corps major general who was nominated by President George H.W. Bush to serve as assistant secretary of the Air Force, Manpower and Reserve Affairs, and was nominated by President Bill Clinton to serve as U.S. ambassador to Jamaica.
"At a time when it seems that the Republican leadership is in lockstep with a president, who considers those in service to our great nation to be 'suckers' and 'losers,' is antithetical to what this country needs. We have over 30,000 citizens hospitalized and over 211,000 deaths due to coronavirus, which could have been prevented with sound, methodical leadership. We have been disappointed by this President and the Republican leadership standing with him. It is time for substantive change in our Nation's Capital," Averhart said.
"The American citizenry deserves and expects more of its leadership. We should no longer settle for those who continue to promulgate untruths and spew divisive rhetoric. We deserve leadership who will extol the truth and hold in high regard a united nation," Averhart said.
Avergart's Republican opponent in the Nov. 3 election is Mobile County Commissioner Jerry Carl.
The following are a list of Averhart's endorsements, according to his campaign:
Ambassador Theodore Britton
Nominated by President Gerald Ford to serve as U.S. Ambassador to the island nations of Barbados and Grenada
Served as the U.S. Special Representative to West Indian island nations of Antigua, Dominica, St. Christopher, Nevis, Anguilla, St. Vincent, and St. Lucia
Ambassador J. Gary Cooper 
Vietnam Veteran and Retired U.S. Marine Corps Major General
Nominated by President Bill Clinton to serve as U.S. Ambassador to Jamaica.
Nominated by President George H.W. Bush to serve as Asst Secretary of the Air Force, Manpower and Reserve Affairs.
Lieutenant General Ronald L. Bailey
First African American to command the 1st • U.S. Marine Division
Served as Deputy Commandant for Plans, Policies and Operations, U.S. Marine Corps.
Retired in 2017 following 41 years of service.
Lieutenant General Walter E. Gaskin
Served as Commanding General of the 2nd Marine Division at Camp Lejeune, NC Served as Commanding General, Marine Corps Recruiting Command, Quantico, Virginia
Served as Chief of Staff, Naval Striking and Support Forces-Southern Europe
Served as Deputy Commanding General, Fleet Marine Forces-Europe in Naples, Italy
Major General Cornell A. Wilson, Jr.
Served as Director, Reserve Affairs Division, Manpower and Reserve Affairs – Headquarters, U.S. MArine Corps, Quantico, Virginia.
Appointed by Gov. Pat McCrory, NC, to the position of Secretary of Military and Veterans Affairs.
Lieutenant General Willie J. Williams
Served as Director of the Marine Corp Staff
Retired in 2013 after serving 39 years in the U.S. Marine Corp.
Brigadier General John R. Thomas
Served as Director for Command, Control, Communications and Computers, U.S. Marine Corps.
Served as Director and Chief Information Officer, U.S. Marine Corp.